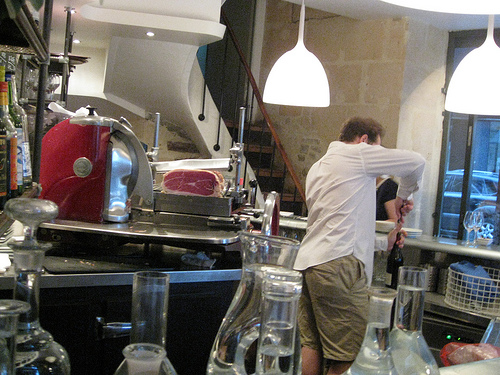 Readers revolt against Les Fines Gueules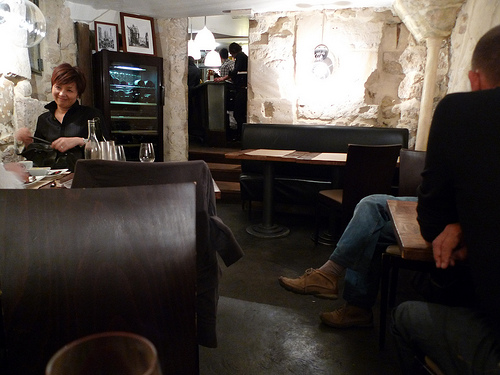 In a city with hundreds of new restaurants to explore every year, we food writers rarely get a chance to revisit our old favorites. Take, for example, Les Fines Gueules. I visited four times between 2007-2010. I loved the veal carpaccio, the hand-cut tartare, and the burrata with toasted almonds. I praised it here and in several guides, then I floated away. The same is true for many others who wrote early and positive reviews.
In the meantime, our readers have continued going, and they are increasingly and vocally disgruntled. A flurry of comments within the last month highlight worsening service and segregation of English speakers. We're posting them here as a caution, and also as an invitation to add your own comments about Les Fines Gueules or any other place in Our Guide to Paris Restaurants. Your words of praise and criticism are incredibly important in helping us to understand how these restaurants are performing year-round, not just during the press-heavy months after opening.
Recent Criticism of Les Fines Gueules
(comments in July & August 2012)
"I've been here three times: the first two times were great (back in 2011) but this past time was just awful. Having been seated in the "American ghetto" in the back of the restaurant (which is stuffy and hot), I was pretty adamant this time that we wanted to sit by the windows in the front. I speak good French and politely inquired, only to be made to wait for 10 minutes and then be led into the stuffy back room anyways; I protested and then we were finally seated in the front of the resto, which was full of French speakers… Bad service, bad food; will not be returning."
"I have to say, I was extremely unimpressed with my meal tonight… The room was hot and stuffy and we felt very ignored and treated as detested August tourists. All the french speakers were downstairs in the lovely windows and street and all the Japanese and Americans were up by the toilet with the incompetent waitress who couldn't even tell us if they had dessert wines. I don't know if it was because we were Americans, if it was because its August and they just don't care but I won't go back. Last year I was treated well, this year was horrible."
"It was suggested to me that things have slipped here because the owners opened a higher-end place and perhaps weren't paying attention here anymore… I've been back a few times since I initially wrote my post about the place and found them less-attentive than in the past as well, and the food fine, but not necessarily as exceptional as it once was… It's too bad that people are experiencing less-than-favorable welcome at the restaurant, since it was good in the past."
"I went on Saturday evening, mostly because every other option in the city was shut and I can't say I was overly impressed with the food or the service. While I wasn't relegated to the 'American Ghetto' of the resto and I spoke to the staff in French, they treated my friends and I with barely concealed disdain. The service was slow and the food passable. I will not be recommending this to anyone."