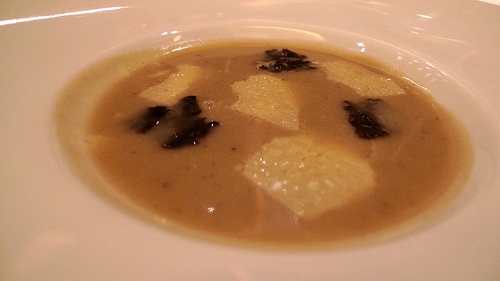 Recipe: Artichoke Soup with Parmesan and Truffles
[portfolio_slideshow]
Artichoke Soup with Parmesan and Truffles
Ever since I sampled this smooth, gorgeous soup at Guy Savoy's restaurant in Paris in the 1980's, it has been one of my perennial favorites. I prepare this year-round, sometimes even for myself for lunch (without truffles!), because it is so filling and fulfilling. I make it with fresh or frozen artichokes bottoms or even top quality artichoke hearts from a jar or a can, which have the same rich flavor of fresh artichokes with none of the labor. Also, I NEVER discard rinds of Parmesan: They add a delicious richness to the flavor of any soup.
EQUIPMENT: Cheesecloth; cotton twine; A small jar with a lid; a mandolin or a very sharp knife;  wire-mesh tea infuser; a food mill fitted with a medium screen; 12 warmed shallow soup bowls.
Several rinds of Parmigiano-Reggiano cheese
2 pounds (1 kg) artichoke hearts (about 12), fresh, from a jar, a can, or frozen (no need to thaw)
2 quarts (2 l) Homemade Chicken Stock (page 195)
4 imported bay leaves
Fine sea salt
1 fresh black truffle (about 1 ounce; 30 g), cleaned (see Note)
One 2-ounce (60 g) chunk of Parmigiano-Reggiano cheese
1. Wrap the cheese rinds in the cheesecloth and secure with the cotton twine. In a large, heavy-duty casserole, combine the cheesecloth bundle, artichokes, stock, and bay leaves. Season lightly with salt. Cover, and simmer just until the artichokes are soft and the flavors have had time to mingle, about 30 minutes. Taste for seasoning. Remove and discard the bay leaves and cheese rinds.
2. With a vegetable peeler, peel the truffle. Mince the truffle peelings, place in a small jar, and tighten the lid. Reserve the peelings for another use. With the   mandoline or very sharp knife, cut the truffle into very thin slices.
3. Place the food mill over a large bowl and puree the soup into the bowl. (Discard any fibrous bits that remain in the mill.)  Return the soup to the saucepan. The soup should be a pleasant golden-green and should have the consistency of a thin purée. If too thin, reduce it slightly over moderate heat.
4. With a vegetable peeler, shave long, thick strips of the cheese onto a plate.
5. Ladle the soup into the bowls. Carefully, place the cheese shavings on top of the soup. If done correctly, the shavings should sit delicately on top of the soup, half-melted, but still intact. Top with truffle slices. Serve immediately.
Want More?
Patricia Wells' newest book Simply Truffles contains 60 recipes, plus tips on buying, storage and preparation that will help any cook who lucky enough to get her hands on a truffle. As chef Joël Robuchon writes in the foreward, "Patricia Wells, charming talented ambassador for the truffle, succeeds beautifully in sharing her love for this mysterious product of incomparable taste."
Additional Links
Truffles 101: Black diamond basics – Patricia Wells explains why truffles smell like "a rumpled bed after an afternoon of love in the tropics"… and other important tuber trivia.