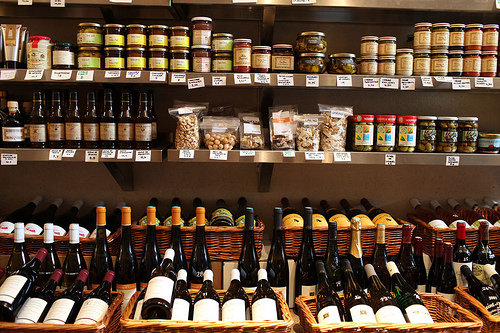 RIP: Spring Boutique closes its doors
[fsg_gallery id="5″]
Photos from the opening party for Spring Boutique, January 2010
Spring Boutique, the little shop run by Spring Restaurant, has effectively closed. The space at 52 rue de l'Arbre Sec opened in January 2010 and took various forms throughout its three years of existence: a wine shop featuring regular tastings, a wine club with bottle delivery service, a high-end epicerie, a lunch spot serving a bouillon that many of our readers still crave, and a place for the community gatherings, including the launch party for Paris by Mouth in 2010.
Chef/owner Daniel Rose sent an email today with the following explanation:
"In 2013 we hope to concentrate all our efforts on the restaurant. After some renovations, expect something new at the boutique space. We have always used it as a place to play and this trend will continue. As usual, we have more ideas than time to implement them! It is a Spring tradition. New arrival Johnathan Bauer-Ronneret (Best Young sommelier of France 2009) and his team, are happy to welcome you and advise you on the same selection of great wines at the restaurant.

Nearly all of our wines are available for take away at 50% off the restaurant list price, but it is as a service to customers. If they like something that they may want to bring home with them we can accommodate a bottle or two depending availability."
Staffing challenges may be partially to blame for the closure of Spring Boutique. Two long-time employees departed in the second half of 2012 (one to open his own wine export business, the other to make wine in the Loire Valley), then their replacement left abruptly  in December. As a result, the Boutique was obliged to close just before the (potential) holiday rush. It never reopened.
Given my affection for their wine selections, I think it's great that Spring will continue to let customers purchase the bottles they've enjoyed at the restaurant. I wish them luck in whatever they decide to do with that space and hope to return there to play again soon.
[fsg_gallery id="6″]
Photos from the Paris by Mouth launch party at Spring Boutique in June 2010