Update December 16
Following his (really very) negative review of Le Verre Volé sur Mer, writer Aaron Ayscough (Not Drinking Poison in Paris) received this comment from chef Laurent Julien:
your gonna review only soups restaurants after you cross my way motherfucker.You need a good reminder of what respect is.Tu va connaitre ton poid sans tes dents mon enfant de chienne.a bientot
How does Aaron know this anonymous comment was from the chef? Because Laurent said something very similar when he called Aaron's personal phone on the day his review was published.
This isn't the first time that a chef has threatened to knock out the teeth or beat the ass of Aaron Ayscough. One can argue that it's because his reviews are more scathing than what you'll find on Paris by Mouth, and that he's more personal in his critique. Should I feel happy or overlooked because Laurent didn't threaten to rearrange my face?
Whether or not you appreciate Aaron's reviews, I hope we can all agree that a scene without any criticism benefits no one. Do we really want a Fooding-esque reality in which every new thing receives faint praise but readers can't make a decision about where to eat?
To be clear: there is almost no reward for writers to share negative feedback about a restaurant.  They are generally only paid and reimbursed for their expenses when they publish praise. When they publish criticism, they can be threatened with law suits or bodily harm.  Does this make Aaron a hero? Of course not. But it certainly makes Laurent look like a thin-skinned idiot. Worse, it threatens to make the Paris food scene,  which is already insecure by comparison to other gastronomic capitols, into a self-congratulating circle jerk.
Original post December 10
As reported yesterday by France Bleu and discussed on the Pourcel brothers' blog, there is now a legal opening in France for restaurants to take action against those leaving negative comments about them on the internet.
Hervé Montoyo, owner of the restaurant Le chat qui rit in Reynès (Pyrénées-Orientales), obtained a court decision requiring a website to reveal the identity of a person who had called the restaurant a "scam" in an anonymous comment.
The court ruling opens the way for Montoyo and other aggrieved restaurateurs to sue anonymous commenters for defamation. Montoyo has not yet committed to taking such action, saying in interviews that he just wants to talk with the client and better understand what happened.
However, a look at Montoyo's page on L'Internaute, which I'm going to assume is the website in question (oddly, none of the reporting on this matter has included this detail) finds him fighting with any negative commenters along the lines of "why don't you say that to my face, coward?"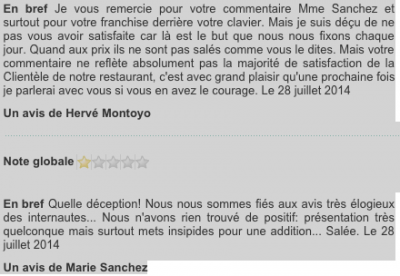 While I do have sympathy for the oft-repeated defense that customers should communicate their concerns in person and in real time so that restaurants have the opportunity to improve or at least better understand the situation, I can also tell you that this sort of communication very often falls upon deaf ears.
Restaurants are wary that customers who complain are either asking for something free, or are just nasty people who can never be made happy. Trust me, this is the look of suspicion I am faced with whenever I respond to the routine question "how was everything?" with anything other than "fine."
Not so long ago, a friend of mine who also writes about restaurants for a living had tried to explain, while putting on coats at the end of a meal, why he was less satisfied than he had been in previous visits. The manager, who had posed the question in the first place, became defensive and patronizing in response, implying that my friend was simply wrong and, even worse, unknowing, in his assessment.
When that same manager later discovered who he had been berating, he began leaving messages on the writer's personal phone to try and "better explain." When that didn't work, he enlisted the help of a major French food critic (who alarmingly went along with all this) to intervene on the restaurant's behalf. My friend never had any intention of publishing a negative review. He had simply responded to the question "how was everything?" with sincere concern after paying his bill in full. It was only the fear of a publicized negative appraisal – as opposed to one communicated directly and in person – that generated concern.
When restaurants say that unhappy diners should speak directly to them – not to other potential customers by writing reviews or leaving comments on websites – some are genuinely seeking better communication. Most are simply hoping for containment. This recent court ruling will go a long way in helping them to achieve the latter.