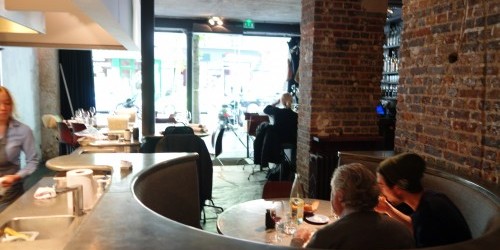 Address: 3 rue de Prague, 75012
Hours: Open Monday-Friday for lunch and dinner. Closed Saturday and Sunday.
Telephone: +33 1 43 43 12 26
Website / Facebook / Book Online
We stayed away from Table for quite some time, fearing that it would be terrible. With a food writer (Bruno Verjus) in the kitchen and seemingly unlimited funds for decor and product sourcing from the guy that founded L'Occitane, it seemed like the sort of place that would be long on concept, high on prices, and short on soul. In recent months, however, we've become devoted fans of the 3-course lunch for 25€. Prices are much higher at dinner, but the lunch is one of the best deals in town.
---
Table in Pictures
Leek

Maigre

Wine

Brunos Verjus in action

Whole fried rouget

Pink praline tart

Abalone

Lobster and tomato

Figs

Fall vegetables

Cured meat and hazelnuts

Cured beef

Crudo

Crudo with caviar

Chocolate mousse

Chanterelles with egg
---
In Other Words
Table à Découvert (2015) "J'ai beaucoup aimé la maturité que le restaurant a pris… Produits exceptionnels, cuisson, assaisonnement, sans un effet, sans une manière, non, la simplicité d'un grand talent de cuisinier."
Table à Découvert (2014) "A la carte, les prix sont tout de suite plus élevés. Il y a les sublimes produits d'artisan comme le jambon sec de vache blonde d'Aquitaine de Polmard, la tomme des bois noirs de Mons… bref, rien que de très beaux produits pour une addition qu'il faut compter aux alentours de 60€ (entrée, plat et dessert)."
Not Drinking Poison in Paris (2013) "I salute Bruno Verjus for his justifiably high regard for his food suppliers. And Table does makes sense as a place of refuge for fine palates at those moments when time or accessibility is more an object than money… But to seduce an appreciable portion of comparatively thrifty east Parisians, Table may need some polishing."
Philippe Toinard (2013) "Certes mais le point fort de cette carte courte (2 entrées, 2 plats et 2 desserts), c'est la recherche du produit exceptionnel. Les noms des fournisseurs ne sont pas tous affichés mais on sait qu'ils sortent des sentiers battus et du traditionnel name-dropping car Bruno Verjus a pour lui, cette connaissance pointue du patrimoine agricole."
John Talbott (2013) "A menu that is long on good products and spare on choices."
Le Figaro (2013) "Il y a là une cuisine travaillée comme un éloge du simple (pas de la simplicité) autour de recettes de moderne paysannerie, mélange de saisonnalité soucieuse et de produits sourcilleux. Ni épure ni esbroufe mais une radicalité gourmande à militer le cuisiner juste (portion, cuisson, liaison)."
Le Monde (2013) "Les poissons sont grillés entiers, les asperges juste blanchies, la pintade, le paleron et l'ananas rôtis à la broche. Le produit est roi, et l'assiette est aussi minimale que radicale – de belles portions, et à peine une huile infusée au laurier, quelques herbes sauvages ou un condiment acidulé pour assaisonner. Tout cela accompagné de beaux flacons de vins nature, concoctés par des petits artisans que l'homme, en bon-vivant qu'il est, fréquente depuis longtemps."
Images care of Meg Zimbeck and Emily Monaco