Well-sourced products plus unlikely Japanese touches put Breizh Café head and shoulders above most crêperies.
Activities for Food Lovers
Musée de Camembert (in Vimoutiers)
Delicious Normandy Food Tours (in Bayeux)
Restaurants
Le Vauban (in Port-en-Bessin-Huppain)
Auberge le Clos Saint Julien (in Saint-Julien-sur-Calonne)
Manoir de la Drôme (in Balleroy)
Restaurant La Sapinière (in Saint-Laurent-sur-Mer)
La Rotonde (in Port-en-Bessin-Huppain)
Cheese & Dairy
La Fromagerie Graindorge (in Livarot)
Coopérative Isigny Sainte-Mère (in Isigny-sur-Mer)
La Fromagerie de Bayeux (in Bayeux)
Wine & Cider
Cave Cidricole Lecornu (in Bayeux)
La Ferme de la Sapinière (in Saint-Laurent-sur-Mer)
Le Volet Qui Penche (in Bayeux)
Markets
Sweets
Biscuiterie Les Sablés d'Asnelles (in Asnelles-sur-Mer)
Pâtisserie la Reine Mathilde (in Bayeux)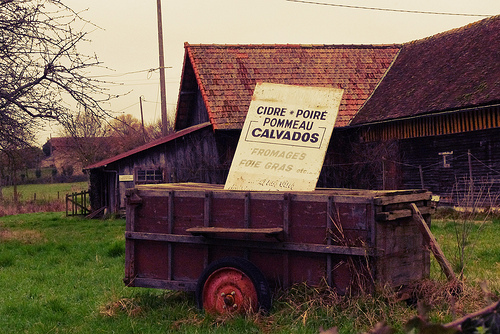 Apple and pear orchards, usually with a cow or two grazing under the trees, are the ubiquitous image of the Norman countryside, and a visit to Normandy wouldn't be complete without sampling the local refreshments – cider, pommeau, poiré and calvados. Here's everything you need to know about the region's quartet of fruity libations.
What to Taste
Cidre de Normandie: Cidre, or cider, is a sparkling, alcoholic beverage made from crushed apples that is fermented for 2-3 months before being bottled. It is produced on farms and in homes all over the region, comes in numerous versions, degrees of sweetness and alcohol contents. About 750 varieties of apples can be used to make Normandy cider, but only 50 of those are allowed in the production of AOC cider from the Pays d'Auge.
Cidre doux – the lightest and sweetest version, about 3% alcohol
Cidre demi-sec – slightly sweet, between 3 -4 % alcohol
Cidre brut – dry and refreshing, between 4 – 5% alcohol
Cidre traditionnel – very dry, slightly bubbly and lightly filtered, around 6% alcohol
Cidre fermier – cider that is produced on the farm on which the apples are grown
Cidre AOC Pays d'Auge – due to its AOC status, this cider can only be produced in a small geographic area and is made from 50 varieties of bitter and bitter sweet Normandy apples that give it a distinctive color and create a balance of sweetness and freshness. It is especially delicious served with cream based dishes and cheese, and has an alcohol content of 4-6%.