Paris restaurants remain closed amidst forced confinement, so chefs are bringing their talents to Instagram.
Practical information
Address: 4 bis rue du 4 Septembre, 75002
Nearest transport: Bourse (3)
Hours: Open every day
Reservations: Reservations not accepted for the tapas bar, but book a few weeks in advance for the upstairs restaurant
Telephone: 01 47 03 91 91
Average price for lunch: 10-19€  at the tapas bar and 20-39€  in the restaurant
Average price for dinner: 20-39€ at the tapas bar or 60-100€ in the restaurant
Style of cuisine: Basque, small plates & tapas
Website   Facebook
Reviews of interest

David Lebovitz (2014) "We were pleasantly surprised when the waiter brought over our Tortilla de pommes de terre confites à l'ail doux… instead of the classic, thick, dense potato and egg cake that'd been baked a few hours ago, and served in wedges (which isn't bad at all…), at A Noste, it's served hot from the skillet and loaded with plenty of sautéed garlic. Garlic is often presented in Paris restaurants in doses that are barely perceptible. So – wow – it was quite a hit to get something with a lot of sweet, stewed garlic in it."
Le Figaro (2014) "Sur le principe d'un menu unique, le programme y prévoit une petite rafale de plats créatifs et un instant carnassier, articulé autour de plusieurs viandes rôties. Du bœuf, du veau, du porc, le tout saisi à la broche et servi à discrétion. Emballant sur le papier… frustrant à l'arrivée. À mettre, on l'espère, sur le compte d'une malédiction d'un soir: deux malheureux morceaux coupés dans le bout d'un rumsteak, pas très goûteux et trop cuits ; une tranche de foie de veau ultra-fine et elle aussi trop cuite ; de l'échine de porc marinée au chorizo, rattrapant péniblement l'ensemble."
Paris Bouge (2014) "C'est un ancien pub-usine de 300 mètres carrés revu en version loft XXL. Julien voulait créer trois ambiances. En bas, des tables hautes en bois où on partage des tapas entre amis les uns en face des autres. Au milieu, l'estafette à taloas rouge écarlate, sorte de food truck qui propose des galettes traditionnelles basques de maïs salées et sucrées. À l'étage, une table plus gastro. Sans oublier la terrasse au soleil."
Table à Découvert (2014) "De la cuisine des Landes savoureuse, relevée, acide, pimentée, des textures frites, moelleuses, fondantes, une addition de 22€ par personne pour quatre copieuses assiettes de tapas, moi ça me va."
John Talbott (2014) "Upstairs or downstairs, you will not be disappointed."
Le Figaro (2014) "Inventif et solide dans ses propositions…"
Table à Découvert (2014) "A l'étage, c'est différent. Dès qu'on a monté l'escalier, le calme prend le dessus, les fenêtres sur la rue du Quatre Septembre donne un côté salle à manger. Une quarantaine de places assises se partagent, avec des banquettes confortables, des orchidées et une cuisine un peu ouverte où l'on aperçoit une rôtissoire, le thème de la Table. Menu unique au déjeuner (38 €) et au dîner (60 €) avec en plat principal des viandes rôties servies à volonté…"
Les Grands Ducs (2014) "Un service d'une absolue gentillesse, une assiette franche, généreuse et sans artifices, un décor contemporain bien fichu et un choix adapté à la dimension de son appétit et de son portefeuille: il n'en faut pas plus pour faire de A.Noste l'un de nos chouchous de cette rentrée. Courez-y!"
John Talbott (2014) "I have rarely had such a satisfying meal… here they slice up fabulous beef, veal with a bacon/ham taste and pork with a spicy rub to your liking (portion and cooking wise) from a rolling cart with some terrific raw vegetables and rough cut fried potatoes (this guy has really got the touch.)"
L'Express (2014) "Cette fougasse de maïs, pour moi l'un des musts de la carte, avec sa pâte craquante et moelleusement alvéolée et sa garniture sucrée-salée à base de fromage de brebis, de magret fumé et de raisins secs. Pour une jolie collection de tapas à partager, compter 25-30 € par personne!"
Table à Découvert (2014) "Le sandwich de Julien Duboué inspiré d'un pain du Pays Basque et qui me fait dire: ô bonheur de goûter un sandwich savoureux, roboratif et vraiment bon qui va chercher plus loin, c'est à dire dans les traditions régionales et non pas américaines! Oserais-je dire du coup que c'est l'un des meilleurs sandwichs de Paris?"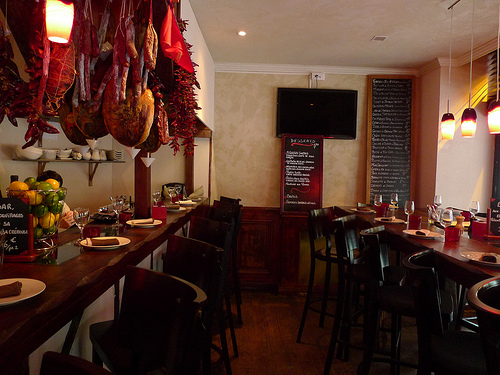 Dans les Landes was sold in July
Earlier this summer, Julien Duboué sold his easy-going tapas restaurant Dans Les Landes (included in Our Guide to the Latin Quarter) in order to open a new place near the Bourse. A Noste opened this week at 6 bis rue du 4 Septembre, and John Talbott shared his enthusiasm in a review entitled "Wow, wow, wow, this place is hot, hot, hot."
There is a taloa truck parked inside, and they seem to be serving the Basque corn tortilla snacks on the ground floor along with tapas and drinks. One floor up, they're serving a fixed menu that features giant meat skewers carved table side.
As for Dans Les Landes, we haven't been back since it was sold in July. However, we did revisit Afaria after Duboué sold it, and promptly removed it from our guide (it was terrible). Let's hope Dans les Landes doesn't sink in similar fashion.