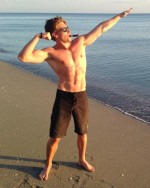 The reliably cynical Fox News network has been broadcasting an interview with Nolan Peterson (photo at right), a supposed security expert and confirmed bozo who has declared Paris to be dotted with "No-Go Zones" where "in just a ten-minute cab ride from the Eiffel Tower, you can be walking through streets that feel just like Baghdad."
Baghdad, eh? How wonderful for Baghdad if their streets are also filled, as these districts are, with modern bistros, craft breweries, natural wine haunts, vegan cafés, and spots for Philly cheesesteak. Not to mention a place that ranks among the World's 50 Best Restaurants and a bakery that won the Best Baguette in Paris competition.
Inspired by a rebuttal by Sened Dhab, we decided to plot all of the wonderful restaurants, bars and shops that fall within these unterrorized borders. They are some of the most vibrant quarters in Paris and you shouldn't hesitate for a single moment to visit.