Le Villaret is one of our favorite Classic Bistros in Paris. Sometimes in life we chase after the ones who play hard-to-get and we ignore the nice, stable options who just want to treat us right. Le Villaret is the homely neighborhood bistro that I never appreciated until I stopped looking for love at Le Baratin and Le Repaire de Cartouche.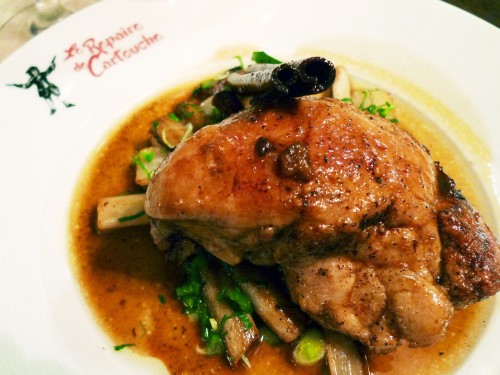 This simple bistro has for years been a favorite among wine lovers, who arrive hoping to plumb the depths of Rodolphe Paquin's cellar. Whether you taste something from the
carte
, or persuade Paquin to share an off-list treasure from his cave, wine is undoubtedly the highlight of any experience here. Paquin's terrines are also extraordinary. He's written a
book
about the subject and sells them whole in ceramic crocks to go. In autumn and winter, this is the place to go for wild game. Everything else here is pretty average, except for the service, which is atrocious. Two different tables stormed out during my most recent visit. What saves the experience for some is the joyful welcome from Paquin, the affable host (some ladies might say
too
affable) who greats regulars like long lost friends. Since I've been coming for years, I get a squeeze and a smile but still suffer through the terrible service… no one is safe. Visitors to Paris who can't cite a winemaker connection or who haven't yet been introduced will most likely be ignored and wondering why we've included this on our site. We've included it to reclassify Le Repaire de Cartouche as a great place to sit at the bar without reservations, order wine with a slab of terrine, and wait for your table to open up at
Au Passage
. It's still great fun as a wine bar, even if it can no longer deliver as a restaurant.