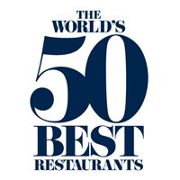 The World's 50 Best Restaurants for 2012
The 2012 World's 50 Best Restaurant Awards
Whether you love them or hate them, the bubble water's annual rankings were revealed tonight in London. Rene Redzepi's restaurant Noma retained the #1 spot for the third consecutive year, followed again by the Spaniards El Celler De Can Roca and Mugaritz.
There are no French restaurants in the Top 10 this year. Last year's highest ranked Paris restaurant Le Chateaubriand, which fell this year from #9 to #15, was surpassed by L'Atelier Saint-Germain de Joël Robuchon (now #12). While Alain Passard, Pierre Gagnaire and Pascal Barbot continue to jockey for position at the far end of the Top 20, Alain Ducasse was kicked off the list entirely, not even making the Top 100.
Among the younger Paris chefs, Bertrand Grébaut and his restaurant Septime snuck onto the extended list at #87, but there was no love for David Toutain, Daniel Rose or Gregory Marchand.
Paris Results
Full Results