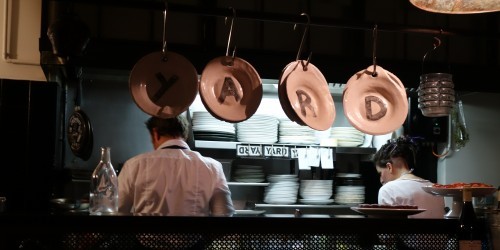 Address: 6, rue de Mont-Louis, 75011
Hours: Open Monday-Friday for lunch and dinner. Closed Saturday & Sunday.
Telephone: +33 1 40 09 70 30
Website / Facebook / Instagram
The former construction yard turned bistro has been around Père Lachaise for years, but the arrival in spring 2014 of chefs Shaun Kelly and Eleni Sapera, formerly of Au Passage and Bones, brought new attention to the place. They're both gone now, and we haven't been back since Nye Smith took over the stove.
– Meg Zimbeck, October 2014
In Other Words
Emily Monaco (2018) praises the herbaceous, seasonal, colorful cuisine, including a "cascade of plump orange mussels and served on a bed of baba ghanouj-style eggplant purée."
HiP Paris (2015) enjoys the "eclectic" crowd at this bistro, noting that "while Yard attracts high-profile diners and attention from the fooderati, its focus remains on serving high quality, nourishing food that is equally appealing to fans of classic French dining and those who seek out culinary surprises."
Le Monde (2015) notes that the "ingratitude" of the location of this restaurant on the outer limit of the 11th "galvanizes" the Anglo-Saxon-accented cuisine.
Not Drinking Poison in Paris (2015) "Smith's cuisine at Yard is neither precocious nor internationalist. Less austere than that of his predecessor, perceptibly more pleasure-oriented, it strikes a balance between sophistication and accessibility that couldn't be better suited to Yard. I think it's this rare synergy, combined with Drotter's expanding natural wine list and peerless hospitality, that makes each visit a uniquely enjoyable experience."
Note: previous reviews are from Shaun Kelly's tenure as chef
Table à Dêcouvert (2014) "Un air de taverne, des cuistots qui s'agitent derrière le passe-plat, je n'ai pas réussi à déterminer exactement quoi, mais il y a dans cette atmosphère quelque chose inconnu de Paris."
L'Express (2014) "Le chef australien Shaun Kelly réussit le mélange des genres français et Commonwealth dans l'assiette."
John Talbott (2014) "Another great prix-qualité joint."