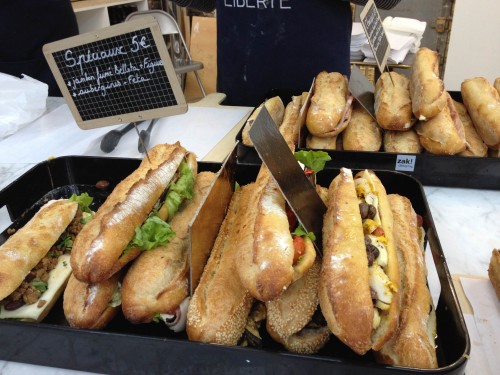 Liberté par Benoît Castel
A stylish new pâtisserie and boulangerie from Benoît Castel (Josephine, La Grande Epicerie, Helène Darroze) serving sandwiches, salads, stuffed savory breads and more. The "bobo au rhum" is very aptly named for the neighborhood.
Practical information
Address: 39 rue des Vinaigriers, 75010
Nearest transport: Jacques Bonsergent (5)
Hours: Closed Sunday; Open Monday-Saturday
Telephone: 01 42 60 20 39
Average price for lunch: Under 10€
Style of cuisine: Soup/salad/sandwiches
Website Facebook
Additional locations
Address: 150 rue de Ménilmontant, 75020
Nearest transport: Pelleport (3bis)
Hours: Closed Monday & Tuesday
Telephone: 01 46 36 13 82
Reviews of interest
Time Out (2015) "Quand le chef pâtissier Benoît Castel récupère et transforme la boulangerie d'un ancien « meilleur ouvrier de France », on obtient la magnifique boutique de Liberté Ménilmontant… Le brunch n'est pas donné, 27 €, mais vous remplirez facilement votre estomac pour une semaine avec des produits exceptionnels!… Mention spéciale pour les pancakes rebondis, la mousse au chocolat très visuelle, la confiture de lait, l'excellent café et le pain, qu'il soit de campagne ou Granola (mélange de graines de céréales, de noix, de noisettes et de raisins blonds sultanine)."
Le Figaro (2014) #4 madeleine in Paris
Caroline Mignot (2014) "La tarte à la crème avec sa crème chantilly bien vanillée qui cache une sublime crème pâtissière, le tout déposé tel un Everest sur une pâte sablé fine et croustillante. Il y a le bon dosage de sucre, de fraîcheur (pour le coup, c'est bien de la manger assez rapidement après l'avoir sorti du frais), de croustillant, de tout en fait."
John Talbott (2014) "Beautiful and teeming with good stuff."
Hipsters in Paris (2014) "It is the humble Madeleine chocolat that has captured our stone-cold-savoury hearts, and the better-than-average baguettes stuffed with crudites, cold cuts, cheese or chicken. For just a few centimes more than your local bakery, this is lovingly-made calorie-laced goodness not to be missed."
Les Tasters (2013) " En guise de douceurs, des sablés gourmands, un pain au chocolat et quelques pâtisseries franco du collier mais pas suisse. La célèbre tarte à la crème, trop petite pour être lourdée dans la gueule du premier râleur, fait déjà vibrer le net, peut-être moins les papilles. C'est affaire de goût: bonne idée pour un oublié, crème travaillée pour une texture douce, avec du goût et pas trop de sucre. Chacun se fera son idée. Simple, efficace, travaillé avec de bonnes matières."
Raids Patisseries (2013) "L'égérie du chef pâtissier, c'est la tarte à la crème, seule et unique en son genre à Paris…Le lieu est quant à lui chaleureux et atypique, avec ses allures de loft d'artiste et un labo de pâtisserie offert à l'oeil du public."
Paris Bouge (2013) "Quelques sandwichs, quelques viennoiseries et surtout des pâtisseries. Chez Liberté par Benoît Castel on trouve des petites tartes au citron, des "cheesecakes" qui ressemblent à de la neige ou encore des 'bobos au rhum'".
Additional Images