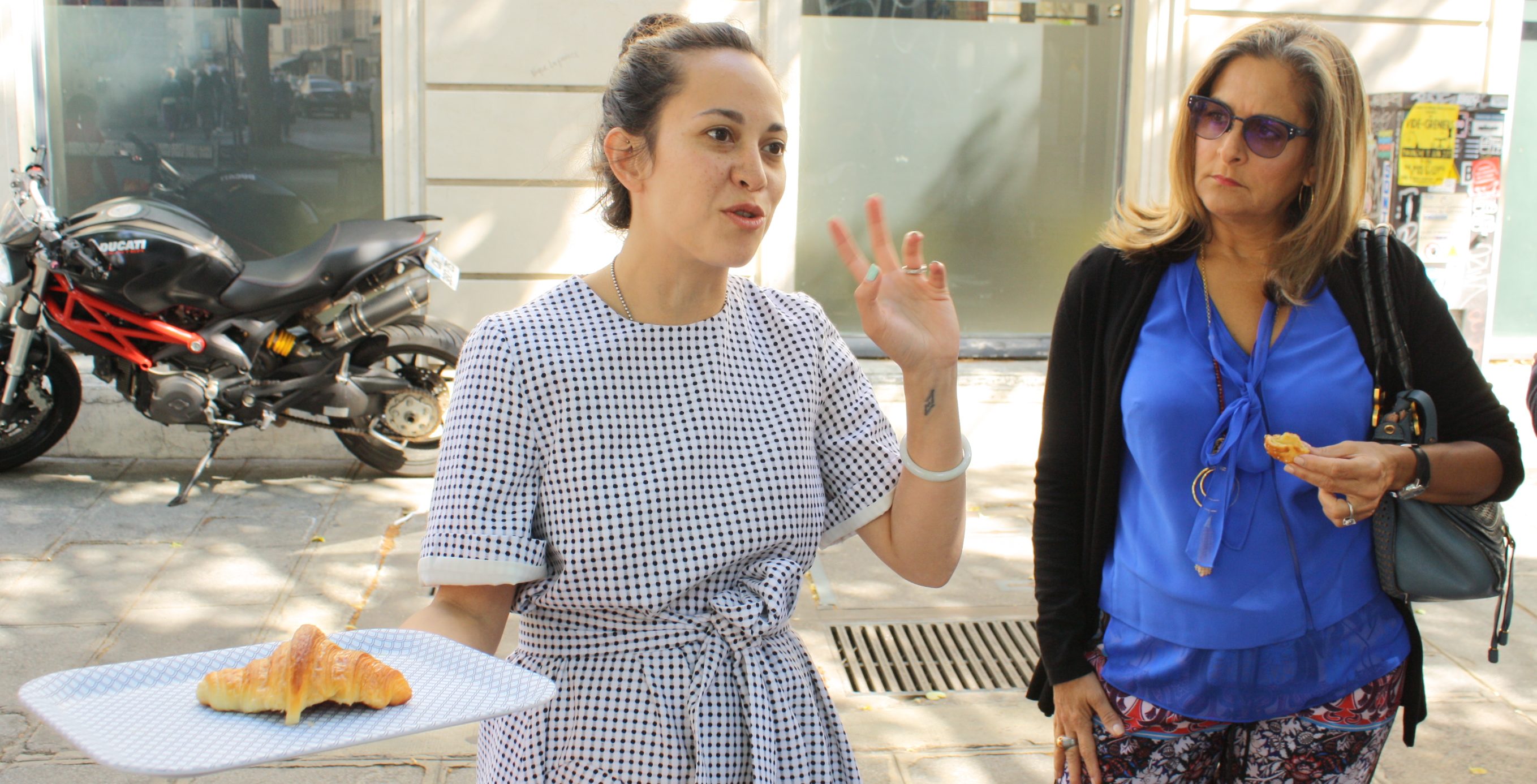 Food and Wine Tours in Paris
---
For nearly a decade, we've been organizing the most popular food and wine tours in Paris. Here are some key points at a glance, but you can scroll down for more detail or send us an email with your questions (tasteparisbymouth@gmail.com)
Our group tours are small (8 people max) and led by English-speaking experts.
They last around 3.5 hours, including an hour-long seated tasting.
Small group tours are priced at 125€ per person, including generous food & wine tastings. We don't offer discounts for children or non-drinkers.
Our ability to offer private tours between May-October is limited because all our guides are usually booked with sold-out group tours. You can send us an email with a private tour request, or just join a group tour – they're great!
Because our tours are heavy on information, complex flavors and wine, they're not always a hit with kids. We don't advise booking children younger than 12 years old, although we leave this up to parental discretion.
We offer 4 different routes that all include very similar tastings of exceptional bread, cheese, wine and chocolate – what we consider to be the very best of Paris. Scroll down for information on the small differences between our routes (two options are vegetarian). We also offer the French Cheese Explosion for those who want a deep dive into fromage.
We can easily accommodate guests who are avoiding meat, gluten and alcohol. We don't recommend our tours for vegans.
EASY TO BOOK & CANCEL
Check our calendar to see what's available on your desired dates, and book online with instant confirmation. These are uncertain times, so we're offering a 100% refund for those who cancel with at least 48 hours notice.
Click on your desired date to see what tours we're offering and which options still have available space. If you don't see what you're looking for, send us an email (tasteparisbymouth@gmail.com). We're often fully booked in high season (May-October), but you can email us to join the waiting list for specific days or tours.
UPCOMING FOOD AND WINE TOURS
Questions? Send an email to tasteparisbymouth@gmail.com
SMALL GROUP TOURS
Our small group tours are back, but we're limiting the size to 8 guests. Tickets are priced at 125€ per person, including generous food & wine tastings. Tours are led by vaccinated food & wine experts and last around 3.5 hours. We're mostly moving & standing during the first 2 hours, with a seated tasting near the end of the tour.
Our French Cheese Explosion spends less time on the move. After visiting a cheese shop and selecting cheeses to taste together, the majority of our time is spent around a table, seated and focused on learning about cheese. Tickets for this are also 125€ per person, including cheese, wine, and bread.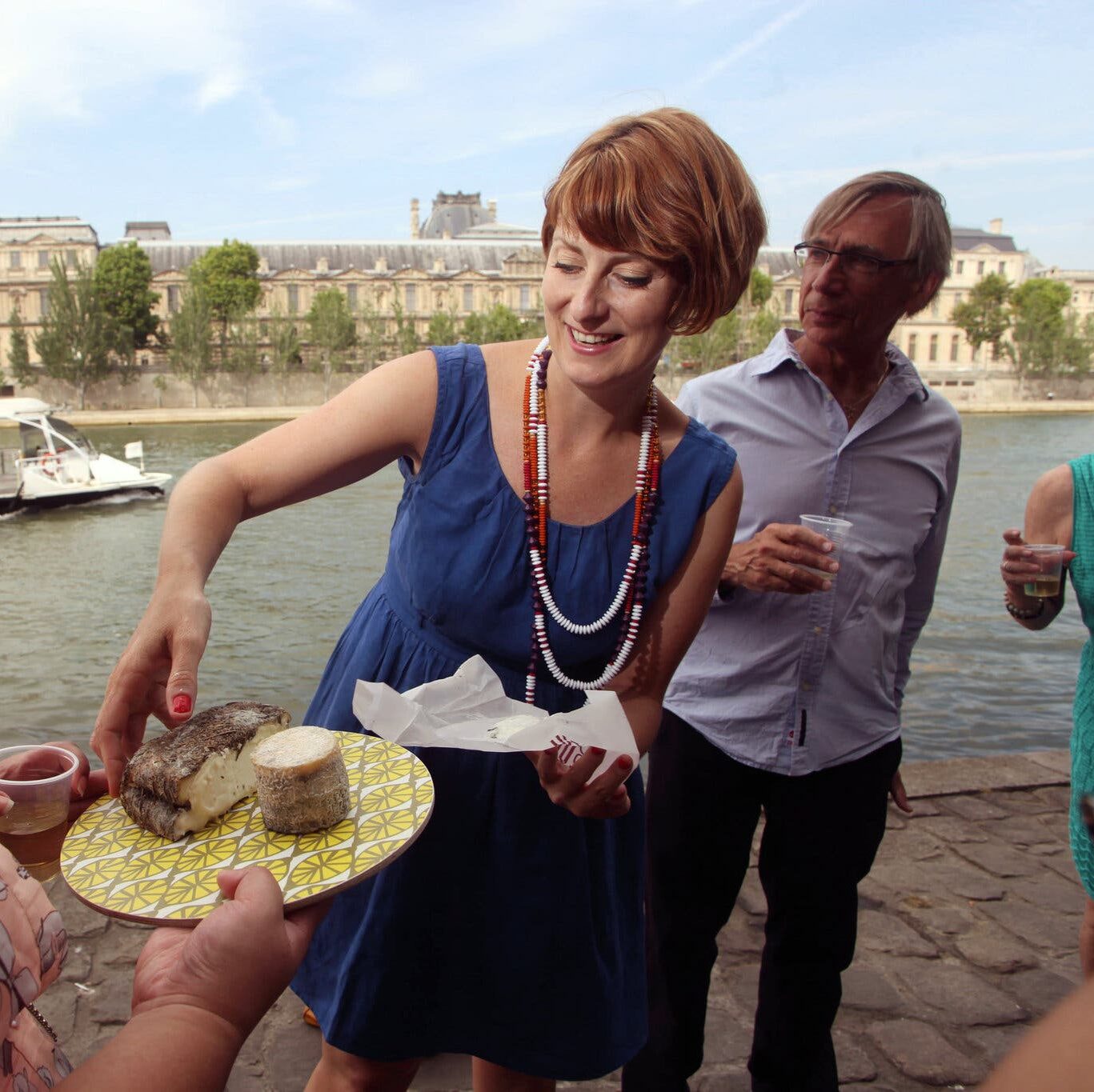 5 DIFFERENT FOOD AND WINE TOURS
You can read more about our routes by clicking the following neighborhood options (Saint-Germain, the North Marais, the South Marais and the Left Bank), but all our tours provide an in-depth look at (and taste of!) the products that have made France famous: artisanal cheese, lots of wine, exceptional breads & viennoiserie (breakfast pastries like croissants), plus incredible French chocolate.
The South Marais and Left Bank tours lean a little more sweet, with no meat on these tours. These two tours are great options for vegetarians. They do include cheese.
The North Marais and Saint-Germain tours lean a little more savory, including charcuterie. Scroll to the top of this page and click the calendar to see what's available during your trip!
The French Cheese Explosion is for fromage fanatics, and includes a visit to a cheese shop followed by a seated tasting and deep dive discussion of around 10 different cheeses, representing a wide variety of French regions and cheesemaking styles. Wine and bread will accompany our selection. Cheese is included on all our tours, but the French Cheese Explosion presents double the amount of cheese and three times the amount of cheese-geeky explanation.
* Our tastings for the South Marais tour and the French Cheese Explosion take place in a beautiful vaulted wine cellar and we must descend (and later climb) one flight of steep, irregular stairs. It's a beautiful space in one of the oldest buildings in Paris, but not ideal for guests with concerns about mobility. If you'd prefer to avoid any stairs, we suggest the North Marais or Saint-Germain tour.
Questions? Send an email to tasteparisbymouth@gmail.com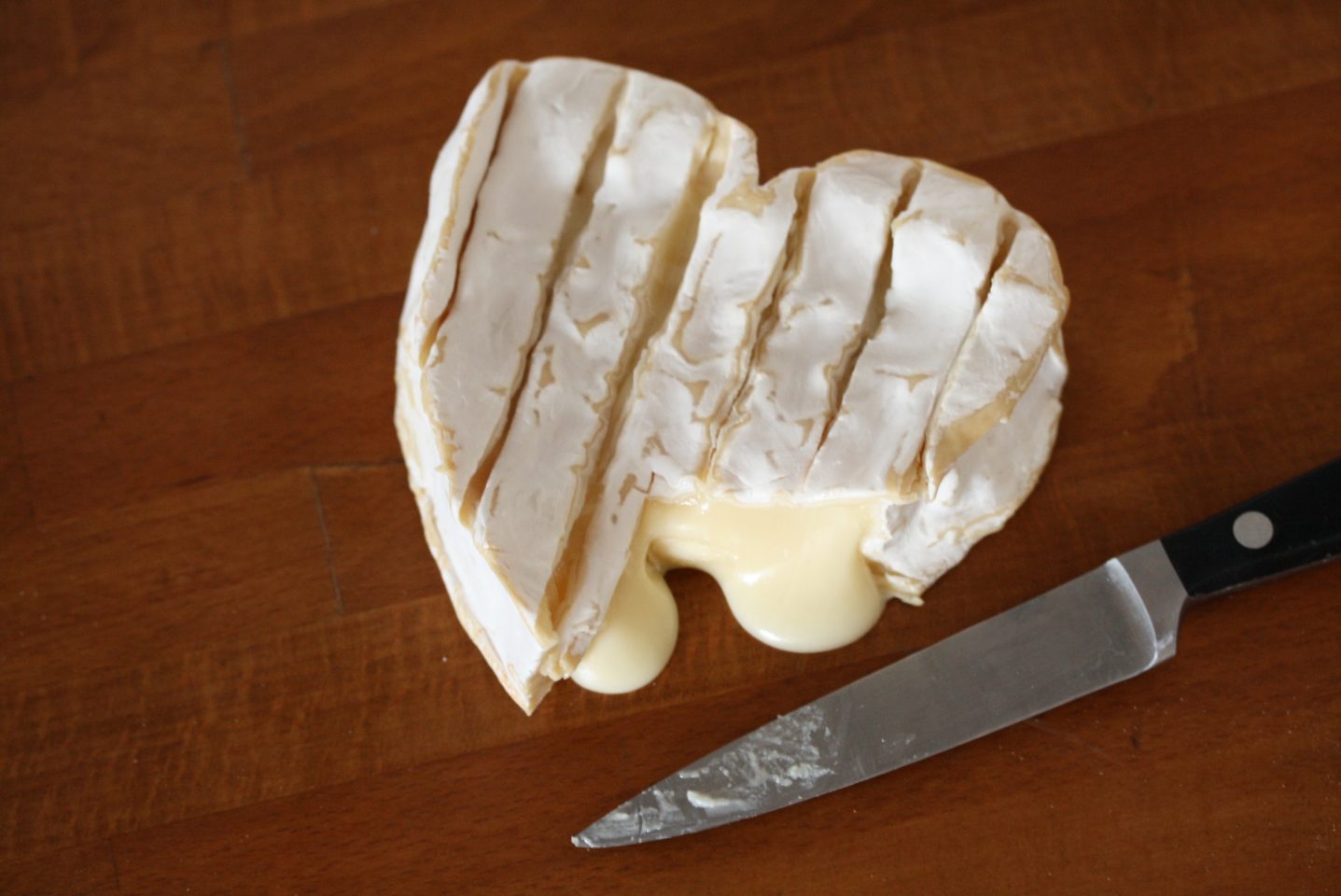 PRIVATE FOOD TOURS
Due to extremely high demand between April and October, your only option for privatizing a tour is to purchase all 8 available spots on a small group tour (125€ x 8 = 1000€). We'll adapt the tour to highlight what you're craving most & avoid what you don't enjoy! We also organize events for larger groups and companies by request. We're limited in our ability to accommodate private requests during high season, but we offer many small group tours every day. You can send us an email with questions and requests (tasteparisbymouth@gmail.com).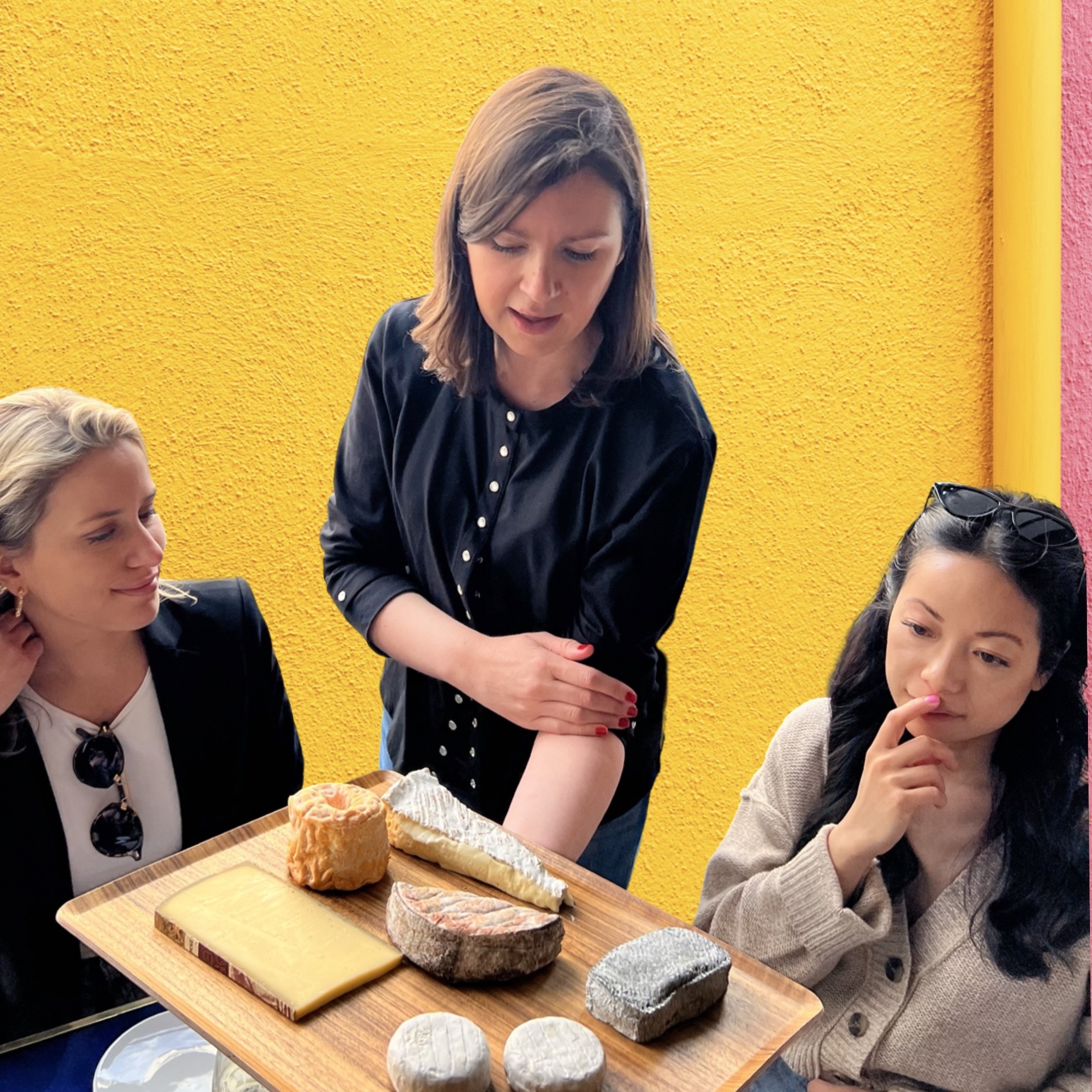 EXPERT GUIDES
Our guides are mind-bogglingly great. These aren't part-timers who have memorized a tour script – these are trained chefs, certified sommeliers, food journalists, and other food geeks who know their stuff and are delighted to share.
RAVE REVIEWS
Our tours are rated the #1 Paris food activity on TripAdvisor with more than 2,000 five-star reviews. We've been celebrated by the New York Times, the Washington Post, Rick Steves, Ruth Reichl, Dorie Greenspan and Travel & Leisure. Even so, more than half our bookings are repeat visitors and referrals from happy friends.
GIFT CERTIFICATES
Purchase a gift certificate for a Paris by Mouth tour and share the most delicious food that Paris has to offer. We can make a gift certificate in any amount, and your recipient can use their gift card code – like a promotional code – to book a tour whenever they are in Paris. Learn more and purchase your gift certificate here.
Questions? Send an email to tasteparisbymouth@gmail.com