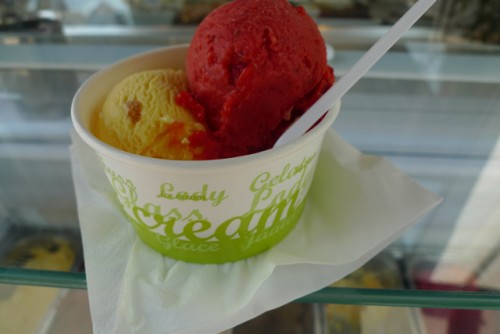 Not to be confused with the identically-named with several restaurants on rue Sainte Dominique, this Christian Constant is a chocolatier and full-service traiteur. In warm months, this is a good shop for ice cream; the glaces here are freshly made, with no stabilizers or additives.
Practical information
Address: 37 rue d'Assas, 75006
Nearest transport: Rennes (12) or Saint-Placide (4)
Hours: Open every day
Telephone: 01 53 63 15 15
Website

View larger map View a map of all of our ice cream shops here.
Our best efforts were made to ensure that information provided was accurate at time of publication. Have a correction or update? Send it to parisbymouth@gmail.com
Reviews of Interest 
Caroline Mignot (2009) "Un choix de parfums particulièrement rafraîchissants, sorbet cassis, framboise, fraise, mangue ou fruits de la passion, même s'il manquait hier le fameux au cacao ou autres glaces au chocolat. 6 € les deux boules, accompagnées des tuiles de Monsieur Constant, tout était généreux, un bonheur simple et frais."