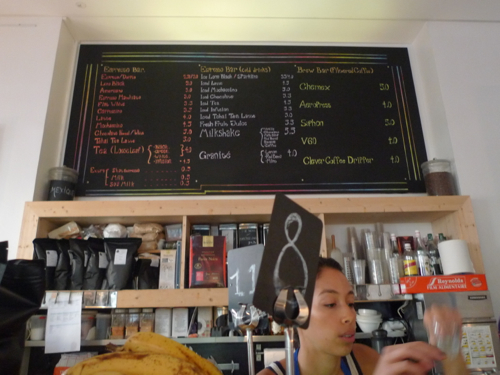 Forget about café crème and go for a flat white at this Aussie-inspired shop, one of the new wave of serious coffee places popping up in Paris. Also on order are fresh juices, sandwiches, and house-made tea cakes and scones. It's one of the few cafés with great coffee where it's socially acceptable to pull out your laptop and work.
Practical information
Address: 62 rue des Martyrs / 53 avenue Trudaine, 75009
Nearest transport: Pigalle (2, 12)
Hours: Open every day, 9am-7pm
Telephone: 01 56 92 12 41

View larger map View a map of all of our restaurants here.
Average price for lunch: 10-19€
Style of cuisine: soups/salads/sandwiches, cakes and cookies

Our best efforts were made to ensure that information provided was accurate at time of publication. Have a correction or update? Send it to parisbymouth@gmail.com
Reviews of interest
Lindsey Tramuta-Morel (2013) "Nails the location…and coffee which you'll wait what seems like an inordinately long time for unless you become a regular (so I've been told)."
Serious Eats (2013) "Using beans from Parisian roaster Café Lomi, this absolutely bustling cafe resembles more of a library-carrel setup than a typical Parisian sit-and-people-watch spot (most are on laptops). Espresso drinks are sturdy, or try one of their single origin coffees on Aeropress, prepared skilfully (if slowly) on the dedicated brew bar. And really, who doesn't want a 6 Euro milkshake alongside their coffee?"
David Lebovitz (2012) "I ordered le cake (pronounced kek, in French), which was moist and slightly spiced, the perfect partner for the coffee, which had a somewhat sharp, less "roasty" coffee flavor that I was used to, yet similar to the other coffees I've had from Java."
Additional Images