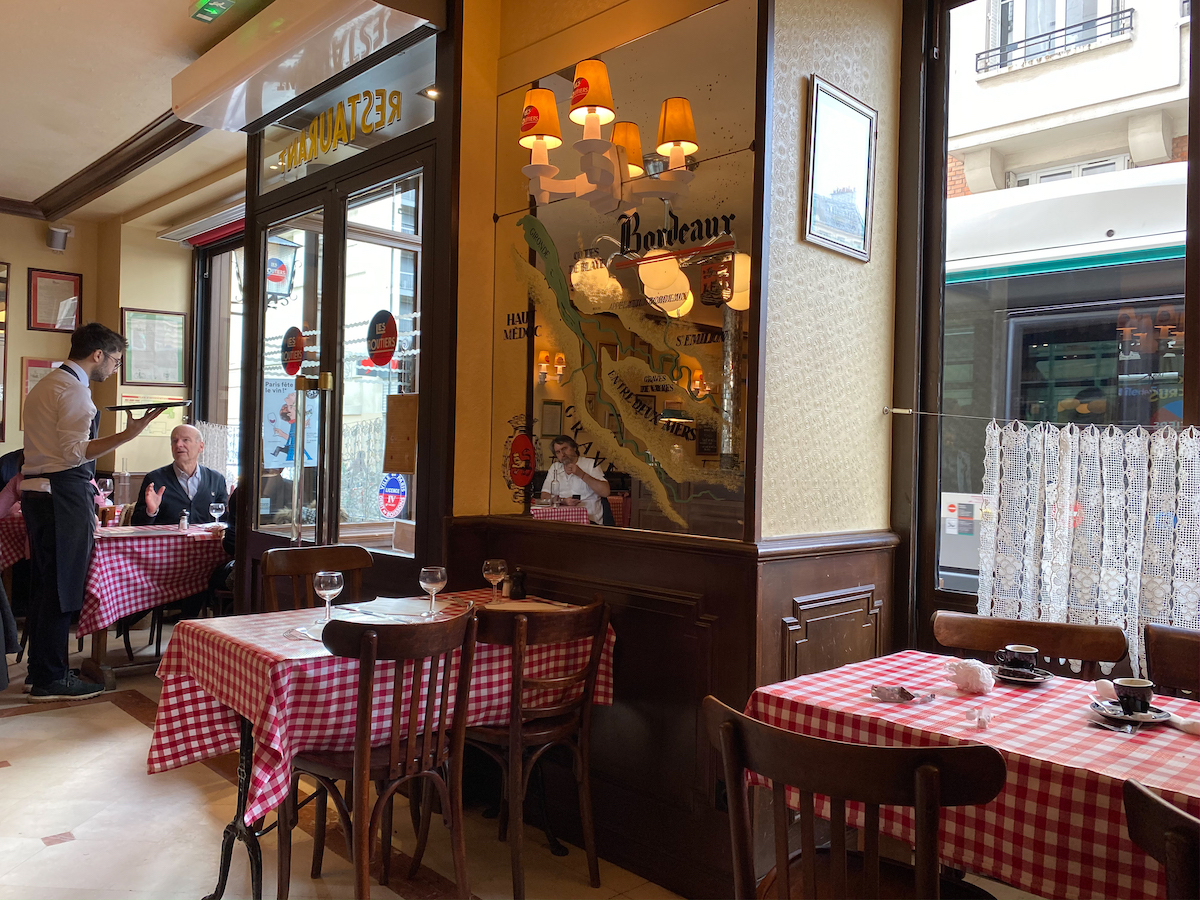 Address: 54, rue Godefroy Cavaignac, 75011
Hours: Open daily for lunch & dinner
Telephone: +33 1 45 67 21 13
Online Booking / Website / Facebook / Instagram
Read an old travel guide to France, and you'll likely find mention of les routiers. At these roadside restaurants catering to truckers, grub was classic, cheap, and good. And despite the absence of any highway running through the trendy 11th arrondissement, Aux Bons Crus evokes these restaurants of yore.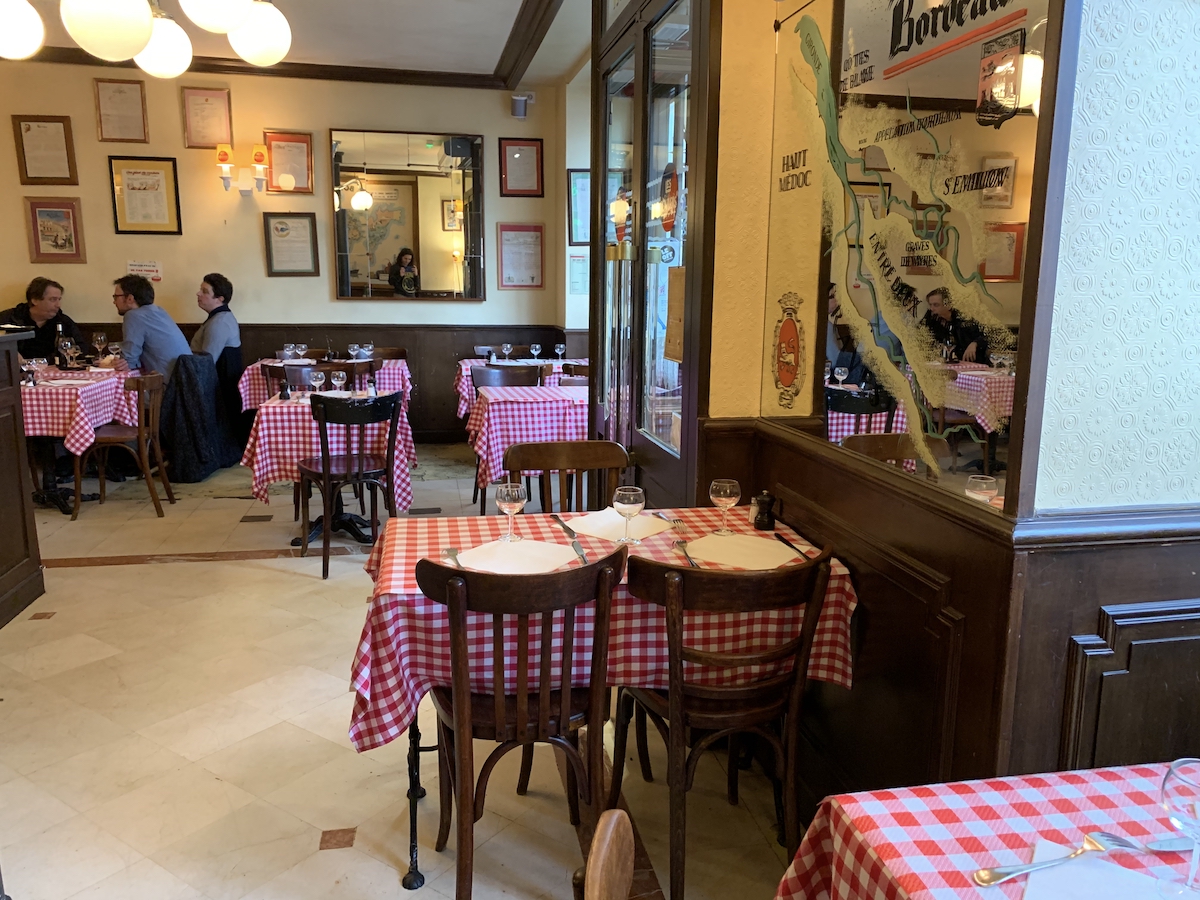 The restaurant is the brainchild of twins Margaux and Félix Dumant, who also own the almost identical restaurant Les Marches in the 16th. Tables at Aux Bons Crus are dressed with gingham tablecloths. Mirror appliqués and framed bistro menus complete the illusion that you've somehow walked into 1950s Paris, rather than a restaurant that opened in 2018.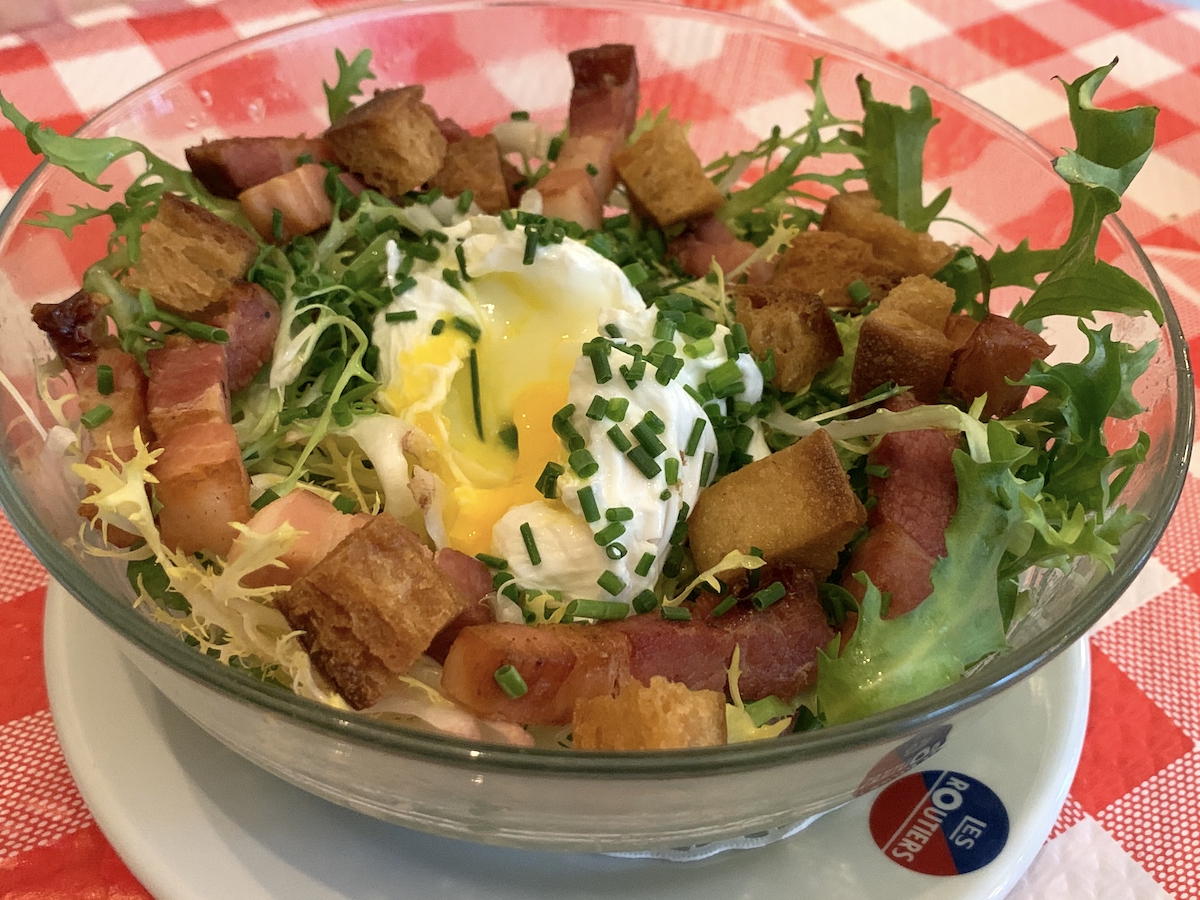 The menu, too, evokes times past, with cheap, comfort food classics like escargots (9€), oeufs mayonnaise (5€), tête de veau (15€), andouillette (17.5€), and chocolate mousse (6.5€). A warm lentil salad with bacon lardons (5.5€) boasts a generous sprinkling of chive over the top. It lends a welcome brightness to the mild, earthy dish and provides a counterpoint to all that bacon fat. Frisée salad with poached egg and bacon (8€) is unfortunately a bit damp. The dressing could do with more emulsification and flavor from a dollop of mustard. As it is, the yolk runs to the bottom of the bowl, and it's not worth the effort of mopping it up with the fine baguette, served in a basket with Normandy butter.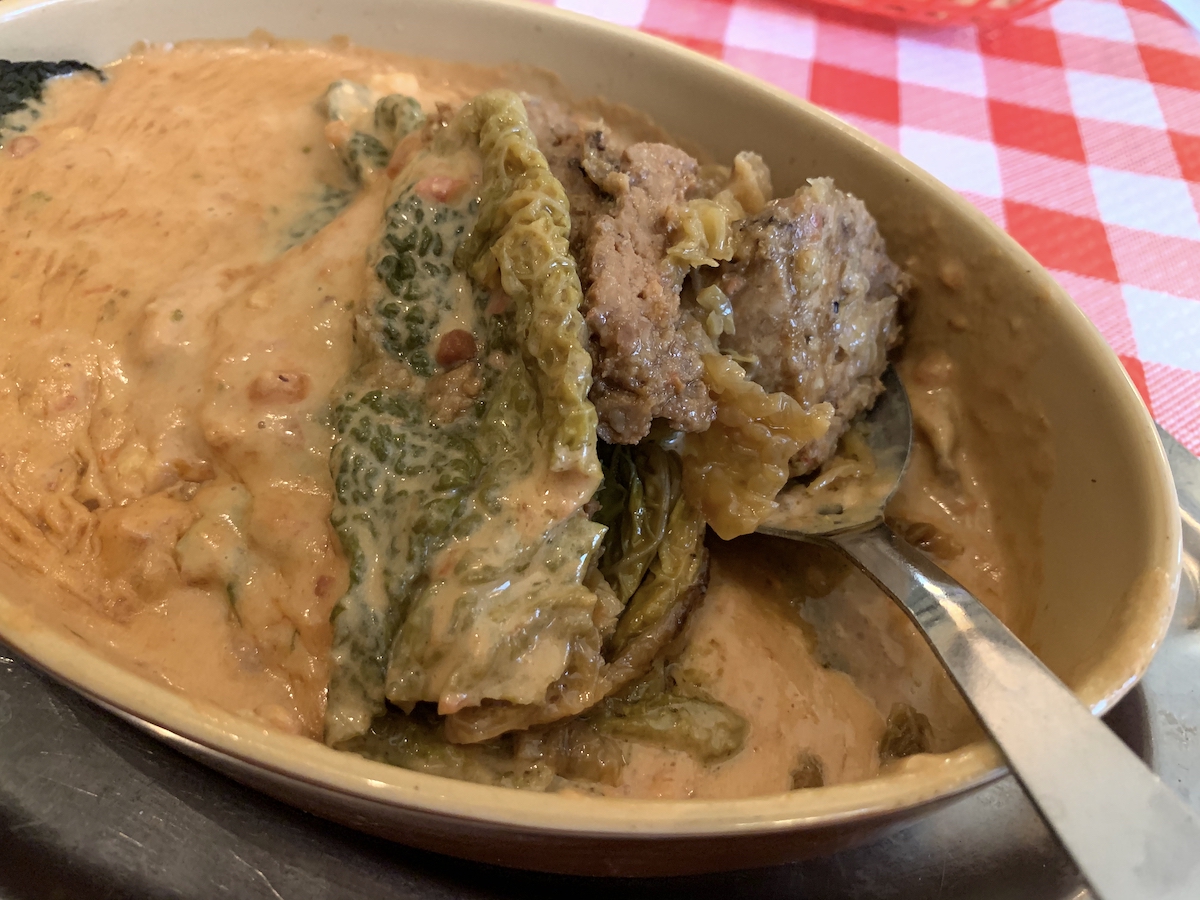 The "famous" stuffed cabbage (15€) is hearty and rich, with a tomato-based sauce that's creamy and flavorsome, if a touch too salty. The cabbage itself is perfectly cooked and bright green, and the meat is richly flavored though a bit compact. Alongside the filet steak (19€), diners have a choice of morel cream sauce (5€ supplement) or truffled bearnaise (2.50€). The latter is the superior choice (and generously truffled), though it's a far better dipping sauce for fries than it is for the meat, which arrives woefully overcooked. Quenelles de Brochet (pike dumplings in a crayfish sauce) are a solid choice, in both senses of the word.
Ambiance is the strong suit of this restaurant, which nevertheless makes good on the promise of good food at a reasonable price. The 16€ lunch menu is tough to beat, and a fine, reasonably priced wine list will make you even happier you're not driving out of this routier. In a city where good bistros are becoming fewer and further between, Aux Bons Crus is certainly a salient option, and open seven days a week.
Aux Bons Crus in Pictures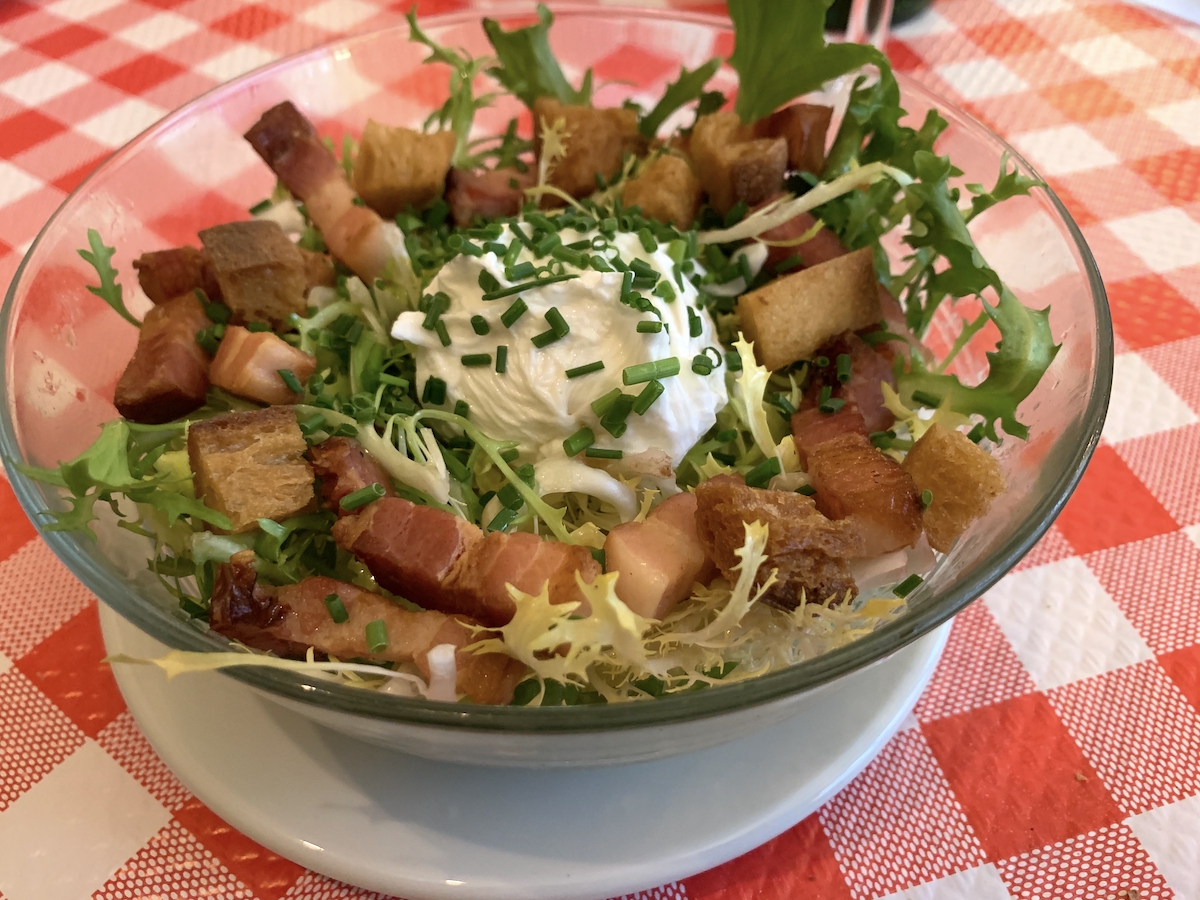 In Other Words
L'Express (2018) is particularly enticed by the 16€ lunch menu at this "nice" restaurant applauding a fulfilled promise for a good, cost-effective meal.
Telerama (2018) finds the "storytelling a bit forced" at this restaurant out of its time, nevertheless dubbing the stuffed cabbage pleasantly "surprising" and the fries "irresistible."
Le Figaro (2018) is impressed with the comfort food cuisine here. "It's good, served well and with a smile."
Le Monde (2018) hinges its critique on the chocolate mousse, calling it "luxurious."
Time Out (2018) is a bit less laudatory than most, noting that while the fries are certainly tasty and full of texture and the baba au rhum passes muster, the daily lunch menu on the day of reviewer Jill Cousin's visit "broke down" on the dry cod, the underseasoned leek mimosa, and "stuffed cabbage that's slow on the pick-up" with flavorless sauce and cafeteria-esque meat filling.