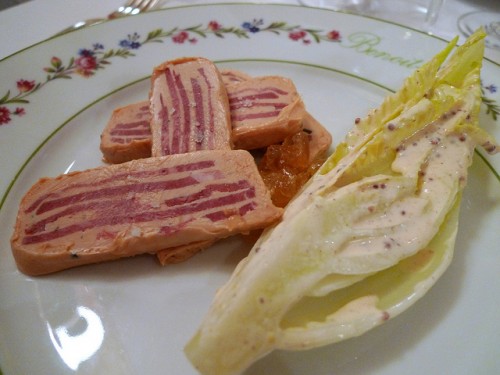 Open since 1912, this picture-postcard Paris bistro is part of the Ducasse group.
Address: 20 rue Saint-Martin, 75004
Hours: Open every day for lunch & dinner
Telephone: +33 1 58 00 22 05
Book Online / Website / Facebook / Instagram
COVID-19 UPDATE:
Benoit was one of several Alain Ducasse establishments collaborating on Ducasse à la Maison, a delivery service, during confinement. The restaurant and service are currently closed until further notice. Benoit is selling pre-paid gift cards for those wishing to support it before it reopens.

---
Benoit in Pictures
Pommes Anna

Icy Chartreuse

Escargots

Bread and butter

Table setting

Sweetbreads with rooster comb and kidneys

Profiteroles

Foie gras

Sole Nantua

Cassoulet
---
In Other Words
Alexander Lobrano (2015) "Our whole meal tasted of the food which made us decide to live our lives in Paris a longtime ago, but it was also fresher and more vivid than any of those remembered dishes of yore. This is where Ducasse, and acting chef Fabienne Eymard, have so admirably succeed, since there's a very good possibility that the bistro cooking served here is even better today than it was when the Petits owned it… Benoit is still a very good bistro."
Alexander Lobrano (2012) "Now, though, since former sous chef Eric Azoug became head chef, the food is often once again as excellent as it was in the Petit era…"
Le Figaro (2008) "Un nouveau arrive sans bousculer d'un oignon de blanquette ce conservatoire bistrotier sous casaque Ducasse… Benoît ferait encore dans le pâté en croûte, cassoulet, millefeuilles… Service sans faux pli."