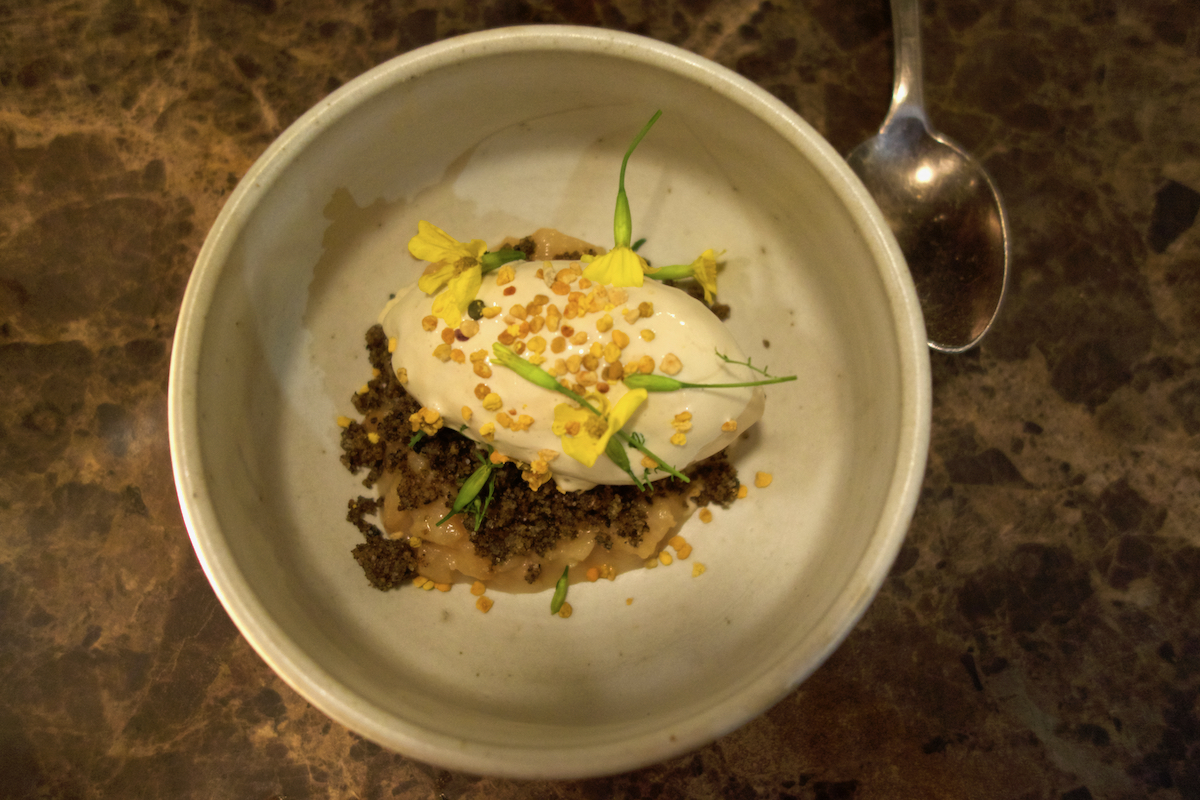 Address: 14, rue Charlot, 75003
Hours: Open Tuesday-Saturday for lunch & dinner. Open Sunday for lunch only. Closed Monday.
Telephone: +33 1 42 72 49 12
Online Booking / Website / Facebook / Instagram
Marais restaurant Carbón, like successful film scripts, fits into a neat elevator pitch: a stylish, high-end restaurant with a focus on wood-fire cooking featuring a basement cocktail bar (a mini-Extabari, for the fashion set). In a comic twist of fate – indeed, like something out of the aforementioned film script – the flame-themed restaurant caught fire in October 2018 and was forced to close for 11 months.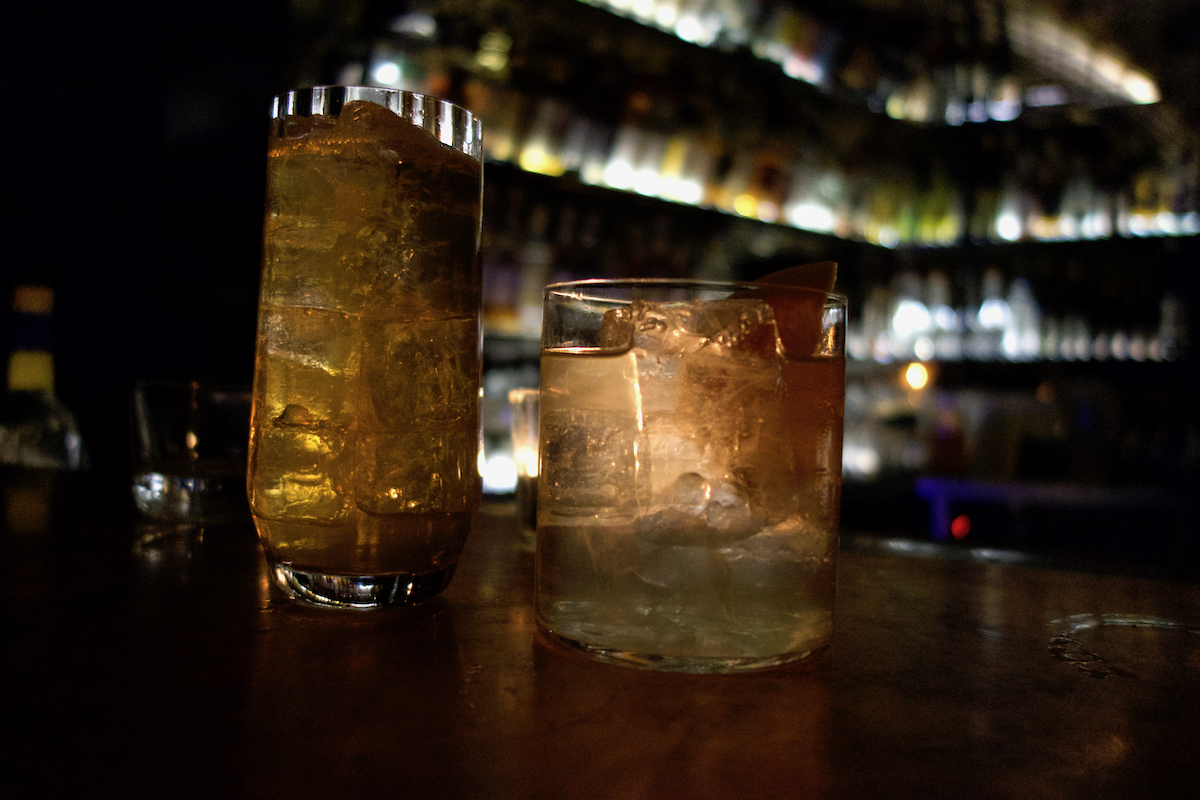 Carbón reemerged, phoenix-like, in late September 2019 with a new French chef, Thibault Marlin, overseeing the beechwood logs. Visitors expecting a pagan, paleo, or beach-barbecue vibe will be disappointed: the famous cooking fire is rather small and is safely incorporated into the enclosed kitchen, only partially visible through a pane of glass. With its high ceilings, exposed stone walls, and fulsome hanging plants, the restaurant exudes a very contemporary chic, familiar from spas and interior design stores in most capital cities. In the restaurant's rear, facing the kitchen window, glitters a small cocktail bar, a sort of prelude to the full cocktail lounge below, La Mina. Lining the stairwell are colorful bottles from the restaurant's natural wine list, which favors selections from outside France.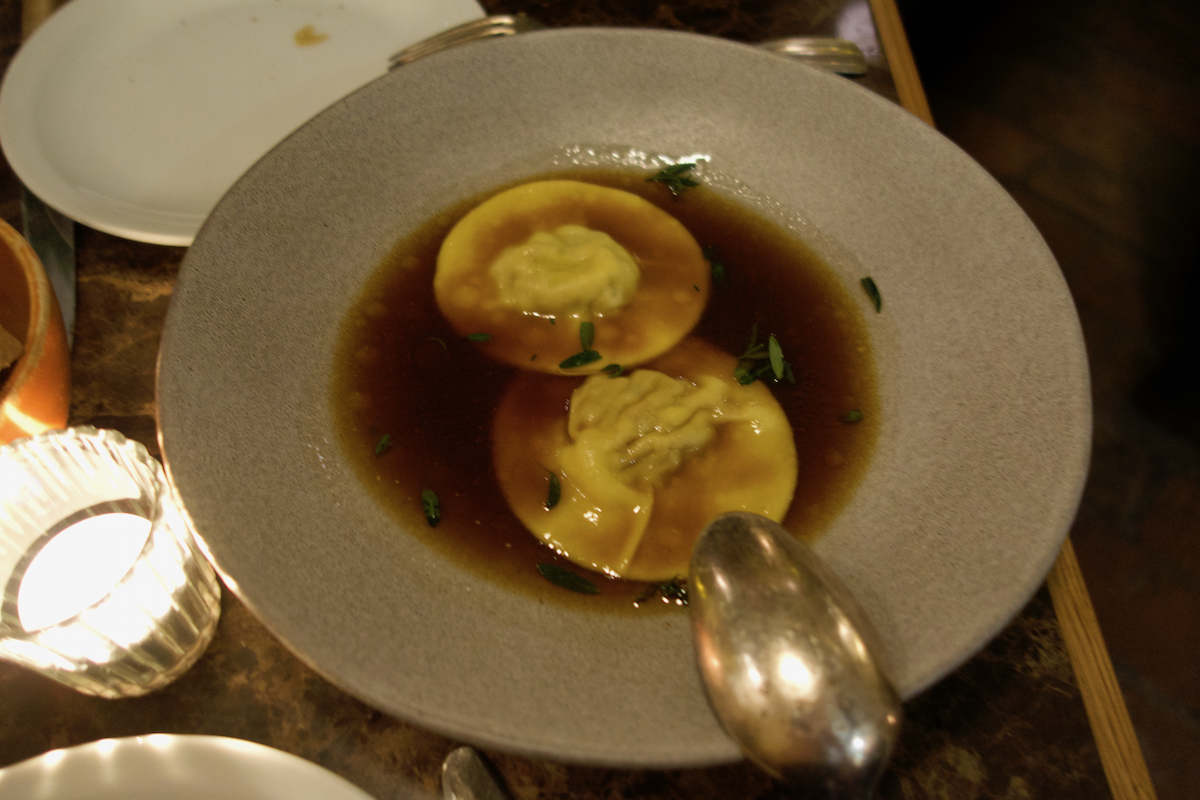 In such surroundings, savoring what Carbón's website calls "the products of land & sea in their extreme nudity" prepared using "the most ancestral cooking technique in the world" might feel a tad absurd, but what Carbón's pricey, fashionable menu of shared plates actually offers is in keeping with the décor. The duck ravioli in a broth of ramen-like intensity was on-trend, though the ravioli themselves were not quite numerous enough, especially at 22€ for the pair. (In the past year, Paris chefs, almost in unison, seem to have discovered the joys of house-made ravioli, and in most cases, the price of the resulting rather sparse dishes seems to factor in the labor of ravioli-making at a conspicuously high rate.) Fire appeared in an ecologically unsound plate of tuna tartare in a cold broth of flamed seaweed, which ably brought out the sweetness of the fish while remaining almost bitter on its own.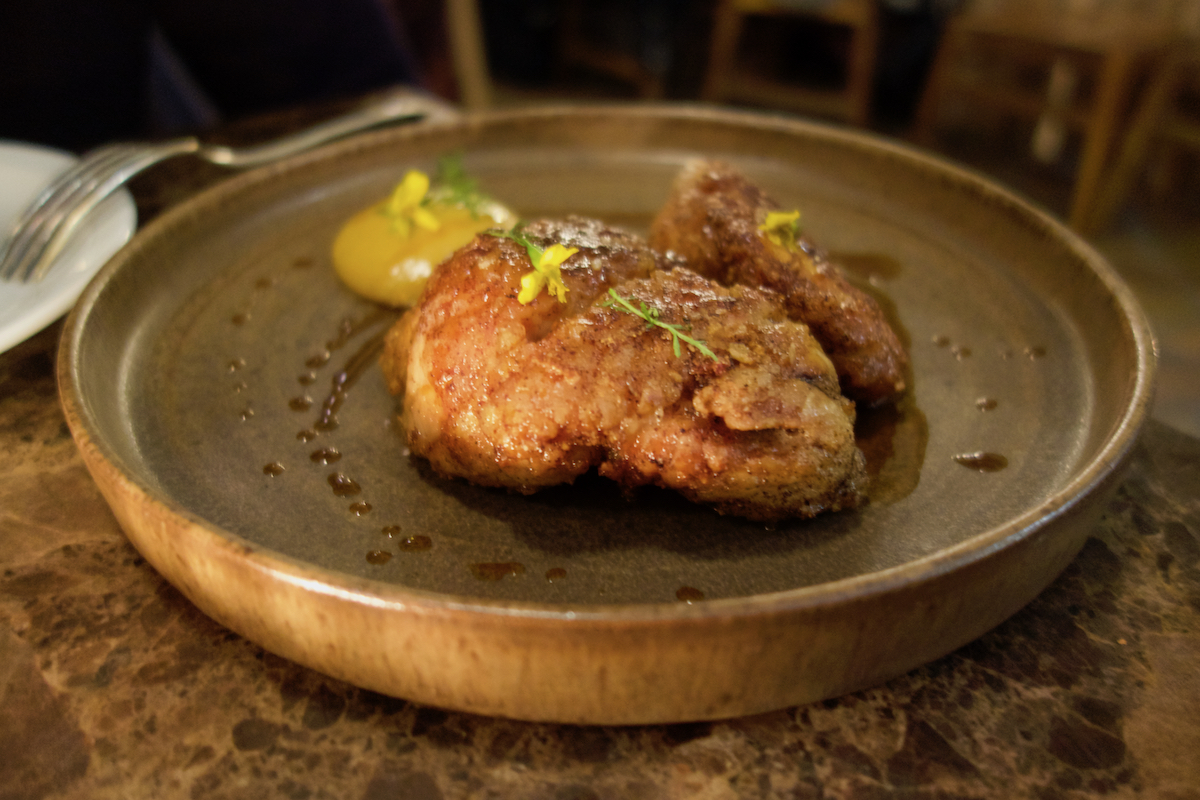 Carbón's schtick as a whole truly shines in the main courses. Sweetbreads were seared to delicate, fleshy perfection and enhanced with a miso sauce that elegantly recalled wan Chinese-restaurant mustard. It is advisable to ask probing questions about portion sizes at Carbón, as they vary wildly: Billed as sufficient for two, the sweetbreads were the size of a solo portion across town at Amarante.
There's the rub, as it were, to this otherwise immaculately executed luxury grill, the project of Sabrina Goldin and Stéphane Abby (known for miniscule Canal Saint-Martin empanadas joint The Asado Club). Carbón offers none of the abundance or finger-licking informality one might associate with wood-fired grilling, making it, conceptually, the restaurant equivalent of a Range Rover, or a Gucci trucker hat. Better to ignore the concept and appreciate Carbón for what it is: an ambitious, competent, polyvalent dining experience, which is a rare thing in Paris, at any price.
---
Carbón in Pictures
Tuna tartare

Carbón table

Celeriac

In Other Words

52 Martinis (2018) says "all the cool kids know about Carbón," praising the work of the mixologists behind the restaurant's cocktails. 

Do It In Paris (2017) says Carbón boasts "a wildly glam and trendy atmosphere that appeals to the fashion world as well as certain figures of the Paris musical scene."

L'Express Styles (2017) François Régis-Gaudry found the beef a bit tough but appreciated the "crackling skin" and "melting flesh" of the game hen at Carbón.