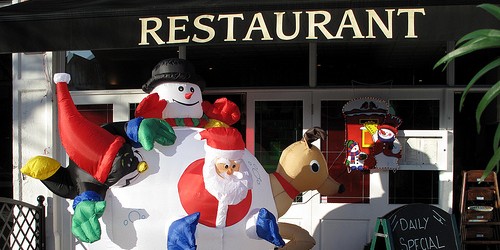 Celebrating Christmas in Paris Restaurants
As is true almost everywhere, Christmas is a holiday that locals celebrate en famille, preparing meals at home that feature seasonal treats like Champagne, sea scallops, roasted birds, truffles (if they can find one), foie gras, and the traditional bûche de Noël.
The vast majority of Paris restaurants will be closed for Christmas (see our calendar of holiday closures), but a few will be open and serving holiday meals. We've summarized your options below and will continue to add to this post as we receive additional replies from the restaurants in our guide.
You can also consult our guide to Celebrating New Year's in Paris Restaurants and our schedule of which Paris restaurants will be closing for (or before, between and after) the holidays.
Christmas Eve (Le Réveillon de Noël)
Staggeringly Expensive (more than 600€ without wine)
Very Expensive (more than 200€ without wine)
Expensive (more than 90€ without wine)
Moderate (less than 90€ without wine)
Christmas Day (le jour de Noël)
Related Posts