Address: 63, rue de Belleville, 75019
Hours: Open Wednesday-Saturday from 6pm-2am. Open Sunday & Monday from 6pm-12am. Closed Tuesday.
Telephone: +33 9 80 84 78 60
Facebook / Instagram
Craft cocktails are by now so established on Paris' nightlife scene that some remark, wistfully, that they are a young man's game. The 2017 opening of Combat – a beautiful, welcoming, and courageously far-flung mixology destination in the heights of Belleville – proves this wrong. Named for the archaic term for its district, Combat dispenses with the more juvenile trappings of the genre. Gone are the faux exclusivity, the darkness, the inescapable DJs. Instead, Combat focuses on the fundamental pleasures of a night on the town: sincere hospitality, casual open-air comfort, and impeccable bartending talent.
Combat's sparse, mid-century refrigerator design boasts a terrace onto the cascading culture-clash of the rue de Belleville. Inside is a dining room, a backroom open to privatization, and Paris' strangest toilet. The semi-private affair gives out onto a hand-washing fountain and the backs of a few (presumably emergency-only) bar seats. Six seats not situated in the toilet offer audience to the bar's supremely savvy owner-operators: Margot Lecarpentier (an Experimental Cocktail Club alum), Maxime Potfer (artistic director of the Experimental Cocktail Group), and Elena Schmitt, a former intellectual property lawyer turned cocktail savant.
The cocktail menu is at once geeky and accessible. Someone behind the bar evidently loves shrubs: house-made acidulated concoctions based on fruit and sugar. The "14130" is a balanced, canary-yellow blend of calvados, white radish shrub, arabic gum syrup, and lime, garnished with a petal of seaweed.
Care has also been taken to make the experience egalitarian, as regards both budget and alcohol tolerance. A cocktail du jour is just 8€, and the list offers to improvise non-alcoholic cocktails. Further hangover prevention comes in the form of Combat's numerous "pairing" cocktails: drinks that arrive with a grand nibble alongside, like the artichoke extravaganza of a Cynar Collins accompanied by a plate of marinated artichokes pebbled with roast hazelnuts. The rest of the bar's limited food menu boasts fine pedigree: terrines from rue Amelot terrine king Rodolphe Paquin, bread from Thierry Breton, 48-month aged gouda.
Combat is clearly the work of passionate people who have given thought to making a cocktail bar for the ages. They've succeeded, giving Paris a glamorous, unaffected spot for anyone who has ever worried about outgrowing cocktail bars.
---
Combat in Pictures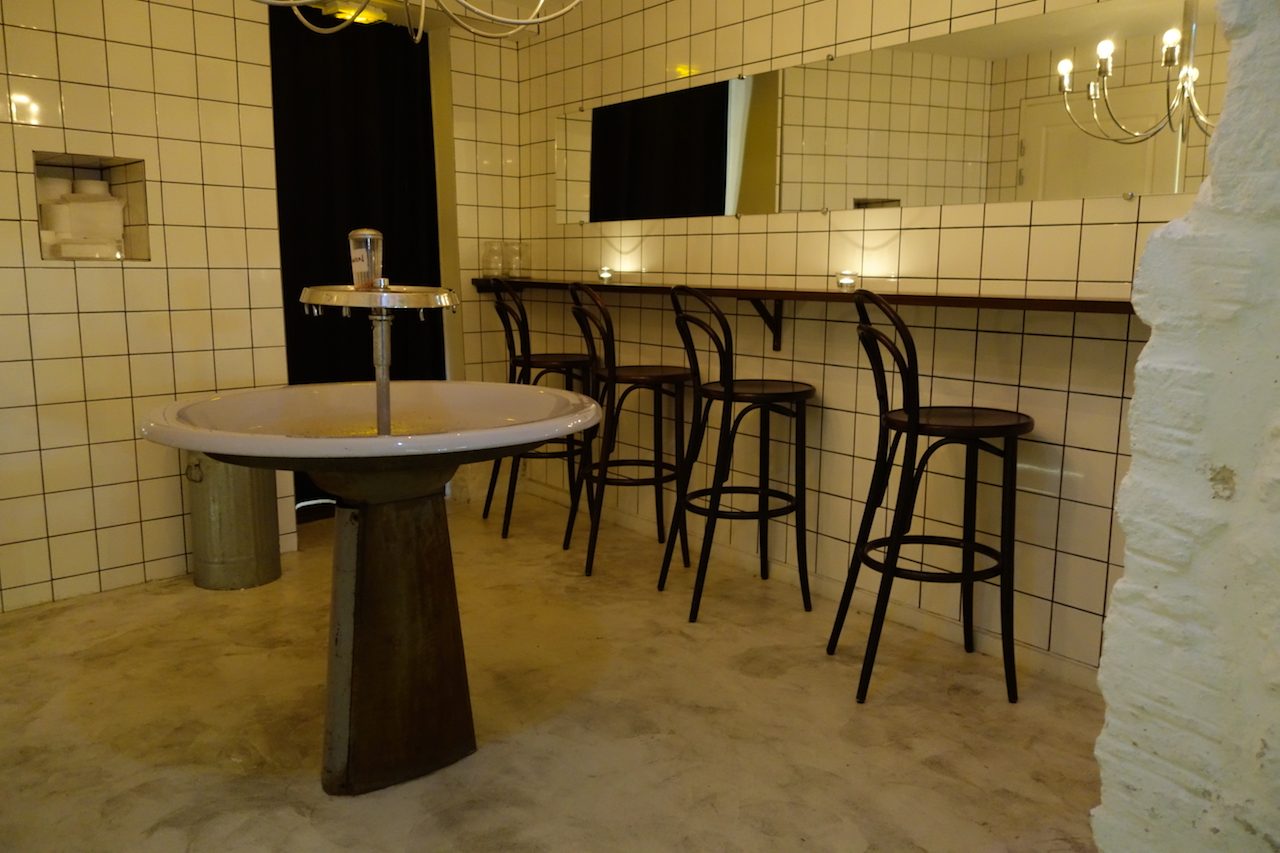 ---
In Other Words
Le Parisien (2018) notes that it's rare to find a cocktail bar run by women, adding that Combat's prices are less expensive than cocktail bars in the center of Paris.
Le Nouvel Observateur (2018) recounts the transatlantic career of Margot Lecarpentier in its adoring profile, written for the occasion of her appearance at the Omnivore festival.
Le Fooding (2017) says that Combat renders its neighorhood "the standard bearer for successful bars."
Time Out (2017) suggests Combat for those who want their cocktails without any tussles.
Mixology (2017) calls Combat "a cocktail bar with the look of a bistrot" and praises its "sustainable, homemade menu."