Address: 80, rue Sedaine, 75011
Hours: Open Tuesday-Friday for lunch & dinner. Open Saturday & Sunday for dinner only. Closed Monday.
Telephone: + 33 1 43 57 59 68
Website / Facebook / Instagram
What does it take to make a natural wine bar stand out in an arrondissement saturated with natural wine bars? Coup d'Oeil, a long, narrow spot tucked in the shadow of a corner brasserie, is apparently banking on ostentatious design to distinguish itself from competitors.
The establishment's very name – French for "a glance" – calls attention to its loopy interior. A canoe-shaped communal table is flanked by sinuous waveform wooden bars spanning the walls. Overhead are more waveform cut-outs of the same slightly cheap-looking wood, partially obscuring a much-needed skylight in the rear kitchen. Overall, it creates the sensation of being trapped in a diagram of geological strata.
On the Left Bank, where Coup d'Oeil owner David Rougier made his name at L'Epure and later at Bar Etna, extravagant restaurant design is a presumably helpful way to reassure tourists and wealthy Parisians of the value of natural wines. In the younger, less conservative 11th, it is unnecessary. In fact, it undermines an establishment's credibility in serving natural wine by implicitly insisting on its luxury status in a neighborhood where it has become as normal as craft beer.
The restaurant's dedication to communal seating would be laudable were it not for a lack of follow-through in service style. Reservations are insensibly encouraged for specific clusters of bar seats. Entering Coup d'Oeil at apéro hour, then, one is directed away from those closest to the front windows to those in the restaurant's dim middle depths, overlooking the stairway to the toilet.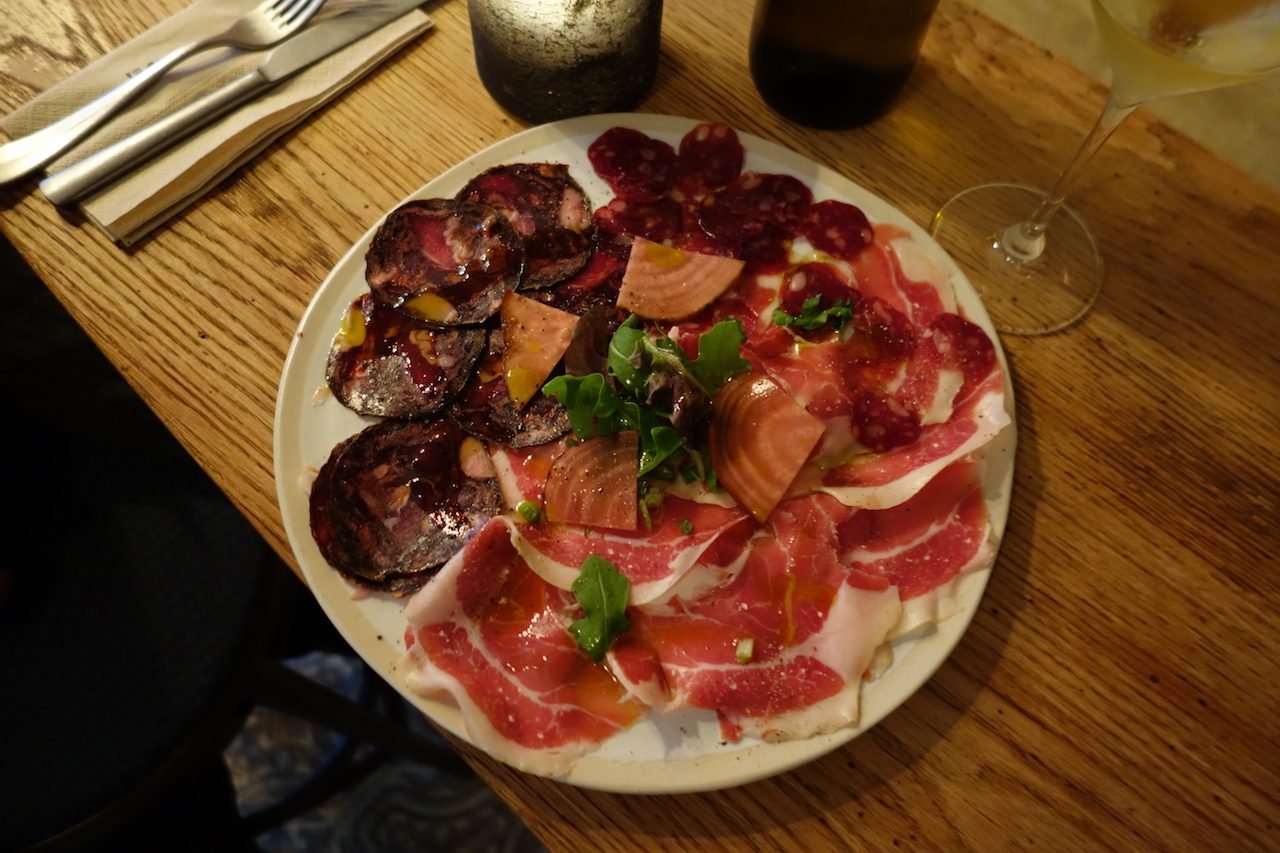 Such rigid seating policy is appropriate to bars at destination restaurants offering highly sought-after cuisine. It is just absurd at Coup d'Oeil, where the small-plates menu consists of the same enjoyable charcuterie, cheeses, preserves, and simple warm dishes available at any random cave-à-manger. A plate laden with white-and-violet coins of Galician octopus is pleasant and easy to share but lacks salt and acid. An oeuf-mayo arrives looking lonely, clad in a stray lettuce leaf. Razor clams with garlic and parsley fill the room with their fragrance. Their tender tendrils are impeccably seasoned, but one senses the plate's success is the work of nature, not a chef in command of a serious kitchen.
In sum, Coup d'Oeil's offering differs from that of a typical cave-à-manger only in its overwrought interior design and its higher wine prices, which approach more standard restaurant margins. The wine selection itself is a predictable roll-call of great natural winemakers from Christian Binner to Thierry Puzelat to Jean Foillard. Their current vintages are already well-represented all across east Paris. Wine geeks need not flock here for any discoveries.
---
Coup d'Oeil in Pictures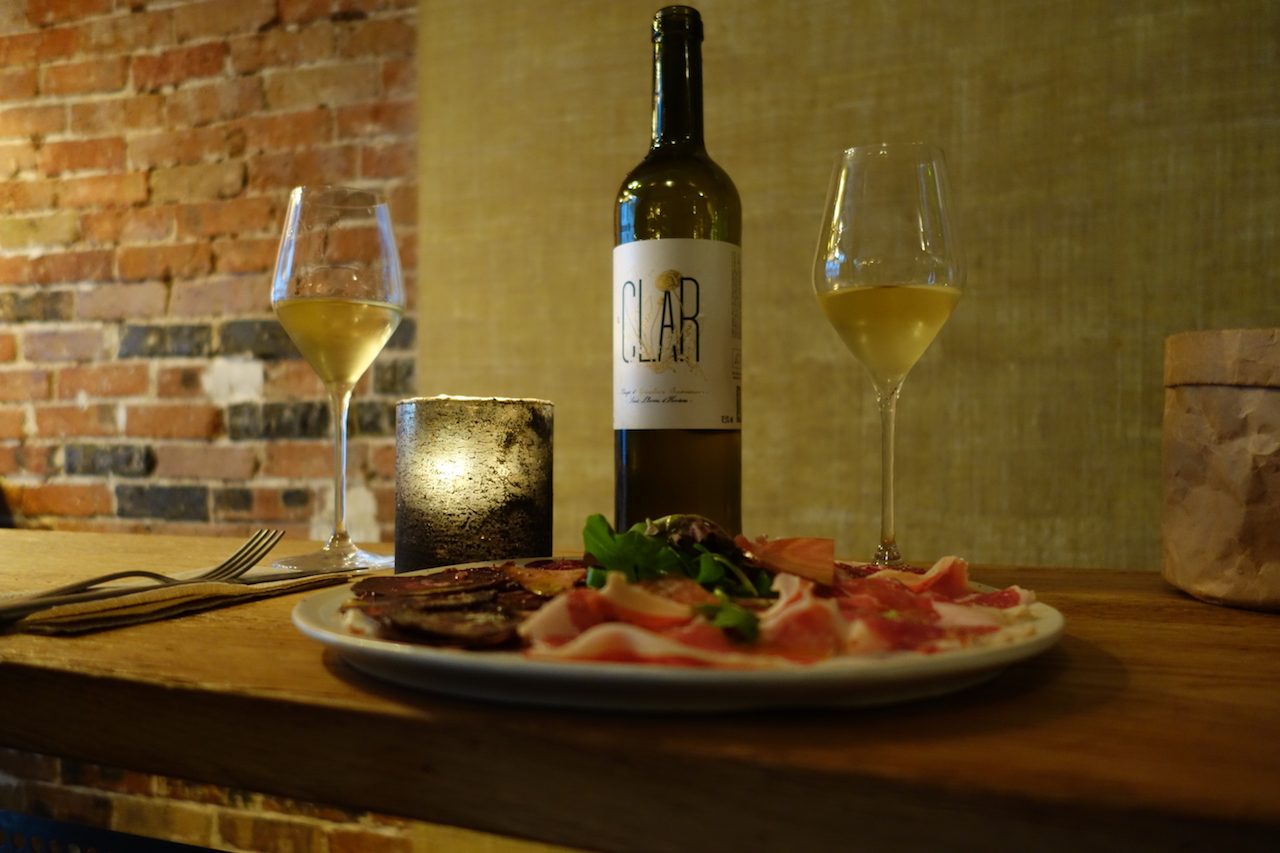 ---
In Other Words
Le Fooding (2018) says Coup d'Oeil is cool and "worth a look."
Le Figaro (2018) communicates rather less in its review than with its headline, which emphasizes Coup d'Oeil's communal seating and lunch service. These aspects are newsworthy because Parisians hate communal seating at lunch.
Time Out (2018) applauds Coup d'Oeil for presenting a design and a wine list rarely seen elsewhere. On this latter point, one can only presume that it was the reviewer's first-ever visit to the 11th arrondissement.