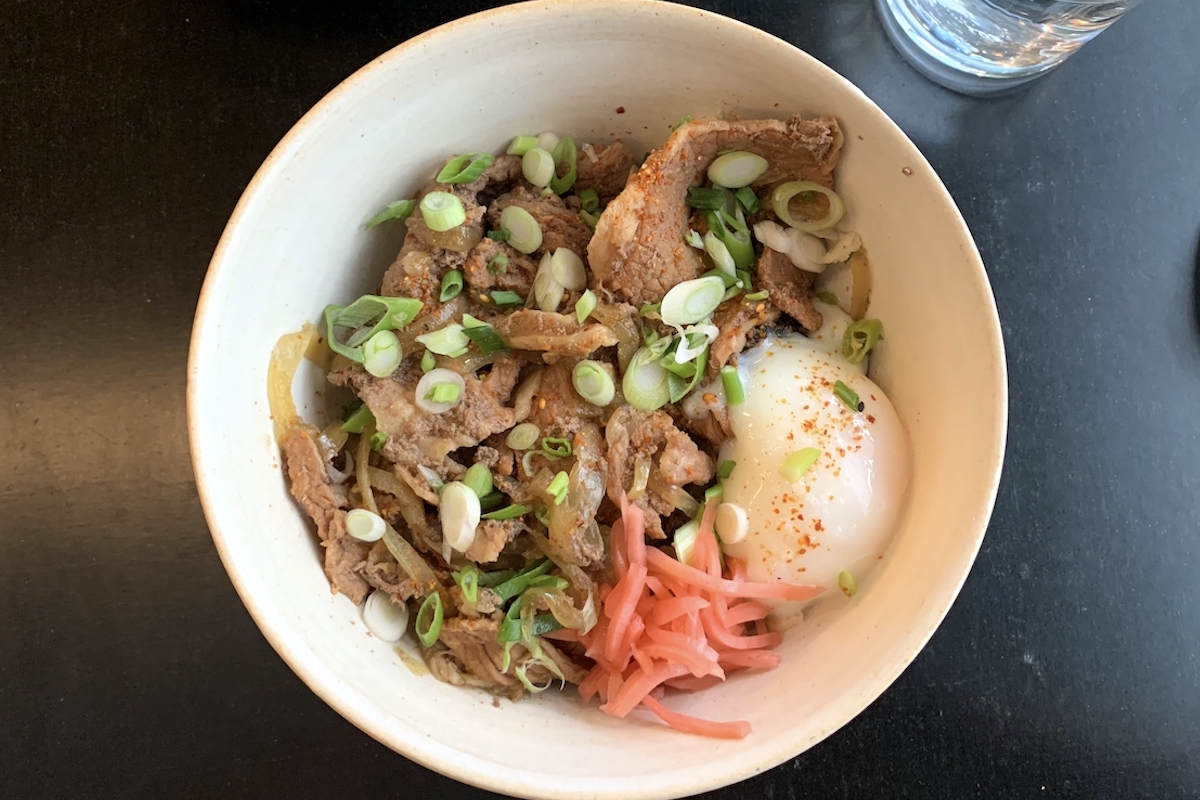 Address: 50, Rue Condorcet, 75009
Hours: Open Tuesday-Friday for lunch & dinner. Open Monday for dinner only. Closed Saturday & Sunday.
Telephone: +33 1 44 63 75 64
Website / Facebook / Instagram
A Parisian "bistro" has become a tough category to define. The hearty steak-frites and onion soup once emblematic of the genre seem, in the modern city, to be relics of the past. Instead, modern bistros offer lighter options that deviate so far from expectations of French cuisine as to seem utterly foreign.
Such is the case of Cuisine, a self-proclaimed bistro hidden behind an unassuming glass-paned storefront in the 9th. Here, chef Takao Inazawa (ex-le Verre Volé) and oenophile Benoit Simon (ex-Septime and le Chateaubriand) offer Japanese-accented cuisine with incredible precision and balance.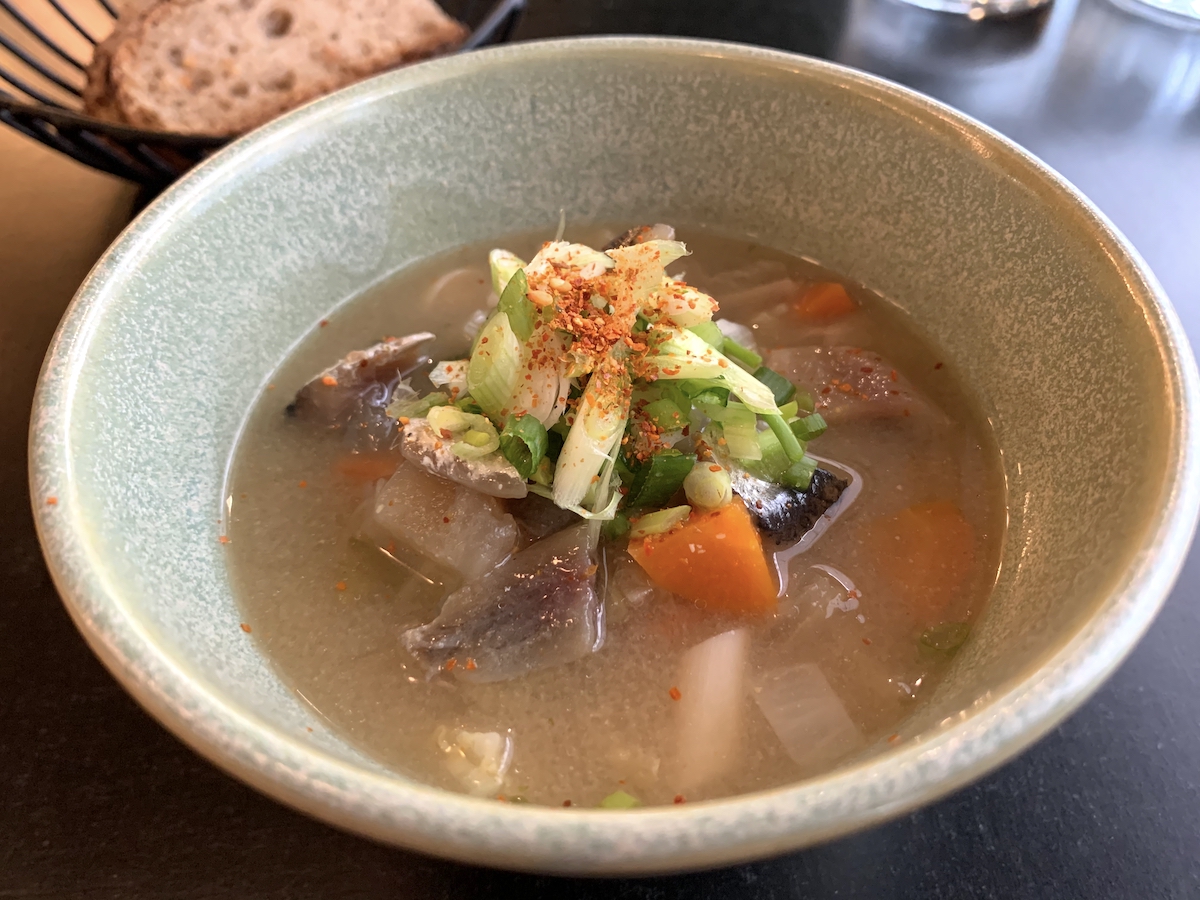 Cuisine's lunch menu is almost criminally reasonable, at 22€ for appetizer, main, and dessert. Miso soup is purposefully slightly under-seasoned to allow chunks of house-cured anchovy to balance out the umami-rich broth. Threads of raw spring onion lend brightness and piquance. To follow, a beef and rice bowl is topped with a perfectly poached egg. As with other lunchtime offerings, both are more straightforwardly Japanese than "Japanese-accented."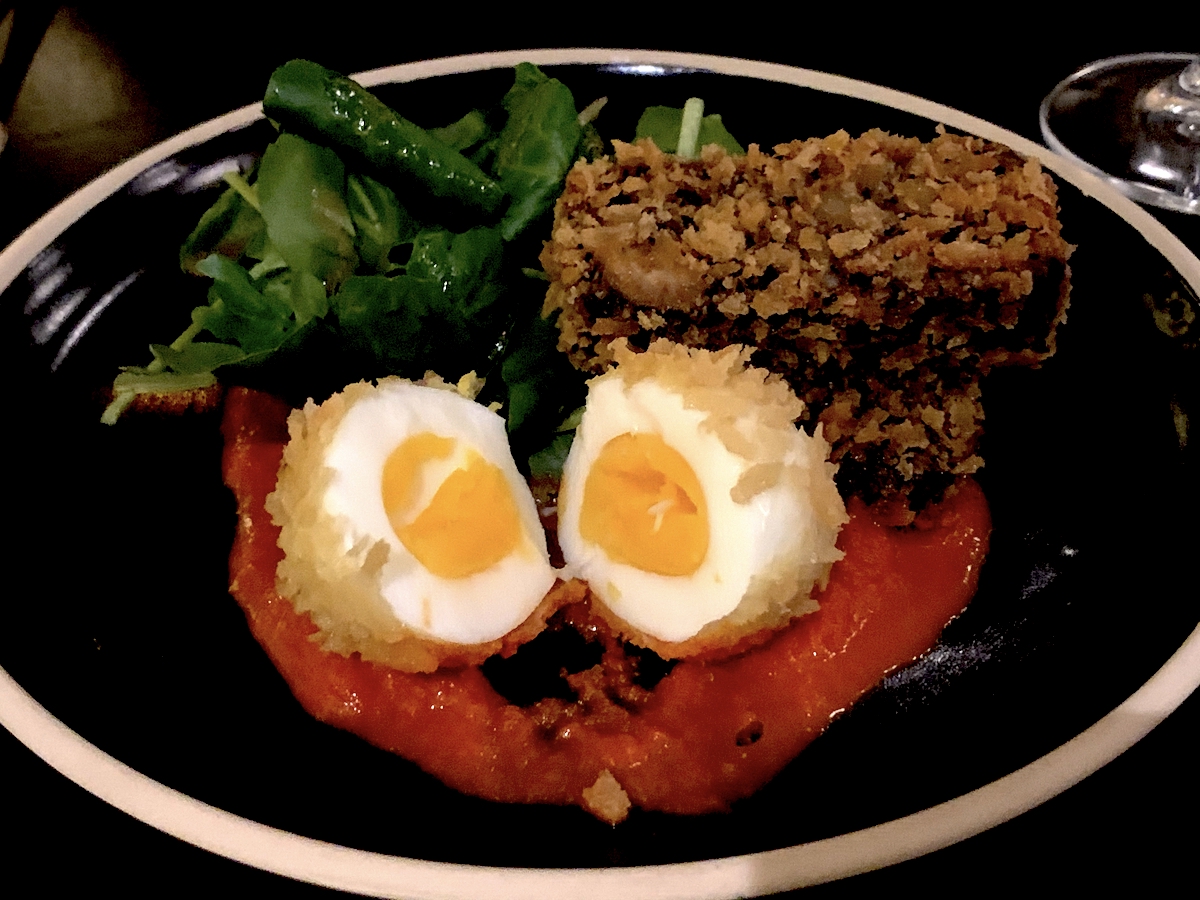 Dinner is where Cuisine's fusion stars align. Panko-crusted blood sausage (10€) is perfumed with Japanese curry and served atop a bright, pleasantly vinegary piquillo pepper purée with a rich sweetness just this side of ketchup. The fried egg could have been cooked a minute or two less to allow the runny, fatty yolk to bind the flavors. Instead, the elements remain unfortunately disparate, albeit no less delicious.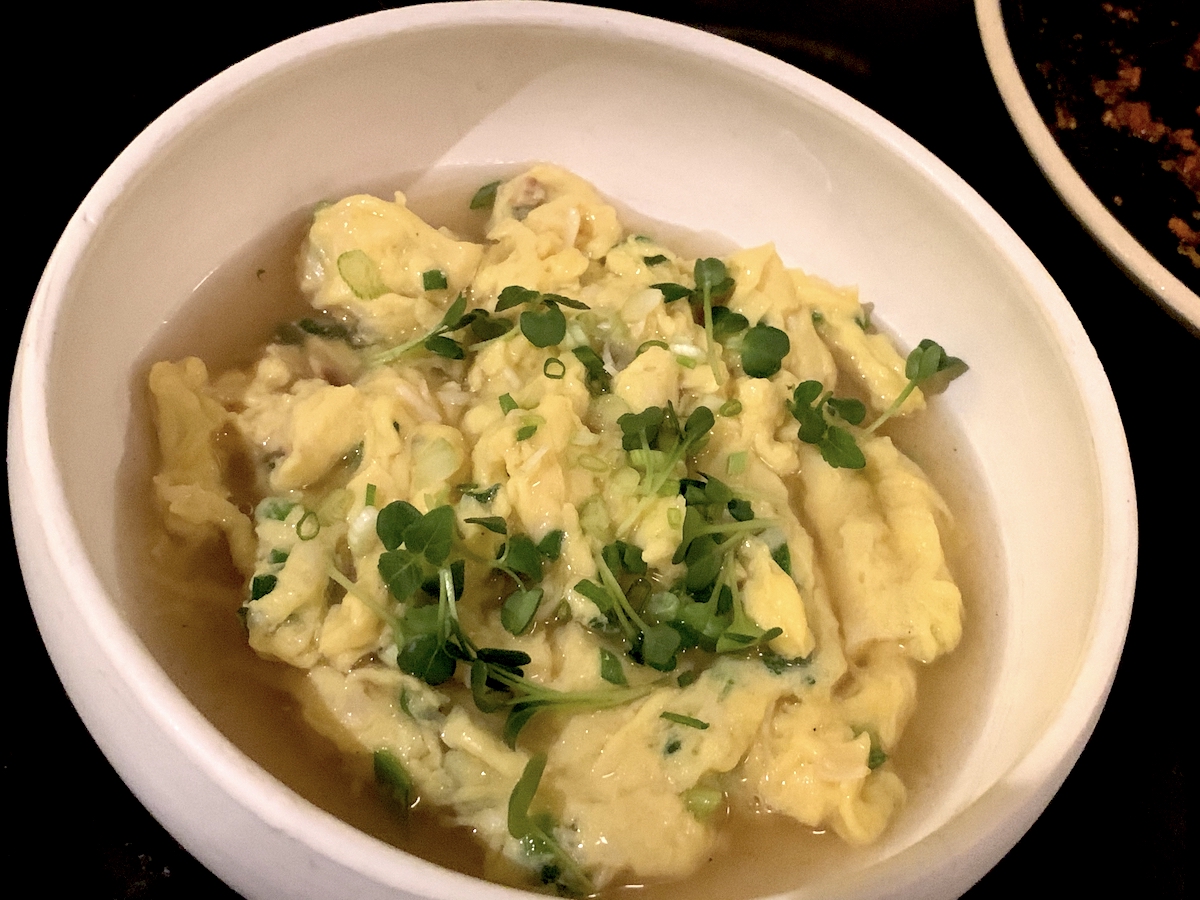 A dish of veal sweetbreads glazed with sweet eel sauce (14€) offers a one-two punch of richness balanced by vegetal charred scallions and mushrooms. By contrast, the kani tama with Breton crab (12€) is pleasingly mild. Fluffy curds of egg play with bare wisps of crabmeat in a broth with a tea-like perfume. This dish is not the prettiest girl at the dance, but it affords a necessary foil to the sweeter, more assertive flavors elsewhere on the menu that could otherwise veer towards the overpowering.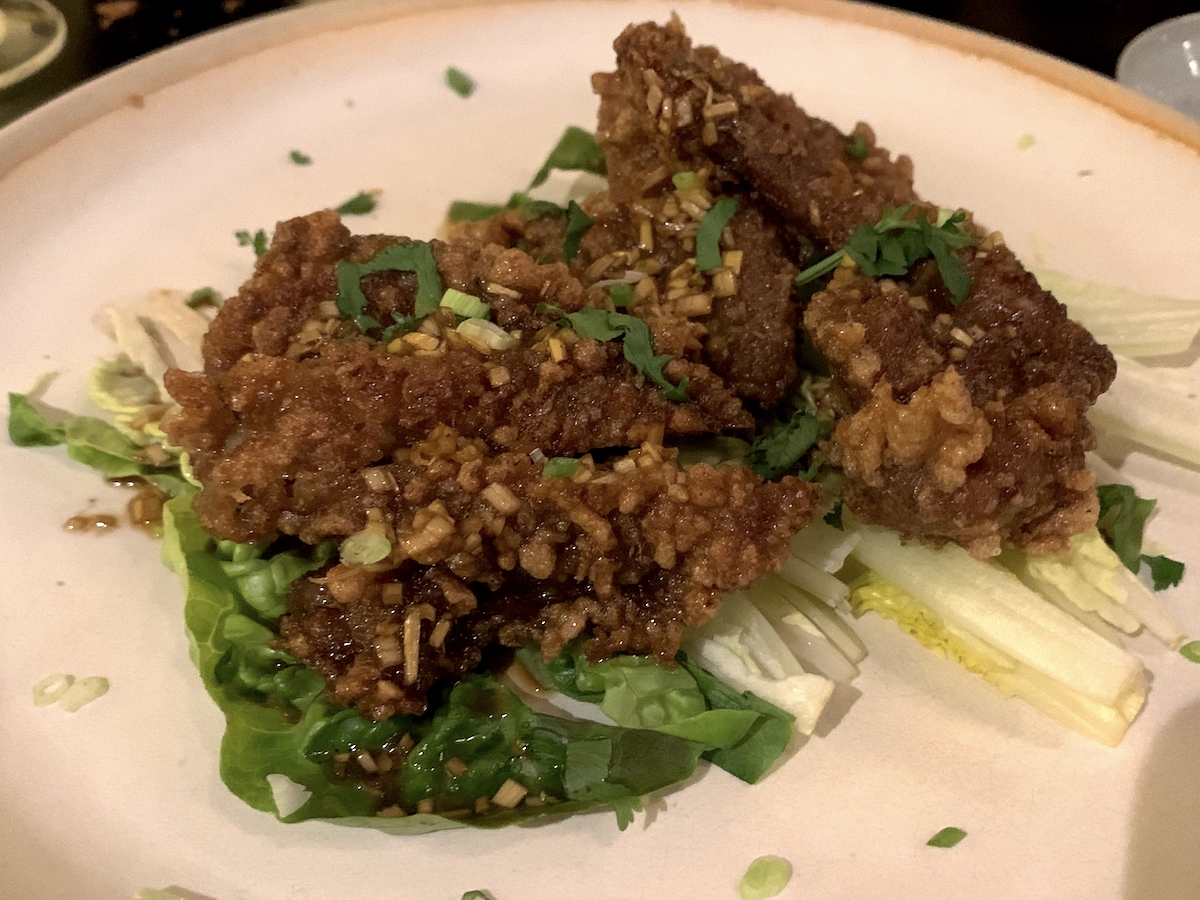 Case in point: the kara-age-style fried pigeon (21€). The main dish-sized portion for one is almost too generous (a rarity on the modern Paris dining scene). Shared, its sweet-and-sour sauce is just powerful enough. And despite the moist towelettes delivered alongside the dish to encourage a convivial gnawing of the wings, the tender breast meat is the far more interesting part of this dish.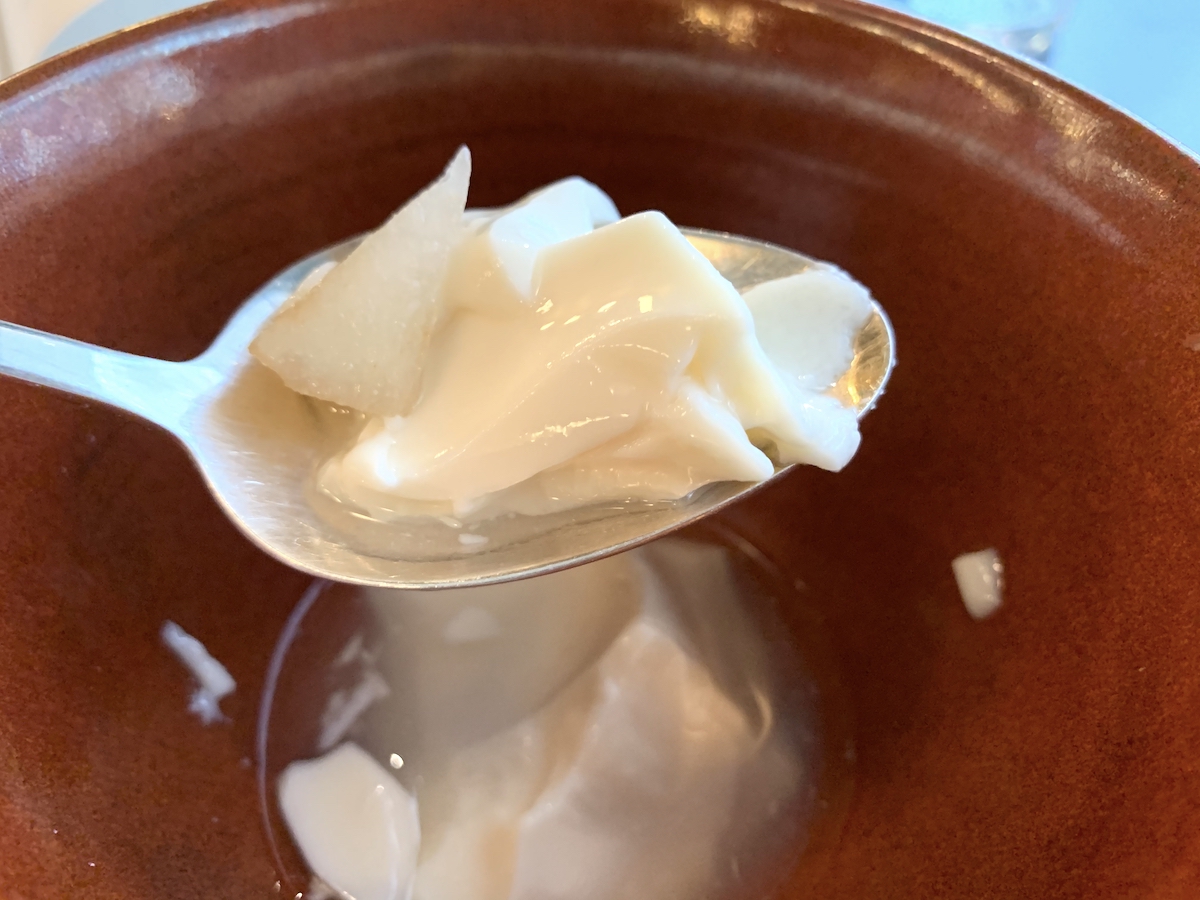 Desserts at both lunch and dinner tend to veer away from the international comingling embraced by the rest of the menu. Options are either French – like exquisitely sourced cheese or an apple tart – or Japanese, with little marriage between the two. A small bowl of silken tofu with pear and apricot is just sweet enough; a more consequential combination of matcha ice cream, red bean, and marshmallowy mochi (8€) is a true delight.
Cuisine may not be what one expects from a bistro, but it does tick all of the boxes of what one ultimately wants from one. It's quick. It's affordable. Service is competent and genial, and the space is open and bright. For all this – and for its expert navigation of the harmonious fusion of two distinct cuisines – Cuisine deserves all of its acclaim.
---
Cuisine in Pictures
Tofu, apricot, pear dessert

Matcha ice cream, red bean, mochi

Cuisine interior

Ris de veau with eel sauce

Cuisine interior

Bread

Beef and rice bowl with poached egg
---
In Other Words
Le Fooding (2019) applauds the "two talented bistrophiles" (chef Takao Inazawa, formerly of Le Verre Volé, and oenophile Benoit Simon, formerly of Septime and Le Chateaubriand) who have taken over this former takeaway shop. The outlet praises the "devilishly good Japanese-inspired" cuisine with a smattering of adjectives ranging from "incredible" to "intriguing" to "spectacular." The outlet also short-listed Cuisine for its Best New Bistro in Paris award, a distinction that was ultimately given to Cheval d'Or.

L'Express (2019) applauds the décor in this tiny "cubby-strot," the work of Italian architect Federico Masotto, before praising the "cheerful," "abundant" plates accompanied by a natural-heavy wine list. Writes François-Régis Gaudry: "Never has Cuisine deserved its name so much."
Gilles Pudlowski (2019) Sébastien Blondon, writing for Gilles Pudlowski, finds the time somewhere in a long-winded allusion to Snow White and the Seven Dwarves to praise the "delicious" scallop sashimi with raw cream and passion fruit.
Vogue (2019) names Cuisine one of its five must-visit restaurants in Paris, calling attention to its "charmingly vintage decor" and "seasonal cuisine infused with Japanese influences that celebrate small producers and all that is organic."