Elmer is a modern bistro In the northern Marais, not far from République. Chef Simon Horwitz (ex-Septime, Pierre Gagnaire) bases his ever-changing menus around impeccable seasonal ingredients and has an affinity for large portions intended to be shared by two or more diners. I recently returned for a solo lunch and was blown away by how good (and sneakily healthy) everything was. Delicious line caught cod was barely napped by sauce matelote and served with charred white asparagus and broccoli. Mussel soup had added depth from smoked mozzarella but was simultaneously bright with fresh herbs. Lunch menus are priced at 31€ and 36€ for two or three courses. At dinner, the menus start at 65€.
Bonus attributes: there's an excellent wine list from sommelier Sébastien Perrot, a sweet little outdoor terrace for summer dining, and a "chef's table" downstairs that can seat 8-16 guests.
Elmer has been included in our guide to Eating in the Marais.
ELMER
30 rue Notre-Dame de Nazareth, 75003
Open Tuesday-Friday for lunch & dinner
Open Saturday for dinner only
Closed Sunday & Monday
Reservations online or at +33 1 43 56 22 95
Their Instagram / Our Instagram
OUR PHOTOS OF ELMER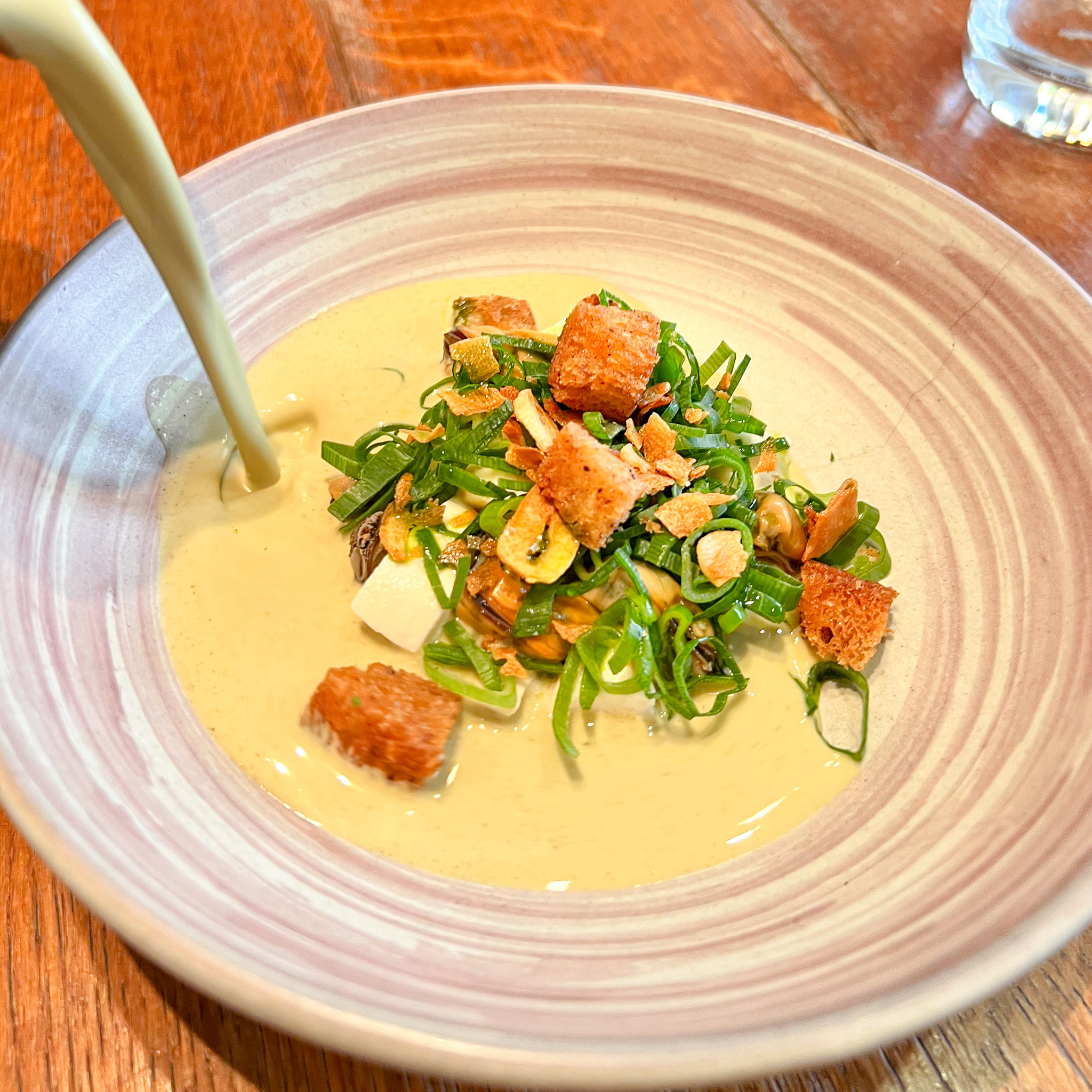 IN OTHER WORDS
John Talbott (2016) "They were among the best ribs I've ever had anywhere – moist on the inside, crispy on the outside, tasting of wood and Southern sauce."
Table à Découvert (2016) "Simon Horwitz, le chef d'Elmer, a une idée en tête: le charbon et la rôtissoire. Et avouez que pour cuire une épaule d'agneau, on n'a pas trouvé mieux."
Paris Bouge (2016) "Les canettes de Challans et l'agneau des Pyrénées se rôtissent et s'accompagnent de légumes ultra saisonniers passés à la flamme ou crus dans des assiettes pour deux. Les entrées se patchworkent pour divertir tous les convives des associations Horwitziennes bien pensées. On retiendra particulièrement un céleri cuit au foin, croquant et juteux, des anchois et des chips de champignon."
L'Express (2016) "Un nouveau bistrot branché? Bien mieux que ça! Simon Horwitz dévoile une épatante popote néobistrotière, en mêlant gastronomie française et inspirations d'Amérique du Sud, d'Australie ou encore d'Asie."
Libération (2016) "Les plats sont un peu onéreux : ils coûtent une vingtaine d'euros et il n'y a pas encore de menu, pas même le midi (le chef y réfléchit). Cependant, s'ils sont tous du niveau de la canette de Challans… ça vaut le coup. Généreuse, tendre, rosée, elle est, contre toute attente, divinement relevée par le top 3 de la verdure la moins sexy du monde: coing-endive-choux de Bruxelles. Le coing est sucré et acidulé, l'endive fondante, le chou craquant, le tout lié par une bonne sauce brune. Impec."
Le Fooding (2015) "Après avoir fait ses classes chez Wahid, Gagnaire, Grébaut et Meneau, voyagé en Asie et en Amérique latine, le chef s'est enfin posé pour en griller une (cane mi-sauvage, au charbon de bois), en tournant la rôtissoire et tricotant des assiettes polychromes, trilogiques et déstructurées: coucou de Rennes + betterave + oignon rôti; agneau de lait des Pyrénées + topinambour + brocolito; merlu de ligne + panais + chou de Bruxelles…"
SUBSCRIBE TO OUR NEWSLETTER