Tucked amid the cheap crêperies and fondue joints on the rue Mouffetard, Flocon is a sincere and locavore-leaning new restaurant run by a pair of brothers. The menu is compact, with only three choices (including one that's vegetarian) per course. The dishes are highly Instagrammable with lots of color and geometric shapes.
When we visited, the entrées (starters) like smoked trout with beet (16€) or crispy tête de veau with gribiche (14€) were bright and delicious. They impressed more than the plats (main dishes), which is so often the case. We liked that they offered a cheese course – in this case a perfectly ripe Brillat-Savarin – before a truly excellent selection of desserts. The vacherin with grapes (12€) was a standout, along with a dish of confit apple with almond cookie crumbs and lemon granita (11€).
Flocon is not included among our 50 Favorite Restaurants in Paris.
FLOCON
75 Rue Mouffetard, 75005
Open Friday-Sunday for lunch & dinner
Open Wednesday-Thursday for dinner only
Closed Monday & Tuesday
Reservations online or at +33 1 47 07 19 29
Their Instagram / Our Instagram
OUR PHOTOS OF FLOCON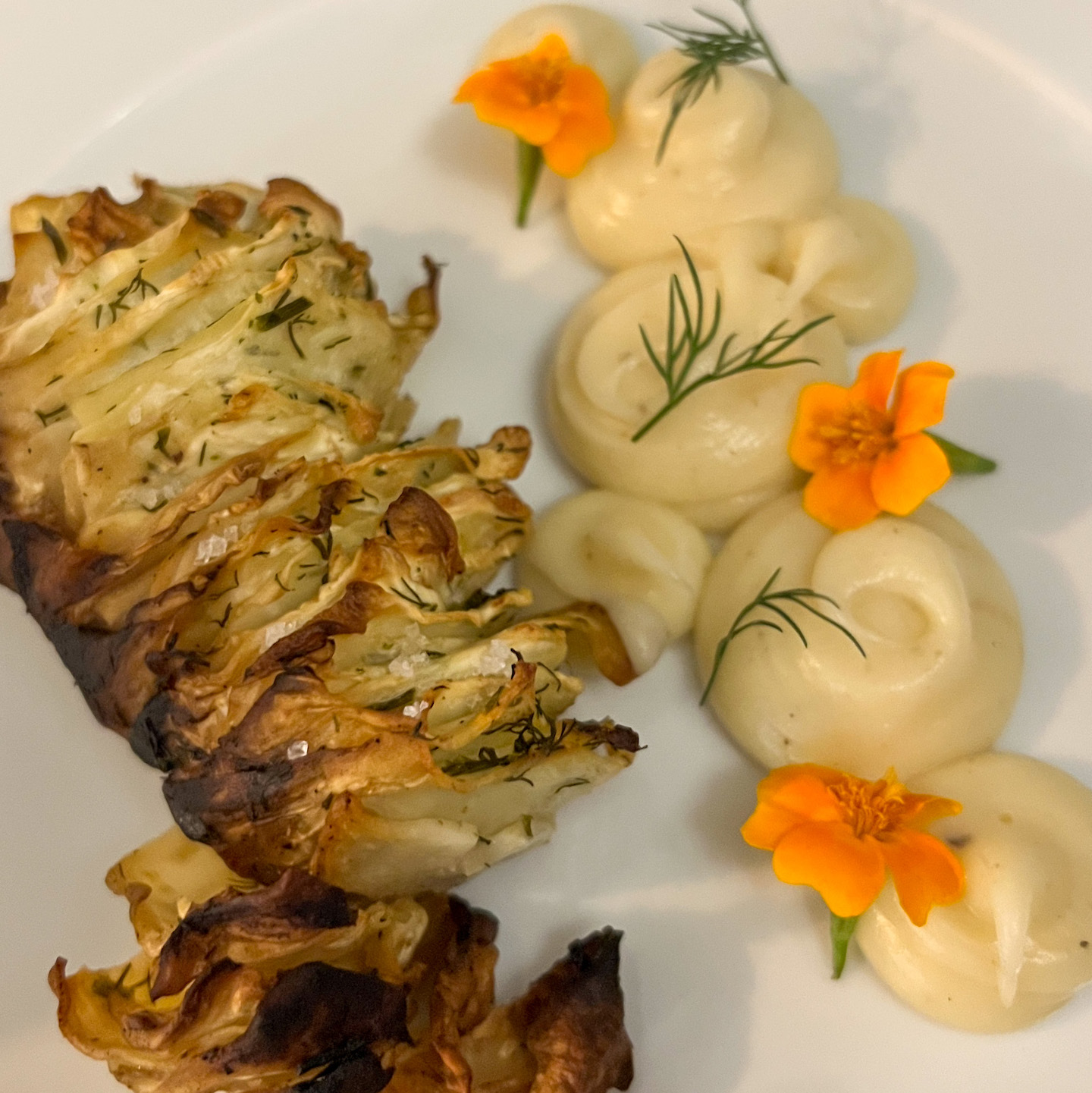 IN OTHER WORDS
Le Fooding "Bien manger rue Mouffetard ? Impensable… avant l'apparition du néobistrot des frères Flocon, havre bleu-blanc-bois doté d'une cour végétalisée où Alexis (en salle) et Josselin (ex-chef des Pantins) plantent leurs herbes aromatiques."
Gault & Millaut "Discret et efficace, ce Flocon blanc comme neige devant lequel on peut passer sans le voir, et qui mérite pourtant l'attention du quartier. Car les habitués apprécient cette courte carte de saison, toujours bien inspirée, produits sans luxe mais de première fraîcheur, travaillés par Josselin Flocon dans un esprit d'aujourd'hui."
Newtable "Flocon est le restaurant bistronomique des deux frères du même nom : Josselin et Alexis. Pour les accompagner dans cette aventure, ils ont été rejoints par Léa – ancienne de l'équipe de Dersou – et Baptiste – ancien pâtissier chez Christian Constant. Ces deux derniers proposent une cuisine "tradi revisitée" à base de produits uniquement français et de saison, le tout à des prix doux!"
SUBSCRIBE TO OUR NEWSLETTER