Address: 10, rue Alexandre Dumas, 75011
Nearest transport: Rue des Boulets (9), Charonne (9)
Hours: Open Tuesday-Friday for lunch & dinner. Closed Saturday-Monday.
Telephone: +33 1 43 48 14 59
Website   Book Online   Facebook   Instagram
French food magazine Fulgurances opened L'Adresse in 2015 as a culinary incubator featuring a rotating cast of guest chefs. Partnering chefs stay for varying lengths – sometimes a month and sometimes the better part of a year – and have a well-seasoned support team ready to help execute their vision. You can read more about the concept in our article "Fulgurances Opens a Restaurant," and you can check their website to see who's currently behind the stove.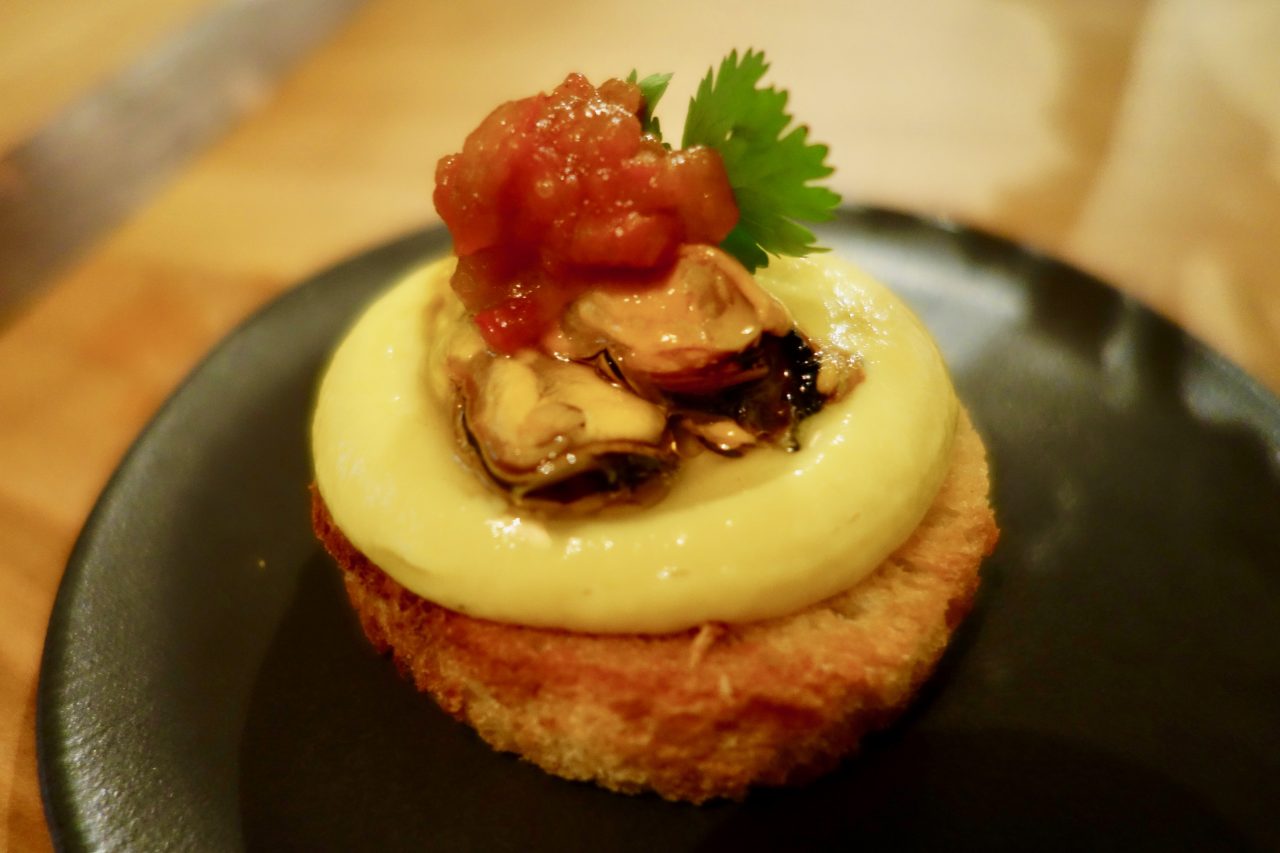 We've visited twice. In 2016, we were blown away by the food of Israeli chef Tamir Nahmias. More recently, we returned for Mariana Villegas, a young Mexican chef who previously passed through Cosme and Union Square Café in New York. Her cooking is bright and inventive. A dish called "clams and venom" married heat and brine in a surprising way, and her ceviche of trout with hibiscus was both pretty and delicious. My favorite was a brioche topped with corn cream, mussels escabeche and salsa majita – despite the fact that it was impossible to eat without making a mess.
So far, I've been returning to Fulgurances based on the chefs' previous gigs and how much I love those restaurants. However, I feel like might be missing the point. With their reasonable multi-course menu for just 58€, Fulgurances makes it easy to take a risk on someone I've never heard of who comes from a restaurant I don't know. Is there room for them to push the boundaries even further and bring in somebody bonkers? I for one would be game.
---
Fulgurances L'Adresse in Pictures
In Other Words

David Lebovitz (2016) explains that "Fulgurances has been open for about a year and doesn't have a fixed chef. Instead, chefs are welcome to come and cook for a period of time, whatever fits their schedule. A fulgurance is something that comes at great speed, and has a dazzling quality. In this case, it's a chef arriving and exciting us with outstanding food.

Alexander Lobrano (2016) loves the cooking of chef Tamir Nahmias but also appreciates "the warmth, professionalism and enthusiasm of everyone who works here. What Hivernat, Coribert and Asthalter have done is unlace the corset of aloofness that too often afflicts young restaurants in Paris, with the result that the ambience in this casual dining room is a reflection of the fact that their customers are warm and contented."

Patricia Wells (2015) says "The small, elegantly casual restaurant was overflowing with tables full of 30-somethings sharing Chloé Charles's inventive cuisine. Her food is modern, vibrant and forward flavored, ranging from a sumptuous starter of giant artichokes bathed in a touch of red wine, bone marrow and a hit of Roquefort, to an unusual and soothing salad of smoked eel, paired with a broccoli puree seasoned with a bright touch of mint and orange."

John Talbott (2015) says "The menu is challenging, broad and most interesting… quite delicious and terrifically innovative."

Le Figaro (2015) "Comme parfois certains bons textes, cette drôle d'affaire mérite l'avant-propos car, avant l'assiette, il y a le concept (et pour une fois, le bon!). Avant Fulgurances l'Adresse, il y a Fulgurances, le mouvement."

Table à Découvert (2015) "C'est ce que j'aime dans cette cuisine : dans l'air du temps, tissée de fils délicats, de subtilité et en même temps de robustesse, car elle veut nourrir et faire plaisir."
Photos by Meg Zimbeck © Paris by Mouth