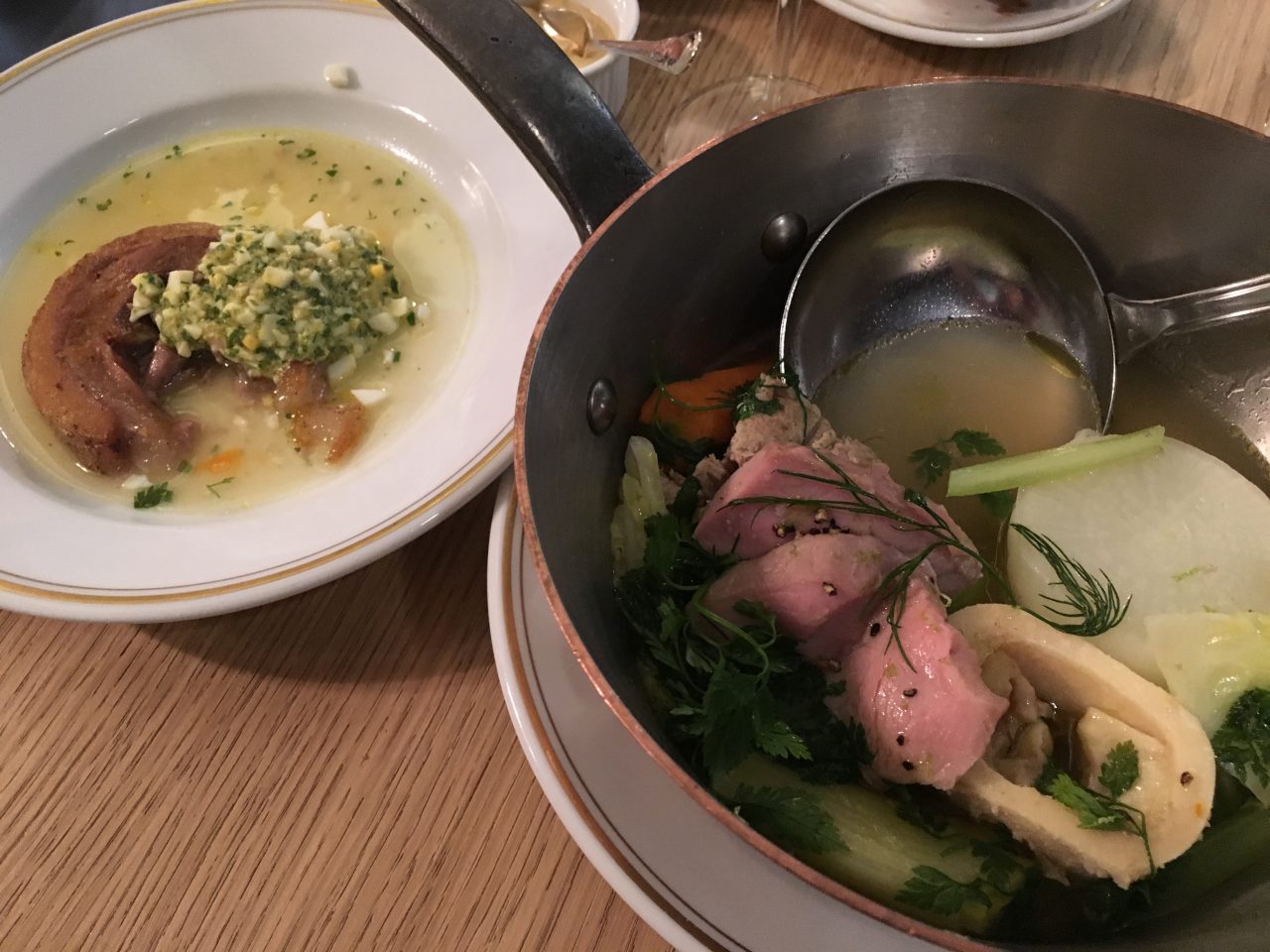 La Bourse et la Vie is one of our favorite Classic Bistros in Paris. It's a place where you come to celebrate, to bring a date, and to devour one of the best steak-frites in Paris.
Address: 12 rue Vivienne, 75002
Hours: Open Monday-Friday for lunch and dinner. Closed Saturday & Sunday.
Telephone: +33 1 42 60 08 83
Book Online / Website / Facebook / Instagram
---
Our Most Recent Visit
This dining room of this bistro near the Bourse (the former stock exchange) is compact and cozy, complete with all the markers of a comforting old bistro. It's largely filled with Americans, especially now that chef Daniel Rose has become the toast of Manhattan with his French restaurant Le Coucou. The latter is delicious but difficult to book and easily five times the price of La Bourse et la Vie. Rose's primary restaurant in Paris (now that Spring has closed) feels like a steal if your reference point is French food in New York.
When comparing it to other Paris bistros, this place feels lavish and expensive. On the surface, La Bourse et la Vie appears to have much in common with a neighborhood bistro serving classic dishes like poireaux vinaigrette, steak-frites and pot au feu. But look more closely and you'll learn that the leeks are dotted with hazelnuts from Piemonte and the steak is 30-day aged Simmental beef.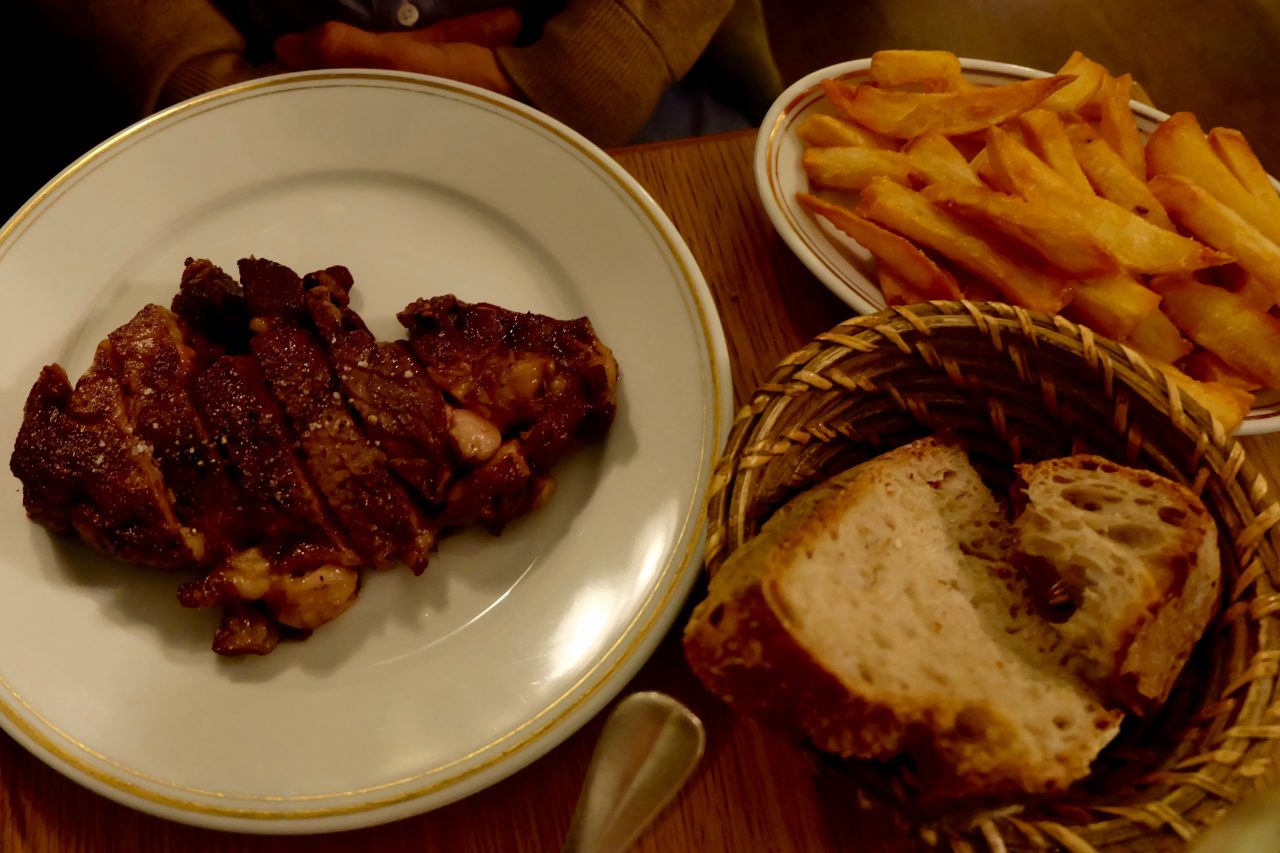 Rose, who is obsessed with old recipes, continues to resurrect and refine vintage dishes that modern-day travelers are rarely able to encounter. His version of pot au feu is deeply delicious and evokes the classic dish that was bubbling a century ago on stoves all over the nearby market neighborhood of Les Halles. However, it's radically different and probably more delicious than the original because it marries perfectly cooked (not boiled to death) cuts of veal and lightly cooked vegetables with the sort of profound bouillon (broth) that has become Rose's signature. It's also served with a side dish of tête de veau with a sauce ravigotée. More "authentic" Paris bistros are not making food like this anymore.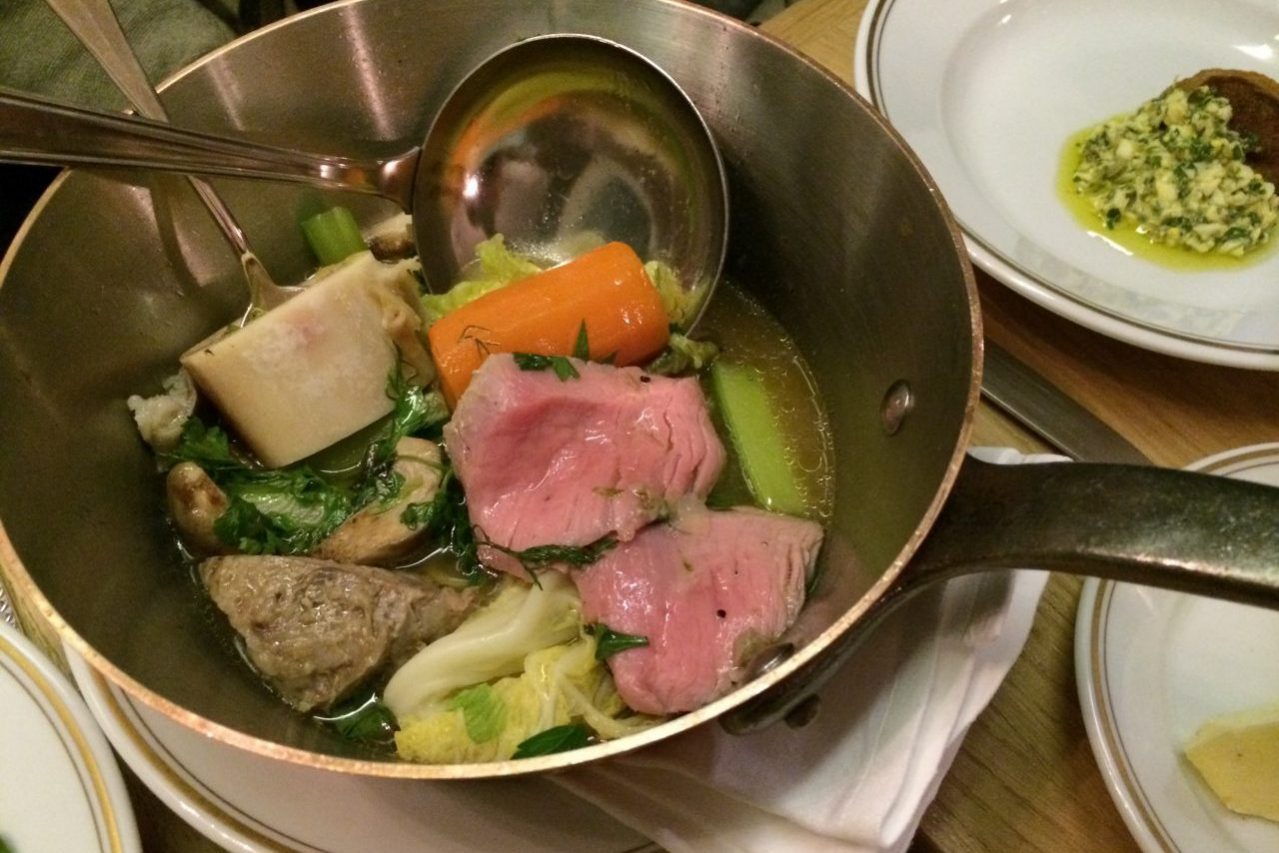 All of this specialness doesn't come cheap, of course. That delicious steak-frites is priced at 39€, and dinner for two is likely to be 120€ before wine. However, most new restaurants that have opened in the years since Rose took over La Bourse et la Vie are offering much less for a similar price. Paris is becoming very expensive. At La Bourse et la Vie, it's both expensive and very good.
---
La Bourse et la Vie in Pictures
Photos by Meg Zimbeck © Paris by Mouth
---
In Other Words
David Lebovitz (2016) says that Daniel Rose is "applying the same insistence he's known for in his other restaurant, on the quality of ingredients and careful preparation of the iconic dishes that many of us know and love. It's obvious on the menu, and on the plates, that Chef Rose has a deep affection for them too."
Saveur (2016) advises "the dishes not to miss include duckling in orange sauce, a brilliant modern riff on boeuf à la ficelle (beef poached in bouillon), an epic chocolate mousse, and the best crème caramel in Paris."
Time Out (2016) says "the two chefs brilliantly blend traditional French cooking with bolder, more original recipes, offering a small, careful selection of dishes like a sweetish beetroot salad with smoked eel, crème fraîche and raifort (a sharper version of Ukrainian borscht soup), or a well-seasoned steak cooked in Armagnac with perfectly cooked chips and an anchovy salad with vinaigrette."
Patricia Wells (2015) says she is a pushover for oysters and that Daniel Rose's rendition of "warm oysters broiled with a touch of spinach and a healthy dose of thick Normandy crème fraîche totally made my day. The serving was of three oysters, I could have easily had six!" On the downside, a thyme sorbet was "far too aggressively infused to be appealing."
Simon Says (2015) François Simon says there is nothing bad to report here, calling it a superb demonstration and praising the foie gras with artichokes, the leeks in vinaigrette, and the quail fried in buckwheat batter. He finishes by attributing "the radiant air of a blossoming chef" to Daniel Rose, who is now cooking in New York.
Table à Découvert (2015) Caroline Mignot is in heaven tasting the leeks in vinaigrette, calls the fried quail an "absolute pleasure," and announces that crème au caramel figures in the pantheon of greatest crèmes au caramel ever made. She leaves the table happy and totally conquered.
L'Express (2015) calls this a love letter to bistro cuisine.
Le Figaro (2015) praises the creamy artichoke heart with foie gras and the pot-au-feu with a slice of crispy head with ravigote sauce – a "model recipe." Like Caroline Mignot, they're crazy for the crème caramel.
Alexander Lobrano (2015) also calls this the best crème caramel he's ever had. "It was rich, eggy, creamy and redolent of vanilla, and the only thing that could possibly have made it better was a stronger taste of burned sugar in the sauce… La Bourse et La Vie is a wonderful restaurant."
Le Fooding (2015) raves about the pot-au-feu served with a rosy quasi de veau, os à moelle, crispy tête with sauce ravigote, and a bouillon from another galaxy garnished by a giant cèpe mushroom, mint, and lemon zest.
John Talbott (2015) says that Daniel and Mary-Aude Rose cannot do any better than this classic bistro and calls the oysters and the foie gras with artichoke "sublime."
The New York Times (2015) calls this "an ode to the bistro," saying that Rose applies his experience and skilled precision to the most comforting of French dishes: pot au feu, artichoke salad with foie gras (the first dish Rose ate when he moved to Lyon for cooking school), whole roasted chickens and steak-frites."
---
La Bourse et la Vie in Video