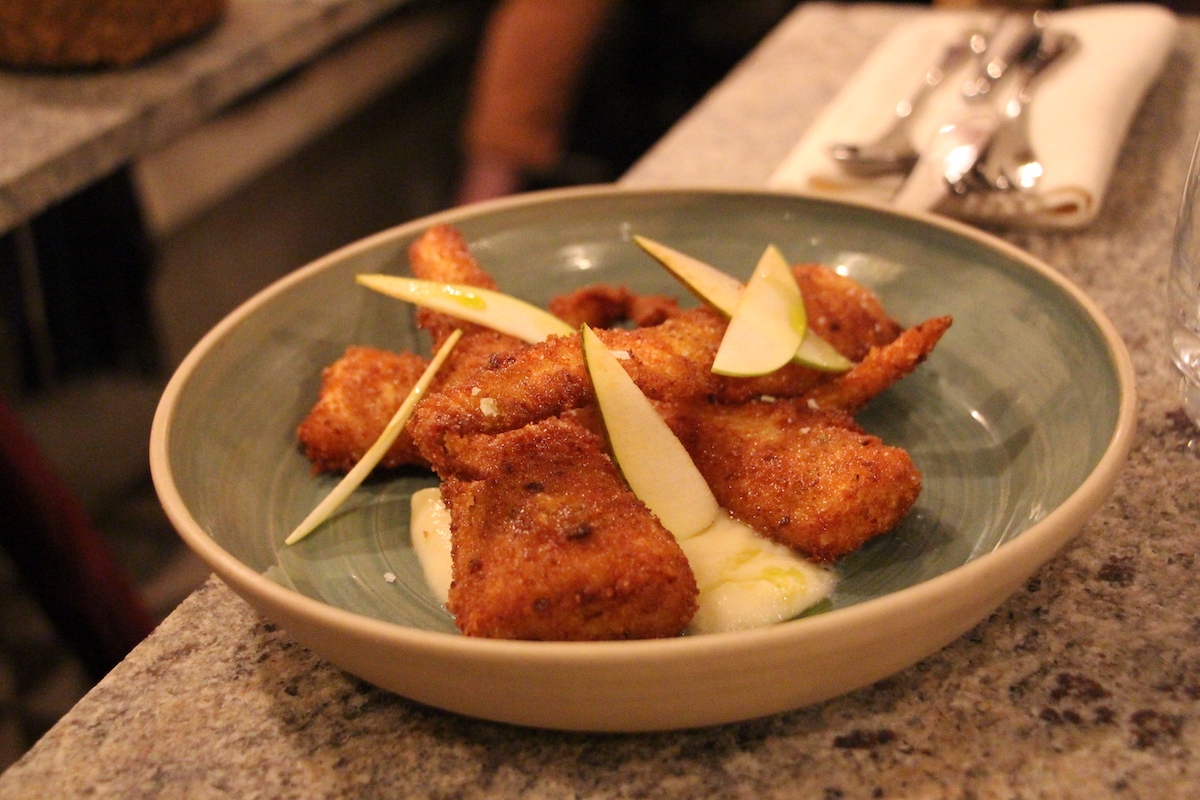 Address: 7, rue de la Fidélité, 75010
Hours: Open for lunch & dinner Tuesday-Friday, and for brunch & dinner on Saturday/Sunday. Closed Monday. 
Telephone: +33 9 81 41 01 07
Online Booking / Website / Facebook / Instagram
Despite France's obsession with terroir, Parisian restaurants highlighting the farm-to-table connection are scarcer than in other foodie capitals. But following in the footsteps of its big brother Les Résistants, Florent Piard's L'Avant-Poste puts sustainability – and local producers – in the spotlight.
A vast, industrial-chic dining room sets the scene, boasting natural materials like oak, raw marble, and granite. On the menu, farmers are given top billing. It includes a full-page "quality charter" and dishes that name the precise origin of each and every ingredient. The unwieldy format seems almost like a spoof, calling to mind Portlandia's commentary on our collective obsession with origin. But here, the fuss is warranted: the restaurant makes good on its sustainability (and quality) promises. What's more, customers don't need to empty their wallets to access such starry-eyed ingredients.
Bruno Zamblera's shiitake mushrooms (10€) are reduced to their very essence: roasted and topped with a beer emulsion that brings out their natural earthiness. Fabienne and Grégoire Desnoulez's parsnips (9€) are similarly allowed to speak for themselves. Breaded, fried, and arranged on top of parsnip purée, their natural nutmeg sweetness shines through. The simple pairing of sliced Reinette apples is a brilliant no-brainer.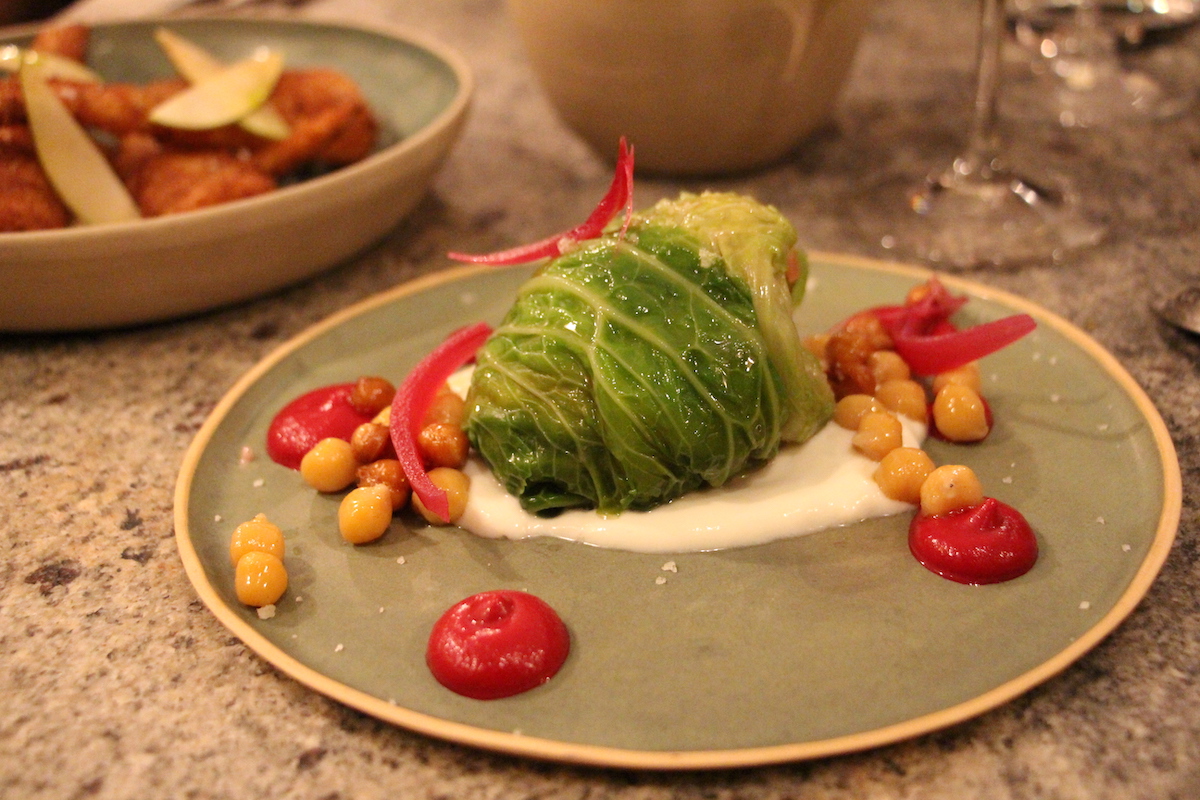 While these simpler dishes may be the gems of the menu, chef Gaëtan Coculo does delve into more substantial constructions too. A globe winter squash (8.5€) is stuffed with Beluga lentils and served atop a Corsican chestnut honey sauce that provides essential depth and an almost molassesy richness. Stuffed Pontoise cabbage (8.5€) is a comparatively ethereal play on a stodgier classic. The cabbage is steamed until just al dente and vividly green. Bright beets lend their own magenta hue and earthy flavor. And while the toothsome chickpea filling proves a touch dry, a pool of Normandy cream does the trick in adding moisture and a touch of richness.
Veering into less plant-based territory, the chef loses the vivacity that so defines the rest of his plates. A dish of cockle soup (14€) with Noir de Bigorre ventrèche (ham) is stodgy and almost slimy in texture. It seems clear that despite the menu's inclusion of grilled pork shoulder (17€) and grilled local chicken with Jerusalem artichoke (16.5€), vegetables – and vegetarians – are clear winners at l'Avant-Poste.
L'Avant-Poste in Pictures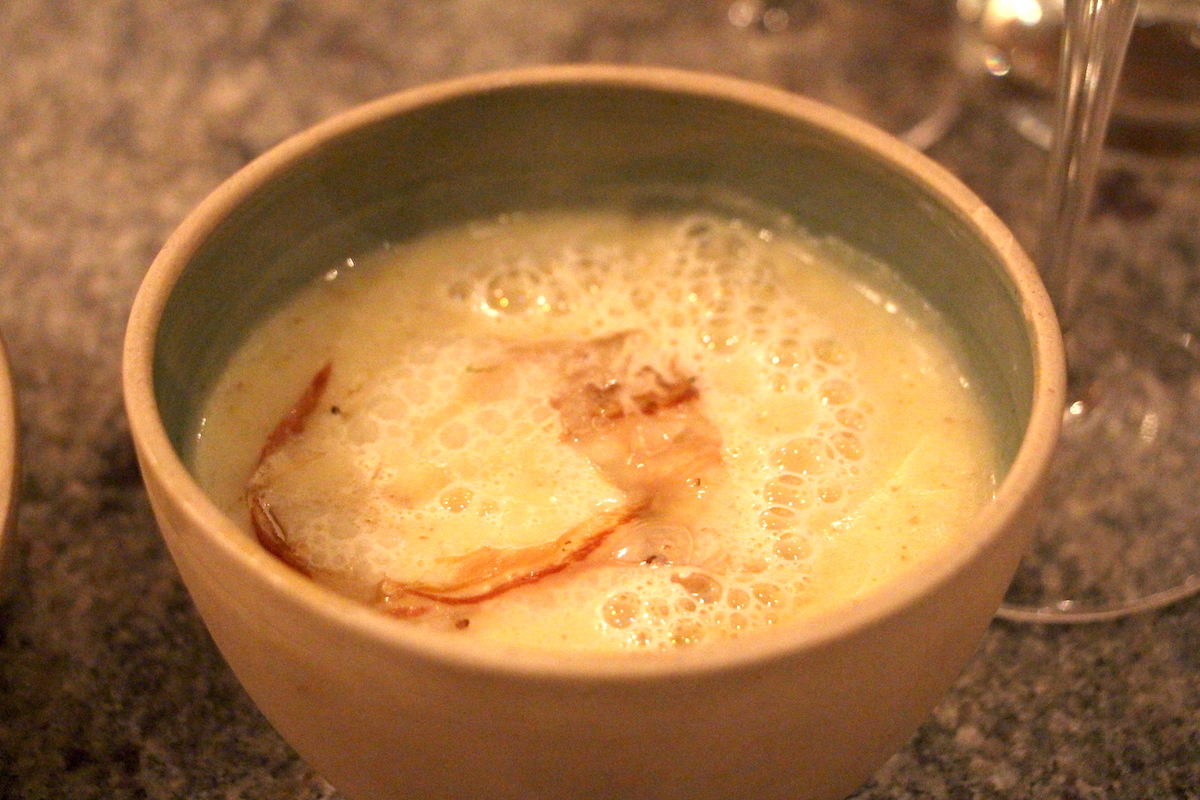 ---
In Other Words
Le Monde (2019) writes that L'Avant-Poste "keeps its promises" when it comes to its sustainability initiatives but less when it comes to the "thousands" of ingredients it endeavors to introduce to diners. That all changes when reviewer Marie Aline discovers the bonito with rhubarb, tomato, onion, and smoked potato that goes off like a flavor bomb.
Les Restos sur le Grill (2019) applauds the veggie-heavy menu at l'Avant-Poste, noting that at least half of the offerings are accessible to vegetarians. Vegetables are "the stars of the plate" even on meat-based dishes, according to Arnaud Morisse, with an unfortunately over-cooked mullet overshadowed by a side of peppers and kaffir lime.
Le Figaro (2019) dubs the cuisine here "militant," applauding the "patient and pertinent pacifism" of the mission behind the restaurant. Emmanuel Rubin calls the plates "markedly vegetal" and "often pompous" in their flavor combinations.
Gault & Millau (2019) likes the care taken with the qualitative ingredients at this good-value restaurant. "While citing the provenance and producers is a bit fastidious to read, it in no way is detrimental to the flavor."