Address: 24, boulevard du Temple, 75011
Hours: Open Tuesday-Saturday from 4pm-2am. Closed Sunday & Monday.
Telephone: +33 1 43 57 82 37
Website / Facebook / Instagram
Former Au Passage bartender Löic Martin opened his eponymous bar-restaurant in late 2014 in the shell of a former PMU betting parlor, placing his money on sincere small-plates, a populist booze program, and a boldly central location. Over the course of a few years and a few conceptual tweaks, Martin the bar-restaurant has blossomed into a booming shabby-chic nightspot, the social anchor of the haute-Marais, one of the few wide terraces in Paris offering truly excellent cuisine at accessible prices.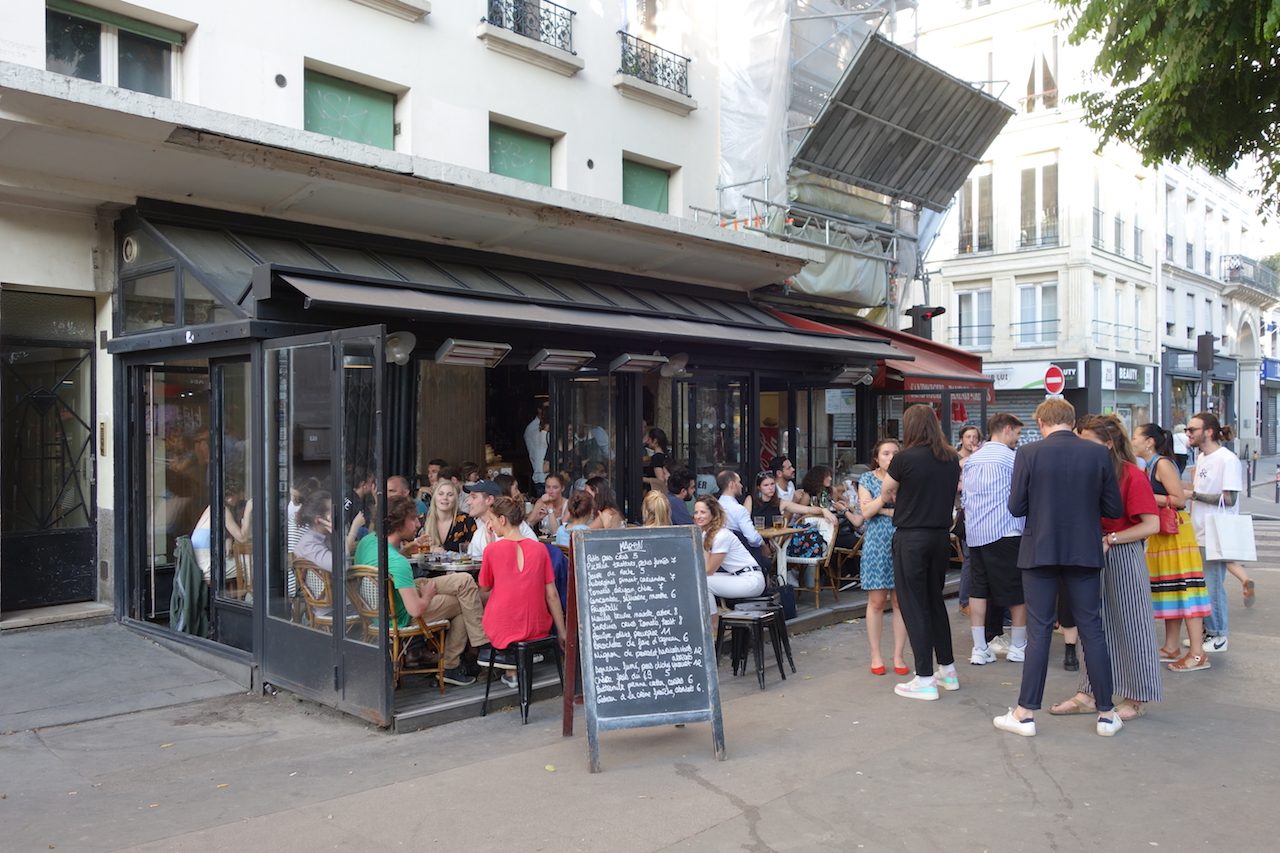 Much credit should go to Löic Martin himself, a pillar of genial hospitality. His egalitarian, everyman flair is perceptible throughout Martin's broad, unpretentious beverage program, which offers cheapo beers alongside craft beers, conventional wines alongside natural wines, and a delightfully unsophisticated cocktail program, replete with a dozen minor variations of gin & tonic. There is something for everyone at Martin, not just for those with self-consciously good taste.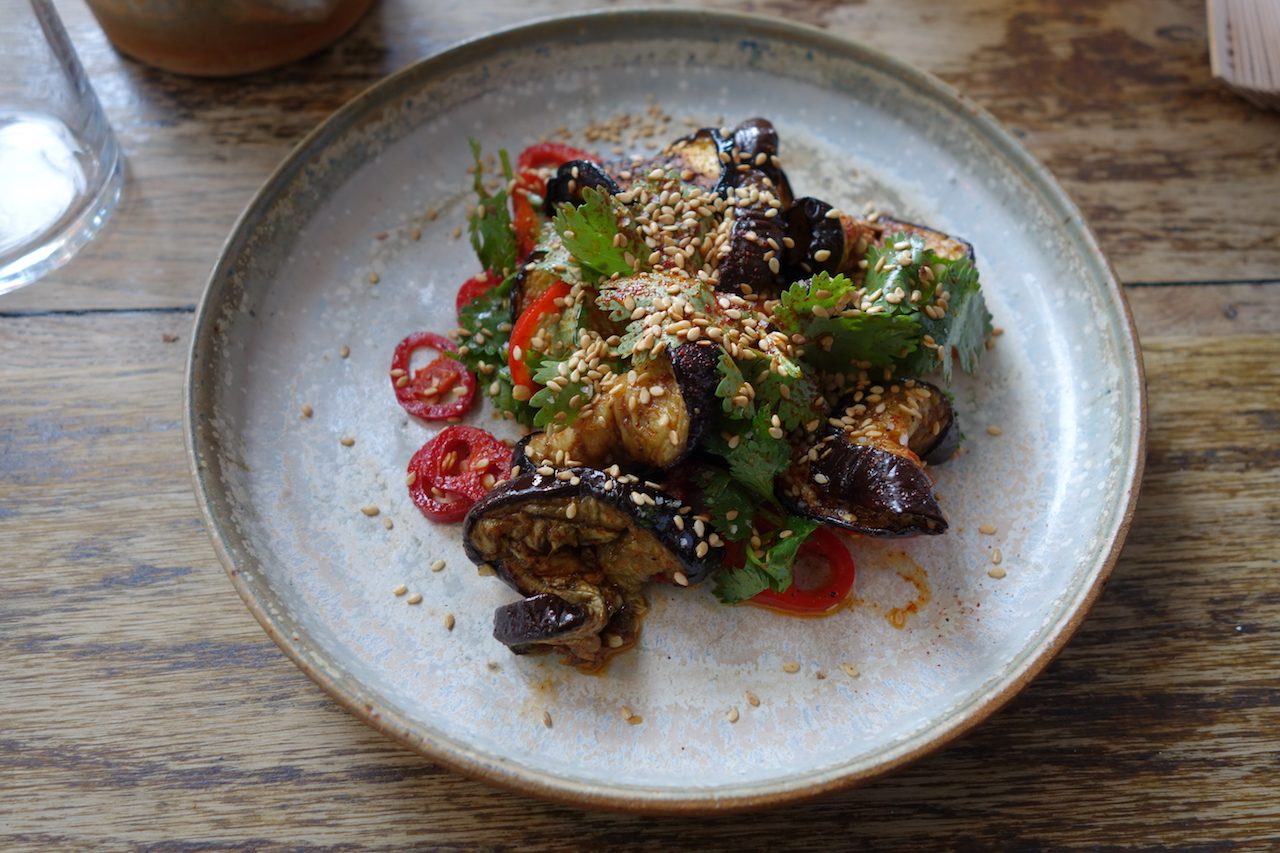 Anyone seeking aesthetic statements need only delve into Martin chalkboard menu, where thoughtful Irish chef Gareth Eoin Storey (ex-Le Bal Café) has been doing a star-making turn the past two years. Storey's twin passions are offal and simplicity. Pigs trotters and lamb liver share space with more fashion-friendly, vegetable-driven cuisine, like a salad of roast aubergine and gentle red pepper decked in sesame and coriander. Mussels dressed in little more than brown butter and maritime aster are positively silken, so nuanced as to rival the work of any of Paris' swankier kitchens.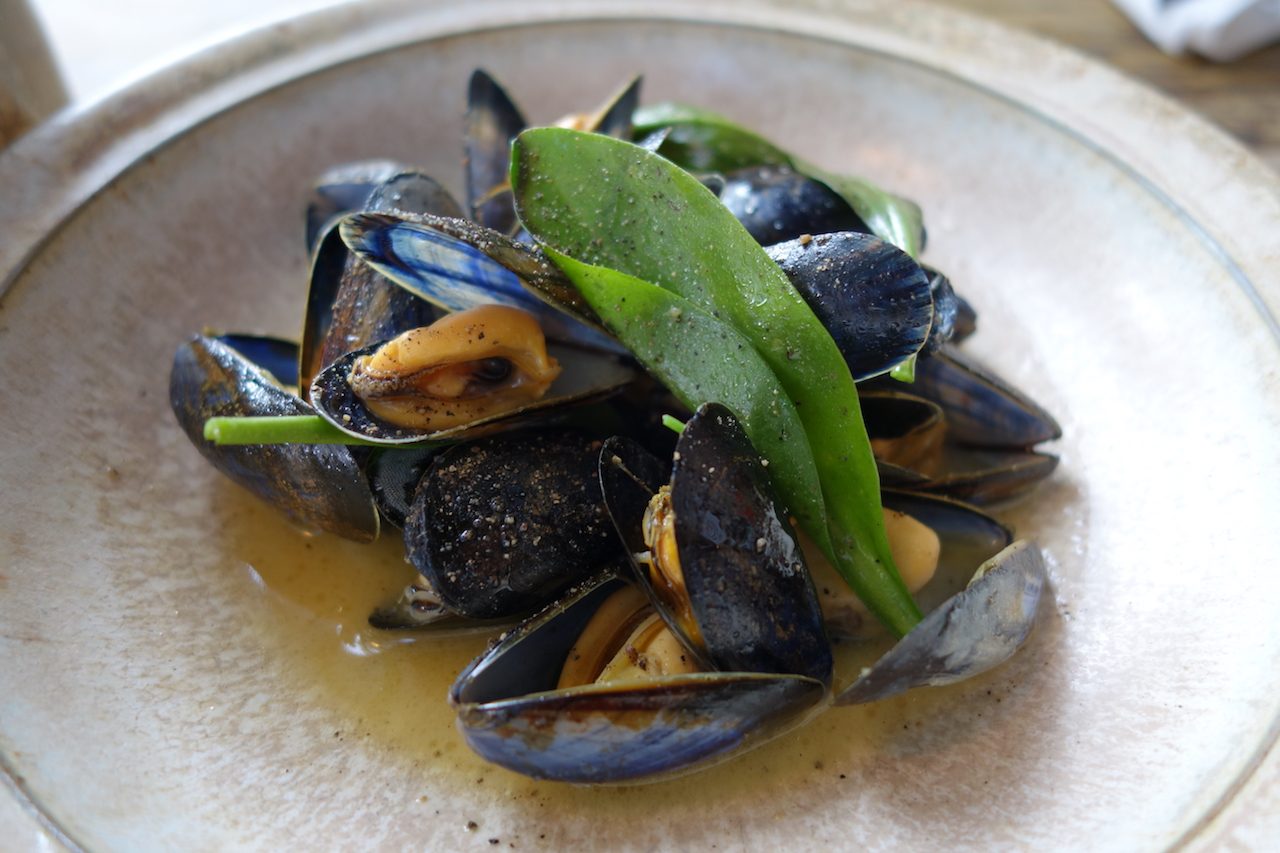 Martin still physically recalls its former business, with a crusty, attic-like feel to the small bar area. Most redesign efforts seem to have gone into opening walls and airing-out the extensive dining area. It's successful: even on a burning summer evening, Martin feels tolerably breezy. The restaurant's great advantage over its peers are the barrels it places on the broad sidewalk of boulevard du Temple, which comprise, in effect, a terrace of a terrace. Martin accepts reservations only for groups of five or more, so smaller parties awaiting tables create a merry bar scene of their own on the barrels. Martin's crowd is youthful and relaxed; some are just drinking, others having a snack, others ordering the entire menu. No one is there for a luxury experience, and no one acts like it.
---
Martin in Pictures
---
In Other Words
Lucky Miam (2018) says Martin offers a beautiful demonstration of inventive cuisine and applauds its festive ambience at night.
Paris Food Affair (2015) praises Martin as "one of the best deals in town," and draws attention to its "open windows and free flowing terrace space."
Time Out (2015) calls Martin cosy and says the restaurant's small plates and reasonable prices are perfectly suited to those with a small appetite at dinner.
Not Drinking Poison in Paris (2015) "Martin is a discreet, welcoming, and forthrightly egalitarian little all-day bistrot, aimed at inadvertent tastemakers… those who have certain standards, with regards to food and wine, but who don't need to see them exceeded at every meal… Martin is gloriously off-trend, and kind of a godsend."
John Talbott (2015) wonders "What's all the fuss all about? The carte is nothing special and to spoil the story, neither is the food." [Editor's note: Talbott only ever visits at lunch and Martin has since ceased doing lunch service]
Figaroscope (2015) says this is somewhere between tradi and arty and appreciates their terrine of tête de veau with gribiche, as well as the duck breast with lentils.
The Wall Street Journal (2014) "It may look like a no-frills neighborhood cafe, but… in the evening, there are finger foods like oysters with walnut vinegar and fried pigs' ears with aioli. The wine list is packed with gems."