Miznon is an Israeli chain with several locations in Paris, serving excellent fast (ish) food with plenty of vegetarian options.
22 rue des Ecouffes, 75004
Open Sunday-Thursday for lunch & dinner; open Friday for lunch only
Closed Saturday
No reservations
---
Vegetables aren't an afterthought at this annex of an Israeli pita chain. They're the stars of a creative menu scribbled on the chalkboard stretching across one wall of the dining room.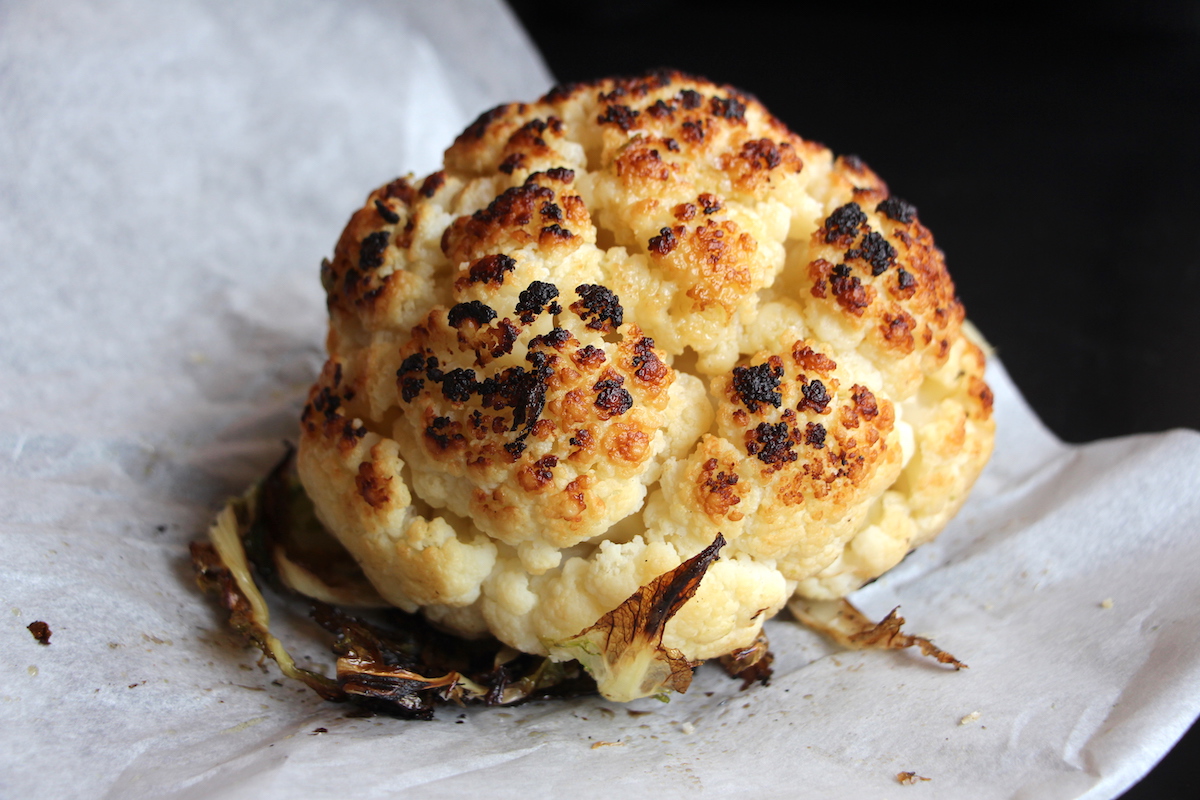 The whole roasted cauliflower (€7) has become a beloved menu staple. Burnished and simply seasoned with a sprinkling of flaky salt, it's even better when dipped into the unlimited tahini, tomato purée, and pepper sauces on offer.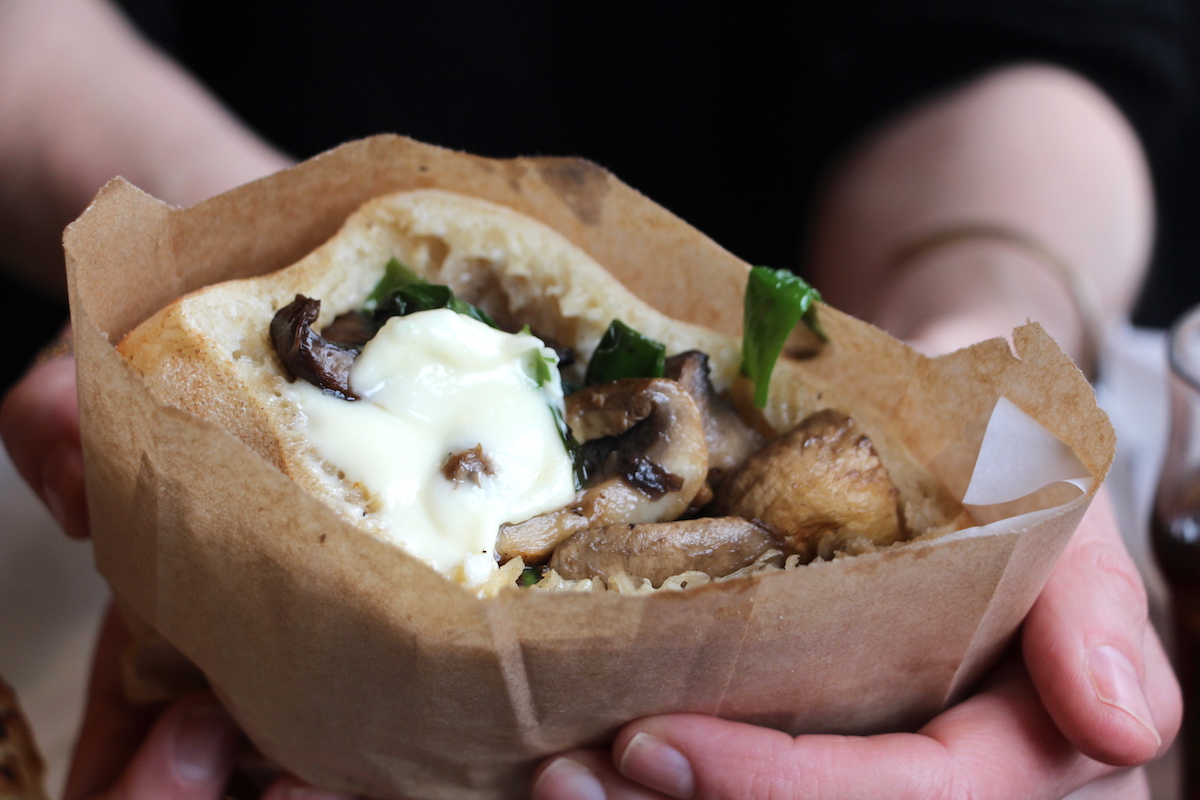 Some of the best sandwich options include the melting ratatouille, the chickpea salad topped with homemade hot sauce and boiled egg, or the mushroom with aioli (€11). The latter is richly flavored and savory, with chunks of roasted scallion.
Although exceptionally vegetarian- and vegan-friendly, Miznon boasts meat and fish options as well. The beef bourguignon pita is the perfect mashup between classic French and Israeli cuisines. Beef stew in pita form is a bit messy, however, so eat fast.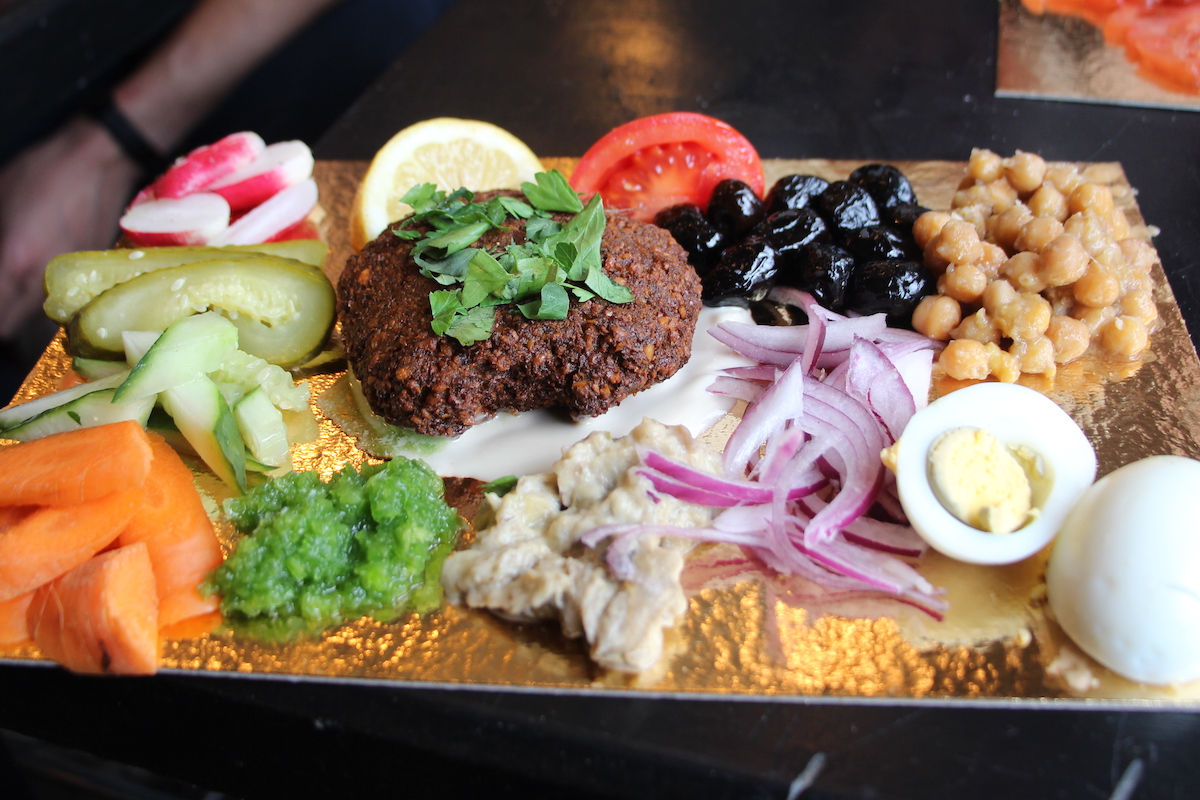 While the Marais has no shortage of great falafel spots, the falafel platter (€12) offers neighborhood stalwarts stiff competition. The falafel itself – much larger than those found at other shops – is perfectly crisp on the outside and impeccably seasoned. The mishmash of mezze served alongside it include delicious baba ghanouj and black olives as well as ho-hum crudités and a just-fine hard-boiled egg. If you've got room for a side, the roasted sweet potato is almost molten when split open, and the sweetness is offset by a nice sprinkling of chunky salt.
Ordering and finding a seat in either location can be a bit chaotic, but it's all in good fun. Food can also be taken to-go, if the restaurant is too crowded; at the 10th arrondissement outpost, you're only steps from an outdoor seat on the picturesque Canal Saint-Martin.
---
OUR PHOTOS OF MIZNON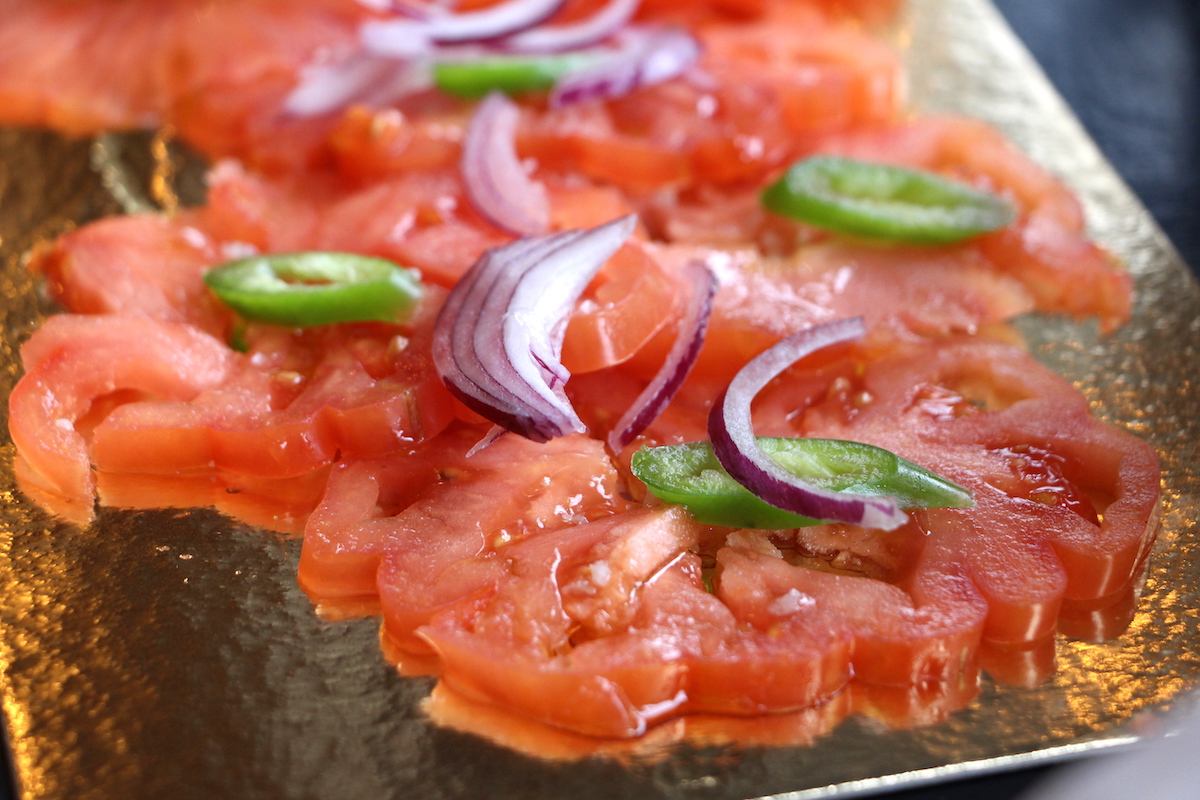 ---
ADDITIONAL LOCATIONS
Address: 37, quai de Valmy, 75010
Hours: Open Sunday-Thursday noon-11pm. Open Friday noon-3pm. Open Saturday 7:30pm-12am.
Telephone: +33 1 48 03 47 22
---
IN OTHER WORDS
Simon Says (2015) "C'est parfois rock n'roll… c'est franchement bon, déluré avec une clientèle jouant le jeu à fond, celui d'une gourmandise vorace non feinte (croyez- moi ça actionne sec). Prix pas si doux que cela, mais sincèrement, adresse valable et trendy pour les amateurs du genre."
Simon Says (2014) "Tout est préparé sous vos yeux derrière le comptoir par une armée de cuistots venus pour la plupart d'Israël. Sono remontée comme un coucou, affluence des grands jours, attendez vous à un petit choc frontal qui devrait faire se pâmer quelques foodies en mal de sensations fortes. Tout était bon, quasiment donné (en dessous et au-dessus de 10 euros)."
Foodbox (2014) "Des pitas maison, moelleuses, garnies avec generosité de kebab d'agneau, fin, non gras et savoureux, ou de poisson épicé comme chez ma maman, des choux fleurs entiers grillés servis avec de l'huile d'olive et de la fleur de sel, des patates douces rôties doucement, mais aussi des plats à l'assiette comme le surprenant bœuf bourguignon."
Time Out (2013) "It's a little more expensive than you might find elsewhere, but streets ahead in quality. The cooks, mostly Israeli natives, chop chicken and meat right in front of you at the sparkling clean counter. With a cup of free mint tea and some spicy sauces, you can get stuck into chicken pitta, lamb kebab and steak with things like grilled cauliflower or sweet potato, takeaway or eat in."
Figaroscope (2013) "Chou-fleur rôti: fameux de saine simplicité. Pita kebab d'agneau: bien fourni. Pita maquereau: sur ce coup, le pain gagnerait à un petit supplément de gril."
Le Fooding (2013) "Et alors, oui : même si ça se la pète un peu, c'est bon, frais, mijoté, et ça cale bien!"