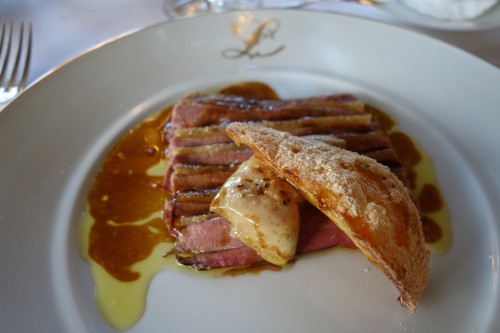 This historic three-star restaurant is perched in a pavilion just off the Champs-Elysées and has been a dining destination since the French Revolution. Long-time chef Christian Le Squer handed the reigns to Yannick Alleno in July 2014, and Alleno has promised a renewed focus on what he considers to be the great strength of French cuisine – sauces.
He is also, albeit more quietly than his rival Alain Ducasse, putting vegetables and peasant ingredients in the spotlight. Our meal featured the modest mackerel and butternut squash in starring roles, presented with both precision and imagination. A lunchtime tasting menu is priced at 128€, and a ten course tasting menu at either lunch or dinner is 295€. The more I think about it, the more I want to return to see what happens next.
Address: Carré des Champs-Elysées, 8 avenue Dutuit, 75008
Hours: Open Monday-Friday for lunch & dinner. Open Saturday for dinner. Closed Sunday.
Telephone: +33 1 53 05 10 00
 Book Online / Website / Instagram
COVID-19 UPDATE:
Ledoyen is currently closed to the public and offering a selection of dishes for takeaway or delivery, including a vegetarian-friendly multi-course menu from the fine dining kitchen, sushi from sushi bar l'Abysse, and sweets from pastry chef Aurélien Rivoire.

---
Ledoyen in Pictures
---
In Other Words
Reviews with Yannick Alleno as chef :
L'Express (2015) "Un parallélépipède mi-flan, mi- quenelle, affûté à l'oeil mais effacé en bouche, qu'un coulis de céleri-rave, un peu visqueux et moins percutant qu'attendu, peinait à distraire. On pourra nous rétorquer que ce brouillon de création signe une volonté courageuse de prendre des risques. Tant mieux, car du courage, il va en falloir pour relever un défi autrement plus audacieux: se montrer à la hauteur des trois étoiles."
France Today (2015) "The menu was immediately fascinating, for its structure – you choose from a variety of small plates to start and then select a main course – and all are relatively reasonably priced for haute cuisine… With this new chapter, Alléno is rapidly establishing himself as one of the five or six best chefs in France, and Le Pavillon Ledoyen is a place I would whole heartedly recommend for a very special meal."
Alexander Lobrano (2014) "This modern French cooking offers an intriguing new equilibrium between technicity and sensuality, with a subtle but profound fascination with the transformative power of sauces and an exhilarating but understated commitment to both healthy eating and sustainable produce."
Atabula (2014) "La cuisine de Yannick Alléno et de son équipe s'inscrit dans une tradition française dont il revendique l'héritage et la puissance. Surtout, il sait se jouer du temps, défiant les contraintes de la gastronomie d'aujourd'hui et puisant dans la richesse du patrimoine de la grande cuisine française un registre d'une très grande modernité. "
Ruth Reichl (2014) "This chef is using classic techniques in wildly inventive ways… The food is intriguing and exciting, but three star dining is about much more than food. It's a performance, and Ledoyen doesn't let you down. The ambiance is so luxurious, the staff so convincing that by the time you leave you expect to find a coach and four waiting to whisk you home."
Reviews with Christian Le Squer as chef:
Food Snob (2009) "Dishes are sophisticated, satisfying and crafted to showcase and magnify the finest ingredients and their innate flavours. The kitchen is also generous with guests receiving exquisite and ample amuses, petit fours and mignardises – which are also when the chef likes to have a little fun."