Address: 8, passage des Panoramas, 75002
Hours: Open every day for lunch & dinner
Telephone: +33 1 40 13 06 41
Online Booking / Website/ Facebook / Instagram
For Paris food geeks old enough to recall the Sarkozy administration, Racines – the small, immaculately soulful bistrot in the heart of the passage des Panoramas – is hallowed ground. Founded by celebrated natural wine tastemaker Pierre Jancou in 2007, the restaurant's emphasis on unsulfited wines and hearty, product-driven, Italian-inflected cuisine would become a touchstone for ambitious Paris bistrots in the following decade.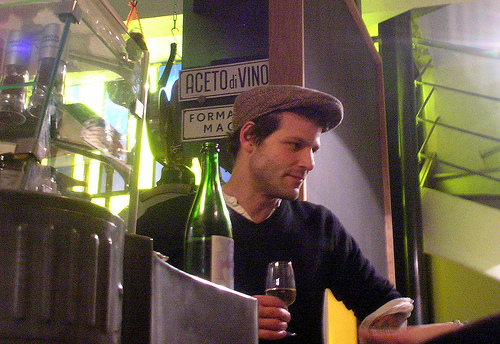 Racines launched the careers of chef Sven Chartier and sommelier Ewan Lemoigne (Saturne, Clown Bar), before settling, for a time, into a very expensive version of itself under subsequent owner David Lanher and chef Renaud Marcille. In 2018, a new chapter began, when Sardinian chef Simone Tondo, fresh from the closure of his eponymous gastronomic restaurant near the marché d'Aligre, took over Racines, turning it completely into what it always half-was: an Italian natural wine bistrot. Out with the andouillettes and in with the veal milanese; out with vins d'Ardèche and in with the vini siciliani.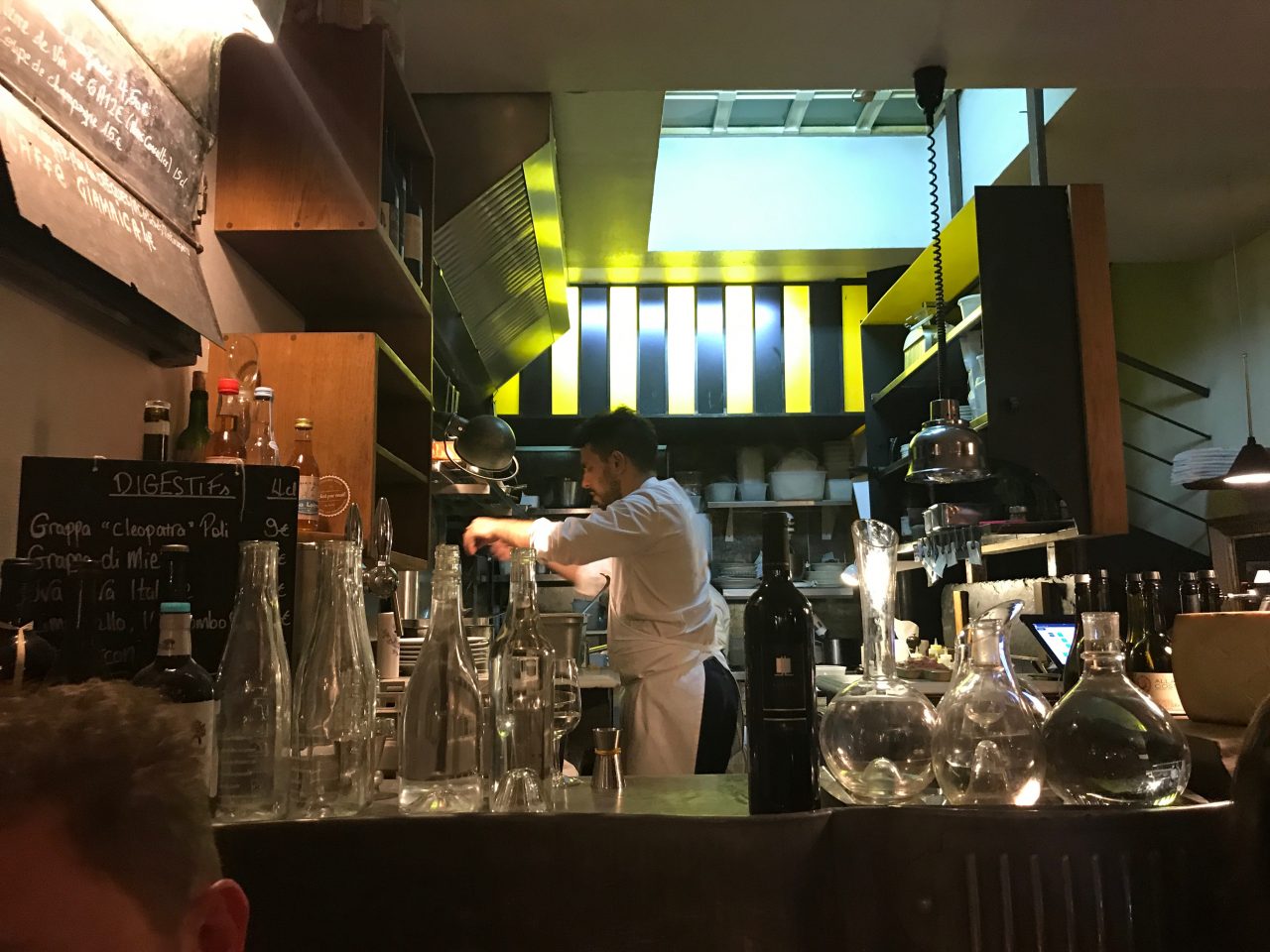 It's a pleasant surprise to note that prices have descended since the era of Lanher and Marcille. Now shrewdly open every night of the week, Racines is barely more expensive than a standard upscale Paris bistrot. (Appetizers from 14-16€, main courses from 22-32€.)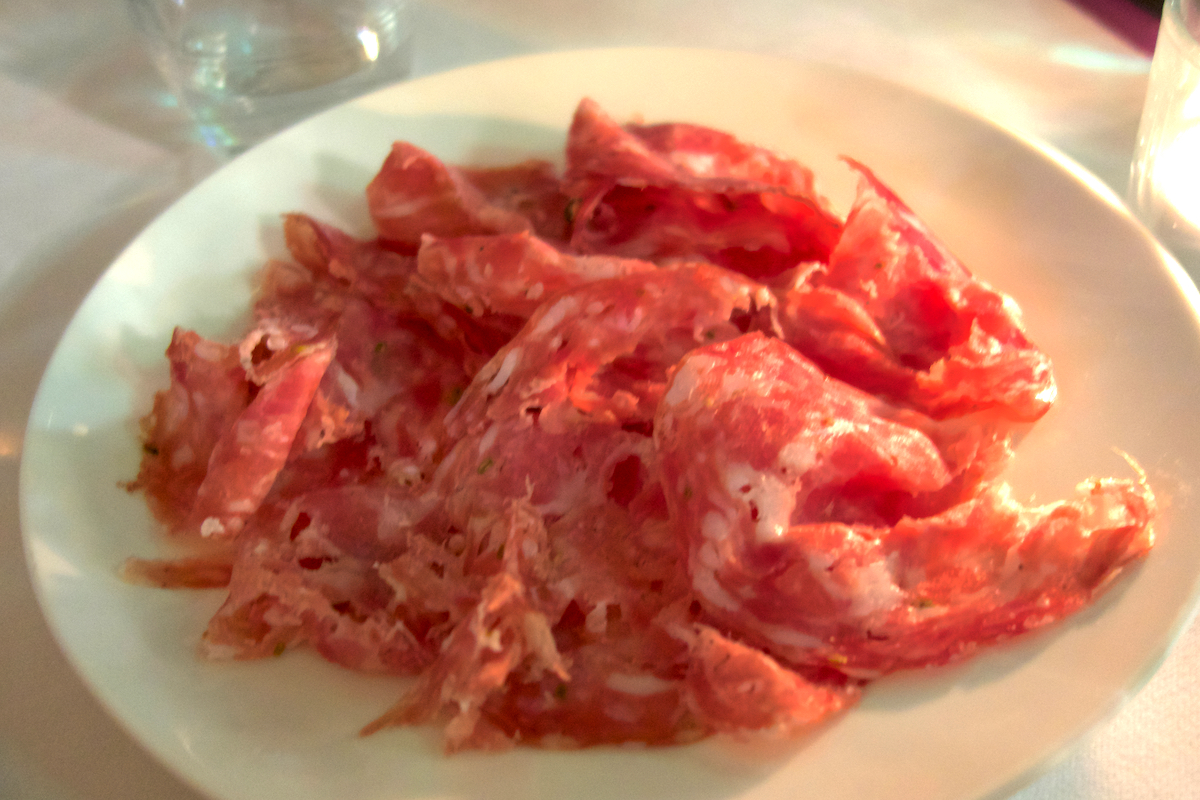 Less reassuring, though, is the persistent sensation throughout a meal at Racines that Tondo – a talented, charismatic chef with a sterling résumé – is running on autopilot, phoning-in pan-Italian comfort food with minimal care, let alone flair. His menu's simplicity, embodied in beloved staples like polpette (meatballs) and vitello tonnato, seems at first admirable, and later, upon tasting, like kind of a cop-out. A plate of insufficiently aged finocchiona sausage came and went without much impact, as did the mild polpette in a nicely sweet tomato sauce. The vitello tonnato was feather-light, wispy and refined, but this is a dish that is very hard to screw up; even tobacconists in Nice manage to turn out edible versions.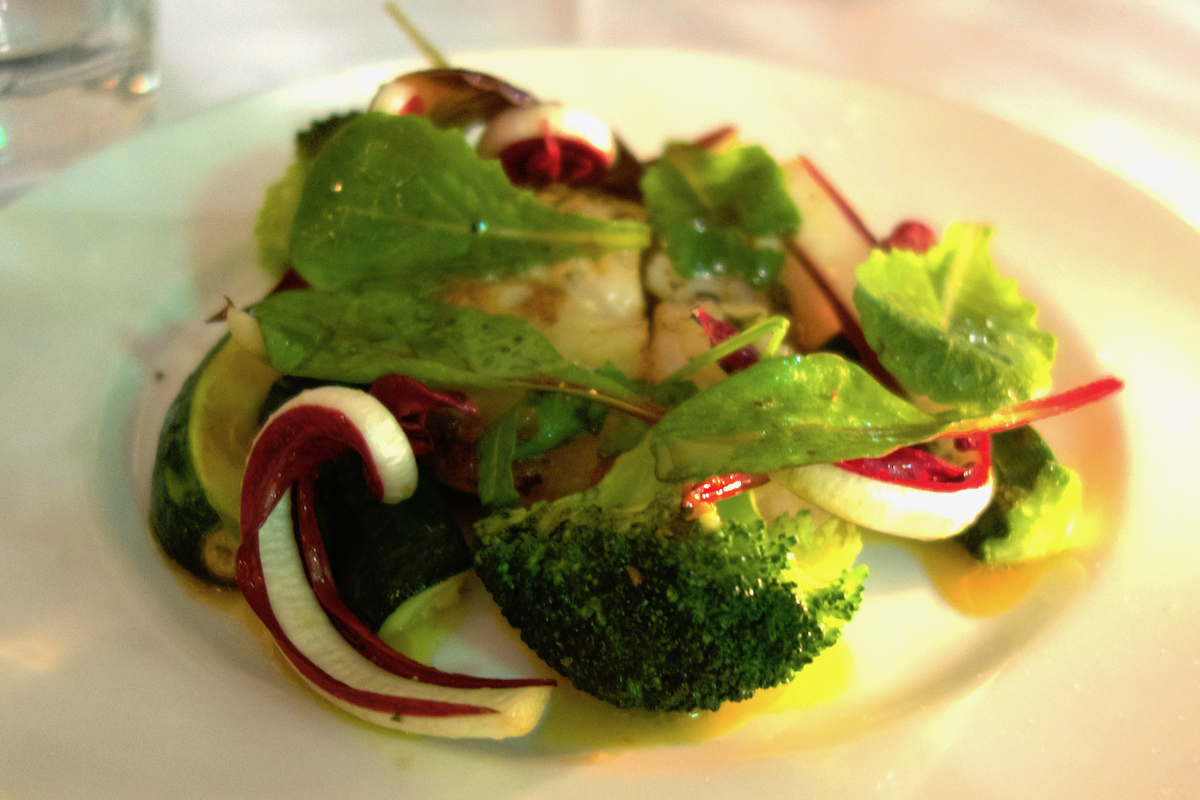 Things fall off the deep end, as it were, with a flavorless line-caught pollock, garnished haphazardly with bits of broccoli, zucchini, radicchio, and mizuna leaves. A tasty but thrown-together pasta with beef and mushroom could not redeem the kitchen, nor could the competent, airy tiramisu.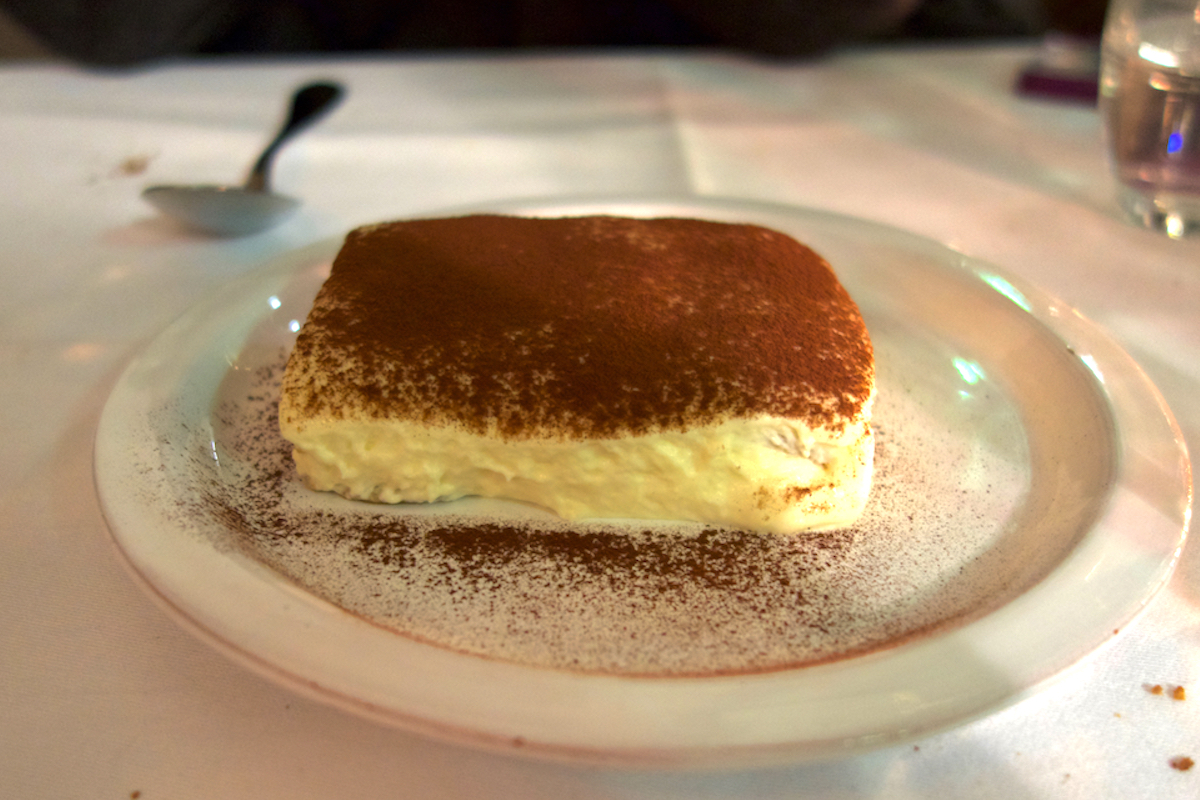 Racines' wine program, meanwhile, is no longer a lodestar for natural wine aficionados. It gathers pretty much the same thirty or so Italian natural winemakers who appear at every other reasonably hip Italian restaurant in Paris. Styles range from very natural – Sicily's Aldo Viola – to barely natural, like Foradori's Manzoni Bianco, which seems be on an upward trajectory of sulfite dosage in recent vintages.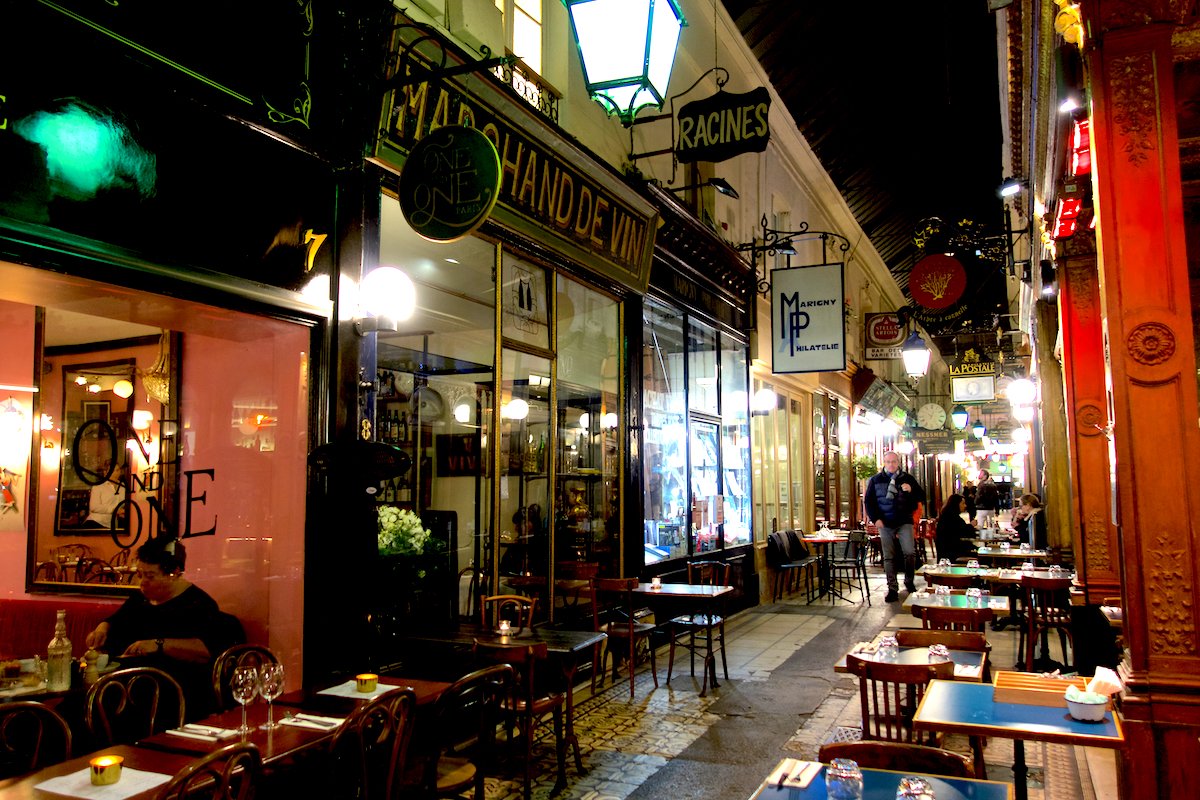 A simple menu of capably-executed Italian comfort food; a handsome room; a handful of Italian natural wines: such a restaurant would be cherished further out towards the péripherique. In central Paris, at central Paris prices, Racines nowadays attracts a notably ditzy crowd. First service on a recent Monday night was blighted, simultaneously, by a woman in an ostentatious real-fur coat, a man vaping indoors, and, most gravely, by another man doused in enough cologne to fumigate the entire passage. Once upon a time, a young, refreshingly angry Pierre Jancou would have ejected the last guy, if not all three. Nowadays, service is very kind, and Tondo stays in his kitchen. It's a pity, because Racines needs more than groundskeeping.
---
Racines in Pictures
Vitello tonnato

Racines interior

Polpette meatball

In Other Words

Time Out (2019) It seems telling that the dishes described in this early 2019 review of Racines are very, very similar to the ones offered at the end of 2019. The reviewer lauds Simone Tondo's "spirited," "generous" plates, but Tondon apparently hasn't changed them in at least a year.

Le Fooding (2018) offers a review that consists mostly of strange, cartoonish hubba-hubba language about Simone Tondo, describing him as a "Sardinian devil" and gushing, "Be still, my beating heart!"

L'Express Styles (2018) observes how times have changed since the epoch of Pierre Jancou at Racines, with François Régis-Gaudry saying that in the passage des Panoramas "we can no longer count the restaurants that amaze the gallery and bait the appetite."

Alexander Lobrano (2018) says that at Racines, "dishes display the same earnest, endearing, elegantly earthy style of suave comfort-food cooking that is Tondo at his best."