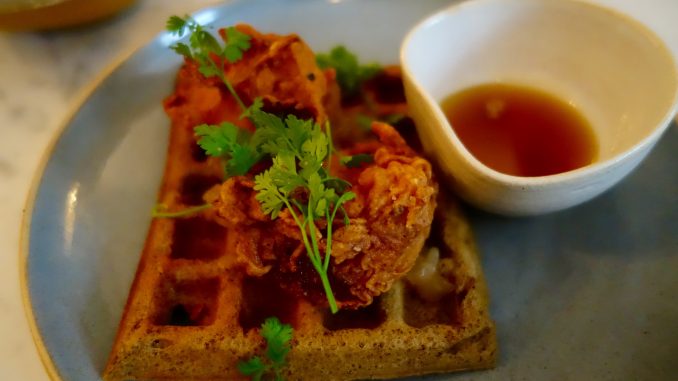 Following their success with Verjus, where the more elaborate formula of dégustation + wine pairings has drawn a loyal following of happy locals and visiting celebrities, Braden Perkins and Laura Adrian have decided to open something more casual. Let's call it "serious casual" because at Ellsworth (named for Perkins' grandfather), foods that you might see at a county fair are elevated through careful sourcing and a sincere spirit of DIY. Corn dogs are thus filled with house-made rabbit sausage and paired with bitter mustard greens. Potato skins are topped with melted tomme and enlivened by crunchy chicken skin instead of crumbled bacon.
The fried chicken from Verjus Bar à Vins has moved over to Ellsworth, leaving the former as more of a place for drinks and cold snacks before or after dinner at Verjus. Ellsworth is more than an expansion of the wine bar, however. They're open here for both lunch and dinner, accept both walk-ins and online reservations, and offer what is currently the city's best Sunday brunch. The extra space provided by the Ellsworth kitchen means that the team is now able to source and break down whole animals for both restaurants, plus make their own bread, yogurt, ricotta, sausage, and other manifestations of the nose-to-tail and homemade ethic that one also sees at Au Passage. Ellsworth chef Hannah Kowalenko, an idealistic control freak in the best possible way, is committed to a vegetable-driven (if not vegetarian) menu that changes with the seasons, and to making as much as possible in-house. Accordingly, her apple fritters are not priced like those at a county fair, but are in line with prices at other gastronomic small-plate places like Clamato and Gare au Gorille.
The wine list, like at Verjus, runs toward small producers and spans both conventional and natural wines (Antoine Arena's VdF Bianco Gentile was a delightful part of a recent meal). For Sunday brunch, one can pair their Chilaquiles and Corned Beef Hash with coffee from Coutume or a Bloody Mary.
I plan to become a serious regular, and not only because (full disclosure) we are friends.
– Meg Zimbeck, April 2015
Practical information
Address: 34 rue de Richelieu, 75001
Nearest transport: Pyramides (7,14)
Hours: Open Monday for dinner only, Tuesday-Saturday for lunch & dinner, and Sunday for brunch only
Reservations: Book a day or two in advance, although walk-ins are welcome to sit at the bar
Telephone: 01 42 60 59 66
Average price for lunch: 20-39€
Average price for dinner: 40-59€
Style of cuisine: American, modern French, small plates, brunch, vegetarian options
Website   Facebook   Book Online
Reviews of Interest 
Tasting Table (2015) "What to get: the buckwheat waffle, dolloped with maple compote instead of syrup and topped with a slab of seared foie gras, which melts like butter. In the past, the waffle has been topped with strawberries, apples and fresh plums, and soon it will be smothered in poached pears that have been sautéed in the leftover foie gras fat."
Table à Découvert (2015) "Du coup, je ne peux pas ne pas prendre de dessert, surtout qu'il y en a un qui me plaît plus que tout dans son intitulé : glace au malt, sorbet au chocolat, espuma de café, biscuit au lait vanillé. Je crois que je pourrais retourner chez Ellsworth dans les prochaines heures juste pour ce dessert… Chocolat noir, malt, café, les saveurs sont en osmose et avec ces éclats de biscuit très beurré et un peu salé qui là aussi croustille énormément, c'est terrible."
Lost in Cheeseland (2015) "Nouveau Americana fare and the same fine provenance one has come to expect and appreciate at Verjus. Beautiful produce, high quality fish and meats, homemade Sourdough bread, homemade butter, homemade ricotta, yogurt and sausage and an accommodating kitchen for shareable small plates."
Sugared & Spiced (2015) "Overall, a charming little bistro. Wouldn't say I was blown away, but both dining experiences were pleasant enough to lure me back again."
Alexander Lobrano (2015) "We ate our way through the entire menu, and every single dish was terrific… My favorite dishes, though, were the potato skins with melted Tomme cheese, scallions, crispy chicken skin and crème fraîche –a puckish up-market take on a great North American bar-food dish and the best fried chicken in Paris… Great wine list, a good looking room, fair prices, and a fun crowd. Don't miss this one."
Le Figaro (2015) "En cuisine, en salle et côté cave, un jeune trio venu d'ici et d'ailleurs active ce corridor de charme dans l'élan des nouveaux codes de goût et d'époque: vins contemporains, recettes de fine gamberge, assiettes à partager."
The New York Times (2015) "While Verjus offers a no-choice, seven-course tasting menu — 'a two-and-a-half-hour experience,' says Adrian — Ellsworth proposes a simple fixed menu for lunch (two courses for just 18 euros) and a selection of small plates for dinner. 'We found that people don't want to sit down to a tasting menu every single week and we wanted to attract more regulars, so we tried for something more approachable,' Perkins says."
Le Fooding (2015) "Ellsworth accueille une clientèle anglo-saxonne acquise à sa cause autour de tables marbrées avec une cuisine franco-américaine joliment dépeignée par Hannah, jeune cheffe canadienne. A la carte: poulet frit au lait ribot comme dans le Kentucky, servi avec du chou chinois pimenté; boulettes de canard parfumées à la coriandre, accompagnées de carottes croquantes; peau de poulet frite travaillée en nacho, nappé de tomme de Savoie fondue et de crème pimentée; salade de choux de Bruxelles crus, avec pointes de menthe et épeautre; ceviche de bar de ligne au maïs soufflé, sur fond de jus d'agrumes ; beignets de pomme avec dulce de leche revisité au sel de Maldon…"