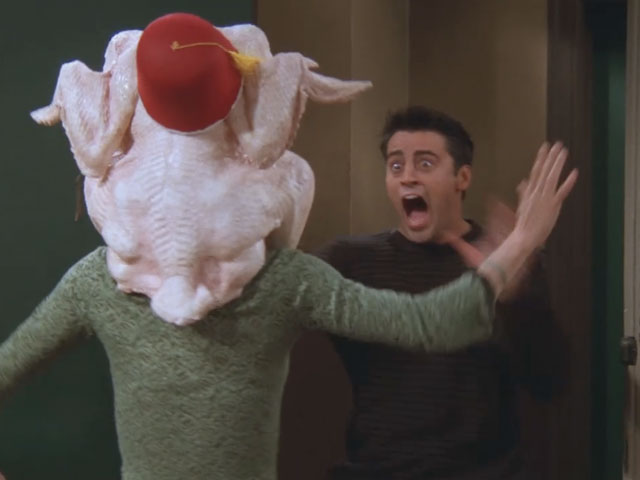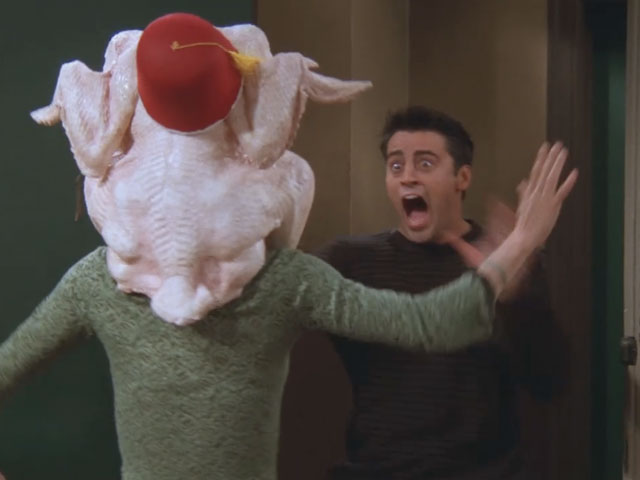 Haven't sorted out your Thanksgiving holiday plans yet? No need to freak out. We've rounded up a few resources to help our American readers, as well as any locals who'll be sharing the table this year.
Eating Out & Turkey To-Go
Breakfast in America will be hosting two seatings for Thanksgiving dinner on Thursday at 6:30 and 9:30pm. Three courses plus aperitif for 32€ at 17 rue Lescot, 75005. Reservations by email only at bia.thanksgiving@gmail.com. Update: BIA is now fully booked but you can ask to be added to the waiting list.
Joe Allen will be serving a three-course meal with traditional Thanksgiving options (plus foie gras and Caesar salad) for 45€ on Thursday at 30 rue Pierre Lescot, 75010. Reservations at 01 42 36 70 13.
Ô Chateau will be hosting Thanksgiving dinners on Thursday, Friday and Saturday night. The usual prices apply (32€ for the three course meal & 65€ for the degustation menu including wine), but the menu will feature holiday favorites like turkey, stuffing, cranberry sauce, sweet potatoes & pumpkin pie. November 24-26 at 68 rue Jean-Jacques Rousseau, 75001. Reservations by email at contact@o-chateau.com or by phone at: 01 44 73 97 80.
Le Saint-Martin will be serving a multi-course Thanksgiving meal, either at the restaurant or

for takeaway

, including carrot soup, roasted turkey, stuffing & mashed potatoes, green beans & squash, cranberry sauce, pumpkin bread, and three kinds of pie (apple, pecan, pumpkin). Available Thursday through Saturday (November 24-26) for 35€ per person at 25 rue Louis Blanc, 75010. Reservations by email at lesaintmartin@yahoo.fr or by phone at 01 46 07 73 78.
DIY (Ingredient Sourcing)
The aptly-named Thanksgiving – a shop which probably earns 80% of its annual revenue during this one week – is a good source for turkeys (farm-raised & ready to cook for 12€/kg or rolled & trussed turkeys for 14€/kg), desserts (pies & cheesecakes for 25-28€), and ingredients for baking & seasonal side dishes (canned pumpkin, jellied cranberry sauce, pecans, etc.). The shop is located at 20 rue Saint Paul, but turkeys and desserts need to be ordered in advance at 01 42 77 68 29. A good left-bank option for American ingredients is The Real McCoy at 194 rue de Grenelle, 75007.
Beyond the specialty shops, ingredients for most traditional side dishes are widely available in Paris markets and grocery stores. Granted, you might have to skip the canned pumpkin and go for authentic potiron, or forgo the Campbell's cream of mushroom soup in favor of crème fraîche and wild mushrooms, but you should have no problem finding patates douces (sweet potatoes), courge butternut (squash), choux de Bruxelles (Brussel sprouts), haricots verts (green beans) and marrons (chestnuts). Pecans and cranberries (canneberge or the similar airelle) are trickier to find, although not impossible. And if you need inspiration regarding the best way to roast a turkey, behold the following:
* Thanks to our discussion forum members RandyDiaz, NancyLi, JohnTalbott, mbcraw4d and CroqueCamille for contributing information that was used in this article.