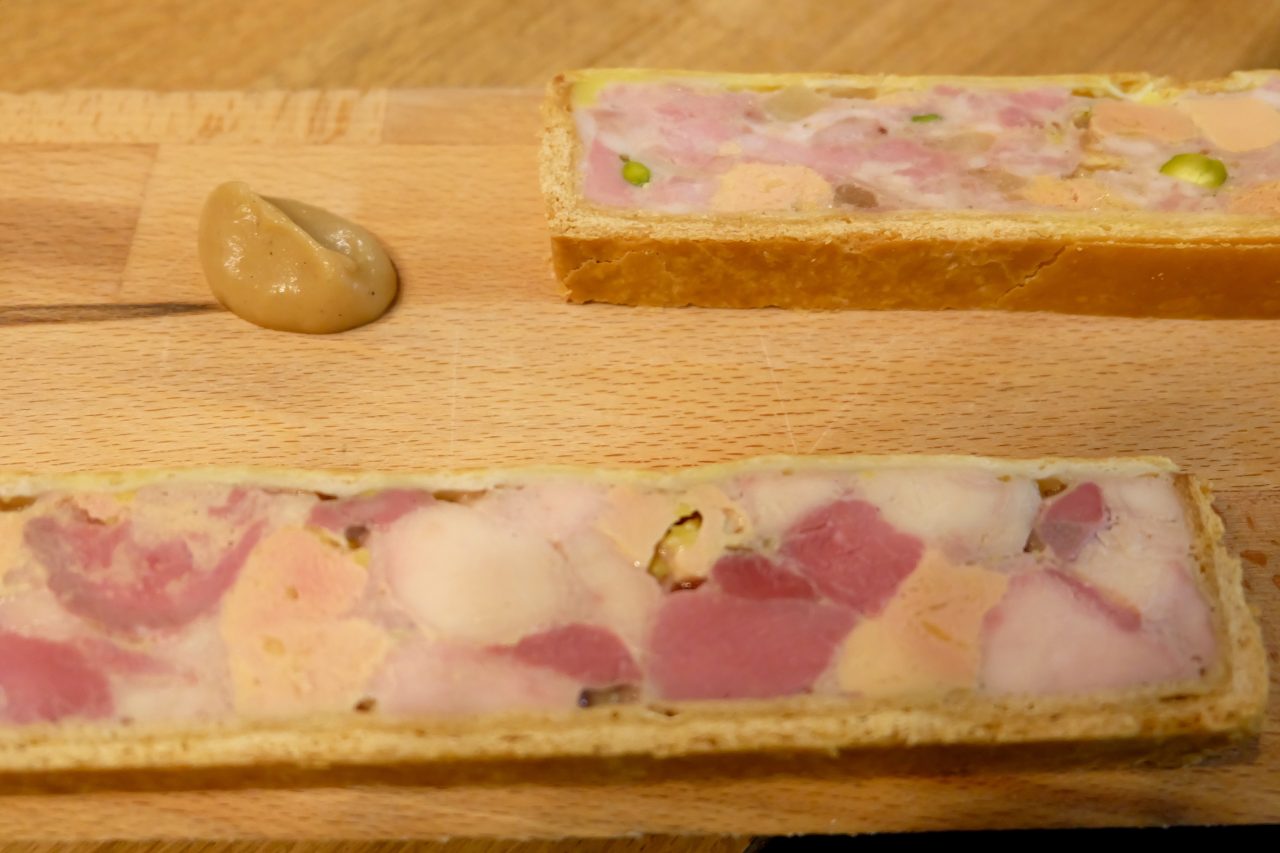 Address: 46, avenue de la Bourdonnais, 75007
Hours: Open Tuesday-Saturday for lunch & dinner. Open Monday for dinner only. Closed Sunday.
Telephone: +33 1 45 55 59 59
Website / Facebook / Instagram
COVID-19 UPDATE:
Arnaud Nicolas has reopened with an expanded sidewalk terrace.
Our Most Recent Visit
At the impossibly young age of 24, Arnaud Nicolas achieved one of the highest honors in gastronomy – the title Meilleur Ouvrier de France (MOF) – for his talent in charcuterie. Fourteen years later, he opened an ambitious shop and restaurant near the Eiffel Tower with the explicit goal of returning charcuterie to a place of honor on the French table. In the same way that prize-winning artisans have reshaped traditional baguette-making and pâtisserie, Nicolas wants to reintroduce charcuterie to palates that have become used to mediocre industrialized examples. So is it really that different? Yes. It's like tasting chocolate from Patrick Roger when you've only ever known Hershey's, or switching from Kraft singles to raw milk cheese sold by Laurent Dubois.
Nicolas isn't the only star charcutier in town (Gilles Verot has a well-deserved following), but he's the first to build a restaurant around his creations. This could be terrible – I cynically anticipated great charcuterie followed by mediocre mains and forgettable dessert. I was instead delighted by the best Quenelles de Brochet with sauce Nantua that I've ever tasted (yes, even in Lyon). The Baba au Rhum is also as good as all the other reviews (see below) say it is. As for the charcuterie, there's a whole page of options to be taken as starters, ranging from elegant (Pâté en croûte with quail, pear and pistachio) to down-and-dirty (La Couronne de Cochon with all parts of the pig). The wine list is short but includes some very good Beaujolais, which is what you want to be drinking here. The connected shop selling for takeaway is a great source for picnics on the nearby Champ de Mars, and it provides a way to share his creations with my friends who never, ever leave eastern Paris.
Notable dishes:
Charcuterie starters, including different versions of Pâté en croûte
Quenelles de Brochet
Baba au Rhum for dessert
---
Arnaud Nicolas in pictures
---
In Other Words
Alexander Lobrano (2017) tasted two different pâtés en croute and says they "were among the most elegant foods I've ever eaten." He also raves about the head cheese and the pork terrine. "I am besotted with charcuterie in its every iteration, and I don't think I've ever eaten better in my life than what I had at Arnaud Nicolas's," concluding that this has "immediately become one of my favorite Paris restaurants."
Le Figaro (2017) compares Nicolas' creations to fine jewelry, saying that they're closer in style to the nearby Louboutin and A.P.C. boutiques than to the corner traiteur. Nicolas is ushering in a new age for charcuterie, says Emmanuel Rubin. Oh, and the baba au rhum, prepared to order, is one of the best in the city.
Food & Sens (2017) offers another rave review, calling the tourte (a sort of pot pie) with chicken, cabbage and vin jaune "splendid."