Address: 26, rue des Grands Augustins, 75006
Hours: Open Tuesday-Sunday from 5pm to 11pm and Saturday from 1pm to 11pm.
Telephone: +33 9 81 21 76 21
Facebook / Instagram
Announcing the name of this calm, intimate Left Bank natural wine spot is a glaring red neon sign, of the sort one sees in speakeasies and sex shops. It is an earnestly louche design touch characteristic of the multidisciplinary work of proprietor Emmanuel Giraud, who by turns describes himself as "artist, writer, and journalist," and, in a 2013 interview with Le Monde, as a "sculptor of culinary subjectivity."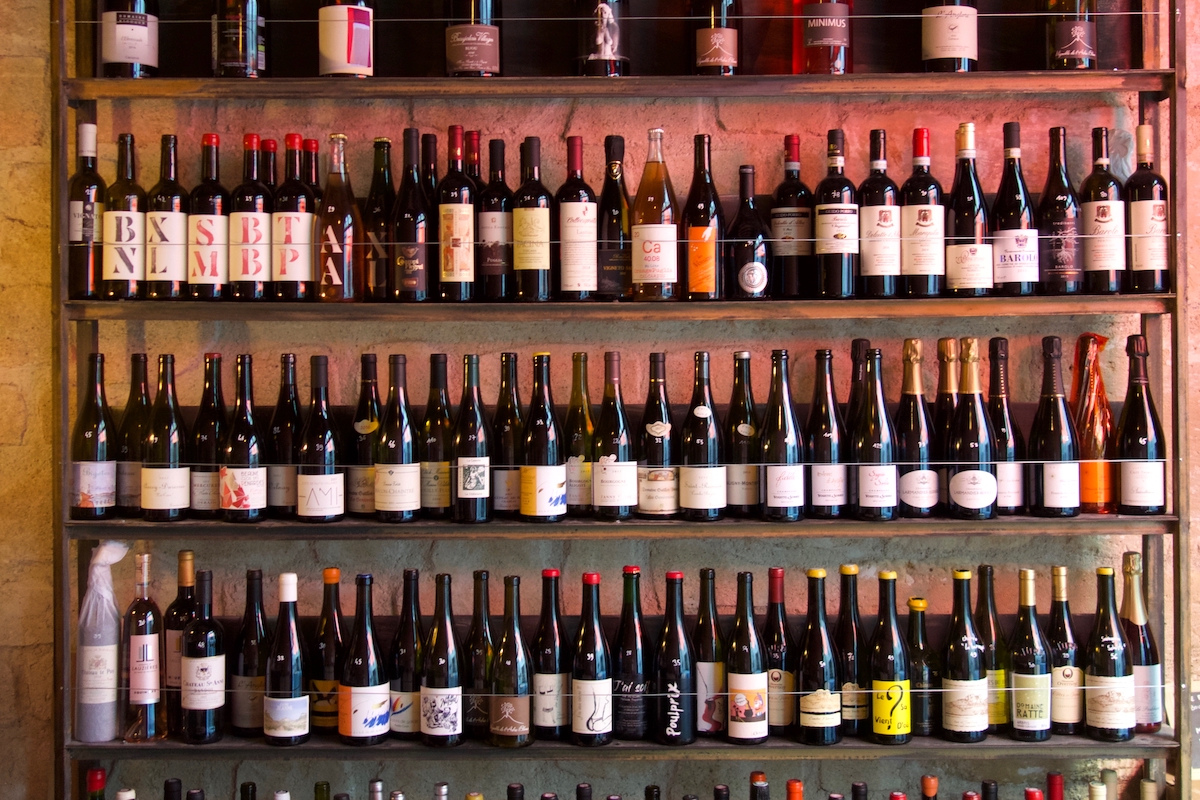 Rather than merely add "wine retailer" to his résumé with the opening of Augustin Marchand d'Vins, Giraud concocted a backstory involving a fictional character named "Augustin Marchand." He conscripted many Paris food journalists to mislead readers into believing that he, Giraud, is instead Augustin Marchand, a man whose life is apparently filled with eyebrow-raising coincidences: finding real estate on "rue des Grands Augustins" and becoming an actual marchand, or merchant, of wine.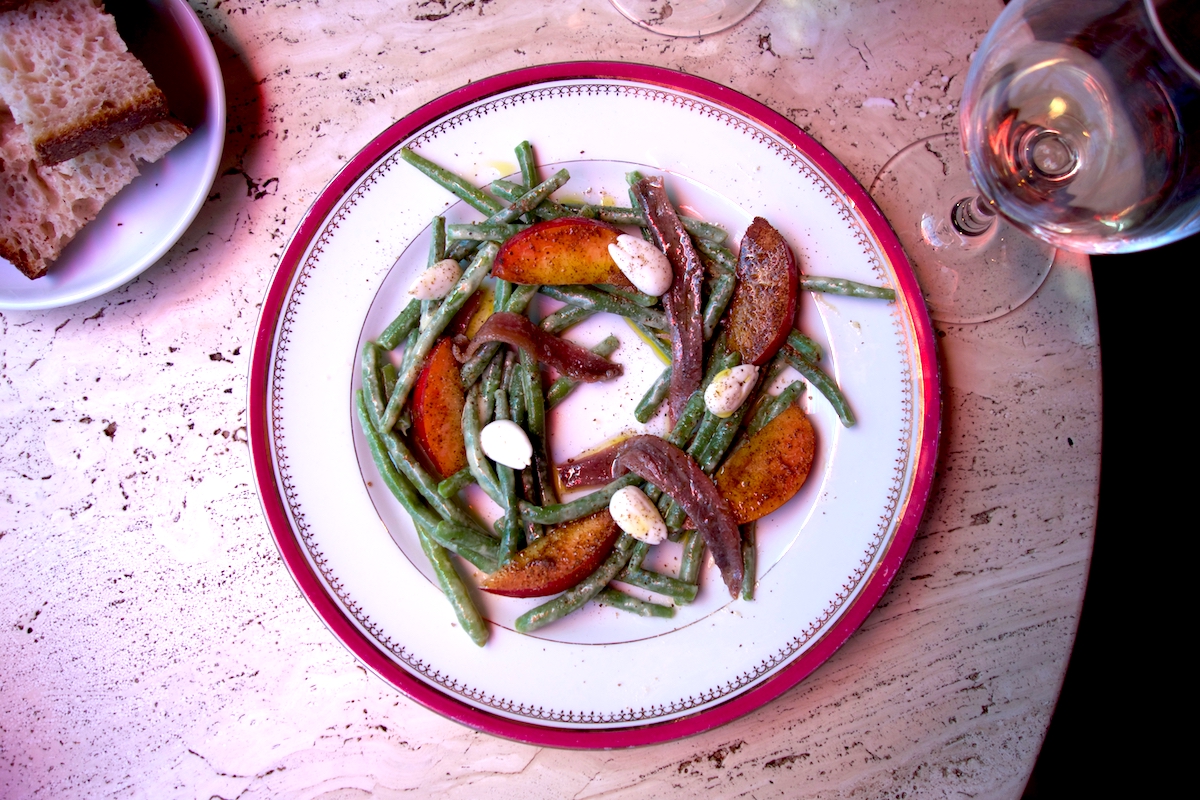 In reality, Augustin Marchand d'Vins – like Left Bank predecessors La Crêmerie, La Quincave, or the initial, wine bar iteration of Sauvage – is a bare-bones cave-à-manger (a wine shop in which one can dine, slightly), consisting, in this case, of a smattering of round, marble two-tops surrounding a service bar festooned with wine bottles, flowers, and a cheese cage.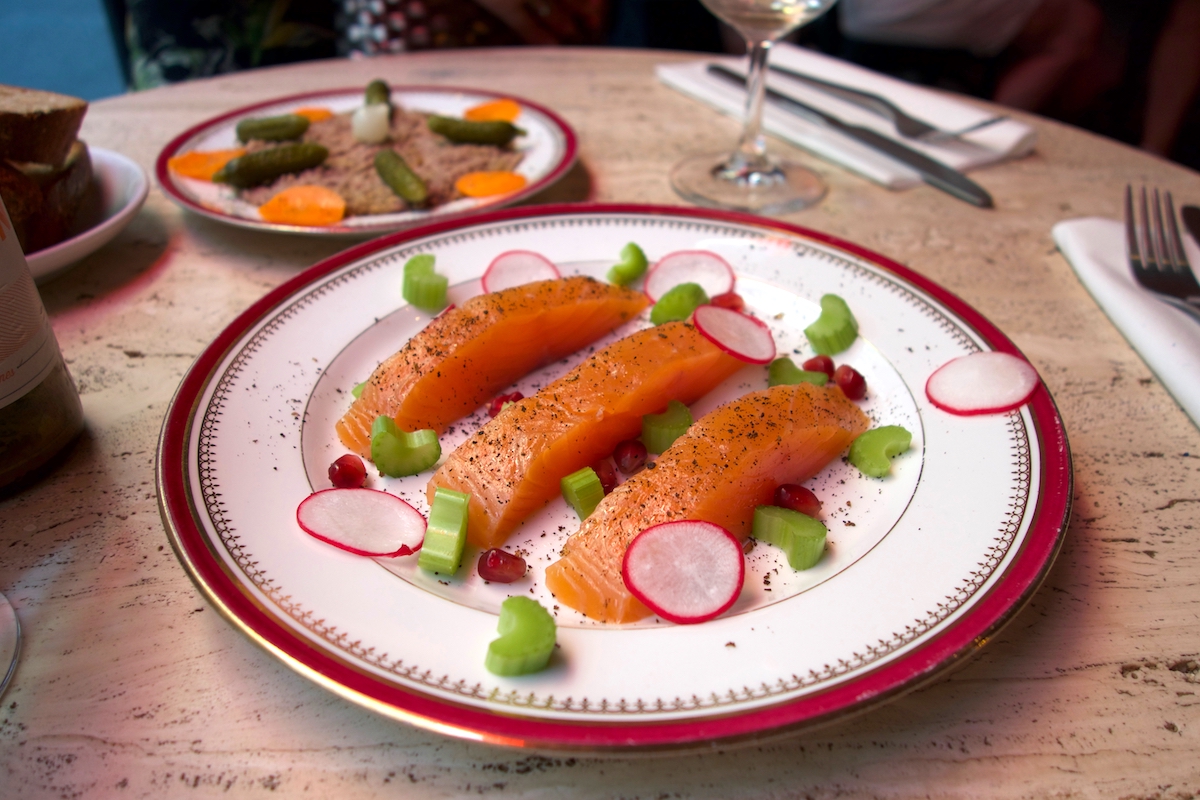 But unlike La Quincave, and rather more like La Crêmerie or the present, restaurant iteration of Sauvage, Augustin Marchand d'Vins prices itself at the means of its chi-chi neighborhood, which is to say its food offerings are rather dear. Three wedges of smoked salmon, each the size of a man's middle finger, run 26€. A salad of green beans, nectarine, and anchovy runs an unjustifiable 18€. Ingredients are of fine provenance, befitting Giraud's long experience in the field of gourmandise. But they are betrayed by a confetti-like hand with useless garnishes: carrot slivers, bits of celery, etc.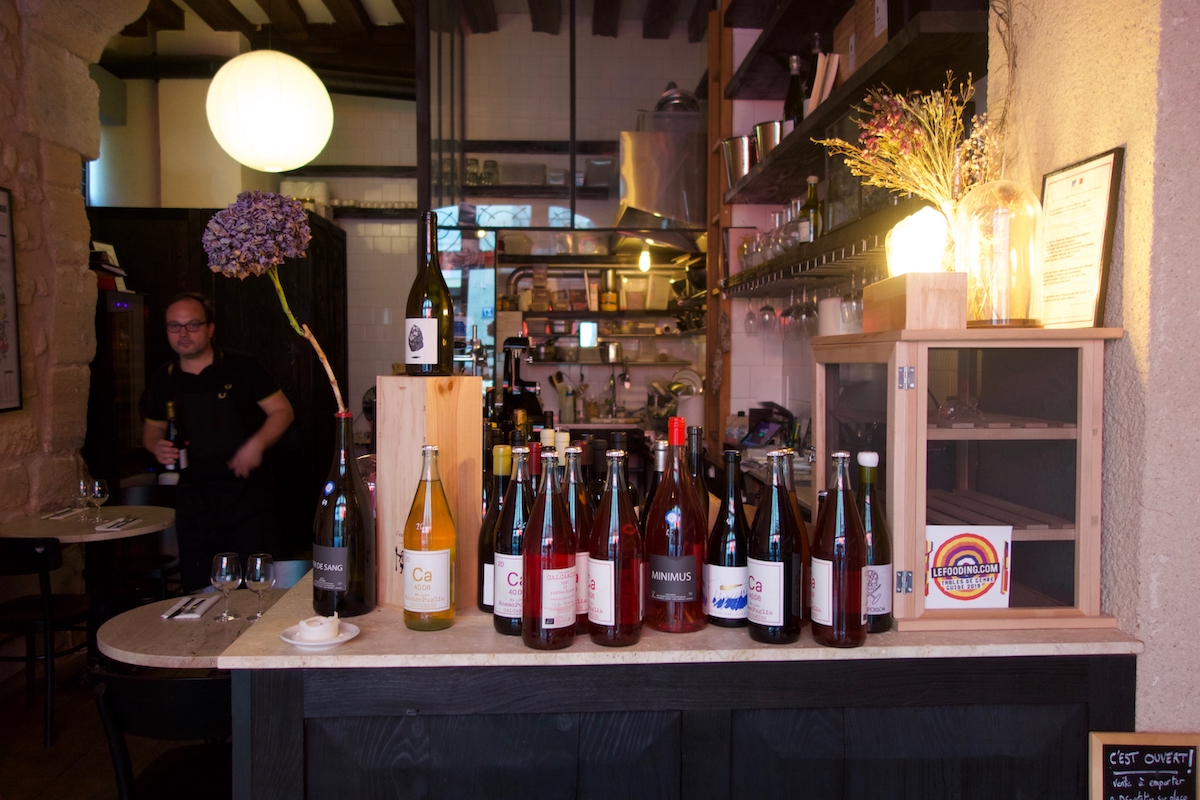 Redeeming the remedial nature of the kitchen is Giraud's omnivorous natural wine selection, ranging from the wiry Catalonian curiosities of Partida Creus to easygoing crowd-pleasers like the Mâconnais chardonnay of Domaine Guillot-Broux. Wine prices are fair, at retail plus 10€ corkage, and this alone can render Augustin Marchand d'Vins a destination on a road otherwise known only for a touristic Champagne shop and the haute bistronomie of Ze Kitchen Galerie. Giraud – with or without his fictional alter ego – should have no trouble finding a real clientele for honest wine in a simple setting, between meals or after one.
---
Augustin Marchand d'Vins in Pictures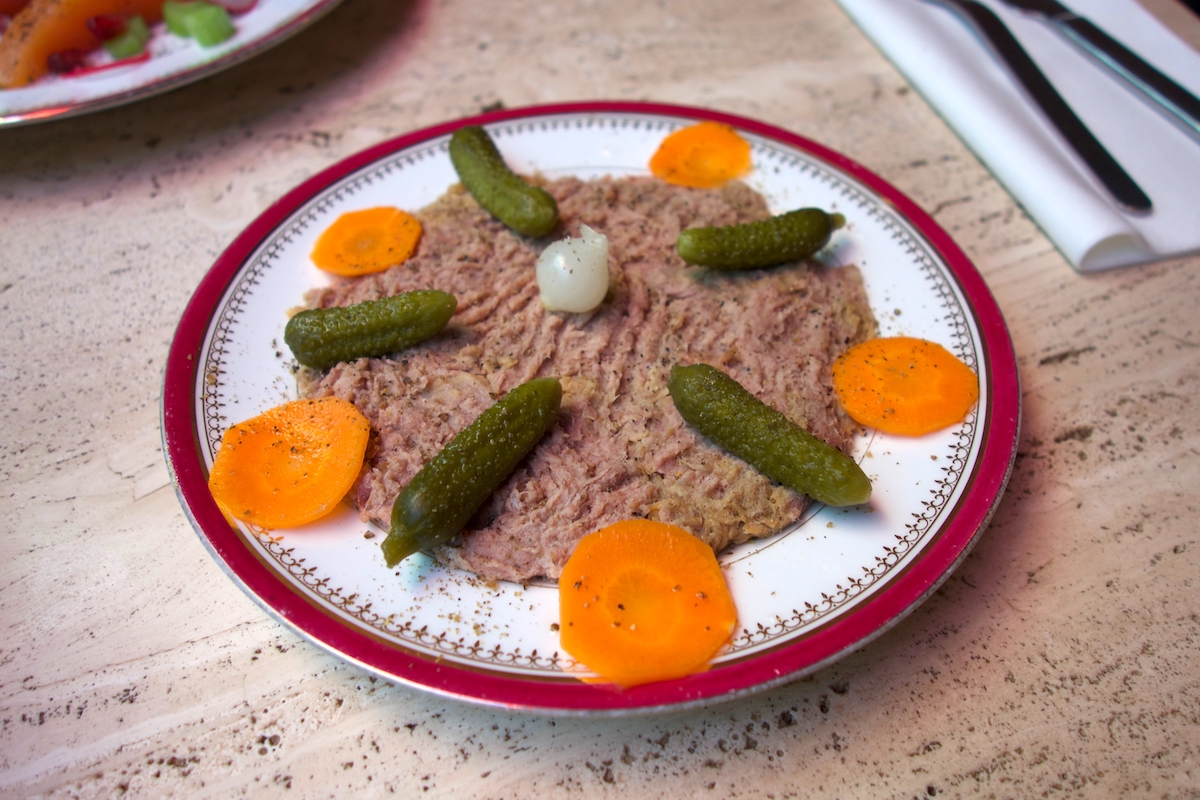 In Other Words
Le Fooding (2019) calls Augustin Marchand d'Vins a "deliciously intimate wine den" where one can eat "a delicious saucisson from Ardèche." Sounds, er, delicious.
Simon Says (2019) François Simon winkingly observes that at Augustin Marchand d'Vins "the owner is a true connoisseur, wears a leather apron, and visibly knows the restaurant universe well."
Le Figaro (2019) describes the plat du jour at Augustin Marchand d'Vins as "aristo-canaille," or "aristocratic rogue."