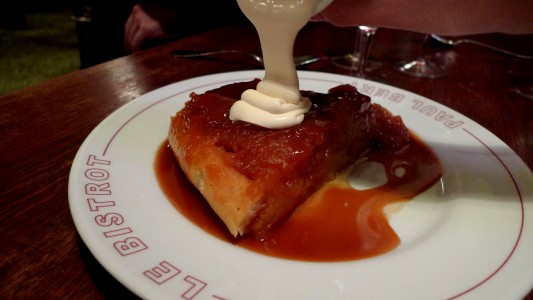 Address: 18, rue Paul Bert, 75011
Hours: Open Tuesday-Saturday for lunch & dinner. Closed Sunday and Monday.
Telephone: +33 1 43 72 24 01
Facebook / Instagram
The Bistrot Paul Bert boasts one of the most charming dining rooms and patrons in town, appearing to first-time visitors like the Paris bistro of their dreams. Their menu is torn straight out of the classic bistro playbook, with options like steak frites, andouillette, soufflé and tarte Tatin. Compared to many other bistros, Paul Bert shines bright because of superb ingredient souring and careful cooking. Owner Bertrand Auboyneau is a real wine lover and supporter of vignerons, and his list is a joy to drink from. Overall, while many long-time fans will admit that it's not quite at the level it once was, Le Bistrot Paul Bert remains a top recommendation for anyone wanting to experience a classic bistro in Paris.
Le Bistrot Paul Bert in Photos
In Other Words
Le Fooding (2016) asks "Is Bertrand Auboyneau's unbeatable motherhouse a hotspot for tourists seeking out the real Parisian experience? In any case, they've found it: authentic decor (ceramics, white tablecloths, busy servers), a menu that's just as lively as ever, and bottles of wine that will give you a healthy flush," and advises that "at lunch (except on Saturdays) they serve an unbeatable set menu for €19."
Patricia Wells (2015) says "this here is the quintessential Parisian bistrot that remains completely authentic and honest despite its wild popularity."
Condé Nast Traveler (2015) quotes Dorie Greenpan saying "although it opened in 2000, it has the feel of a place that's been around forever. The wonderful steak is served with Cognac and peppercorns, or you can get a single fried egg with truffles." Alice Waters adds that "you'll hear plenty of English and French in the dining room because everyone—local and foreign—loves the place for its time-honored classicism."
TimeOut (2012) says "this heart-warming bistro gets it right almost down to the last crumb. A starter salad of ris de veau illustrates the point, with lightly browned veal sweetbreads perched on a bed of green beans and baby carrots with a sauce of sherry vinegar and deglazed cooking juices," and raves that "desserts are superb too, including what may well be the best île flottante in Paris. If you're in the area at lunchtime, bear in mind that the prix fixe menu is remarkable value."
Le Figaro (2011) praises the "… rapport simple au produit et ce culte de la gourmandise. Même soin apporté à la terrine de campagne maison qu'aux envolées plus fines (pigeon rôti et petits légumes; lotte au gingembre…) et aux incontournables, dont le mythique paris-brest."
David Lebovitz (2010) says that "it's hard to go wrong with anything here. You can order from the fixed price menu or split a Côte de Boeuf (steak for two, which they will not cook further than medium-rare), which includes house made frites."
Gourmet (2008) advises that "Le Bistrot Paul Bert has become so popular it can be tough to score a table. What drives this trio of cozy dining rooms decorated with flea-market bric-a-brac is some of the best traditional bistro cooking to be found in Paris today. The chalkboard menu changes often but runs to dishes like coddled eggs with cèpes, coucou de Rennes (a Breton breed of chicken prized for its delicate flesh) in a sauce of morels and vin jaune, and their much-loved signature dessert, a sublime Paris-Brest, the praline-buttercream-filled round choux pastry created to commemorate a bicycle race between the two cities from which it takes its name."
Le Bistrot Paul Bert in Video
Anthony Bourdain's Paris episode for "The Layover." The segment on Le Bistrot Paul Bert begins around the 14:40 mark.