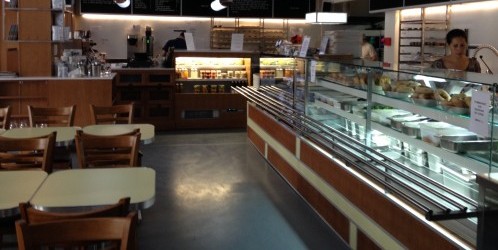 Address: Halle Pajol, 12, esplanade Nathalie Sarraute, 75018
Hours: Open daily 8am-3pm.
Telephone:  +33 9 84 46 25 26 (no reservations)
Website / Facebook
The mini empire of benevolent Bob (aka Marc Grossman) continues to expand with this offering: an American style diner and bakery complete with apple, pecan, lattice-topped cherry or rhubarb pies, Belleville Brulerie coffee, hand-rolled bagel sandwiches and even their elusive brethren, bialys. There's a pretty lovely outdoor terrasse, too.
---
Bob's Bake Shop in Pictures
In Other Words
The Wall Street Journal (2015) "Housed in a former warehouse in a working-class neighborhood with the raw edginess of East Berlin or Brooklyn, the café-cum-bakery has a vibe that harks back to Edward Hopper, but with the modern touch of international hipster staff."
Table à Découvert (2015) "La tarte aux noix de pécan que j'avais repéré la dernière fois chez mon accompagnateur. Une belle pâte feuilletée croustillante, des tonnes de noix de pécan grillées et cet appareil incroyable, très frais et humide, un appareil à flan à base d'un caramel de sucre muscovado qui donne des accents de réglisse. Terrible!"
Table à Découvert (2014) "Le pain servi en deux parts arrive chaud et de qualité (les bords craquent et l'intérieur est tendre), c'est bien agréable. Un pain choisi au sésame généreusement tartiné d'un mélange de feta et de crème et garni de tranches de courgettes et d'aubergines (peut-être pas les légumes les plus saisonniers) grillés et marinés à quelques chose de bien acide."
Le Figaro (2014) "Pâtisseries new-yorkaises pur jus mais des bagels patauds même si goupillés dans les règles (pâte bouillie puis cuite)."
Le Fooding (2014) "…nouvel espace multiservice parisien à énergie positive, lui va bien. Vedettes de ce diner épuré, fidèle aux classiques ricains (PB&J, relish maison, coleslaw…), les pains à bagels faits sur place chaque matin – classique, pavot, sésame, oignons…"
David Lebovitz (2014) "For years, the unspoken secret was that Marc makes the best bagels in Paris… I want to hang on to the good vibes I get when I go to Bob's, as long as possible."
Raids Patisseries (2014) "Voilà, le service est prévenant (le vendeur a emballé les gâteaux pendant 6 ans pour que le transport leur soit le moins douloureux possible), et le lieu vraiment sympa, avec de grandes tables dehors pour prendre le soleil."
Time Out (2014) "Très jolie boulangerie… evidemment, rien ici n'est comparable à ce que l'on trouve dans l'immense majorité des boulangeries hexagonales."