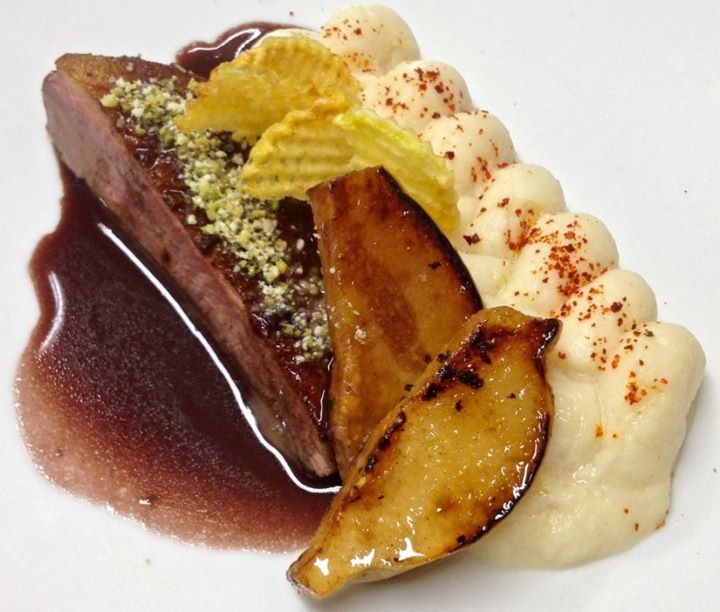 Address: 139 rue St. Dominique, 75007
Hours: Open every day for breakfast, lunch & dinner
Telephone: +33 1 47 53 73 34 (reservations not accepted)
Website / Facebook / Instagram
Given chef Christian Constant's roots in the French southwest, it's no surprise that hearty dishes like cassoulet and duck confit are often on the menu at his eponymous restaurant. These choices are nestled among classic Parisian bistro offerings like roast chicken, slow-cooked beef daube, or some of the best leeks with vinaigrette in Paris. The simple, reasonably-priced fare makes Café Constant the perfect spot to stop by pre- or post-Eiffel Tower visit, and the non-stop opening hours (from 8am) mean that those looking to eat between the 2pm closure and 7pm opening of most Parisian restaurants are in luck.
---
Café Constant in Pictures
Saint Nectaire

Profiteroles

Chocolate cream

Sea bream with pesto

Steak and potato purée

Beef bourguignon

Smoked herring-style salmon

Lentils and pork

Café Constant interior

Ile flottante
---
In Other Words
Le Figaro (2018) dubbed Café Constant's leeks with vinaigrette the best in Paris.
Table à Découvert (2015) "Qu'ajouter? Rien. Dans le quartier, pour faim au débotté sans se ruiner et bonne ambiance, c'est au Café Constant que ça se passe."
Alexander Lobrano (2013) "Our mains came off as the sort of formatted high-volumn cooking the French might refer to as "correcte," or honest, while exhibiting no perceptible creative flair. Ditto the creme caramel we shared, right down to its squirt bottle blazes of caramel sauce. And perhaps even more gravely, despite the well-meaning and conscientious service, this restaurant had little charm."
Le Figaro (2011) "Même s'il n'est plus derrière les fourneaux, le chef sait choisir ses lieu­tenants… En l'occurrence, un répertoire traditionnel de superbe exécution où l'effiloché de crabe et pommes rattes discute le bout de gras avec la caille farcie au foie gras. Le tout à prix d'ami."
Le Figaro (2009) "… des plats qui sonnent juste comme les desserts d'antan, furieusement bons (riz au lait, île flottante, crème caramel)."
Photo via Café Constant's Facebook page