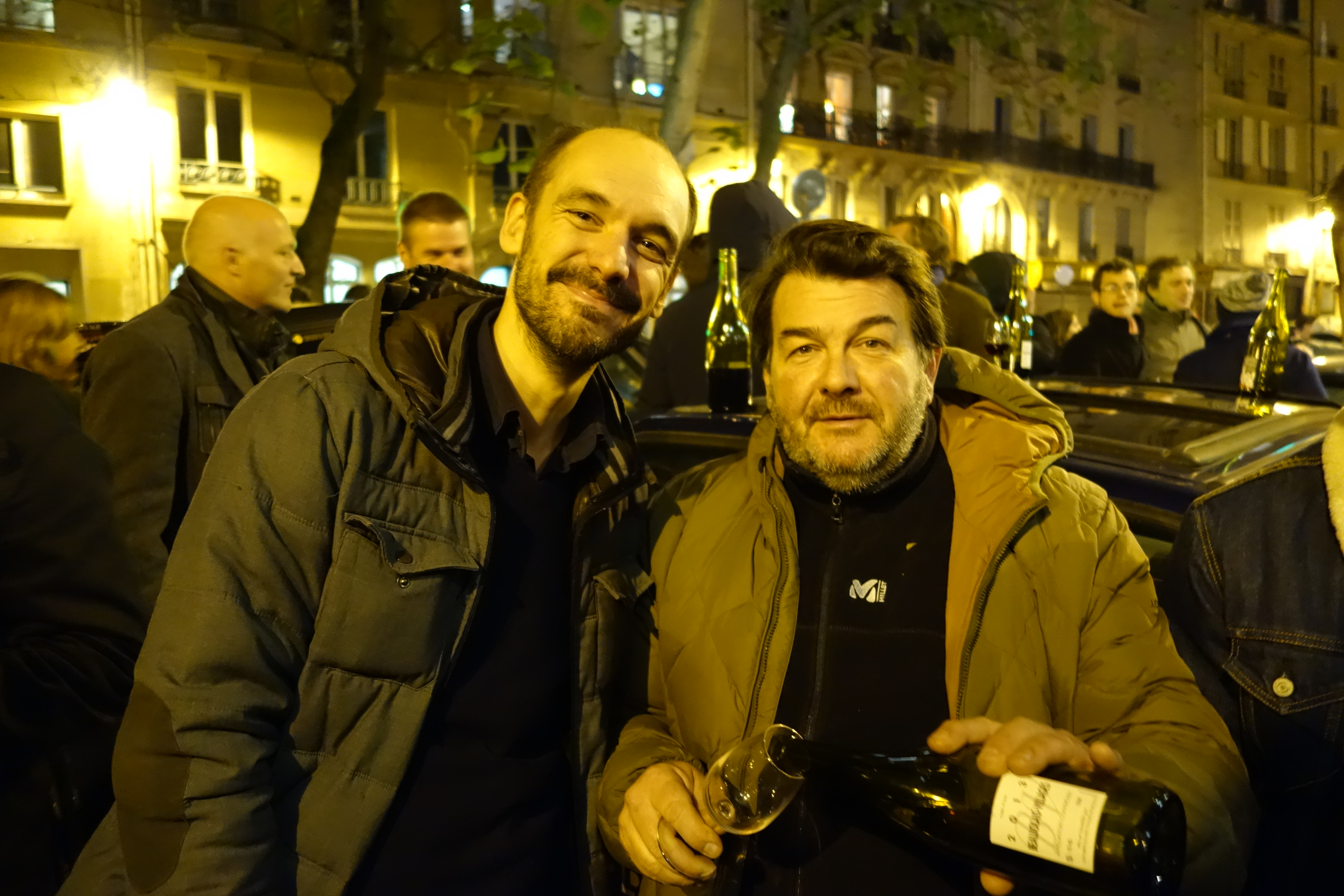 Café de la Nouvelle Mairie
Address: 19 rue des Fossés Saint Jacques, 75005
Nearest transport: Cardinal Lemoine (10) or Luxembourg (RER B)
Hours: Open Monday-Friday from 8am with continuous service all day. Closed Saturday & Sunday.
Telephone: +33 1 44 07 04 41
Instagram
COVID-19 UPDATE
Café de la Nouvelle Mairie has reopened inside and out.
Our Most Recent Visit
For the wine-indifferent, Café de la Nouvelle Mairie is merely a timeless, picturesque terraced café on a shady lane beside the Panthéon. Wines are inexpensive and available by the carafe, like in the old days. The café's simply-executed bistrot cuisine is well-sourced and agreeable: oeufs mayonnaise, chicken liver terrines studded with grapes, and hearty Angus steaks for pressure-free meals on long summer evenings.
But for alert wine geeks, Café de la Nouvelle Mairie might as well be the Panthéon itself, as pertains to natural wine.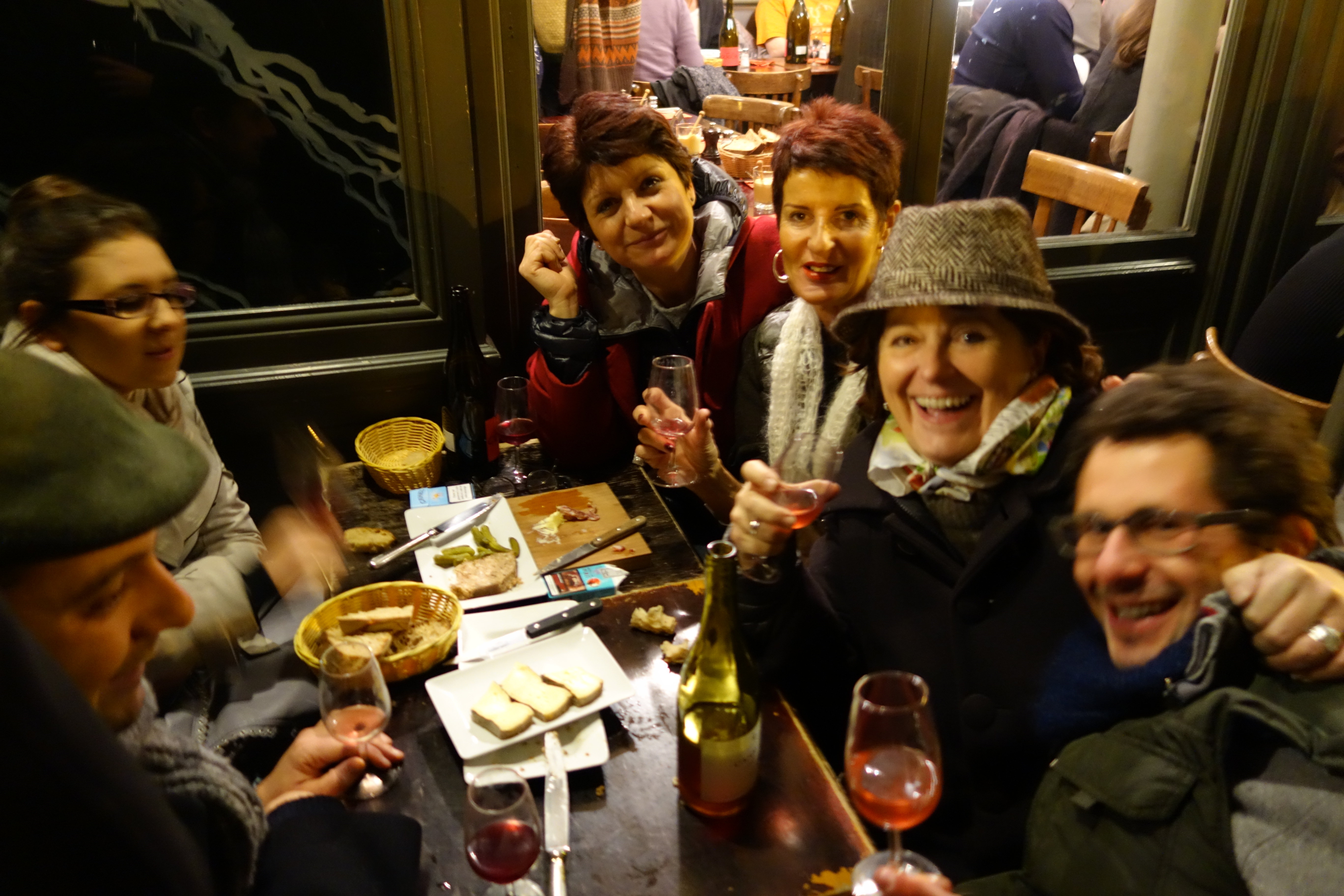 Among the first establishments to champion low-sulfur winemaking in Paris, Café de la Nouvelle Mairie has maintained its pre-eminence in the natural wine world through several stages of ownership: beginning with Bernard Pontonnier in the late seventies, then future Aveyron winemaker Nicolas Carmarans and his then-wife Marie, to the present, notoriously press-shy owners, Benjamin Fourty and Corentin Bucillat. At the festive jazz concerts the bistrot hosts on occasion in summertime – and especially on the night of Beaujolais Nouveau in November – all the successive generations of proprietors are present, invariably accompanied by a few of the bistrot's renowned natural wine suppliers, from Jean-Claude Lapalu to Eric Pfifferling and more. Café de le Nouvelle Mairie's leather-bound wine list is a living history of natural wine in France, and a guide to the winemakers who've been instrumental in articulating the ideals of natural wine worldwide.
That such an influential and rare caché of wine is housed and served under the guise of a simple café – a place to stop for an espresso or a half-pint and a cigarette – is among the prettier ironies of the Paris restaurant scene. As Pusha T once said, "If you know, you know."
---
Café de la Nouvelle Mairie in Pictures
Photos by Aaron Ayscough & Meg Zimbeck © Paris by Mouth
In Other Words

David Lebovitz (2017) calls Café de la Nouvelle Mairie's cuisine "bistrot v. 2.0." He lauds their natural wine list as "reassuringly reasonable," though cautions that natural wines are "not to everyone's taste." He wished there had been sorbet on his dessert of peach soup.
Le Fooding (2017) notes that Café de la Nouvelle Mairie is located across from the offices of Universal Music, saying that "chic meals" are "guaranteed" at the café. Benjamin Fourty is presumably delighted someone has finally recognized his long efforts to be chic.
Time Out (2016) praises the superannuated and very Parisian atmosphere of Café de la Nouvelle Mairie, calling it very rare and yet very familiar.
The Financial Times (2014) "There's always at least one wine by the glass for €4 and the 300-bin list features multiple cuvées by the same grower, providing a great overview of a producer's work. Look out for the collection of one of Jura's cult vineyards, Domaine Overnoy-Houillon, whose much sought-after wines rarely appear on Parisian wine lists nowadays."
John Talbott (2014) "How can you not go to a place if you're staying/living in the neighborhood that has the down and dirty bistro food of your youth and a Turkish toilet?"
Not Drinking Poison In Paris (2011) calls Café de la Nouvelle Mairie "a lovely terraced natural wine café just east of metro Luxembourg… The space itself just breathes, with wide windows airing the room onto the tree-shaded square outside."
Wine Terroirs (2010) "… they have roughly 18 wines on the black-board menu, half in whites, half in reds, with prices starting at 4 € a glass, with people/estates like Descombes, Mosse, Dard & Ribo, Villemade…The charcuterie and vegetables, meat and everything is sourced directly in the regions."