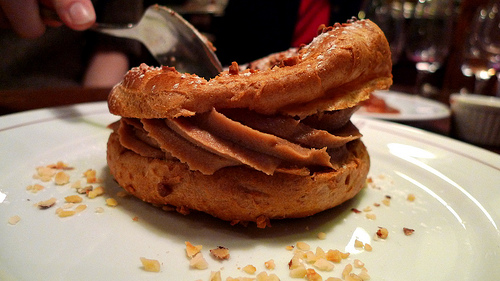 This bistronomic Breton restaurant near the Gare du Nord serves a four-course feast featuring dishes that are baked in a massive dining room oven.
Address: 10 rue de Belzunce, 75010
Hours: Open Tuesday-Friday for lunch & dinner. Open Monday for dinner only. Closed Saturday & Sunday.
Telephone: +33 1 44 53 06 20
Book Online /Website / Facebook / Instagram
COVID-19 UPDATE:
Chez Michel has reopened with a handful of tables on the sidewalk in front of the restaurant.

---
Chez Michel in Pictures
---
In Other Words
Not Drinking Poison in Paris (2013) "It's in a fine groove right now, having attained an effortless sweet-spot consisting of informal service, an idiosyncratic, well-priced wine list, and a menu rendered exotic for its unswerving devotion to Bretonne country-cooking."
Patricia Wells (2011) "… impeccable ingredients, some of the best baked-on-premises bread in town… and a blackboard menu that's so varied, every diner should find something to satisfy… the downside: While Chez Michel used to be known for its well-priced menus, I was shocked to see the 50-euro price tag on the blackboard menu…"
L'Express (2009) "L'authenticité se lit sur les murs de cette maison… Côté assiette, cela donne un lièvre à la royale dont les filets sont juste rosés à la minute…"