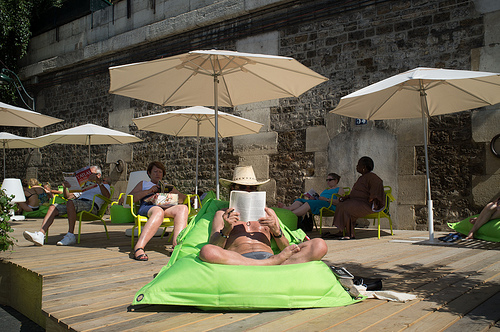 Delicious Reading for Summer 2014
For those of you traveling around the countryside this summer, Alexander Lobrano's new book is an indispensable guide to the fascinating food ways and favored restaurants that you'll find in the many different regions of France. Every chapter shares the author's personal connection with a corner of the country and provides a meaningful context for understanding the people and flavors you'll encounter there. It matters because Lobrano isn't someone who decided to write a memoir after a handful of meals in France. He's been eating and thoughtfully writing about food in France for decades, and for the very best publications. It's also a great book for armchair travelers and home cooks, with tantalizing photography from Steven Rothfeld and regional recipes from longtime Food & Wine contributor Jane Sigal. On summer days when I can't escape work and the city, I can turn to the Normandy chapter recipe for dorade with lettuce cream, radishes and cockles (a recipe from Alexandre Bourdas of SaQuaNa in Honfleur) and feel like I've escaped to the shore.
As Paris bistros continue to evolve and send out modern dishes that are more often marked by smears and shavings than long simmering, I continue to jones for classic fare like céleri rémoulade and cassoulet. Considering how hard it has become to find these dishes done correctly in restaurants, and given how easy (and relatively inexpensive) it is to find the necessary ingredients in Paris, I've been trying to master the classics at home. This project started with the 2010 publication of Dorie Greenspan's Around My French Table and has now been reinvigorated by this, David Lebovitz' first significant foray into savory cooking. Widely celebrated for his sweet recipes and sharp wit, Lebovitz is an obsessive guy with a test kitchen in his east Paris apartment… the kind of guy who will repeat and refine a recipe for Coq au Vin until it's perfect. That's what you want. The accompanying stories (debating, for example, the inclusion of cocoa powder instead of chicken blood in that very Coq au Vin) invite you into his kitchen, into his thought process, into the question of what it means to be cooking in Paris today.
When Patricia Wells published the first edition of this book 30 years ago, it quickly became a bible for food loving travelers to Paris. Before this effort, no one had compiled a collection of addresses, recipes and advice in such a useful way. By carrying a single tome, travelers had an insider's list of tables to try, a food glossary and practical pages about etiquette, plus hundreds of black and white photos documenting the fabulous fashion and feathered hair of the 1980s. The world has changed a lot since 1984 and the internet (including our little corner of it) has become a plentiful source of free milk, a sometimes overwhelming provider of information about where and how to eat. Why stick with Wells? Because the lady knows what she's talking about (how rare that has become!), and has personally tested on her own dime each of the restaurants included in this book and its associated app. Many of the tables she celebrated thirty years ago are still here, but a huge number have been necessarily culled and replaced with restaurants that appeal to today's appetites. Wells loves Japanese food and light and healthy fare, so there are plenty of spots for noodles and sushi to compliment her recommendations for hearty bistro classics. This will be the source that other people continue to rip off for years.
Lead image by Nicolas Portnoï via Flickr