If you've ever wondered why there are more than 500 different cheeses in France, how different cheeses are produced (what accounts for their texture, color, and smell?), why French cheesemakers use raw unpasteurized milk in their cheese, what the impact of seasonality and aging are on cheese, and how locals typically enjoy cheese in restaurants and at home… this is the tasting for you.
We'll visit a cheese shop (or rather, the cheese shop – our favorite one in the world) to talk about the art of sourcing and aging artisanal cheese in France. You'll learn how to select and order cheese in a fromagerie, and you'll get to weigh in on what we'll be tasting together.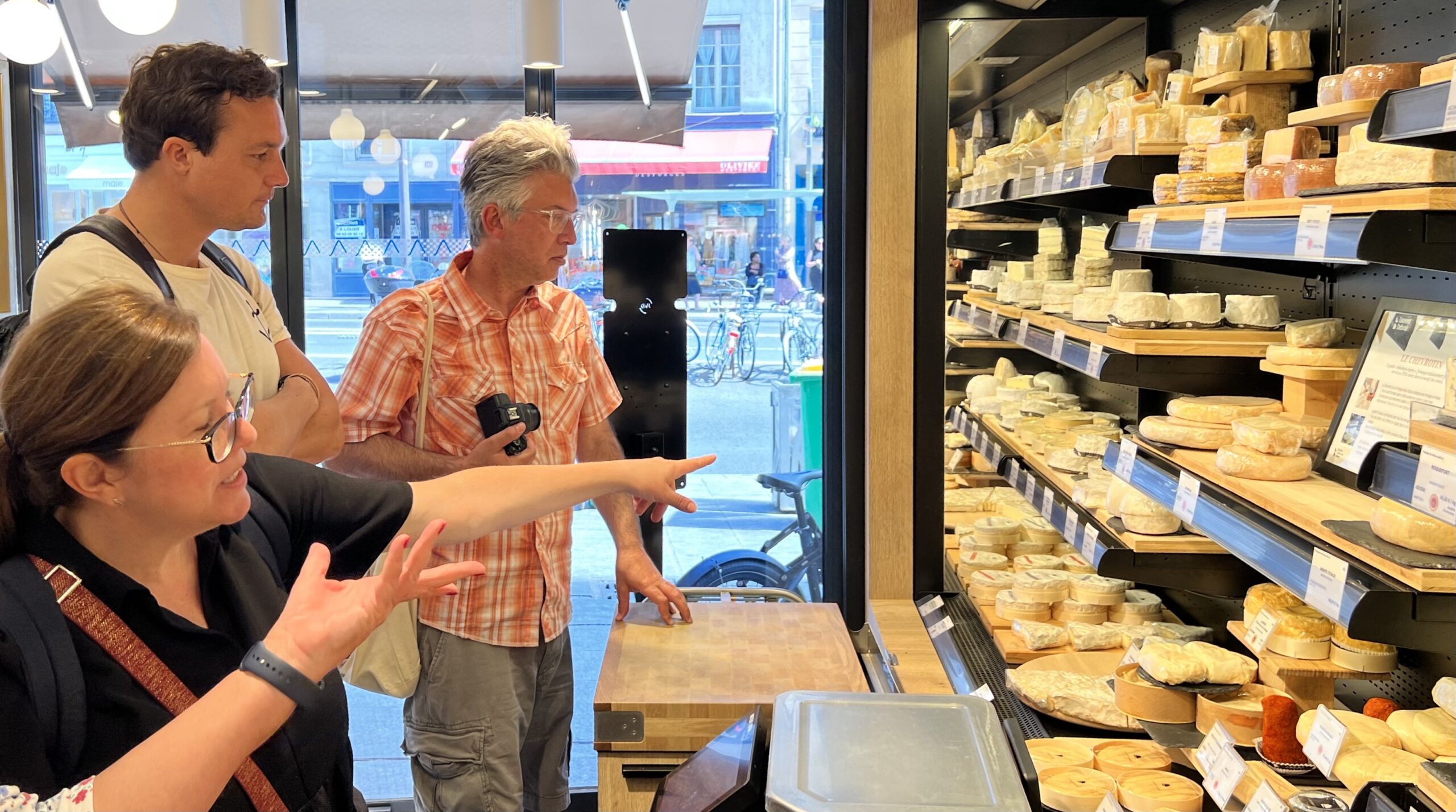 How much cheese will we taste? It depends on the day, but we usually go for at least 10 different cheeses, representing a wide variety of French regions and cheesemaking styles. We'll bring these to a tasting room in one of the oldest and most charming buildings in Paris and lay out our bounty with baskets of bread.
And because it wouldn't be a proper cheese tasting without wine, we'll be matching many different French wines with our fromage and discussing principles for pairing cheese & wine that you can try on your own. You'll leave with a solid understanding of some of the major categories and appellations of French cheese and wine, and you'll have so much fun that it won't feel like learning. Because this tasting takes place around noon, this "trinity of the French table" (cheese, bread & wine) can definitely double as lunch.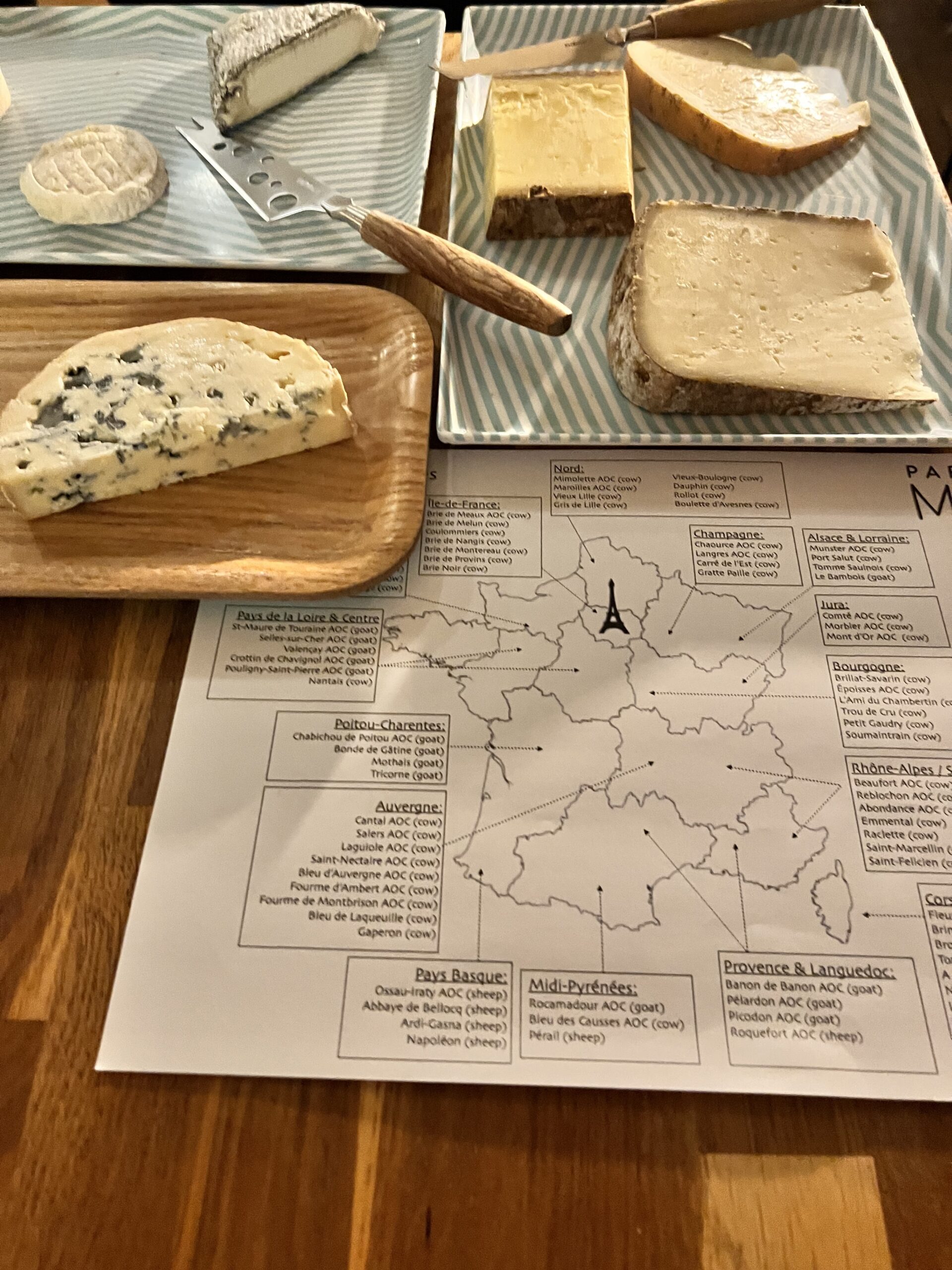 AVAILABILITY
We generally schedule the French Cheese Explosion on Tuesdays and Wednesdays, and only 1-2 months in advance. Click on a date within the calendar to see which tours we're offering that day (all our routes are reflected on this calendar, not only the French Cheese Explosion). If you want to be notified when we add sessions during the month that you're traveling, you can send us an email.
Questions? Send an email to parisbymouthtours@gmail.com
---
PRICE & PRACTICAL DETAILS
This tasting is capped at eight guests, and tickets are priced at €125 per person, including very generous tastings from the most amazing (and expensive) cheese shop in Paris.
The tasting is led in English by a passionate (and vaccinated) cheese expert and lasts approximately 3 hours. You can plan to walk and stand for approximately 1 hour, with a seated tasting for the remainder of the time. Please let us know about any mobility issues in advance by sending an email to tasteparisbymouth@gmail.com
We'll send you the exact meeting point upon booking, but you can plan to finish near the Saint-Paul subway stop.
We'll be tasting wine along with our cheese and bread while seated in a beautiful wine cellar. Water will also be available. Discounts are unfortunately not available on small group tours for those who don't drink wine, because we're opening bottles whether you indulge or not.
---
ABOUT THIS NEIGHBORHOOD
The southern Marais contains a lively Jewish quarter and is home to a large number of 16th century mansions, many of which have been converted into museums. It's also home to many art galleries, a large LGBTQ community and world class shopping. We'll be shopping for cheese in this neighborhood, and then bringing it to a tasting space inside of one of the oldest and most charming buildings in Paris.
---
CANCELLATIONS POLICY
A 100% refund is available for those who cancel with at least 48 hours advance notice. No refunds will be given for clients who cancel with less than 48 hours notice, or arrive more than 20 minutes late without calling, or don't show up at all (no-shows). Our tours run rain or shine.
Clients who are booking tours for the day of their arrival in Paris should be aware that we do not offer refunds in the case of delayed flights or trains (because this is such a common occurrence).
Questions? Send an email to parisbymouthtours@gmail.com
A SAMPLING OF WHAT WE MIGHT TASTE