In Paris, it's possible to do a Tour de France without a bicycle, since one of the most unique layers of the city's food chain is its many French regional tables. Indeed the cooking of almost every corner of France is available in Paris, although some regions, notably the Auvergne and Alsace, are better represented than others, like the north of France, which has just a single address, Le Graindorge, vaunting such Flemish favorites as waterzooï (chicken and vegetables stewed in cream enriched bouillon) or carbonade, beef cooked in a sauce of beer.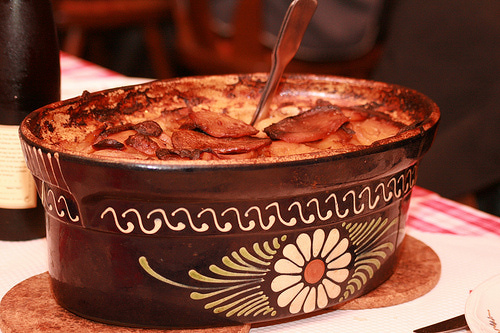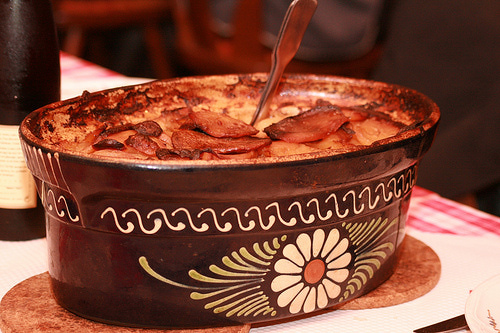 Baeckeoffe in a Soufflenheim casserole
Myself, I can still remember the rich winey perfume that rose into the air the first-time that Ginette, the sassy red-haired waitress at the long-gone La Providence, lifted the top of the gaily painted Soufflenheim casserole that contained my very first Baeckoeffe ("baker's oven," in Alsatian dialect). As she spooned this deeply comforting stew of beef, pork and mutton or lamb marinated overnight in Alsatian white wine with juniper berries and then baked with sliced potatoes and onions, I must have looked like an eager puppy, because she giggled, patted me on the shoulder and said, "Oh oui, it'll do you some good." On a chilly October night, at the end of a long stressful day, I could almost feel the steam unknot my shoulders, and it was just as delicious as it smelled.
During that first Fall when I'd just moved to Paris from London to work as an editor in the French office of an American publishing company, I instinctively gravitated towards the city's French regional restaurants without even knowing that they fit this bill. This was the beginning on my long—and continuing—learning curve in French gastronomy. Awkward with my wobbly French and often a bit lonesome, I loved places like the long-gone but still much regretted La Providence in the rue de la Sourdiere and Chez Maître Paul in the rue Monsieur Le Prince because they were run by kind patient people who were proud of the regional cooking they served—Alsatian and Franche-Comtoise, respectively, and also because they babied me when I came in alone after working late. It was still a new thing for me to eat alone in a restaurant, and sensing this, they were extra solicitous as a way of putting me at ease.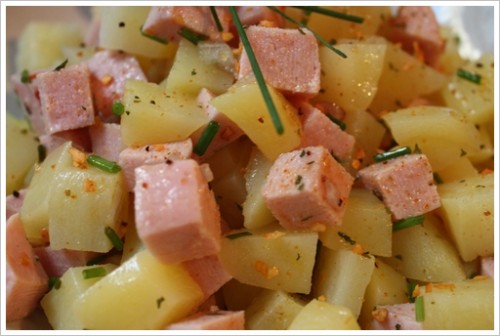 Salad of cervelas, a typical dish from Alsace
Monsieur Schweizter, the proprietor of La Providence, would instantly pour me a glass of a Reisling or Sylvaner, and Ginette would tease me when I made a mistake with my French, which meant often, but she was gentle and usefully explained my many errors. Here, I ate the same meal over and over again—Gruyère and cervelas salad on a bed of bibb lettuce in mustardy vinaigrette, and then that wonderful Baeckoeffe, which I often idly mused I might like so much because of the thimbleful of Rhineland blood I had from my grandmother's paternal ancestors who'd immigrated to Ohio in the 1830s.
At Chez Maître Paul, I craved the chicken in vin jaune sauce or maybe the plump delicately smoky Montbeliard sausage from the town of the same name, and the wonderful caramel iced walnut cake. I also loved the stuffed cabbage at L'Ambassade d'Auvergne or Chantairelle, both of which still exist, the epic boeuf bourguignon at the vanished Le Recamier, and the cassoulet at Au Trou Gascon. Later, an eventually acted upon desire to visit Corsica was born at Vivario (gone), an odd spot in the Latin Quarter that was like so many regional tables in Paris – a sort of club for natives living in Paris. And a good fondue was always a treat on a wintry night. What I didn't know at the time was that I was receiving a delicious education in the regional cooking of France—knowledge that's essential to any real understanding French cooking, since these regional kitchens of France are the bedrock of French cuisine. I was also oblivious to the fact that I was living in the gently fading golden age of regional eating in Paris.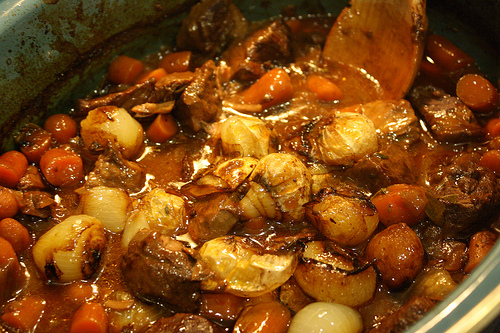 Boeuf bourguignon, photo by mulberrymint via Flickr
What originally made Paris a showcase of French regional cooking was the rapid expansion of the French railway system during the 19th century, since it made it easier for ambitious provincial types to "monter à Paris," where many of them set up restaurants that became showcases of the cooking of their home turf. If there had always been a few French regional tables in the capital, the genre really began to blossom after 1842 when the government agreed to fund rail projects from the public purse, so that by 1870 almost every major town in France was served by a rail link. The annexation of Alsace by Germany after the French defeat in the Franco-Prussian war (1870-71) sent a wave of Alsatians to Paris, too, with the result that Alsatian cooking became well-known through the brasseries they established in the capital.
The natives of other regions, like the Auvergne and Brittany, moved to Paris in large numbers in search of work. Many Auvergnats became coal merchants and café keepers before they opened restaurants, while Bretons settled in large numbers near the Gare Montparnasse, where trains arrive from Brittany, and opened crêperies, which have become synonymous with Breton food for most Parisians. So by the time my copy of Le Guide Gourmand de Paris—a treasured flea-market find, was published in 1925, it included a whole chapter on regional French dining, and several of the addresses recommended by the guide still survive, including Schmid, the Alsatian traiteur near the Gare de L'Est where you can also eat in.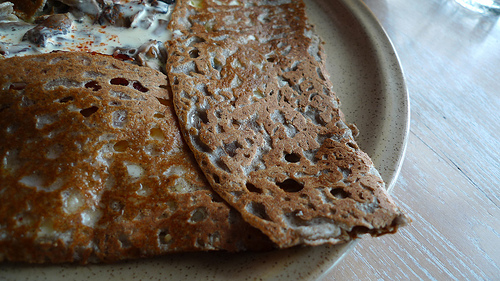 A Breton galette from the Breizh Café
The varying popularity of different regional cuisines in Paris has always depended on a variety of constantly changing factors. Savoyard restaurants serving fondue and other cheese dishes enjoyed a boom that echoed the popularization of winter sports among the French middle classes during "Les Trentes Glorieuses," or the three decades of economic growth in France after World War II. Provençale cooking became modish in the early 1990s as popular upmarket lifestyle publications like Cote Sud thrived and the expansion of TGV put the Luberon, a favorite sunny southern hideaway of the capital's media mavens, within easier reach of Paris. If certain regional French kitchens retain an evergreen appeal (the cooking of southwestern France and Brittany) and if one or two are expanding (especially Basque cooking) the regional French offer in Paris has recently been declining as the proprietors of some of these old-school addresses retire or lose their leases in a gentrifying city.
Then, too, the overall popularity of this restaurant idiom faces other serious challenges. "A younger generation of Parisians don't have the same gastronomic knowledge their parents did. Many grew up in homes where no one cooked, and unlike their parents, who might have spent summer vacations in the villages their grandparents originally migrated from, they no longer have direct ties to the terroir of their ancestors," an Auvergnat restaurateur recently told me. "What's making it much harder for regional restaurants is 'La Bistronomie,'" Vincent Deyres, chef owner of the two La Villa Corse restaurants told me on a cold night when I'd gone to his handsomely redecorated Left Bank address with a friend to tuck into some excellent brocciu filled ravioli and civet de sanglier, classic dishes from L'Ile de Beaute. "Many younger people wrongly think of regional cooking as heavy and old-fashioned. So they'd rather go to a bistronomie place, because it's fashionable and supposedly lighter."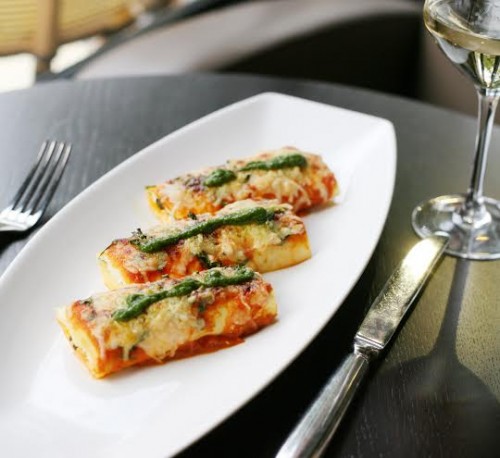 Cannelloni au brocciu, blettes & menthe frai?che at Villa Corse 
Many other regional places have whittled down their regional offer in favor of menus that propose a more standard range of contemporary French dishes.
Pharamond, a Norman restaurant with a half-timbered façade and a magnificent art nouveau tiled interior in Les Halles, now offers gazpacho and salads alongside such estimable Norman classics as tripes à la mode de Caen and l'andouillette Spéciale Pharamond. L'Olivades, the restaurant in the 7th arrondissement where chef Flora Mikula first won a reputation for her superb Provençale cooking has vanished along with many of the southern French tables that were popular in Paris in the nineties.
Burgundian cooking is under-represented in Paris right now, too, and if such long-running tables as Moissonier continue to fly the flag for the cooking of Lyon, this brilliant cuisine is much less in evidence now than it had been for many years.
Framing a regional cuisine in a contemporary décor, the Breizh Café in the Marais shows how such restaurants can continue to appeal to a younger crowd, and maybe if more of them put an accent on their historic locavore credentials, they'd find a new audience among younger Parisians as well. For the moment, however, the general availability of French regional cooking in Paris remains a glass-half-empty, glass-half-full story, and because these restaurants are a living repository of the superb food to be found in every corner of France, they're excellent destinations for anyone in search of a deeper knowledge of Gallic gastronomic traditions. For my part, I still miss the ruddy fricot de veau, an Auvergnat stew of veal with wild mushrooms that was served at Le Grizzli, an old-time bistro in the Marais before it morphed into a trendy but uninteresting eatery with a forgettable menu, and the sublime Baeckoeffe at Monsieur Schweitzer's La Providence. The epic cassoulet at L'Auberge Pyrénées-Cevennes still beckons, however, as does the Axoa de veau comme à Espelette, a Basque stew of veal, onions and red and green peppers spiked with Espelette pepper, at the excellent Au Bascou, so this intriguing and often extremely satisfying category of restaurants continues to survive—if not thrive—in Paris, and they deserve attention from Parisians and visitors alike.
My Five Favorite French Regional Restaurants in Paris
Breizh Café – Fresh oysters and excellent Breton galettes and crêpes made from organic ingredients. A long list of artisanal ciders. 109 Rue Vieille du Temple, 3rd arrondissement, Tel. 01-42-72-13-77. Open Wednesday to Sunday. Closed Monday and Tuesday. Metro: Saint-Sebastien-Froissart.
L'Ambassade d'Auvergne – A family owned Auvergnat table with great stuffed cabbage and sausage with aligot (potatoes whipped with cheese curds and garlic). 22 rue du Grenier Saint-Lazare, 3rd arrondissement, Tel. 01-42-72-31-22. Open daily. Metro: Arts et Metiers, Etienne Marcel or Rambuteau. Open daily.
Au Bascou – Chef Bertrand Guéneron has a deft touch with traditional Basque dishes like chipirons (baby squid) sautéed with Espelette pepper and axoa. 38 Rue Réaumur, 3rd arrondissement, Tel. 01-42-72-69-25. Open Monday to Saturday for lunch and dinner. Closed Sunday. Metro: Arts et Metiers.
Moissonnier – Traditional Lyonnaise cooking served in copious quantities, including quenelles de brochet, poulet aux morilles et vin jaune, and veal kidneys with mustard. 28 rue des Fossés Saint-Bernard, 5th arrondissement, Tel. 01-43-29-87-65. Open Tuesday-Saturday. Closed Sunday and Monday. Metro: Cardinal Lemoine.
La Villa Corse Rive Gauche – Great Corsican cooking, including cannelloni stuffed with brocciu, Swiss chard and mint and pork roasted with Corsican honey. 164 boulevard de Grenelle, 15th arrondissement, Tel. 01-53-86-70-81. Open Monday to Saturday. Closed Sunday. Metro: La Motte Picquet or Cambronne.