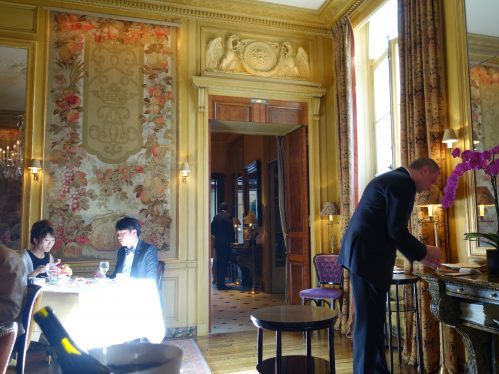 Our Favorite Three Star Restaurants in Paris
In discussing the three-star restaurant L'Ambroisie, which ranks among the most expensive in the world, people often bring up a quote by chef Bernard Pacaud. "Someone's first meal here is never their best," he once said. "It takes at least two or three meals for us to learn the customer and for the customer to learn us."
This was true for food blogger Adam Goldberg, who wrote a scathing report of his first meal at L'Ambroisie. After returning more than twenty times, however, he declared "I am now certain that this is the finest French restaurant in the world."
Goldberg undoubtedly has a much more nuanced appreciation of L'Ambroisie than I was able to form during my single visit (€795). A similar advantage goes to the French journalist who told me this week that he has known chef Yannick Alleno for a long time, that he "knows his cuisine by heart between Cheval Blanc and Ledoyen." How could one lunch at the latter (€517) give me enough information to draw comparisons?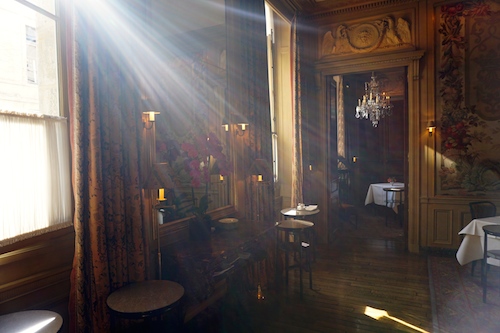 That insecurity plagued me throughout this project, in which I visited every Michelin three-star restaurant in Paris. I tried to combat it by remembering that our audience – the readers of Paris by Mouth and the visitors who join our food tours – are not themselves going to return multiple times to L'Ambroisie or Ledoyen. The overwhelming majority cannot afford to do so. Those who can better afford it have plenty of other options now to consider. They'd rather try Noma or Mugaritz or Manresa than return to something that didn't delight the first time around.

With some exceptions, the existing literature on haute cuisine – reviews published in major newspapers and on blogs – is written by people who don't feel the sting of l'addition in the way that you or I might be bowled over by a bill.
If a writer is not being charged for his meal because of his value as a promotor, or if his wealth affords him freedom from feeling this pain, then there is simply too much distance between his own perception of the meal and what our readers might experience. This is also true at the level of more modestly priced restaurants, but the stakes are different. Disappointment is magnified exponentially when a digit (turning 50 into 500) is added to the total.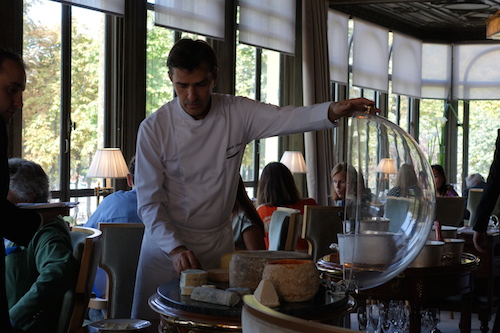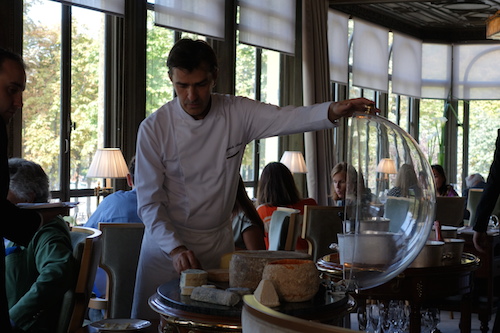 Similarly, if a writer has climbed the entire ladder of a chef's cuisine, including the special dishes reserved for VIPs and regulars, he may have lost sight of the chef's starting offer – the lunchtime tasting menu at the bottom rung, the only one that's reachable for most.
We can enjoy these accounts in the context of background reading and armchair traveling, but they don't help our audience – people who are willing to spend money on food, but who still feel the hurt – decide which one or two experiences to invest in.
This vaguely populist lens for writing about gastronomy may seem strange to some, but it's an echo of an earlier sentiment written by A.J. Liebling a few years before he died of gout:
"If the first requisite for writing well about food is a good appetite, the second is to put in your apprenticeship as a feeder when you have enough money to pay the check, but not enough to produce indifference to the size of the total."
Here are the results of my apprenticeship – three months spent anonymously tasting every three-star and most of the two-star restaurants in Paris. Ultimately, only one of the two-stars was included (as similar, competitive) in the final analysis. For more information about why we did this, read Behind the Curtain: Examining Haute Cuisine in Paris.
Paris by Mouth's Ranking of Paris Three-Stars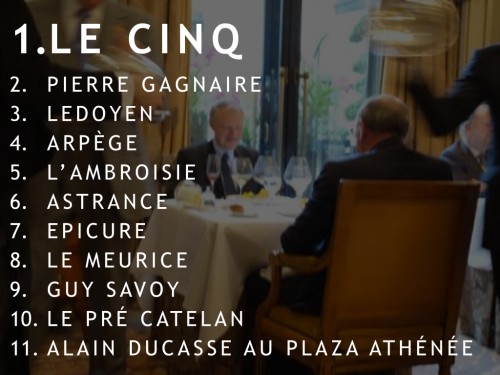 This ranking is of course subjective, based on my experience with the lunchtime tasting menu (when one was available) and what matters most to me. While I enjoy a spectacular setting, it's not more important than the food. I appreciate luxe ingredients but am more impressed by the elevation of modest materials. I am equally interested in traditional haute cuisine and its more modernist incarnations. I eat everything and drink a lot. I would always prefer to taste a series of thoughtfully paired glasses of wine than to stick to one recommended bottle (invariably a white Burgundy). I don't need for a chef to come out and shake my hand, but I'd like to know that he's in the kitchen. I am unmoved and often annoyed by celebrity status and public relations. I am very easily seduced by joyful service.
Below, I've noted the most salient features of each meal that contributed to this ranking. In the coming week, we'll be posting more detail for each of these restaurants on its page in Our Guide to Paris Restaurants. Understanding that your own opinions will be very different, I hope you'll share your own personal experiences with these restaurants in the comments.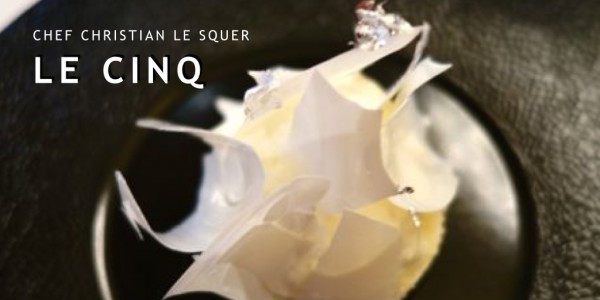 My favorite three-star in Paris is not actually a three-star. Not yet, anyway. Christian Le Squer was poached from Ledoyen in order to win the elusive third star for Le Cinq. There is a sense of urgency here. He is going for it. His least dazzling dish delighted me more than any bite from the bottom five restaurants. His best offerings dominated our list of The 20 Best Bites in Haute Cuisine.
Cuisine: High points included a bracing medley of marinated sea scallops, sea urchin and coral crumble – my favorite among more than 200 dishes tasted during this research. To finish, a daring dessert (pictured above) that brilliantly straddled the line between sweet and savory with flavors of fresh milk and fermenting yeast. The precision and balance Le Squer maintains while attempting such provocative compositions is remarkable.
Service & Spectacle: All aspects of the highly formal service, including suggested wine pairings, were flawless. Dishes arrive on silver trays, their domes removed simultaneously by black suited servers. Mignardises are rolled over on a towering cart topped by a chocolate squirrel. The setting inside the Four Seasons is luxurious if forgettable in the way that international hotel chains tend to be – an elegantly neutral backdrop for Le Squer's extraordinary cuisine.
Price of lunch menu: €145
Choice between 2 options for each course on the lunch menu
Number of individual tastes: 18
Wine: spot-on suggested pairings ranged from €21- 26 per glass
Total cost of lunch for 2 including water, wine & coffee:  €466
Keywords: modern & innovative cuisine, formal service, classically luxurious interior, a choice between courses on the lunch menu.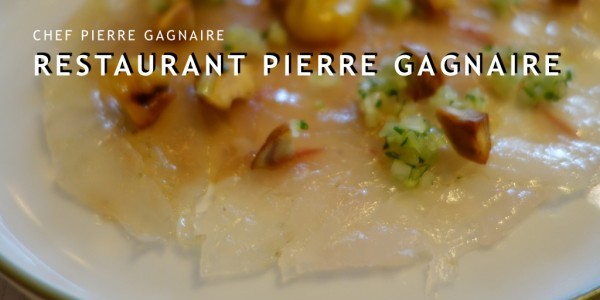 The cooking of Pierre Gagnaire, who is widely considered to be the most modern and boundary-pushing of the three-star chefs, is often brilliant, occasionally erratic, never dull. The playfulness of his food and the adrenaline spike provoked by the spectacle of so many individual tastes is counter-balanced by somber and anxious formal service.
Cuisine: My favorite dish was a beautifully turned galette of Sarawak peppered sea scallops paired with an earthy Breton caillette and lapped with a consommé of sunchoke tapioca. I also loved the roasted poularde presented whole and then carved into two different preparations – the breast dabbed with tamarind infused cooking juices and served atop green lentils with cabbage and turnips, the skin and leg meat served with a bitter purée of radicchio and hazelnut oil. Dessert fans should note that fourteen different offerings make up the final act.
Service & Spectacle: The dining room is understated and contemporary, among the least beautiful of these three star settings. Servers are formal, joyless, and numerous. Scratch your nose and someone will come running, but don't expect a smile.
Price of lunch menu: €160
No choice between options on the lunch menu
Number of individual tastes: 29
Wine: suggested pairings ranged from €14-21 per glass
Total cost of lunch for 2 including water, wine & coffee:  €486
Keywords: modern & innovative cuisine, formal service, simple modern interior, a spectacular number of dishes but no choices on the lunch menu, celebrity chef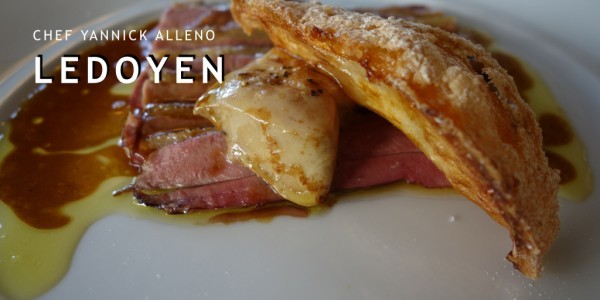 Chef Yannick Alleno is more discretely and effectively doing what his rival Alain Ducasse has been splashily purporting to do: celebrate vegetables, grains and fish. Aside from the delicious duck pictured above, the bulk of Alleno's menu was rendered from humble ingredients: onions, potato, squash, mackerel, beer. And unlike that other Alain (Passard), his compositions feature more than one texture. Like Le Squer, this is a chef who is firing on all cylinders while all eyes are watching. Every rumor says he'll retain all three Michelin stars, and I can't think of why that wouldn't be true.
Cuisine: Alleno is updating classic haute cuisine with a renewed focus on what he considers to be the great strength of French cuisine –the sauces. He's using more modern techniques like cryo-concentration to magnify flavors and reduce the heavy reliance on butter and cream, but the compositions are still recognizably French. His starter of butternut squash, topped with crunchy seeds and accompanied by fermented bread mousse was a dish that I'll never forget.
Service & Spectacle: The oldest and most historic (1791) of these restaurants, dining during the day feels a bit like being perched in an elegant tree house with foliage revealed through three walls of windows. Service in the dining room was warm and professional. However, the biggest service gaffe of this project happened when Ledoyen almost failed to honor our booking. On the day of our lunch, the reservationist called me around 11am to say that we would need to come later than the original booking because I had failed to call and confirm. I explained that I had not been asked to confirm (as many other restaurants do require), but that this would not be a problem. When we arrived at the newly appointed time, she told us our table was not ready and directed us to sit in a dark corner at a table littered with coffee cups. Someone arrived soon after to offer us a glass of Champagne while we waited. We happily accepted and forgot all about the rocky start until the two flutes, amounting to €40, ended up on our bill. I had wrongly assumed these were offered as an apology for having given away our table to a(nother) journalist. It wasn't a huge deal, and my overall rating of Ledoyen doesn't reflect this blunder, but it's a good illustration of the difference in treatment one can experience when visiting anonymously.
Price of lunch menu: €128
No choice between options on the lunch menu
Number of individual tastes: 10
Wine: suggested pairings ranged from €12-30 per glass
Total cost of lunch for 2 including water, wine & coffee:  €448
Keywords: traditional French haute cuisine, no choice between options on the lunch menu, formal service, classically luxurious and historic interior, celebrity chef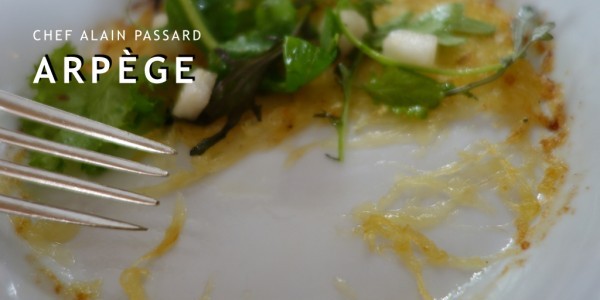 The most divisive of the three-star restaurants, Arpège is a place you'll either love or hate. I'm in the former camp, through I acknowledge a worrying amount of repetition in Alain Passard's tasting menu and the fact that his acolytes (David Toutain, Bertrand Grébaut) are working similar magic for a fraction of the price. Before booking Arpège, ask yourself this: are you more likely to focus on the amount of pleasure that Passard can tease from an onion, or on the stratospheric markup of that ingredient? If you answered the latter, better to seek out caviar somewhere else.
Cuisine: There seems to be more improvisation happening in Passard's kitchen than anywhere else. While certain vegetable dishes (the sushi, raviolis, couscous) have been a feature of the menu for years, plenty of other dishes (the sole with cabbage, the baby boar with turnips) seem to have been made up on the spot. I tend to enjoy a spontaneous riff, but others might prefer to have more composed and perfected dishes. Passard's flavors are easy to love, but his forms – purée after mousse after velouté, can get a little lazy.
Service & Spectacle: The service is lovely – welcoming, complicit, and not overly formal. We loved the suggested wine pairings from our highly engaged sommelier. The room is… how else to say it… terribly ugly. It reminds me more of a conference center than a three star restaurant. If you're looking for sparkle and show, this is not the place for you.
Price of lunch menu: €140
No choice between options on the lunch menu
Number of individual tastes: 22
Wine: suggested pairings ranged from €14-28 per glass
Total cost of lunch for 2 including water, wine & coffee:  €517
Keywords: fish & vegetable based cuisine, more casual service, simple modern interior, a spectacular number of dishes but no choices on the lunch menu, celebrity chef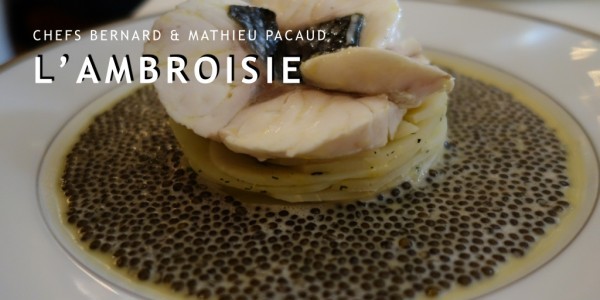 Even if I can never afford to return, I'm so happy that L'Ambroisie exists. While many of his peers are shifting their focus to more modest ingredients, Bernard Pacaud is still laying on the caviar. While service elsewhere has become increasingly solicitous, L'Ambroisie remains a model of aristocratic snobbery. I'll be sad the day their sumptous dining rooms close for good, and will treasure the memory of a meal I only partially enjoyed in the moment because I was mostly holding my breath.
Cuisine: In terms of classic haute cuisine, this is as close to perfect as you're going to find. Expect luxury ingredients, fattening sauces, and to take a nap after lunch. Courses are not padded with an extensive array of snacks and sweets – you'll be offerend some gougères, a spoonable amuse, and will finish with one compact tray of mignardises. Everything else is à la carte and thunderously expensive.
Service & Spectacle: The dining rooms here are devastatingly beautiful, evoking a private aristocratic residence in the place des Vosges. Service is similarly undemocratic. Our sommelier warmed toward the end of the meal but only through the dedicated efforts of my professionally charming lunch companion. Unlike Adam Goldberg, I don't know that I need to return twenty times to this restaurant. Apart from the company, it wasn't particularly fun.
Price of lunch menu: exclusively à la carte at both lunch and dinner. The average price ordering three courses per person was €320.
Choice between five starters, ten main courses, and four desserts
Number of individual tastes: 10
Wine: paltry pairings available by the glass (a handful of options listed next to the soft drinks on a laminated menu). You want to order a bottle here. The sommelier advised a 2011 Pouilly Fuissé Sécret Mineral 2011 from Denis Jeandeau for €130.
Total cost of lunch for 2 including water, wine & coffee:  €795
Keywords: traditional French haute cuisine, a choice between à la carte options but no lunch menu, formal service, classically luxurious interior, outrageously expensive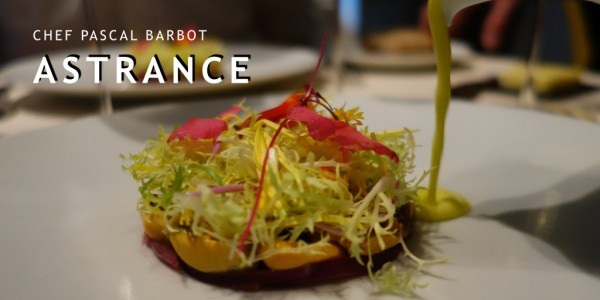 Of all the restaurants reviewed for this project, the place I'd most like to become a regular is Astrance. That's largely because of the service, including the wine pairings, which were by far the best I experienced. The food, while delicious, was less ambitious than I expected, but the price at lunch makes this the best deal in town.
Cuisine: Pascal Barbot is often placed in the same modernist camp as Pierre Gagnaire, but I find his Asian-inflected cuisine to have more in common with William Ledeuil from Ze Kitchen Galerie. I've never had more perfectly cooked mussels or fish, but Barbot's unchanging reliance on lemongrass, basil & mint, not to mention his immortal tarte of foie gras and mushroom, do not bolster his reputation as an innovator. I would still be thrilled to return.
Service & Spectacle: The small number of tables are well-cared for by a handful of jovial, welcoming and highly engaged servers led by Christophe Rohat. This is a modern dining room devoid of silver trays and rolling carts, so don't book Astrance if you're expecting a pedestal for your handbag. The most successful and enjoyable wine pairings of any three-star restaurant, by a large margin.
Price of lunch menu: €70
No choice between options on the lunch menu
Number of individual tastes: 15
Wine: an additional €50 per person (€120 in total) for a pairing with each course, including a glass of Champagne plus water and coffee.
Total cost of lunch for 2 including water, wine & coffee:  €240
Keywords: modern & innovative cuisine, more casual service, simple modern interior, no choices on the lunch menu, exceptional wine pairings, relatively affordable
Chef Éric Fréchon and his restaurant Epicure have a lot of fans, so I was expecting something great. The cooking, while enjoyable, didn't offer anything new. The setting lacks soul. It occupies a very similar niche to Le Cinq but doesn't measure up.
Cuisine: There was so much potential here, but Fréchon's cuisine plays it a little too safe for my taste. A dish of raw sea scallops with oyster juice and lemon curry cream delivered no brine and very little spice, tasting mostly like shellfish and cream. Harmless, but lacking any of the power that Le Squer could have brought to the dish. Desserts were cloyingly sweet.
Service & Spectacle: Aside from the stunning floral arrangements, I found the dining room in this luxury hotel to be quite dated, almost provincial in its mix of heavy curtains, plaid chairs, and heavy crystal stemware. And while my inner child appreciated the rainbow crystal butterflies that decorated every table, it seemed a very twee choice for a gastronomic restaurant. Service is formal, with competent staff and an abundance of rolling carts.
Price of lunch menu: €135
Choice between 2 options for each course on the lunch menu
Number of individual tastes: 12
Wine: suggested pairings ranged from €28-32 per glass
Total cost of lunch for 2 including water, wine & coffee:  €542
Keywords:  traditional French haute cuisine, a choice between options on the lunch menu, formal service, classically luxurious interior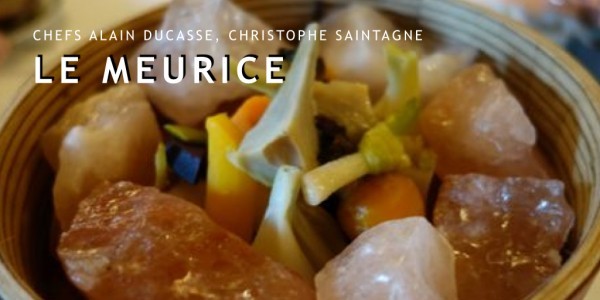 Go for the palace setting – the chance to dine in that glittering stunner of a room. The feeling of stepping back in time will last through the apéritif until a kooky fondue pot of steamed vegetables arrives and you remember that you're in a modern Ducasse restaurant. The jovial service will smooth your rising hackles and allow you to enjoy one of the best desserts in town even though the main course nearly put you to sleep.
Cuisine: Tuna with smoked eggplant, chicken with mushrooms… just wake me up when the sorbet cart arrives, ok? That and the dessert that followed – chocolate from Ducasse's own manufacture in variety of different textures – let us finish on a high note.
Service & Spectacle: While the food may not be mind-blowing, the service and setting certainly are. There are plenty of people for whom food is not the priority. They will enjoy Le Meurice more than I did.
Price of lunch menu: €130
No choice between options on the lunch tasting menu
Number of individual tastes: 9
Wine: The sommelier advised a 2006 1er Cru Chablis "La Forest" from Dauvissat for €110
Total cost of lunch for 2 including water, wine & coffee:  €408
Keywords:  traditional French haute cuisine, no choice between options on the lunch menu, formal service, spectacular and classically luxurious interior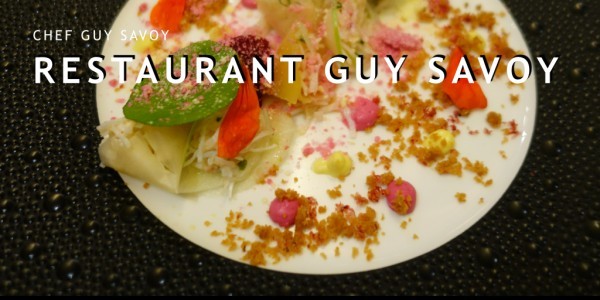 I think it's wonderful that Guy Savoy is committed to offering more modestly priced lunch menus to attract a wider audience to haute cuisine. The introductory greeting, which was delivered without variation to every table in our small cubicle of foreigners, was perfectly calibrated to welcome first-time explorers, including the line "this meal is designed to take two hours and fifteen minutes." I do suspect, however, that the quality gap between what's delivered in his starting offer and his pricier menus may be wider than in any other restaurant.
Cuisine: A dish of pigeon with salsify was delicious. A technicolor starter of turnip petals stuffed with crab was garishly overdressed (photo above), resulting in a plate that looked to one of our Instagram followers like the result of a sneeze. Two other dishes were completely forgettable. The array of spoonable foods on the dessert cart, while sure to delight many, made me feel more babied than pampered.
Service & Spectacle: It's not worth talking about the setting since Savoy will soon be reopening in a new location in the historic Monnaie de Paris (March 2015 or later). Service is professional and highly attuned to the needs of diners who have less experience with three-star dining. I would trust them to make anyone feel at home.
Price of lunch menu: €170 (all included)
No choice between options on the lunch menu
Total cost of lunch for 2 including water, wine & coffee:  €340
Wine: five different wines, including Champagne to start, were included in our autumn menu (plus water and coffee).
Number of individual tastes: 8
Keywords: traditional French haute cuisine, no choice between options on the lunch menu, formal service, simple modern interior, wine pairings, relatively affordable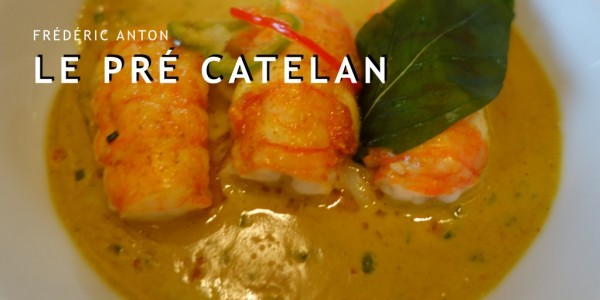 A beautiful path through the Bois de Boulogne leads you to the restaurant of chef (and Masterchef star) Frédéric Anton. It would be rude to suggest that it's a road to nowhere, so I will simply say that I don't understand the attraction.
Cuisine: A starter of curried langoustines lacked any punch and the array of accompanying fried bites added steps but not sensation. A main dish of squid was divided between two deep bowls, one part fried and the other half sautéed with tomato and topped with fried onion. I was half expecting this to be followed by jalepeño poppers and mozz sticks. Desserts at the Pré Catelan are reputed to be outstanding. They were fine. It should all have been so much more than fine.
Service & Spectacle: As with Ledoyen, L'Ambroisie and Le Meurice, there's a feeling of stepping back in time. Rolling cart service for Champagne and cheese, marble columns and chandeliers, formal and competent service.
Price of lunch menu: €110
Total cost of lunch for 2 including water, wine & coffee:  €309
Wine: recommended pairings, available for an additional €40 per person, were excellent
Number of individual tastes: 9
Keywords:  traditional French haute cuisine, a choice between options on the lunch menu, formal service, classically luxurious interior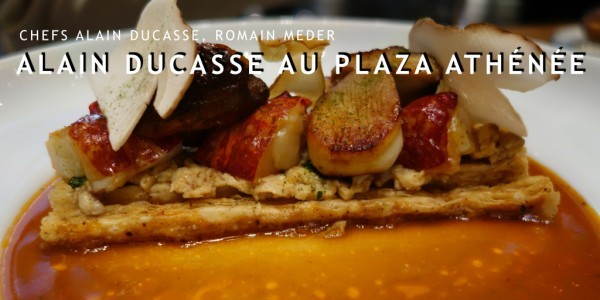 The most egregious example of naked Emperor syndrome that I've ever encountered. The lobster dish pictured above, plus a starter of caviar and cream (can't mess that up) and some delightfully bitter citrus desserts… these were the only compositions during two different meals that I genuinely wanted to finish. Service was scattered and surprisingly amateur. This would have been my least favorite experience even if price were not a factor. But considering that a meal here costs between 2-5 times the price of any other three-star (excluding L'Ambroisie), the utter failure of ADPA to deliver a satisfying meal is cause for alarm, as is the failure of other writers to report it (read more on Ducasse's invitations and our own free meal here).
Cuisine: As I mentioned earlier about my personal preferences, I'm all for elevating modest ingredients and turning the focus away from foie gras and caviar. I'm a fan of Arpège and Ledoyen, two restaurants that are making similar and more successful efforts. However, the highly mediatized "naturalité" campaign by Ducasse has resulted in some of the most dreadfully boring food I put in my mouth this year. The seeded cracker and juice that greeted us felt like an after-school snack. An amuse of cornichon with black olive failed to do its job. A flaccid rectangle of sea bass swimming in a pool of bile colored sauce was mostly left uneaten. It was followed by a different white fish in a different green sauce. Neither had any salt, acid or textural contrast. Reviewing my photos and describing these dishes actually makes me furious.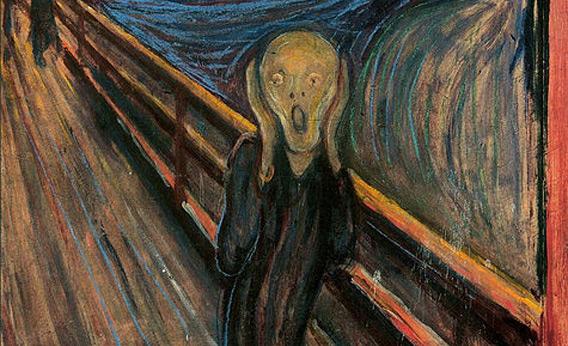 The sweets were good, I'll give them that. For someone who appreciates (and is increasingly) bitter, the lemon, algae & tarragon dessert was a delight, as was the citrus with Campari granita.
Service & Spectacle: The setting, with its deconstructed chandelier and shiny silver round dining pods, is enchanting. One of the most spectacular dining rooms I've had the pleasure of eating in. The service was kind, but full of errors. To accompany this menu of vegetables and fish, we requested recommendations for different white wines by the glass. Our wine server (not the head sommelier) brought me a white Hermitage, and when I asked him to remind me of the cépage, and he told me it was a base of Grenache, Syrah and Mourvédre. I smiled and asked if he was sure (those are southern Rhone red varieties); he was adamant. It was deflating that he seemed to not think highly enough of us to bother correcting himself. The pairings that followed were two different red Bordeaux – poor matches for the fish, contrary to what we had requested, and more expensive than anywhere else. This is just one example the amateur service at ADPA. There are more, but I think you get the point. 
Price of lunch menu: €380
Total cost of lunch for 2 including water, wine & coffee:  €1084
Wine: recommended pairings by the glass were poorly matched, repetitive, and priced between €30-38
Number of individual tastes: 14
Keywords: fish & vegetable based cuisine, a choice between options on the lunch menu, formal service, spectacular modern interior,  outrageously expensive