Frenchie was wonderful – so good that you felt you were getting away with something – back when it opened in 2009. Then the tiny restaurant landed on every journalists' "best of" list and was featured in every food travel show you can name. It became difficult, very difficult, to get a table. It became a challenge to even get through on the phone. This is when people stop rooting for a restaurant. This is when people begin to wonder whether it's worth it, and honestly, is any restaurant really worth begging and pleading for?
I've heard so many disappointed rants about Frenchie from people who suffered to get their table and felt unrewarded for the effort. Until my most recent visit in May 2022, I had never had a bad experience. My most recent meal wasn't bad, but it was totally underwhelming and nowhere near as good as other meals I'd had that month at Parcelles, Fripon and Le Saint-Sébastien. Restaurants have bad phases and bounce back, and I'll surely return to Frenchie another time. But I would counsel the many people who message us asking "how do I get into Frenchie?" to place their bets somewhere else right now.
5 Rue du Nil, 75002
Open Monday-Friday for dinner only
Reservations online or at +33 1 40 39 96 19
---
OUR PHOTOS OF FRENCHIE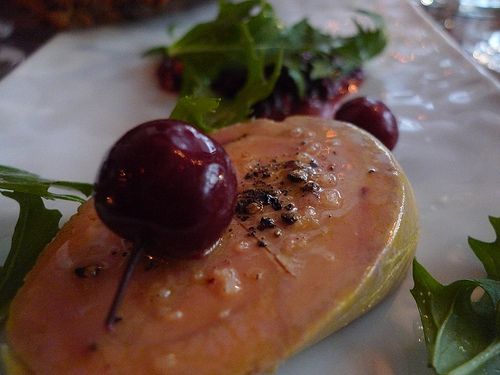 ---
IN OTHER WORDS
Le Fooding (2016) "Son menu haute couture déroulé en cinq temps: thon blanc dans un gaspacho de tomates et fruits rouges à la réglisse; langoustines snackées, livrées du Guilvinec le matin même, avec aubergine, purée de miso et citron confit; dos de turbot, fondant, maquillé à l'encre de seiche, escorté d'une émulsion de coquillages, avec poireaux et haricots verts – magique avec le saumur blanc d'Antoine Foucault."
Les Grands Ducs (2010) says the cuisine is delicious and original, superbly executed, and always fresh with vegetables and herbs and calls Frenchie "more than recommendable."
Table à Découvert (2010) "… toujours aussi bien balancée entre accords vifs, fraîcheur et gourmandise."
The New York Times (2010) says "The menu maps Mr. Marchand's influences, as well as his desire for sweetness and acidity in each dish. A recent lunch yielded a rectangle of delicate house-smoked trout on a horseradish-spiked edamame purée. Pickled red onions aligned on top, while rogue edamame sprinkled the plate. Eaten together, the combination was oddly, deliciously burgerlike in its savoriness."
Le Figaro (2009) includes Frenchie among the best openings of the year and says without a doubt it features the most stupendous culinary tricks of the season.
Alexander Lobrano (2009) says "because the atmosphere's so cosy and the food's so good, Frenchie is exactly the type of happy, homey restaurant you'd love to claim as your neighborhood hang-out. It also offers an interesting snap shot of Paris dining in 2009 because it's main references are two countries that were once derided for their mediocre, even ghastly food–the United States and the United Kingdom–but which have now developed distinctive cuisine du marche styles of their own.