Frenchie is the original outpost from Gregory Marchand, a chef who trained with Jamie Oliver in the UK and Danny Meyer in the USA. They hold one Michelin star and serve a no-choice tasting menu with five courses for 140€. The optional wine pairings are usually excellent.
Frenchie opened in 2009 and has been a very tough reservation since at least 2010. Reservations open three weeks before a given date (Mon-Fri) and all tables are usually booked within a few hours.
The restaurant's popularity has completely transformed the rue de Nil, a small side street just north of the Sentier subway station. Marchand has spun off his own wine bar (Frenchie Bar à Vins), fast food shop (FTG) and wine shop (Frenchie Caviste) on the rue de Nil, and his presence on the street has attracted truly excellent shops for bread, meat, fish, vegetables, chocolate and coffee. Marchand has also opened locations of Frenchie inside a Paris hotel (Frenchie Pigalle), at a ski station (Frenchie Verbier), and in London (Frenchie Covent Garden).
I've been to Frenchie many times and the experience is variable. My most recent visit was good enough to land Frenchie back on our list of 50 favorite restaurants in Paris. The preceding visit was a dud. I'll leave both reviews here as a caution.
May 2022
Frenchie was wonderful – so good that you felt you were getting away with something – back when it opened in 2009. Then the tiny restaurant landed on every journalists' "best of" list and was featured in every food travel show you can name. It became difficult, very difficult, to get a table. It became a challenge to even get through on the phone. This is when people stop rooting for a restaurant. This is when people begin to wonder whether it's worth it, and honestly, is any restaurant really worth begging and pleading for?
I've heard so many disappointed rants about Frenchie from people who suffered to get their table and felt unrewarded for the effort. Until my most recent visit in May 2022, I had never had a bad experience. My most recent meal wasn't bad, but it was totally underwhelming and nowhere near as good as other meals I'd had that month. Restaurants have bad phases and bounce back, and I'll surely return to Frenchie another time. But I would counsel the many people who message us asking "how do I get into Frenchie?" to place their bets somewhere else right now.
January 2023
After making a stink last year about how Frenchie was slipping, I revisited this old favorite in 2023 and had a much more enjoyable time. A few things impacted my experience. In 2022, we were seated at a cramped table right next to the bathroom and my guest had to move a bit whenever someone wanted to get in there. Such a bad table shouldn't exist at a one-star restaurant with prices this high. We were also part of the early service (there are two seatings at either 6:30pm or 9:15pm), and in retrospect I was probably annoyed to be eating so early (Parisians tend not to leave the house before 7:30pm). In 2023, we were part of the later service and had an excellent table (there are only a handful of options in this tiny restaurant).
However, the biggest difference in 2023 was the food. I loved everything on this winter tasting menu, from the salsify with coffee espuma and Noir de Bigorre (pork) crumble to the rosy lamb with "couscous" to the deconstructed lemon meringue pie with olive and preserved lemon. Service is kind, professional and Anglophone. The entire dining room is usually Anglophone, in fact. For me, it feels a little surreal to be surrounded entirely by Americans in a Paris restaurant. But for travelers who don't speak French, it might be a comfort to know they'll be very well taken care of.
Frenchie is included among our of 50 favorite restaurants in Paris
FRENCHIE
5 Rue du Nil, 75002
Open Monday-Friday for dinner only
Reservations online or at +33 1 40 39 96 19
Their Instagram / Our Instagram
OUR PHOTOS OF FRENCHIE
Our most recent visit (in very low lighting)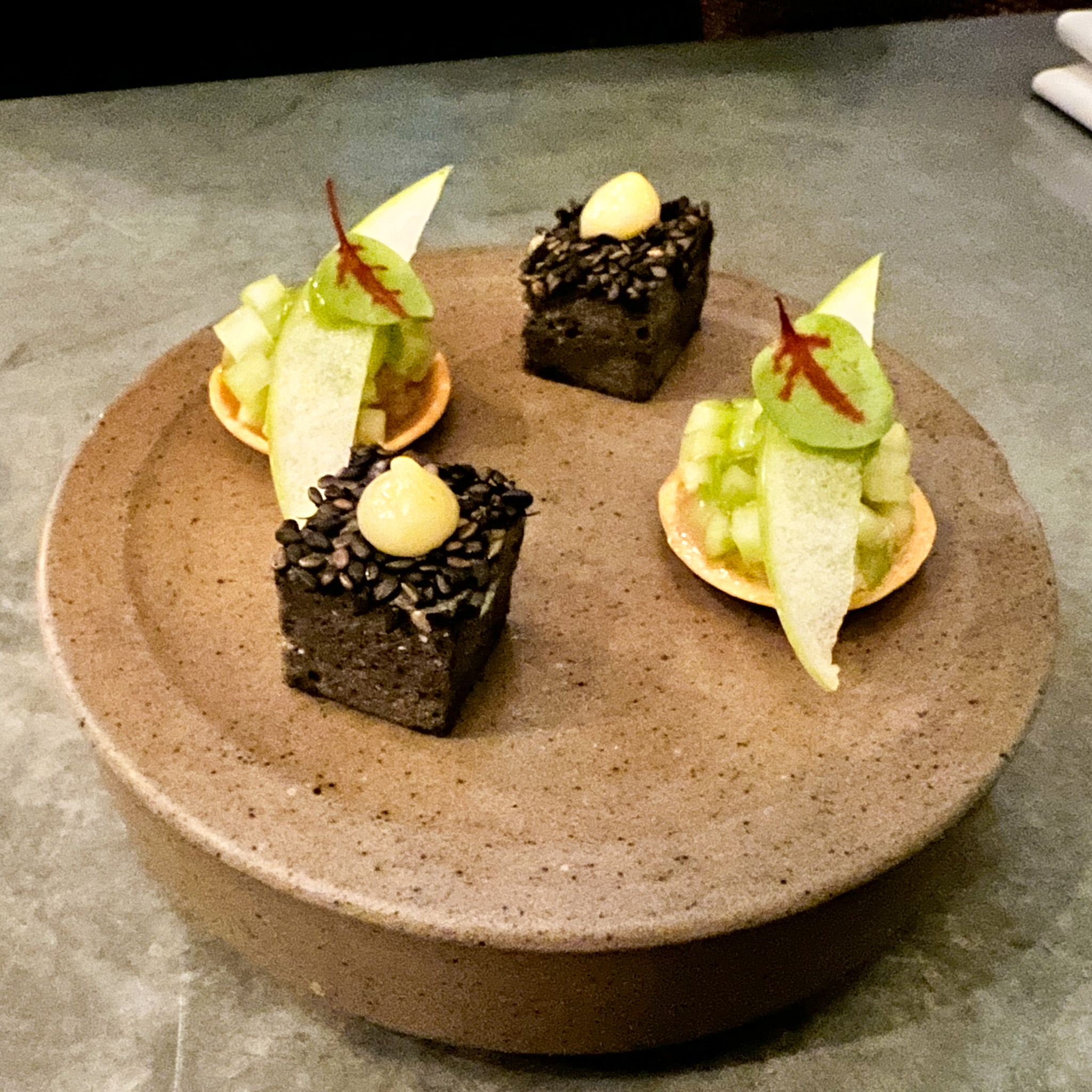 Previous visits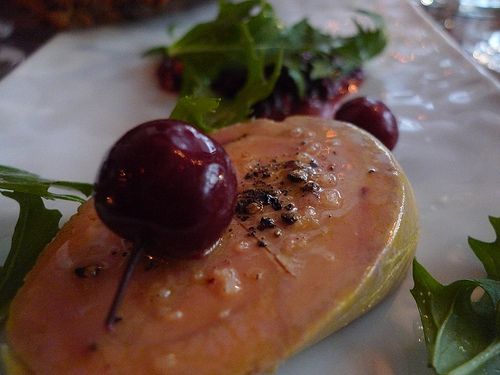 IN OTHER WORDS
Le Fooding (2016) "Son menu haute couture déroulé en cinq temps: thon blanc dans un gaspacho de tomates et fruits rouges à la réglisse; langoustines snackées, livrées du Guilvinec le matin même, avec aubergine, purée de miso et citron confit; dos de turbot, fondant, maquillé à l'encre de seiche, escorté d'une émulsion de coquillages, avec poireaux et haricots verts – magique avec le saumur blanc d'Antoine Foucault."
Les Grands Ducs (2010) says the cuisine is delicious and original, superbly executed, and always fresh with vegetables and herbs and calls Frenchie "more than recommendable."
Table à Découvert (2010) "… toujours aussi bien balancée entre accords vifs, fraîcheur et gourmandise."
The New York Times (2010) says "The menu maps Mr. Marchand's influences, as well as his desire for sweetness and acidity in each dish. A recent lunch yielded a rectangle of delicate house-smoked trout on a horseradish-spiked edamame purée. Pickled red onions aligned on top, while rogue edamame sprinkled the plate. Eaten together, the combination was oddly, deliciously burgerlike in its savoriness."
Le Figaro (2009) includes Frenchie among the best openings of the year and says without a doubt it features the most stupendous culinary tricks of the season.
Alexander Lobrano (2009) says "because the atmosphere's so cosy and the food's so good, Frenchie is exactly the type of happy, homey restaurant you'd love to claim as your neighborhood hang-out. It also offers an interesting snap shot of Paris dining in 2009 because it's main references are two countries that were once derided for their mediocre, even ghastly food–the United States and the United Kingdom–but which have now developed distinctive cuisine du marche styles of their own.
SUBSCRIBE TO OUR NEWSLETTER