UPDATE: France is no longer requiring a health pass or proof of vaccination to enter restaurants, museums, trains, or other publc venues.
PREVIOUS REQUIREMENTS AND DISCUSSION
UPDATE: Thanks to a significant drop in cases, France will no longer be requiring the health pass as of March 14, 2022.
---
What's a pass sanitaire?
In August 2021, France implemented rules requiring a pass sanitaire or health pass for entry into museums, bars, restaurants, trains and other public spaces. You can qualify for a health pass by being fully vaccinated. For now this means having received 2 shots and a booster shot, in most cases.
The latest rules
The rule in effect since February 15 is that the booster shot is required if it has been four months since your completed your vaccine (your second shot, for two-dose vaccines like Pfizer and Moderna).
If you have had your booster, it doesn't seem to matter if that booster was two weeks ago or eight months ago. The point is that you've been boosted (their rules are designed to encourage the booster). For the moment, France is not requiring anything more than one booster, no matter how much time has lapsed since your booster. So if you're traveling in August 2022 and worried that too much time will have passed since your booster, sit tight. The rules will likely change by then and we'll update this post when they do.
There are some options for non-vaccinated individuals but we're not going to discuss them.
How do locals get it?
For vaccinated locals, obtaining a health pass is simple: vaccines administered in France are accompanied by a QR code that can be easily scanned by your phone into a free app called TousAntiCovid (united against Covid). Once you have scanned your vaccine documents into the app (available in English), your phone can then be scanned by anyone checking health passes at an entry point. This isn't so different from waiters checking paper vaccination cards in New York or other cities that require these – it's just higher tech.
*You can also obtain a health pass with a negative COVID test administered in France, but this is only valid for 24 hours. It's more annoying to get retested every day than to convert your vaccine card.
But what if you're traveling?
You don't have to be French or to have been vaccinated in French to get a pass sanitaire, but it does require an extra step upon arrival. If you have a paper vaccine card without a QR code (like those issued in the United States & Canada), you'll need to show your documents and convert them into "vaccine equivalency health pass" that is scannable.
*This is true even if you come from a state (New York, California and others) that has its own scannable QR code. It won't be readable by the French scanners and you'll still have to go through this process.
Throughout the fall of 2021, there was a great deal of confusion about how to do this. There's a much clearer system in place now that this conversion is being done by local pharmacies. Here's what to expect:
Find a pharmacy to convert your documents into a French health pass. Visit this page (in English) from the Ministry of Health and scroll down to find the map of pharmacies who will convert foreign vaccination cards into a health pass. Zoom in to Paris (it's the big circle in the top-center of the country showing more than 1000 pharmacies) and zoom into an area that's convenient for you. Note the address and hours of the nearest pharmacy, and grab a few back up options, too.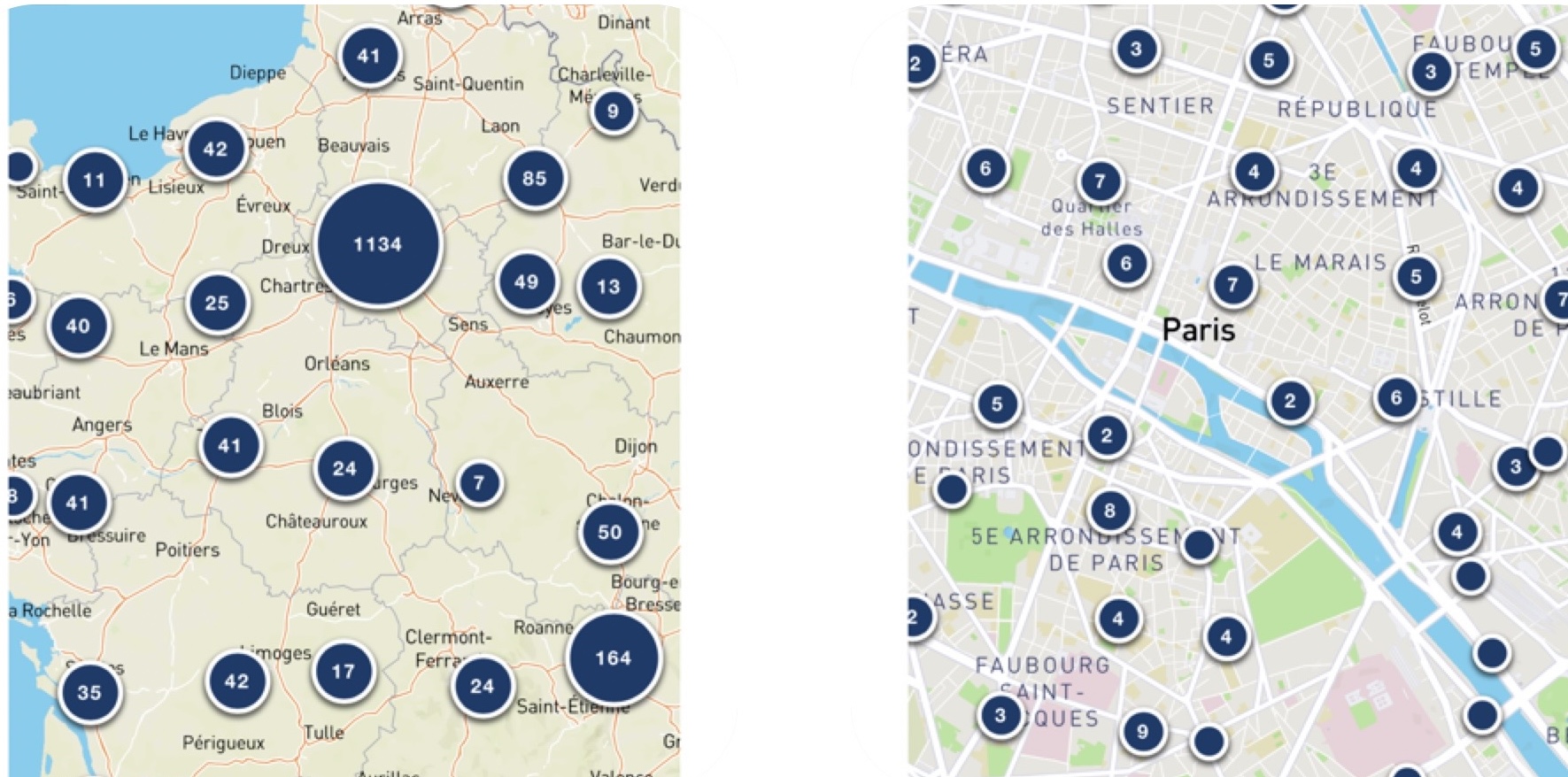 Bring your paper vaccination documents showing that you are fully vaccinated, which in France means that at least 14 days have passed since the second shot for two-shot vaccines (Pfizer, Moderna, AstraZeneca) or at least four weeks have passed after the shot for one-shot vaccines (Johnson & Johnson).
Bring your passport. A driver's license might be accepted as ID, but they'll feel much better if you show your passport.
Go up to the register and ask for "une attestation d'équivalence vaccinale" or just say "bonjour" (hello!) with a big smile and hold up your passport and vaccine card and say "s'il vous plaît?" (please).
Bring money (cash or card) because most pharmacies are charging a fee for this conversion. The fee varies from place to place but cannot exceed 36€.
Download the TousAntiCovid app and scan the paper you receive at the pharmacy into the app. Once you get the thumbs up (see below) you can show your phone and your ID for entry at restaurants, bars, museums and other spaces that require the pass. If you don't feel like using the app, you can carry around the paper copy from the pharmacy with the QR code, along with your ID.
About Janssen: This process is not working seamlessly for those with single dose vaccines like Janssen. The QR code/app seems to be set up to read the single dose of Janssen plus a booster as 2/2 shots, with a booster still required. Scroll down to the comments for more discussion about this.
If you already have a pass sanitaire from a previous trip (lucky you!) and need to add your booster shot to the existing pass, you'll have to go to a pharmacy and pay a fee to do it.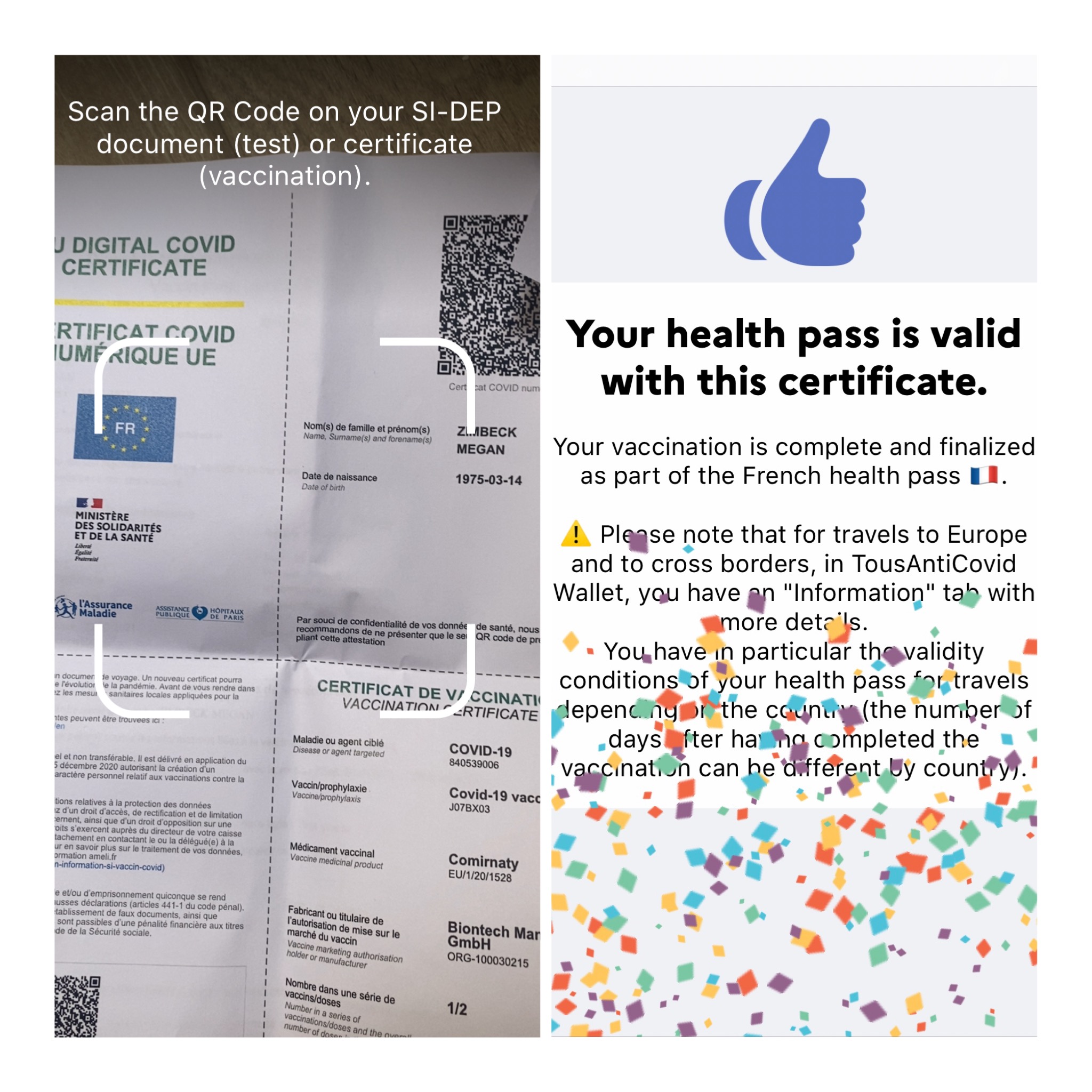 But is this really necessary?
It may feel like a drag to find a pharmacy and to set aside half an hour to get this done at the beginning of your trip. You may have heard that lots of places are accepting paper vaccination cards (like the CDC card) + ID without requiring the scannable pass sanitaire. And that's true – many are. But this varies by place and by employee, and you run a real risk of being turned away from the thing you had hoped to do. If you absolutely can't spare the time to do this extra step at the pharmacy, and if you're comfortable with the risk of being turned away from many doorsteps, you can try to make your way through the city with your ID + vaccination papers. Someone will probably feed you. You'll get into a few places.
But it's probably a lot easier to take 30 minutes at the beginning of your trip and just get this annoying thing done. Remember: in the olden times people had to interrupt their travel fun to convert currency, cash travelers checks, buy phone cards and find internet cafés. This really isn't so hard.
And on the bright side…
Once you jump through this simple hoop, you can relax and enjoy Paris' incredible restaurants and cultural offerings knowing that you're sharing space with vaccinated (or very recently tested) individuals. These careful measures, and France's extremely high vaccination rate (nearly 80% of the French population have received 2 doses) make it one of the safer places for vaccinated travelers to enjoy themselves.