Address: 67, rue Saint Maur, 75011
Nearest transport: Rue Saint-Maur (3) or Saint-Ambroise (9)
Hours: Open every day
Telephone: +33 9 83 56 94 11 (reservations not accepted)
Instagram
La Buvette, opened in 2013, is perhaps the most stylish and intimate wine bar of its generation in Paris. Its Lilliputian confines are the size of the average e-cigarette shop, and yet manage to contain four small tables, a thin zinc bar, a prep kitchen, and in the rear, an authoritative-looking wine fridge. Scrawled on a wall-mounted mirror is the menu: a rotating array of highbrow nibbles, ranging from orange-zested white broad beans in olive oil to thick-cut nubs of andouille au lard, or intestine sausage laced with lardo.
Owner Camille Fourmont's natural wine selection, belying the size of the fridge, is rather limited, but at any given time it contains at least a few sought-after bottles from cults vignerons like Alsace's Jean-Pierre Riestch or Sologne's Julien Courtois. Wine pricing is high, compared to traditional wine shops, but the 8€ corkage fee makes bottles consumed on-site a bargain compared to restaurant wine lists. La Buvette closes at 10pm, making it better suited for early apéros than nightcaps.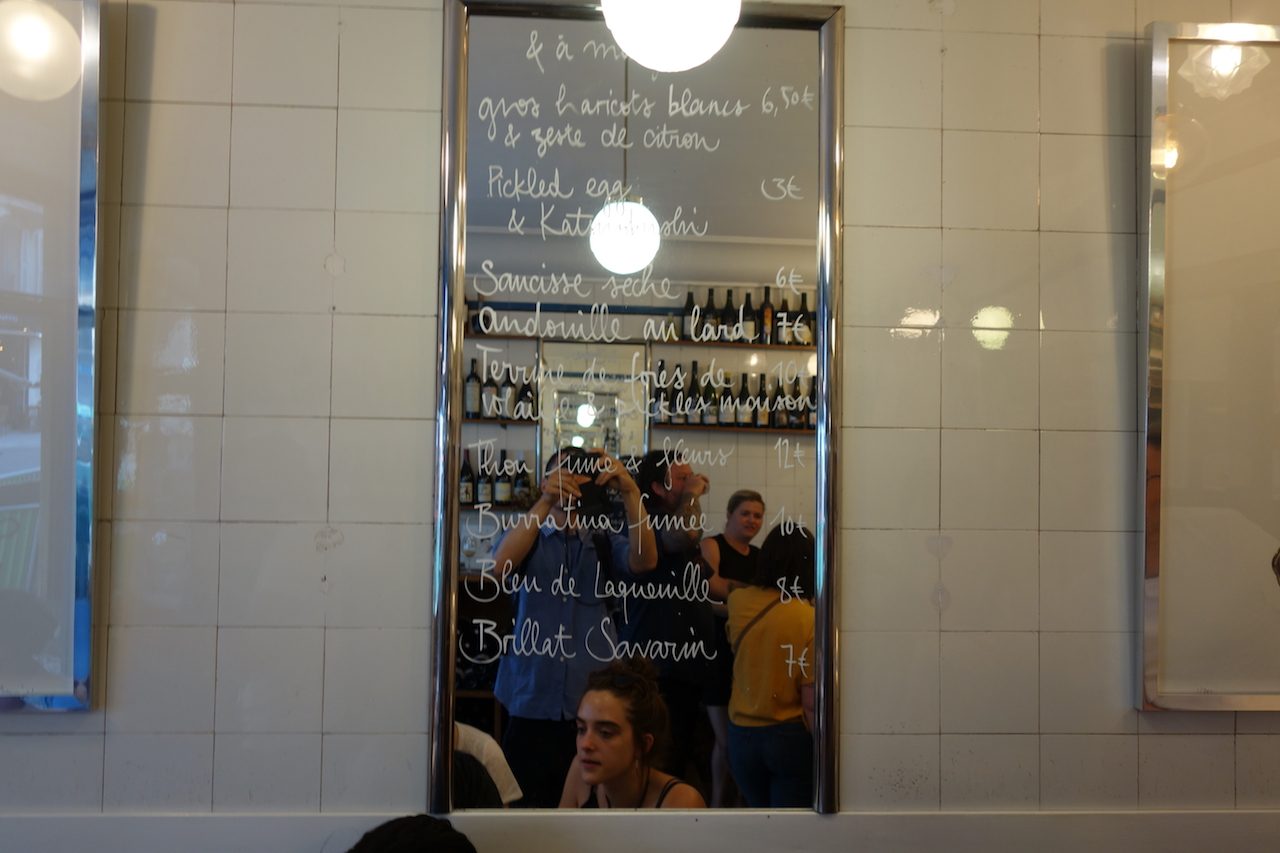 The actual offering of La Buvette has never much diverged from the scores of other caves-à-manger that dot east Paris. But more than most others, Fourmont foresaw the international media potential of a tiny, impeccably well-designed Paris natural wine bar. From her tiny zinc counter on rue Saint-Maur, Fourmont, a self-promoter of appreciable genius, has organized La Buvette events in Tokyo, consulted on hotels, and arranged her own pop-up events with famous foreign chefs.
Today, the discrepancy between the renown of La Buvette and the limited caviste-apéro services it offers is astonishing. Fourmont herself is less often on premises. Many of the local regulars might have moved on, but La Buvette still draws droves of young, questing Anglophones, to whom the idea of a beautiful, tiny wine bar – of the type that could never pay the bills in the New World – has eternal appeal.
---
La Buvette in Pictures
In Other Words

Le Fooding (2017) calls La Buvette "the ideal spot for chewing the fat with the best of free-spirited wines."

The Guardian (2015) "Everything in this enchanting tiny bar is minimalist but perfect, from the small 50-odd list of surprising wines to the half-a-dozen delicate sharing plates, handwritten on a mirror, often including broad beans and lemon zest, fresh goat's cheese with black garlic and cherries, and marinated baby octopus with saffron… Camille already has a serious following, so be prepared to brave the crowds who cram in here most nights – with no reservations possible."

The Financial Times (2014) "… feels like someone's front room, filled with beautiful curios. You can't book and, because of licensing, you have to eat as well (mostly cold snacks such as mackerel or saucisson) but it's well worth the visit. A small but tasty selection of wines is available by the glass and bottle; try the Julien Courtois if it's on the list."

Not Drinking Poison in Paris (2013) "The wine selection…is mostly natural – Fourmont's only criterion is that she quite sensibly wishes to sell only wine she adores. This means a cast of superb producers, on whom she and I enthusiastically agree –Métras, the Courtois clan, Domaine Valette, Alexandre Bain."

The New York Times (2013) says "She favors obscure wines that don't cost a lot, cult bottles from unorthodox vintners whose labels often look like arty liner notes" and that "the food is also simple and honest."

Le Figaro (2013) rather prophetically called La Buvette's a naive, juvenile, and deliciously amateur cuisine, whose only merit is to improve the idea of the contemporary snack.
Photos by Aaron Ayscough © Paris by Mouth