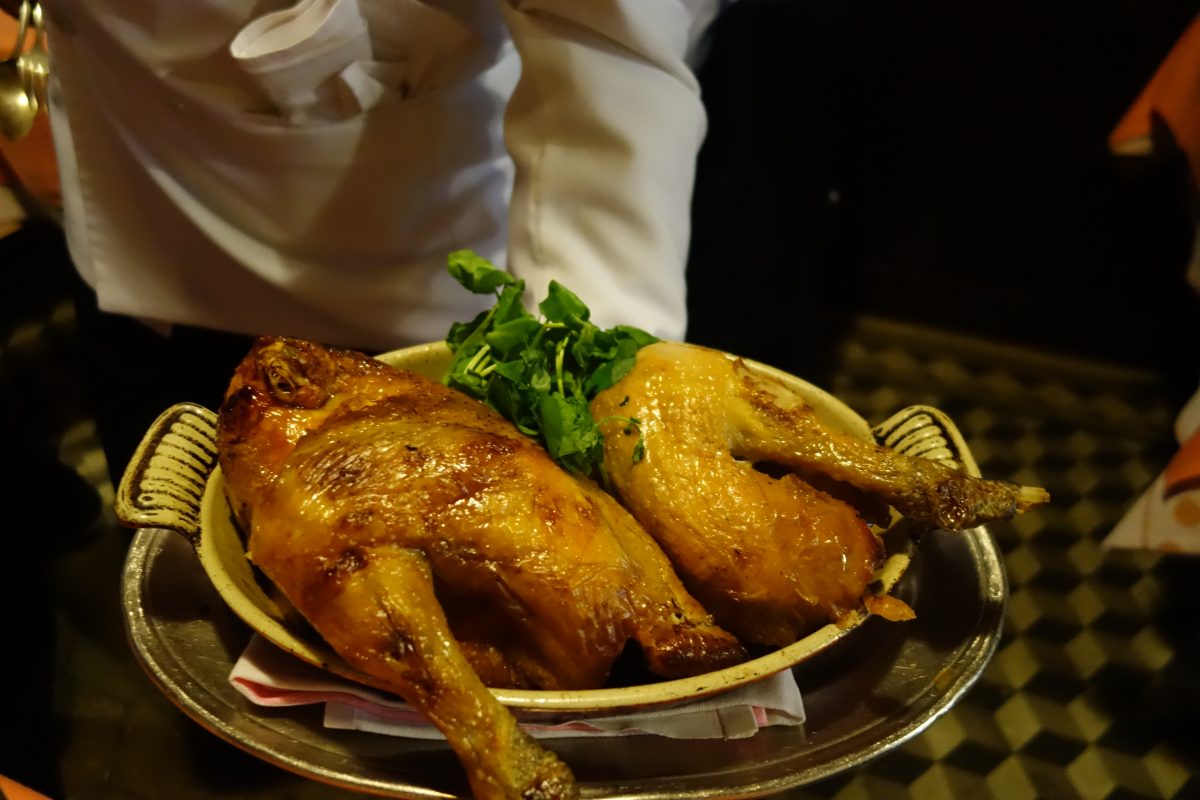 Address: 32, rue Vertbois, 75003
Hours: Open Wednesday-Sunday for lunch & dinner. Closed Monday & Tuesday.
Telephone: +33 1 48 87 77 48
No website, no online booking, no Facebook, no Instagram
---
L'Ami Louis has been the subject of one of the most deliciously harsh critiques ever published. And while I adore reading A.A. Gill's particular brand of snuff review, with lines like "the cramped tables are set with labially pink cloths, which give it a colonic appeal and the awkward sense that you might be a suppository," I find myself in the uncomfortable position of defending L'Ami Louis. It's uncomfortable because L'Ami Louis is one of the least proletarian places I've ever been, and exclusivity is a great part of the appeal. This is, I understand, at odds with our mission to help unconnected visitors find great places to eat while in Paris.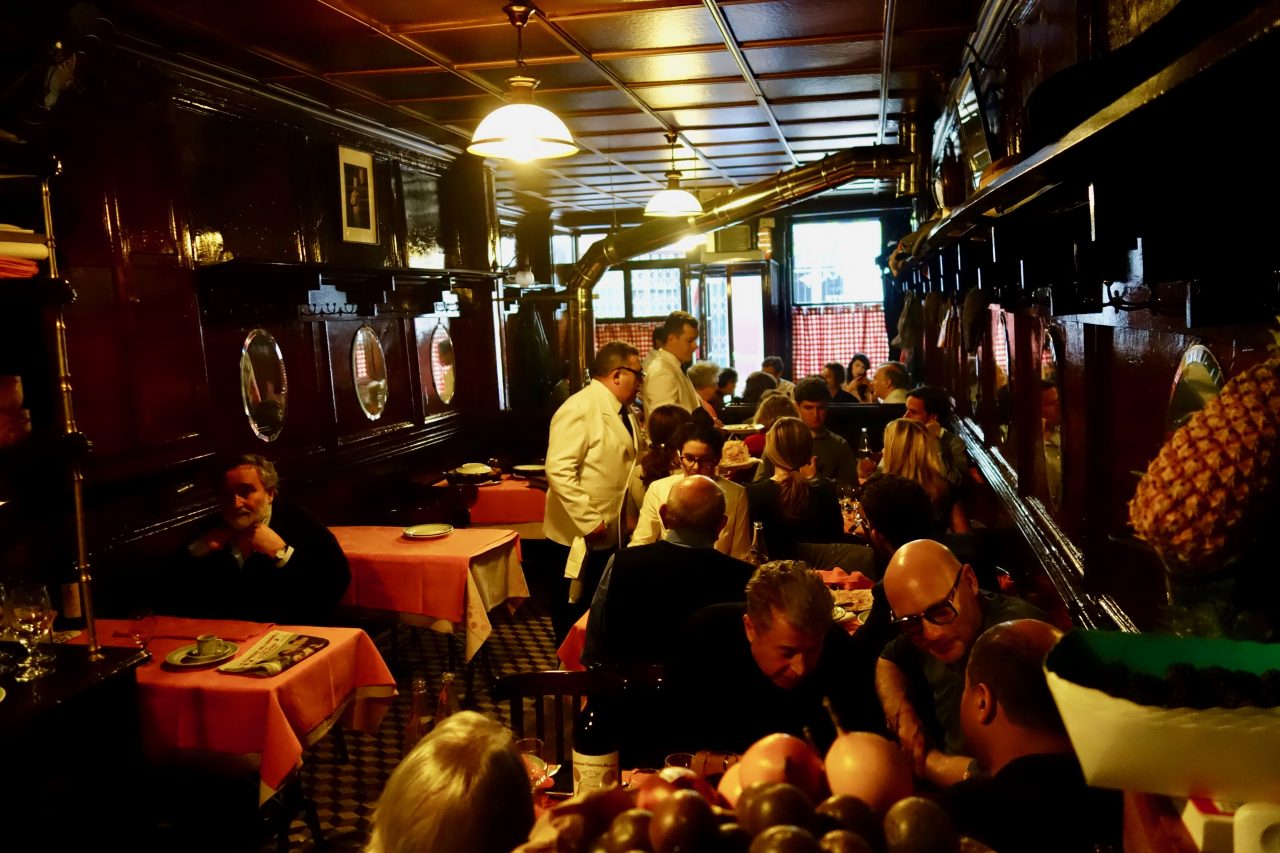 L'Ami Louis doesn't often answer the phone. When they do, it's to say they're fully booked. The people who tend to get in are either regulars, famous people, or there by the grace of a palace hotel concierge. The one time I have gone, it was with a regular, the kind of person who visits every week. The dining room was filled with other regulars who also visit every week. A good number of them were older men feasting alone, like this modern day A.J. Liebling (below) who was ready to roll up his sleeves, tuck a napkin into his collar, and take down an entire roast chicken.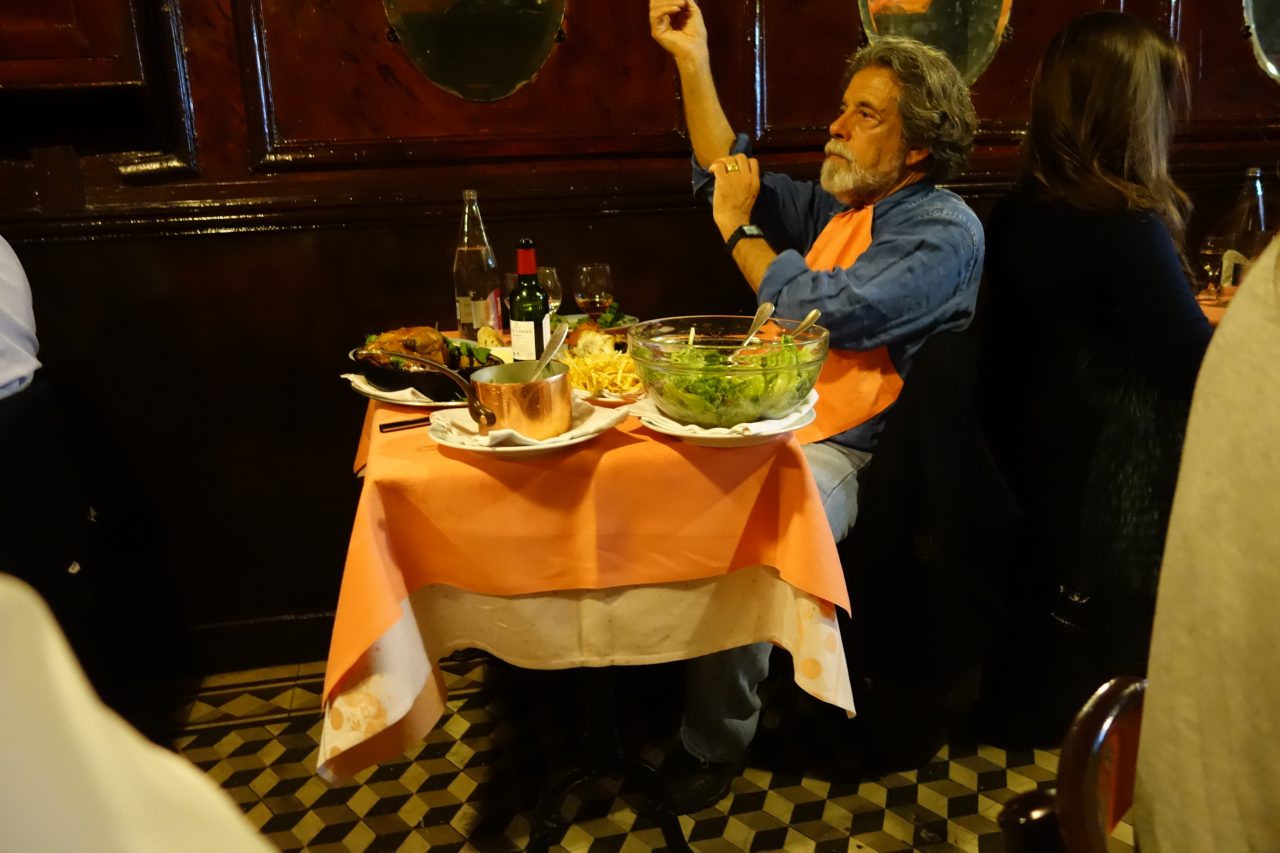 Like so many places that opened before WWII (in 1924) and had a beloved now-deceased owner (Antoine Magnin), there are people who will tell you L'Ami Louis used to be better. I can't speak to that, but I can tell you that my one visit was full of so much delicious food that someone else paid for (this is how you want to do L'Ami Louis), and it was really and truly fun. Example: our friend Gemma arrived wearing a white blazer that just happened to match the servers' uniforms. One waiter took off his tie and said "we've never had a female server!," then handed Gemma a bowl of fresh cream and instructed her to serve the other guests, including the painter Anthony Palliser. L'Ami Louis is clubby as hell. If you are accepted into that club, it's a gas. If you're not, I can easily imagine the rage.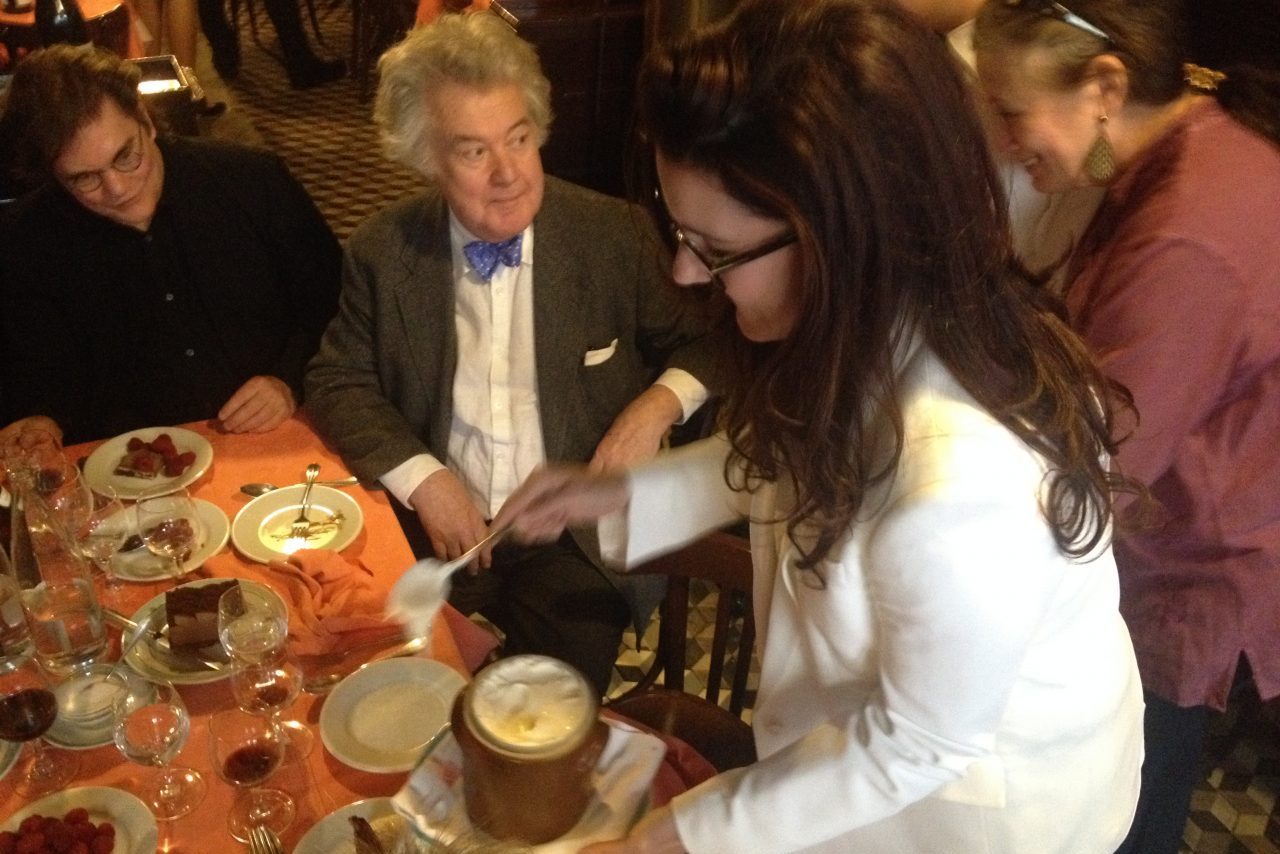 Why do people rage? Because of the prices, and because it's hard to get in. François Simon published the prices back in 2011, and I'll rely on his outdated numbers because I didn't see a bill. Seven years ago, the snails were €40, a plate of green asparagus was €69, thick slabs of foie gras were €58, and a whole roast chicken was €79. As you can see, it's hard to escape for less than €100 per person, especially with their significant markup on wine. However, the kind of people who dine regularly at L'Ami Louis do not balk at these prices.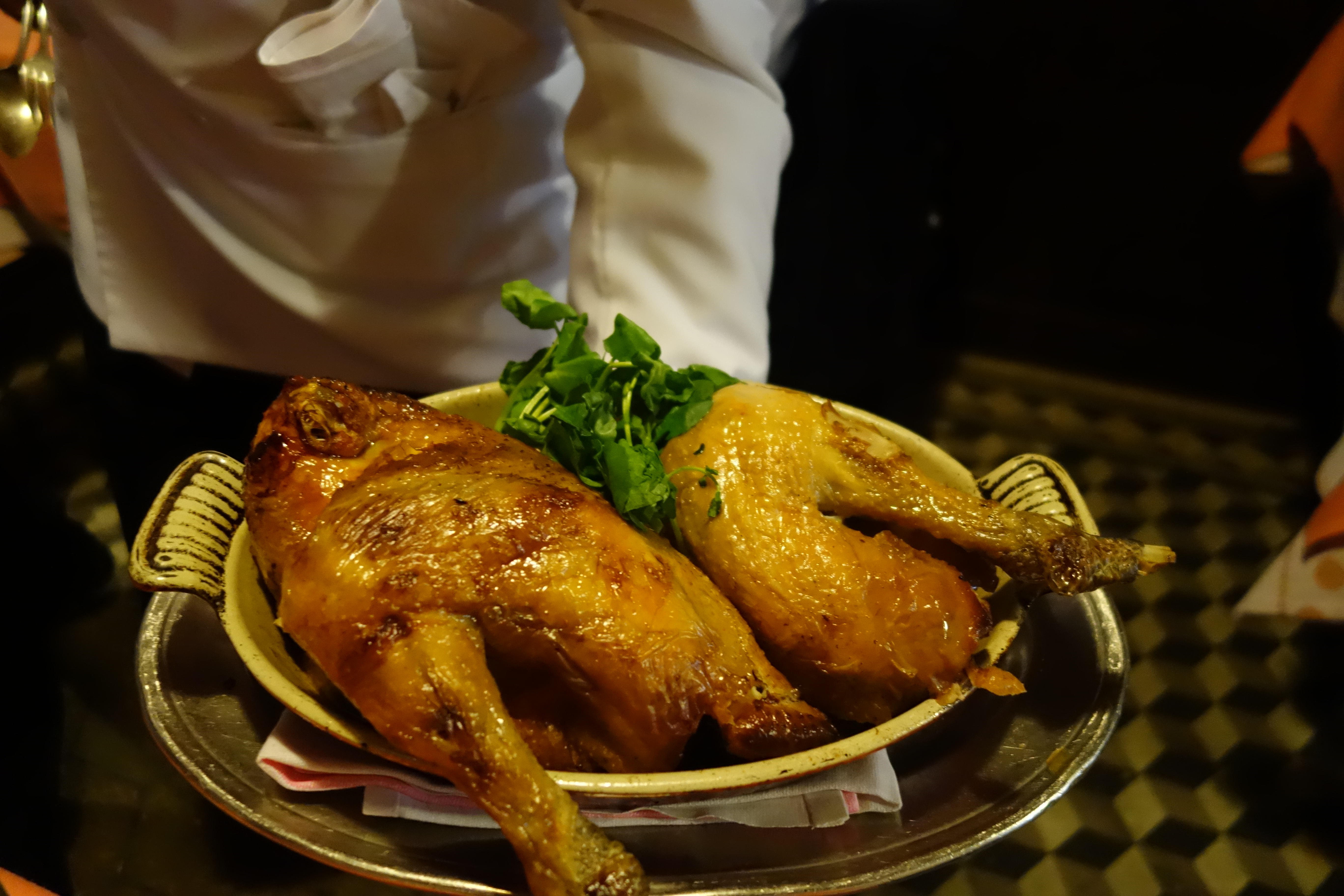 Is the roast chicken good? Absolutely. There's a reason why Le Figaro rated it the best in Paris, why Jay Rayner called it one of two restaurants in the world who can prepare roast chicken better than a home cook. The veal chop is pretty stunning, too. Accompanying starches – the matchstick fries and the potato cake – are swoon worthy. I've had much better foie gras elsewhere, for a fraction of the cost. Desserts are simple in the best possible way – a plateful of wild strawberries or prunes soaked in Armagnac topped with fresh raw cream.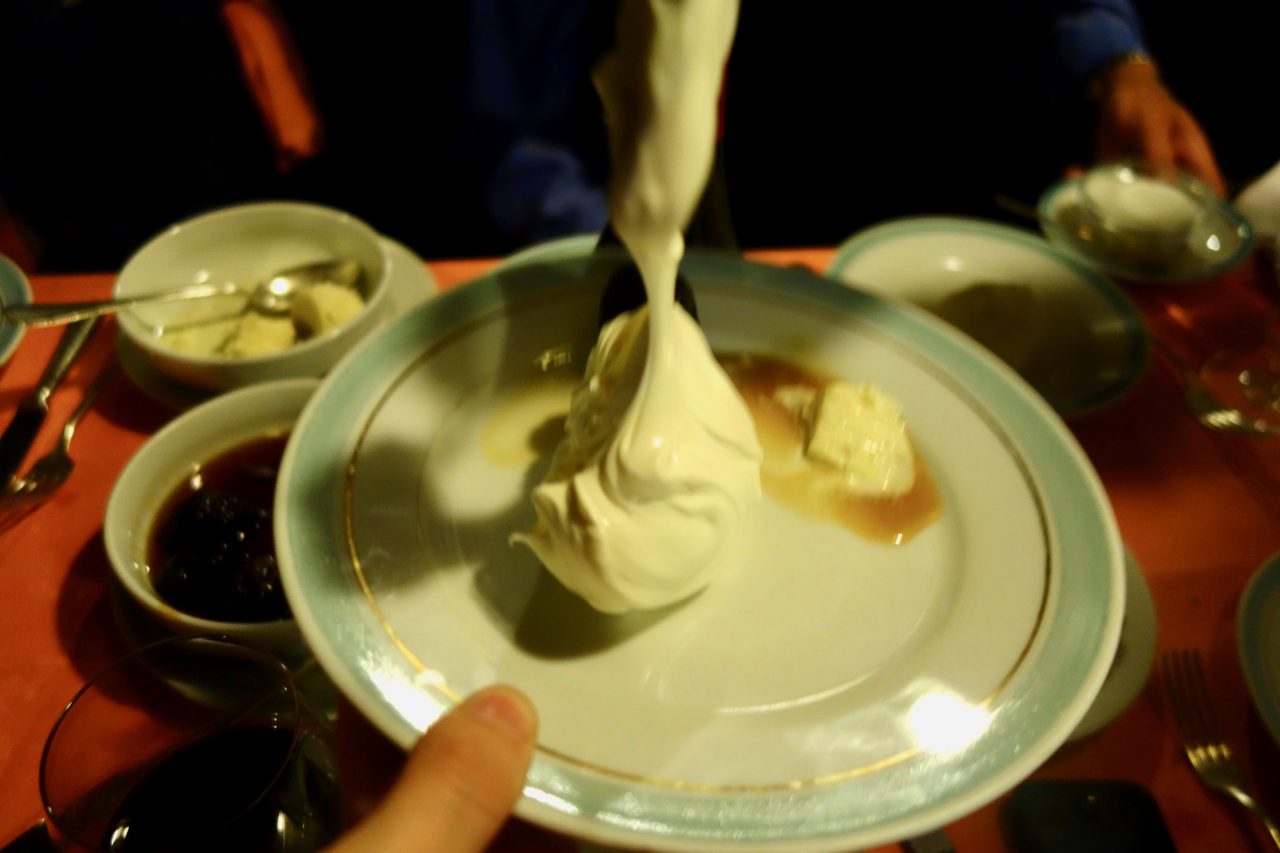 Some have complained about the dining room, calling it dark or dingy or cramped. I find it utterly charming. I don't mind the close quarters, and the dark walls (set off by mirrors, pink tables and white coated waiters) help to transport us back to another era. The waiters are efficient and, in the right mood, hysterical. Overall, my visit was incredible – overflowing with great food, copious wine, and laughter. What a restaurant should be.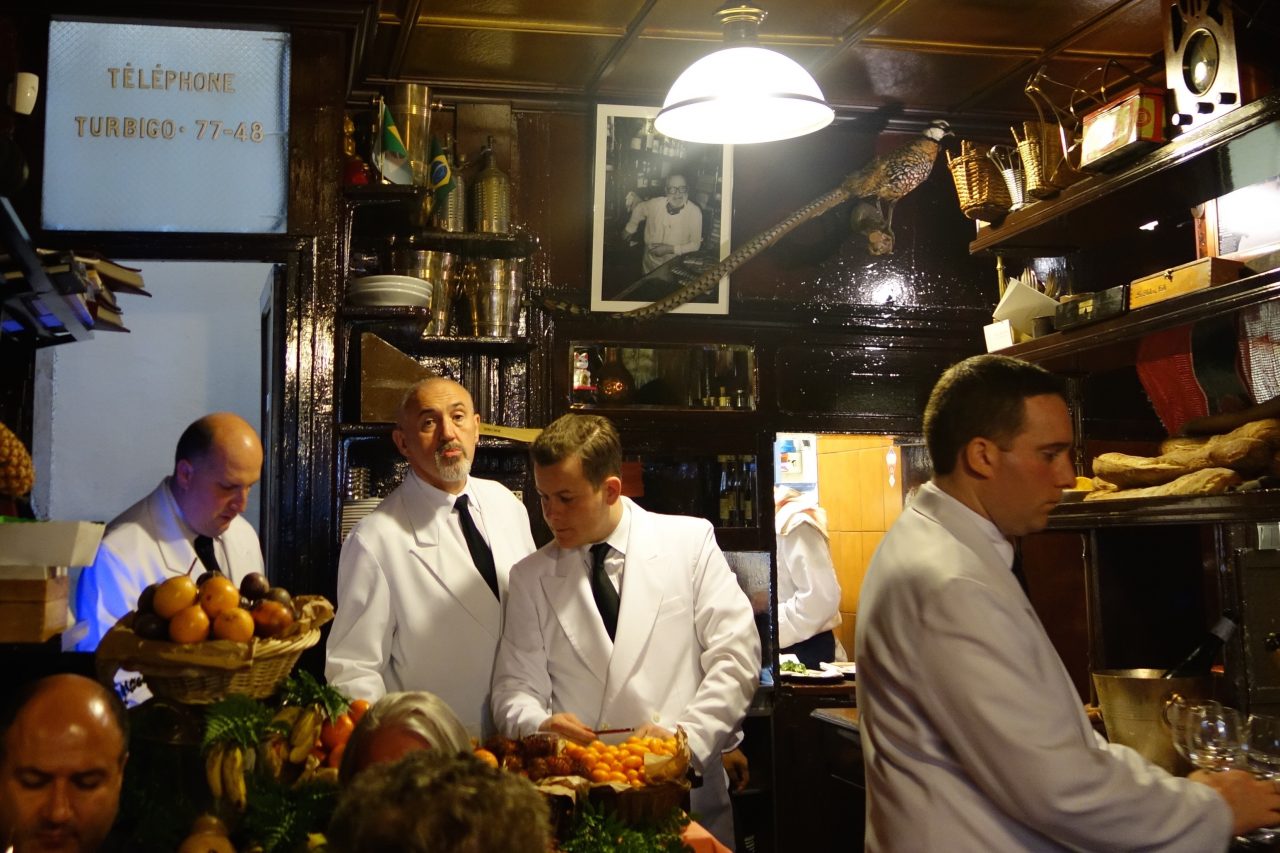 Will I go back? Probably not on my own, because I worry that I had a unicorn experience that couldn't be repeated. If I tried to book, I'd likely be denied. If I somehow managed to get in, that clubby welcome afforded to regular clients would be conspicuously absent, and I'd be much more aware of the prices. However, I wouldn't say no if a certain regular wanted to invite me again…
---
L'Ami Louis in Pictures
Photos by Meg Zimbeck © Paris by Mouth
---
In Other Words
L
L'Express (2017) writes, following the arrival of chef Alain Souliac (ex-l'Ostapé d'Alain Ducasse), that the bistro still boasts the "improbable" foie gras, overcooked veal chop, and famous roast chicken for two it always has.
Patricia Wells (2012) says that "for sure, the décor at this 1930's bistro — which has been a worldwide icon since the 1950's — rates as among the most dilapidated in Paris. Dingy, dark, faded, ramshackle. But, OH that roast chicken. The L'Ami Louis secret, of course, is kitchen's oak-wood fired oven, offering a sweet, soft, and yet intense heat, making for a succulent bird that is up there with the best – if not THE best – in Paris… A place that every Paris Food Lover should experience, at least once."
Simon Says (2011) François Simon calls the poulet frites (roast chicken with fries) "the best in the capital," but finds the foie gras "très banal." Regarding the booking, the great critic says "God, they are annoying! They never answer the phone, and you will struggle to book a table except for lunch." The exceptional wine cellar with 21,000 bottles has crazy mark-ups. Prices on the whole are delirious, but hey, you've been warned. He finds it to be worth it and says the best time is Sunday night around 9:30pm." Moral of the story: there are a lot of amazing bistros in Paris, but this one is singular in its social dimension. The L'Ami Louis experience is unique, hilarious and ruinous."
Vanity Fair (2011) A.A. Gill says that "From Bill Clinton to Woody Allen, it seems every American (or Brit) visiting Paris on an expense account has the same favorite 'Please don't write about it' bistro: L'Ami Louis. Given its colonic décor, surly service, unbelievable food, and hefty bill, the restaurant is a true Gallic triumph." He goes on to say that "L'Ami Louis really is special and apart. It has earned an epic accolade. It is, all things considered, entre nous, the worst restaurant in the world."
Food Snob (2009) provides a great history of the place, full of details like this: "The original owner was maître rôtisseur, Antoine Magnin… he ran the restaurant up until 1986, when at the age of eighty-five, he sold the business to Thierry de la Brosse and Louis Gadby, the latter previously a waiter there…De la Brosse, who is also co-owner of Aux Lyonnais with Alain Ducasse and who has been a regular at l'Ami Louis since he was seventeen years old, later said that 'it took me about three years to convince him that I would be a good candidate to carry on his tradition'. He also let slip that the late, great roaster had two real loves in his life, 'cooking and women, especially American women'."
Le Figaro (2007) compares the quality of roast chicken among twenty iconic Paris addresses and rates L'Ami Louis #1.
The Guardian (2007) Jay Rayner calls L'Ami Louis one of two restaurants in the world who can deliver roast chicken better than one can prepare it at home.
The New York Times (1997) Ruth Reichl calls L'Ami Louis "a rare pleasure," revealing that "for the last 10 years I have done exactly the same thing every time I land in Paris. I clear customs. Then I call L'Ami Louis to see if I can get a table. The answer is always No." When she finally does get in, she calls it "old-fashioned and charming, like something from Marcel Pagnol." There is one dish she loves above all others. "The meats are terrific, but as far as I'm concerned they're just an excuse to eat their potato cake sauteed in goose fat. Cooked until it is perfectly soft, the cake is a great circle of sliced potatoes turned out onto a platter and sprinkled with parsley and raw, diced garlic. It is extraordinarily good."