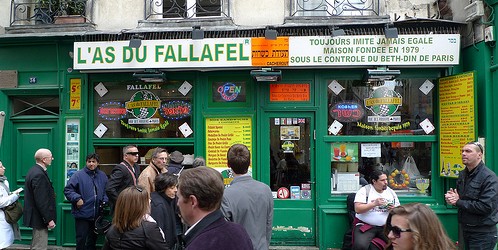 Address: 34, rue des Rosiers, 75004
Hours: Open Sunday-Thursday for lunch & dinner. Open Friday for lunch only. Closed Friday dinner and Saturday all day
Telephone: +33 1 48 87 63 60
L'As du Fallafel is the falafel shop that started it all. Since 1979, this restaurant has attracted crowds on the pedestrian rue des Rosiers, which runs through the capital's Jewish quarter. The famous pita sandwiches here are stuffed with fried falafel balls, tender eggplant, and hummus. While there is a dining room inside, most people join the line (don't worry – it moves fast!) and take them to go. The nearby Jardin Joseph Migneret or Square Victor Langlois offer benches where you can sit and enjoy.
Today, the street welcomes several other competing shops, but l'As remains a favorite of locals and Lenny Kravitz. It's also the only one on the street boasting the kosher oversight of the Beth Din of Paris – and is thus closed Friday evenings and all day Saturday for Shabbat.
---
L'As du Fallafel in Photos
Falafel sandwich

Sauces

L'As du Fallafel interior

Falafel sandwich
---
In Other Words
Dorie Greenspan (2009) "… the pita is very thick, which is just what it needs to be because what's tucked into its pocket is heavy, wet and unruly.  And so delicious, too…
David Lebovitz (2007) "… you can't come to Paris and not have a fallafel at L'As du Fallafel. It just isn't done."