Address: 14, rue Lobineau, 75006
Hours: Open everyday from noon to 11PM.
Telephone: +33 1 44 27 07 97 (No reservations)
Facebook / Instagram
When he opened the original, standing-room only L'Avant Comptoir in 2009, bistronomy chef Yves Camdeborde famously declared his intention to end the "tyranny of the table." L'Avant Comptoir du Marché, the third and largest L'Avant Comptoir concept opened in 2016, represents a truce. Occupying a luminous corner in the covered Marché Saint Germain, L'Avant Comptoir du Marché boasts high tables both inside and on the outside terrace. Bracketing the dining room is the titular comptoir, lined with bar seats, for once.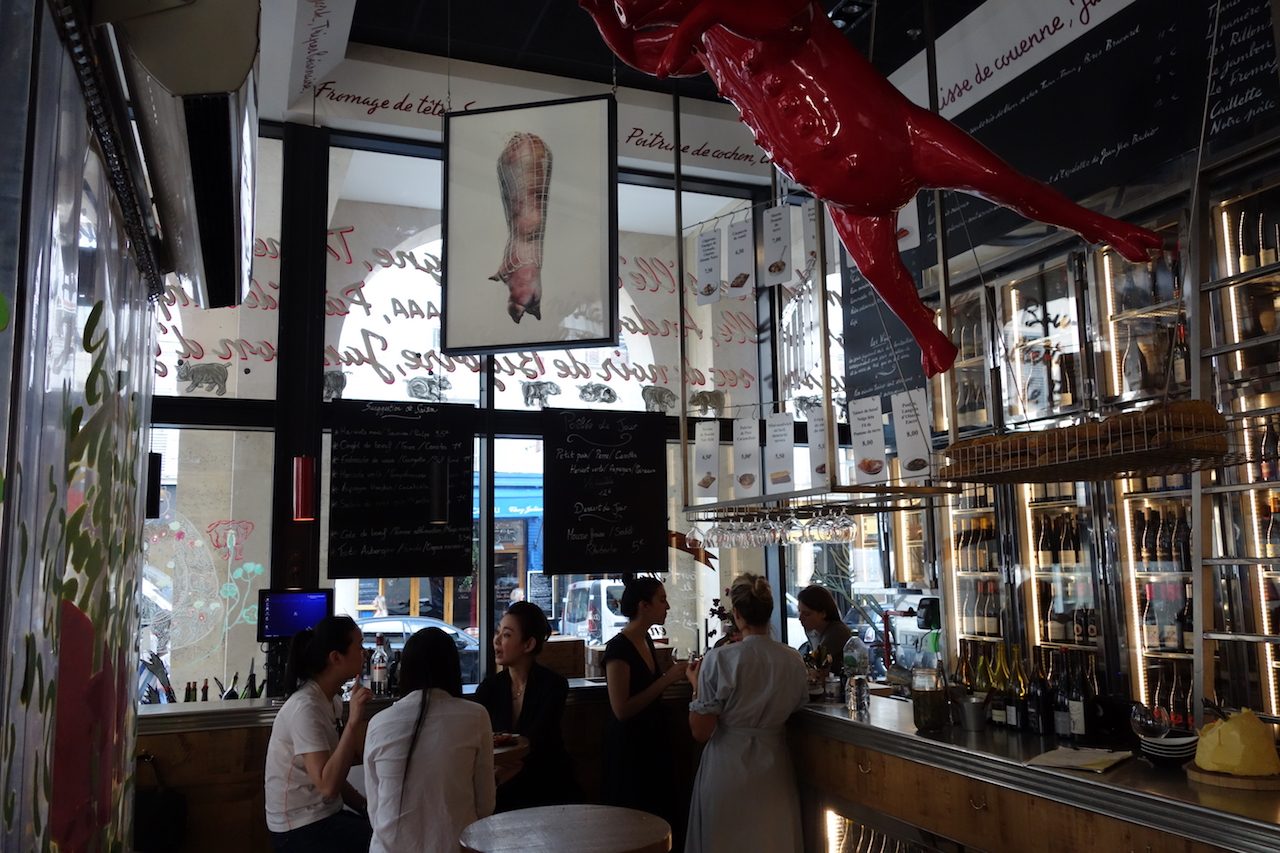 What a difference high ceilings and sufficient breathing room can make to a restaurant experience. Even the kitchen seems to benefit from greater freedom of movement. Dishes are better-executed, like a bright, feta-bedecked tartare in the depths of which lay slivers of silvery anchovy, a counterintuitive but splendid accompaniment to an unsulfured Domaine de l'Ecu Chardonnay.
The menu is much the same as that at the original L'Avant Comptoir, augmented with a smattering of dishes from L'Avant Comptoir de la Mer. Two fat bits of marinated salmon are dabbed with wasabi and wrapped in nori, sashimi by another name. Camdeborde's original iconoclastic tapas hit, a sweet and savory blood pudding macaron, returns here, as does the landslide of quality charcuterie familiar from the original L'Avant Comptoir.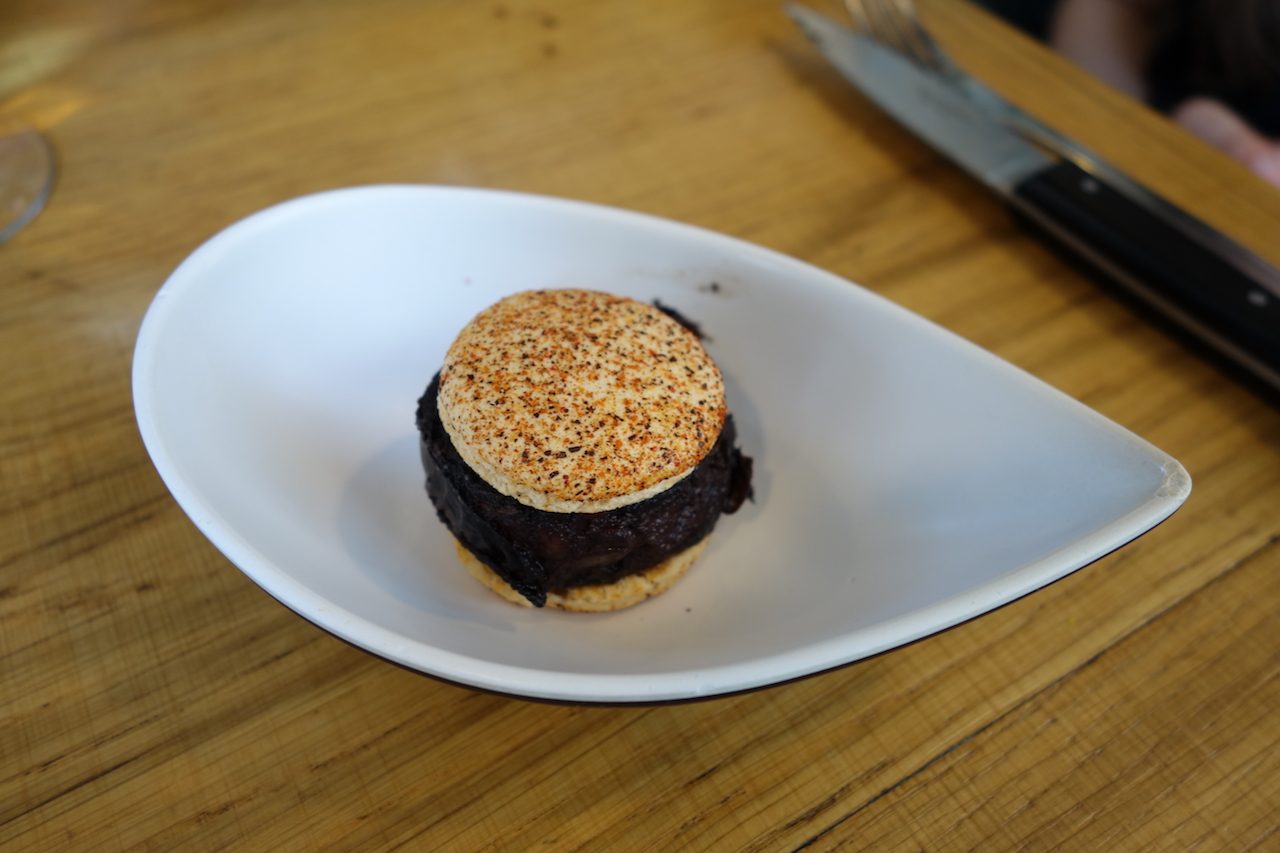 For those familiar with the cattle-car tapas-bar confines of the other two L'Avant Comptoirs, a meal at L'Avant Comptoir du Marché feels indulgent. One partakes in the same trinity of artisanal hams, novelty offal preparations, and natural wines, only this time, one has the space to savor them. Crowds arrive at night, but even at busier times, L'Avant Comptoir du Marché doesn't get wedged to the same airless shoulder-to-shoulder intensity as its brethren bars by Odéon. It is a restaurant built to effectively serve the crowds it receives.
Any of the L'Avant Comptoir bars are fun if one happens to want a quick snack in the neighborhood. L'Avant Comptoir du Marché is the one worth making a special trip – a place where the scale of the site finally matches that Camdeborde's ambition.
---
Avant Comptoir du Marché in Pictures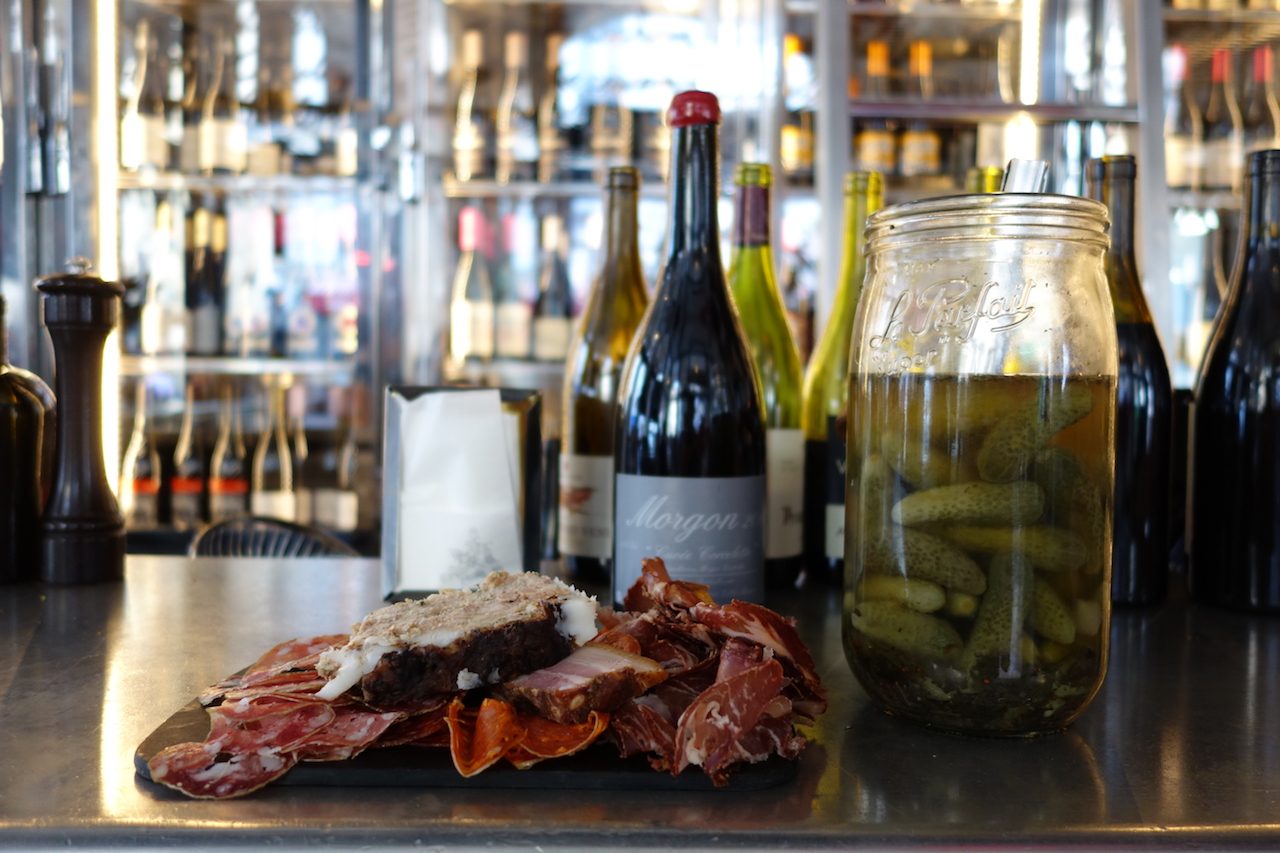 ---
In Other Words
The Guardian (2017) astutely observes that the exterior of the Marché Saint Germain has become "more mall than marché" (thanks to the presence of Uniqlo and an Apple Store), before dubbing L'Avant Comptoir du Marché "irresistible" for its numerous glass pour wines and the "inventive combos" from its kitchen.
Not Drinking Poison In Paris (2017) says "There's a heroic irony how Camdeborde employs all the shlock arsenal of industrialised mass restaurateurism in the service of selling artisanal products: excellent pork and natural wine."
Le Fooding (2016) says "you can count on everything being delicious" at L'Avant Comptoir du Marché.
Time Out (2016) cites Yves Cambeborde as its "favorite southwestern chef" and lauds L'Avant Comptoir, calling it "a love letter to pork." The review recounts Camdeborde's amusing reply to a diner who requested a vegetarian dish.
Le Figaro (2016) announces the opening of L'Avant Comptoir du Marché, repeating the curious conceptual distinction, utterly imperceptible in reality, between the original L'Avant Comptoir which Camdeborde is now calling "de la Terre," and L'Avant Comptoir du Marché. The two establishment's menu offerings are almost entirely the same.
François Simon (2016) immediately lauded L'Avant Comptoir as the success of the year in 2016, comparing said success to dropping a match into a haystack.